Literature review
A general guide on how to conduct and write a literature review.
Please check course or programme information and materials provided by teaching staff , including your project supervisor, for subject-specific guidance.
What is a literature review?
A literature review is a piece of academic writing demonstrating knowledge and understanding of the academic literature on a specific topic placed in context.  A literature review also includes a critical evaluation of the material; this is why it is called a literature review rather than a literature report. It is a process of reviewing the literature, as well as a form of writing.
To illustrate the difference between reporting and reviewing, think about television or film review articles.  These articles include content such as a brief synopsis or the key points of the film or programme plus the critic's own evaluation.  Similarly the two main objectives of a literature review are firstly the content covering existing research, theories and evidence, and secondly your own critical evaluation and discussion of this content. 
Usually a literature review forms a section or part of a dissertation, research project or long essay.  However, it can also be set and assessed as a standalone piece of work.
What is the purpose of a literature review?
…your task is to build an argument, not a library. Rudestam, K.E. and Newton, R.R. (1992) Surviving your dissertation: A comprehensive guide to content and process. California: Sage, p49.
In a larger piece of written work, such as a dissertation or project, a literature review is usually one of the first tasks carried out after deciding on a topic.  Reading combined with critical analysis can help to refine a topic and frame research questions.  Conducting a literature review establishes your familiarity with and understanding of current research in a particular field before carrying out a new investigation.  After doing a literature review, you should know what research has already been done and be able to identify what is unknown within your topic.
When doing and writing a literature review, it is good practice to:
summarise and analyse previous research and theories;
identify areas of controversy and contested claims;
highlight any gaps that may exist in research to date.
Conducting a literature review
Focusing on different aspects of your literature review can be useful to help plan, develop, refine and write it.  You can use and adapt the prompt questions in our worksheet below at different points in the process of researching and writing your review.  These are suggestions to get you thinking and writing.
Developing and refining your literature review (pdf)
Developing and refining your literature review (Word)
Developing and refining your literature review (Word rtf)
Writing a literature review has a lot in common with other assignment tasks.  There is advice on our other pages about thinking critically, reading strategies and academic writing.  Our literature review top tips suggest some specific things you can do to help you submit a successful review.
Literature review top tips (pdf)
Literature review top tips (Word rtf)
Our reading page includes strategies and advice on using books and articles and a notes record sheet grid you can use.
Reading at university
The Academic writing page suggests ways to organise and structure information from a range of sources and how you can develop your argument as you read and write.
Academic writing
The Critical thinking page has advice on how to be a more critical researcher and a form you can use to help you think and break down the stages of developing your argument.
Critical thinking
As with other forms of academic writing, your literature review needs to demonstrate good academic practice by following the Code of Student Conduct and acknowledging the work of others through citing and referencing your sources.  
Good academic practice
As with any writing task, you will need to review, edit and rewrite sections of your literature review.  The Editing and proofreading page includes tips on how to do this and strategies for standing back and thinking about your structure and checking the flow of your argument.
Editing and proofreading
Guidance on literature searching from the University Library
The Academic Support Librarians have developed LibSmart I and II, Learn courses to help you develop and enhance your digital research skills and capabilities; from getting started with the Library to managing data for your dissertation.
Searching using the library's DiscoverEd tool: DiscoverEd
Finding resources in your subject: Subject guides
The Academic Support Librarians also provide one-to-one appointments to help you develop your research strategies.
1 to 1 support for literature searching and systematic reviews
Advice to help you optimise use of Google Scholar, Google Books and Google for your research and study: Using Google
Managing and curating your references
A referencing management tool can help you to collect and organise and your source material to produce a bibliography or reference list. 
Referencing and reference management
Information Services provide access to Cite them right online which is a guide to the main referencing systems and tells you how to reference just about any source (EASE log-in may be required).
Cite them right
Published study guides
There are a number of scholarship skills books and guides available which can help with writing a literature review.  Our Resource List of study skills guides includes sections on Referencing, Dissertation and project writing and Literature reviews.
Study skills guides
Academia.edu no longer supports Internet Explorer.
To browse Academia.edu and the wider internet faster and more securely, please take a few seconds to upgrade your browser .
Enter the email address you signed up with and we'll email you a reset link.
Literature Review of Research on Reading: Three Principles
It is clear that reading is a complex process for both the student, who is trying to learn the necessary skills needed, and the teacher, who is attempting to impart these skills. Fortunately, research supports many key principles that can help guide a motivated teacher's instruction. In pursuing my personal professional development, I've chosen to focus on principals regarding vocabulary, fluency, and motivation; using these principles, I engage in discussing relevant research and the resulting teaching implications.
Related Papers
Brian Dubin
Arga Andriyan
Ahmed Masrai, PhD
The association between vocabulary knowledge and reading comprehension has been extensively researched. However, modeling the contribution of vocabulary knowledge within different frequency ranges to second language (L2) learners' reading comprehension is an underexplored area. Thus, the present study examines the degree to which high-, mid-, and low-frequency-based levels of orthographic vocabulary knowledge are able to predict L2 reading comprehension. A vocabulary size test and the reading section of International English Language Testing System (IELTS) were administered to 256 tertiary-level Arab learners of English. The participants' language proficiency ranged from B2 to C1 of Common European Framework of Reference (CEFR) levels. Results showed that high- and mid-frequency word ranges contributed uniquely to the L2 reading comprehension for the entire cohort. When the participants were categorized to relatively low- and relatively high-proficiency subgroups, only high-frequency range explained variance in L2 reading comprehension for the low-proficiency subgroup. Among the high-proficiency subgroup, high-, mid-, and low-frequency-based ranges offered unique contribution to L2 reading comprehension, but mid-frequency range explained the largest variance. The findings provide evidence aimed at informing approaches to the development of overall vocabulary size and the mid-frequency words, and not just a focus on the most frequent vocabulary, for the purpose of supporting L2 reading comprehension.
Trevor A Holster
Reading is an important skill to acquire for overall language proficiency. Sustained reading skill improvement and reading motivation are needed to become a fluent reader and to develop a positive reading identity. Students are better able to maintain ongoing reading development by becoming autonomous and self-regulated readers. This paper explains the benefits of developing self-regulated readers through an extensive reading program, where students read many interesting books at an appropriate level of difficulty. Students and teachers made use of an extensive reading module for an open-source audience response system. Using this system provides autonomous learning conditions that enable students to read books extensively by choosing books, monitoring, and reflecting on books read. Teachers can monitor students through summaries of the number of books read by each student, estimates of book difficulty, and popularity ratings of the books. Empirical data from our work-inprogress that was presented in Lake and Holster (2013) shows how extensive reading leads to gains in reading speed, reading motivation, and a positive reading identity.
Reading in a Foreign Language
Brandon Kramer , Stuart McLean
Reading rate, usually measured in words per minute, is a common operationalization of reading fluency in second language (L2) research and pedagogy. However, the impact of word length is often not addressed. This paper presents two studies showing how the number of characters in a text influences L2 reading time, independent of word counts, within classroom-based activities for Japanese university English as a Foreign Language students. In Study 1, students (N = 160) read two sets of graded texts manipulated to differ only in the total number of characters. The texts with more characters required significantly more time to read, with a small effect size. In Study 2, the average reading times for students (N = 27) throughout a semester-long timed reading course were strongly associated with text length as measured in characters, controlling for differences in word counts. Together these studies support the inclusion of character-based counting units when measuring L2 reading rate or reading amount.
Etsuo Taguchi
Novitas-ROYAL
Sinan Nisanci
The present study aims to investigate the role of extensive reading in the acquisition of implicit phonological knowledge. Through extensive exposure to print, L2 learners can improve their phonological processing skills, and this could contribute to their word recognition fluency. On the basis of the Oxford Placement Test, 30 9 th graders and 30 11 th graders studying at a selective state high school in İstanbul were selected to participate in the study. Students in the 9 th grade followed an extensive reading program for a full semester. Participants were given a lexical decision task in which they had to decide whether the string of words they were shown on a computer screen could be acceptable words in English or not. Pre-and post-test performances of the groups were compared to test if the extensive reading program contributed to their accumulation of knowledge on phonotactic constraints. The results showed that the group which read extensively differed significantly, and notwithstanding their lower proficiency, the groups' performance on the post-test did not reveal any significant difference, implying that extensive exposure to print benefited L2 learners even at the beginner levels. As this is a relatively new research perspective on extensive reading, there is need for further research. Anahtar sözcükler Yaygın okuma, sesbilimsel işleme, sözcük tanıma, sözcüksel karar testi. Yaygın Okumanın Sesbilimsel İşlemenin Gelişimi Üzerine Etkisi Öz: Bu çalışma, yaygın okumanın sesbilimsel bilginin örtülü edinimini incelemeyi amaçlamaktadır. İkinci dil öğrenenler, yaygın okuma sayesinde sesbilimsel işleme becerilerini geliştirebilirler ve bu da sözcük tanıma akıcılığına katkı sağlayabilir. Çalışma için, İstanbul'da seçkin bir devlet okulunda 9 ve 11. sınıflarda okuyan 30'ar öğrenci Oxford Seviye Tespit Sınavı sonuçlarına göre seçilmiştir. 9. sınıf öğrencileri bir yarıyıl boyunca yaygın okuma programı takip etmişlerdir. Katılımcılara, bilgisayar ekranında gördükleri harf dizgilerinin İngilizcede geçerli bir kelime olup olmadığına karar vermeleri gereken sözcüksel karar testi uygulanmıştır. Yaygın okuma programının sesbirim dizge bilgisi kurallarının kazanılmasına katkı sağlayıp sağlamadığını test etmek için araştırma gruplarının ön test ve son test performansları karşılaştırılmıştır. Sonuçlar, yaygın okuma grubundaki öğrencilerin ön test ve son test skorları arasında anlamlı bir fark olduğunu ve dil seviyeleri henüz yetersiz olmasına rağmen, yaygın okuma grubunda olmayan öğrencilerle son test skorları açısından anlamlı bir farklılık göstermediklerini ortaya koymuştur. Bu bulgular, yaygın okumanın başlangıç seviyesindeki ikinci dil öğrenenler için bile fayda sağlayacağına işaret etmektedir. Görece yeni bir araştırma perspektifi olduğundan dolayı, konuyla ilgili daha fazla bilimsel çalışmaya ihtiyaç duyulmaktadır.
RELATED PAPERS
James Simpson
Nguyen Thi Thuy Trang B1201363
Hakan Demiroz
Marcel Van Amelsvoort
Raghdah Almadany
TESOL Journal
Fredricka Stoller
Hossein Jamshidifarsani
The Reading Matrix: An International Online Journal Volume 20(1), 66- 83.
Akira Iwata
soroor ashtarian
Dragoș Ciobanu
Mert Topkaraoğlu
tasneem tarteel
Julie Coiro
Simon Bibby
Nicko Balce
rechache abdellah
Ulugbek Nurmukhamedov
IOLC Conference
Vocabulary Learning and Instruction
Supika Thamsirarak
Journal of Learning Disabilities
Maureen Lovett , Karen A. Steinbach , Maureen W . Lovett
Canadian Modern Language Review/ La Revue canadienne des langues vivantes
Stuart Webb
Learning Disabilities Research and Practice
Carolyn Denton
Vocabulary Education & Research Bulletin, (3)2, 8-9.
David Faulhaber
In R. Allington & A. McGill-Franzen (Eds.), The handbook of reading disabilities research
Steve Amendum
Professor Rohini Chandrica Widyalankara
Maryanne Wolf , Jan Frijters , Maureen W . Lovett
Alison Boardman
Jan Frijters
JALT CALL Journal
Stuart McLean
Arab World English Journal (AWEJ)
Caleb Prichard
International Language Education in Asia
Darrell Wilkinson
Meredith DeVoe
Mohammad Shamsuzzaman
Journal of Applied Developmental Psychology
Amy Crosson , M. Kieffer
Journal of Literacy Research
Jeanne Paratore
David Courtney
RELATED TOPICS
We're Hiring!
Help Center
Find new research papers in:
Health Sciences
Earth Sciences
Cognitive Science
Mathematics
Computer Science
Academia ©2023
Literature Review (2010)
I. Literature Review
The last decade has brought a growing consensus on the range of skills that serve as the foundation for reading and writing ability (Dickinson & Neuman, 2006; National Reading Panel Report, 2000; Neuman & Dickinson, 2001; Snow, Burns, & Griffin, 1998). To become a skilled reader, children need a rich language and conceptual knowledge base, a broad and deep vocabulary, and verbal reasoning abilities to understand messages that are conveyed through print. Children also must develop code-related skills, an understanding that spoken words are composed of smaller elements of speech (phonological awareness); the idea that letters represent these sounds (the alphabetic principle), the many systematic correspondences between sounds and spellings, and a repertoire of highly familiar words that can be easily and automatically recognized (McCardle & Chhabra, 2004; McCardle, Scarborough, & Catts, 2001).
But to attain a high level of skill, young children need opportunities to develop these strands, not in isolation, but interactively. Meaning, not sounds or letters, motivates children's earliest experiences with print (Neuman, Copple, & Bredekamp, 2000). Given the tremendous attention that early literacy has received recently in policy circles (Roskos & Vukelich, 2006), and the increasing diversity of our child population, it is important and timely to take stock of these critical dimensions as well as the strengths and gaps in our ability to measure these skills effectively.
In the following sections, we first review the important skills that are related to early language and literacy achievement. We then provide recommendations for updating ECRR workshops.
I.1 The Critical Dimensions of Language and Literacy in Early Childhood
Language. Verbal abilities are consistently the best predictors of later reading achievement (Scarborough, 2001). Skilled readers typically draw upon multiple levels of the language system (Dickinson, McCabe, Anastasopoulos, Peisner-Feinberg, & Poe, 2003), with abilities encompassing vocabulary, syntax, and discourse. Vocabulary size in optimal settings may increase exponentially in the early years (some estimate about seven words a day) (Snow et al., 1998), with children learning to comprehend words spoken to them before they are able to produce them on their own. Word knowledge, however, is not just developed through exposure to increasingly complex language, but to knowledge-building language experiences (Neuman, 2001) that involve children in developing and refining networks of categorically-related concepts.
With opportunity and practice, children's word knowledge is put to use in syntactic structures that grow in length and complexity. Children's sentences often start at two words (Bloom, 1970), but quickly lengthen to four or more words as children communicate their ideas increasingly through language. Snow and colleagues (Snow, Baines, Chandler, Goodman, & Hemphill, 1991) have shown that conversations that are physically removed from immediate objects or events (i.e., 'what if?') are tied to the development of abstract reasoning and related to literacy skills like print production and narrative competence.
With word learning occurring so rapidly, children begin to make increasingly fine distinctions of words not only based on their meaning but also based on their sound. They begin to make implicit comparisons between similar sounding words, a phenomenon described by linguists as lexical restructuring (Goswami, 2001; Metsala, 1999). For example, a two-year old child probably knows the words "cat" from "cut;" "hot" from "not." Distinguishing between these similar sounding words both quickly and accurately, children begin to hear sequences of sound that constitute each known word. Children with large vocabularies become attuned to these segments and acquire new words rapidly; children with smaller vocabularies may be limited to more global distinctions. Consequently, vocabulary size and vocabulary rate are important for lexical restructuring (i.e., making sound distinctions between words) (Goswami, 2001), and are strongly tied to the emergence of phonological awareness.
Recent analyses (Dickinson et al., 2003) have made it abundantly clear, however, that oral language skills, and more specifically vocabulary development, not only play a role in phonological awareness but also are critical skills for the development of reading comprehension later on. Therefore, it is essential for quality indicators in early childhood programs to recognize that oral language and vocabulary development is the foundation for all other skills critical to successful reading.
Phonological awareness. Based on a massive body of research (Burgess, 2006; Lonigan, 2006), phonological awareness is a critical precursor, correlate, and predictor of children's reading achievement. Discriminating units of language (i.e., words, segments, phonemes) is strongly linked to successful reading (National Reading Panel Report, 2000). It is, however, as described above, both a cause and a consequence of vocabulary development and learning to read (Ehri & Roberts, 2006). Typically developing children begin first to discriminate among units of language (i.e., phonological awareness), then within these units (i.e., phonemic awareness). Phonological awareness refers to the general ability to attend to the sounds of language as distinct from its meaning. Phonemic awareness is the insight that every spoken word can be conceived as units of sounds that are represented by the letter of an alphabet (Snow, Burns, & Griffin, 1998).
Evidence (Lonigan, 2006; Whitehurst & Lonigan, 1998) suggests that children achieve syllabic sensitivity earlier than they achieve sensitivity to phonemes, and sensitivity to rhyme before sensitivity to phonemes. Children's entry to these skills typically begins with linguistic activities such as language games and nursery rhymes (Maclean, Bryant, & Bradley, 1987) that implicitly compare and contrast the sounds of words, and include alliterative phrases (i.e., bibbily bobbily boo begins with /b/). But implicit comparisons, alone, may be insufficient. Phonological awareness and phonemic awareness are meta-linguistic abilities (Adams, 1990). Children must not only be able to recite and play with sound units, they must also develop an understanding that sound units map onto whole or parts of written language.
Phonological awareness should not be confused with phonics. The term phonics, or decoding, assumes that children understand the phonemic composition of words, and the phoneme-grapheme (sound/letter) relationship. Studies that have attempted to accelerate learning through early phonics training have shown no effects (Snow et al., 1998); in fact, evidence suggests that such training, without a firm understanding of phonemic awareness, may be detrimental to remembering words and learning to spell.
Recent reviews and analyses (Dickinson et al., 2003; Scarborough, 2001) have placed phonological awareness as a critical part of a complex braid of language abilities which include strands of phonology, semantics, syntax, pragmatics, and discourse. Its tie to children's ability to decode has been clearly established. At the same time, quality indicators would do well to recognize that phonological awareness skills are integrally connected to other important language skills which need to be strongly bolstered in these early education and care programs.
Letter knowledge: Knowledge of the alphabet letters is a strong predictor of short- and long-term reading success (Bond & Dykstra, 1967; Chall, 1990). However, its influence on later reading is not about knowing the letter names, per se. Rather, the learning of letter names mediates the ability to remember the sounds associated with the letters (Ehri, 1979). Once again, there is a reciprocal relationship between skills: Letter knowledge plays an influential role in the development of phonological awareness, and higher levels of letter knowledge are associated with children's abilities to detect and manipulate phonemes. For example, the child who knows the letter 'b' is likely to remember the sound of /b/. Consequently, letter knowledge may reflect a greater underlying knowledge and familiarity with literacy related skills such as language and print.
Research (Gibson & Levin, 1975) indicates that children differentiate letters according to their visual form, that is, their horizontal, vertical and diagonal segments. Given the complexities of the visually distinct forms of letters (upper case, lower case, printed form), current learning theory (Adams, 1990) suggests that simultaneously teaching two versions of letters with their confusable sounds and labels may be overwhelming to the young child. However, there is no substantial evidence to suggest which particular form (upper or lower case) should be taught first.
A growing body of research suggests that a variety of extrinsic and intrinsic factors influence the development of letter knowledge. Exposure to letters is a primary vehicle for alphabet knowledge. Children who participate frequently in adult-child writing activities that include a deliberate focus on print have better alphabet knowledge relative to those who may spend time on other activities like shared reading (Aram & Levin, 2004). Further, some letters tend to be learned earlier by children than others. In a recent investigation, Justice and her colleagues (Justice, Pence, Bowles, & Wiggins, 2006) reported that the single largest advantage for learning letters were the child's first initials, compared to the lesser advantage of phonological features of the letters themselves. Given the variability among children in the specific letters they know, multiple methods for gaining letter knowledge are recommended.
Background Knowledge. For children to become skilled readers (Neuman & Celano, 2006), they will also need to develop a rich conceptual knowledge base and verbal reasoning abilities to understand messages conveyed through print. Successful reading ultimately consists of knowing a relatively small tool kit of unconscious procedural skills, accompanied by a massive and slowly built-up store of conscious content knowledge. It is the higher-order thinking skills, knowledge, and dispositional capabilities that enable young children to come to understand what they are reading.
Children's earliest experiences become organized or structured into schemas, building blocks of cognition. Schemas (Anderson & Pearson, 1984) provide children with the conceptual apparatus for making sense of the world around them by classifying incoming bits of information into similar groupings. Stein and Glenn (1979), for example, provided a compelling case for schemas and their usefulness for recalling information about stories. Well-read to children internalize a form of story grammar, a set of expectations of how stories are told which enhances their understanding. Knowledge becomes easier to access (Neuman, 2001), producing more knowledge networks. And those with a rich knowledge base find it easier to learn and remember.
Quality indicators of a rich content base for instruction in early childhood programs include a content-rich curriculum in which children have opportunities for sustained and in-depth learning (Neuman, Dwyer, & Newman, submitted for publication), including play; different levels of guidance to meet the needs of individual children; a masterful orchestration of activity that supports content learning and social-emotional development; and time, materials and resources that actively build verbal reasoning skills and conceptual knowledge.
Print conventions. Recognizing that concepts about print in the English language are not intuitive, Marie Clay (1979), in her pioneering work with Maori children in New Zealand, identified a set of conventions that could be understood without being able to read. These conventions included, among others, the directionality of print in a book (left-to-right, top-to-bottom, front-to-back), differences between pictures and print, uses of punctuation, and definitional characteristics of a letter and a word. Knowing these conventions, she found, helped in the process of learning to read.
With the exception of a study by Tunmer and colleagues (Tunmer, Herriman, & Nesdale, 1988) demonstrating the relationship of these skills to later reading success, however, there is little evidence to suggest the predictive power of these skills on later achievement. Rather, print conventions act as an immediate indicator of children's familiarity with text, and are not integrally related to the other language based skills associated with reading success. Therefore, while such conventions might be helpful to young children in navigating through books, these skills may not in the long run play a powerful role in learning to read.
Children who are English language learners experience each of these critical dimensions in the context of learning two languages, which only increases the complexity of the processes of language and literacy development. In order to become proficient in their second language, young children will need to familiarity with the phonology to the [second language], its vocabulary (typical everyday discourse as well as academic vocabulary, its morphology and grammar (Geva, 2006). Further, to become literate in a second language, it is important to have an adequate level of oral proficiency in that language (Bialystock, 2007). Research with second language learners has shown that oral language and literacy skills in the first language contribute to the development of those skills in the second language. For example, phonological awareness skills in the first language have been found to predict phonological awareness sand word recognition in the second language (Chiappe & Siegel, 1999; Cisero & Royer, 1995; Durgunglu, 1998). Although much more research is still needed about the ways in which English language learners develop literacy skills, this knowledge can help guide the development of further interventions.
In sum, research supports a particularly strong linkage between oral language, phonological awareness, letter knowledge, background knowledge, and to a much lesser extent, print conventions, in the preschool years. These skills are highly interdependent. Phonological awareness appears to influence vocabulary development and vocabulary rate. Letter knowledge supports phonological awareness. Code-related skills are highly predictive of children's initial early reading success while oral language skills and background knowledge become highly predictive of comprehension abilities and later reading achievement. Each of these skills, when integrated in meaningful activity, has an important role to play in children's literacy development.
I. 2 Research on Constrained/Unconstrained Skills
In 2002, the National Early Literacy Panel (NELP, 2008) was convened to conduct a synthesis of the scientific research in the development of early reading skills for children ages 2-5. Their report, recently issued (2008), indicated that the most powerful predictors of reading achievement were alphabet knowledge, phonological awareness, rapid automatic naming, and that oral language and vocabulary were only moderate predictors of achievement.
Paris (2005), however, has most recently demonstrated the flaws in what has come to be understood as this traditional view. Early literacy skills, such as letter knowledge (knowing the letters of the alphabet), phonological awareness (sensitivity to the sounds in words), and concepts of print are best described as constrained skills-—skills that predict later achievement early on but that quickly asymptote after the age of 5. Contrary to constrained skills are vocabulary, comprehension and background knowledge; these skills are unconstrained, essentially never asymptote as children get older. These skills have the potential to grow throughout one's lifetime, and can dramatically influence children's long-term abilities both in reading and content areas.
This research has significant implications for teaching and our focus on the skills necessary for children to read. It suggests that although letter knowledge, phonological awareness, and concepts of print are initially important and should be taught, they lead only to temporary gains on skills, and do not predict long-term outcomes. The critical skills are vocabulary, comprehension, and background knowledge—skills that take more time to teach and review and these skills should be a major focus in helping children learn how to read.
I.3 Features of the Environment that Support Literacy Development
The environment can play a major role in promoting these critical skills for literacy development. The organization, structure, and complexity of the early childhood setting influence patterns of activity and engagement. For example, a fairly sizable number of studies (Morrow, 1990; Neuman & Roskos, 1992, 1997; Vukelich, 1994) have revealed the powerful influence of access to literacy tools on young children's involvement in literacy activities. This research indicates that in settings carefully constructed to include a wide access of literacy tools, books, and play materials, children read more (Neuman & Roskos, 1992), and engage more in literacy-related play themes (Morrow, 1990), with resulting effects on literacy improvement (Neuman & Roskos, 1990).
The use of space in settings influences learning (Roskos & Neuman, 2001). Children use space and its boundaries to regulate and guide their own responses. For example, studies (Morrow, 1988; Neuman & Roskos, 1997) find that smaller, well defined niches and nooks seem to encourage greater language and collaboration with peers and adults. Children are likely to use these more intimate settings to interact in longer and richer conversation with others.
Relatedly, studies (Fernie, 1985) show evidence that the physical environment can have behavioral consequences. Some materials seem to encourage more sustained activity than others and invoke children's attention at different ages. Materials that involve children in constructive activity, for example, tend to generate more language than "pull toys" (Rosenthal, 1973). Some materials elicit greater social interaction and cooperation, like block building, whereas others encourage more solitary and or parallel play, such as puzzles (see review, Roskos & Neuman, 2001).
The physical placement of objects, as well, influences children's engagement in literacy-related activity. Children become more involved in sustained literacy play when objects are clustered together to create a schema or meaning network. For example, in one study (Neuman & Roskos, 1993), placing props associated with mailing letters together in a play setting (envelopes, writing instruments, stamps and stationary) led to longer play episodes than when these props were scattered throughout the room. Further, props that were authentic, familiar and useful to common literacy contexts, like telephones in the kitchen area, or mailboxes in the office area, encouraged more complex language interactions and routines.
The proximity of quality books at children's eye view supports involvement in literacy-like enactments (Morrow & Weinstein, 1986; Neuman, 1999). In one of the first intervention studies of its type, Morrow and Weinstein (1986) examined the influence of creating library corners in early childhood settings. These library corners were specially constructed to include the following elements: (a) a clear location with well-defined borders; (b) comfortable seating and cozy spots for privacy; (c) accessible, organized materials; and (d) related activities that extended whole- and small-group book activities. Morrow and Weinstein (1986) found that the frequency of use rose significantly when library corners were made more visibly accessible and attractive. Similarly, in a large-scale study in 500 child care settings (Neuman, 1999), library settings were created to "put books in children's hands" (p. 286). Observations indicated that children spent significantly more time interacting with books when they were placed in close proximity to children's play activities.
Consequently, there is clear and abundant evidence that certain physical design features in environments support young children's literacy engagement and subsequent achievement. Physical design features, uses of space, and resources, may help to focus and sustain children's literacy activity, providing greater opportunity to engage in language and literacy behaviors. This research indicates, therefore, that a more deliberate approach to the selection and arrangement of materials according to specific design criteria may enhance children's uses of literacy objects and related print resources.
Libraries might benefit from this research on the ecological features of environment. Creating cozy areas for children to sit and read together; constructing play spaces that help them learn to engage in playful behaviors that mimic library activities; and clustering objects such as books, toys, and writing implements together to encourage their sustained use of materials might enhance children's independent engagement in the library areas.
I.4 Interactional Supports for Literacy Learning
Environments include not only physical settings, but psychological settings for literacy learning as well (Tharp & Gallimore, 1988). Children are influenced by the participants present in a setting, their background experiences, their values and it is the integration of place, people, and occasion that support opportunities for learning. These individuals act as social and psychological resources that provide information and feedback through demonstrations and interactions. From a Vygotskian perspective (Vygotsky, 1978), the participants in the setting have the potential to help children perform at a higher level than they would be able to by interacting with their physical environment alone. It is the contrast between assisted and unassisted performance that differentiates learning from development.
A great corpus of research (Dickinson & Neuman, 2006; Neuman & Dickinson, 2001) identifies the types of supports that promote children's language and literacy development. Essentially, they highlight both instructional and relational components. Since language represents the foundational basis for literacy learning in the early years, there is evidence that the amount of verbal input in settings enhances children's language development (Hart & Risley, 1995; Hoff-Ginsberg, 1991). Children whose teachers engage them in rich dialogues have higher scores on tests of both verbal and general ability (Whitehurst et al., 1994). This is especially the case when discussions consist of adults encouraging, questioning, predicting and guiding children's exploration and problem-solving (Palinscar, Brown, & Campione, 1993). Such verbal interactions contribute to children's vocabulary growth which, in turn, is strongly correlated with phonological awareness, comprehension, and subsequent reading achievement.
Adults also engage in activities that are highly supportive of literacy development. Reading stories to children on a regular basis is regarded as one of the more potent supports for literacy learning (Bus, Van Ijzendoorn, & Pellegrini, 1995). Studies (Dickinson & Smith, 1994; Whitehurst & Lonigan, 1998) have shown that a parent's style or approach to reading storybooks to children has both short-term and long-term effects on language and literacy development. Shared book reading activities, such as dialogic reading (Whitehurst et al., 1994), for example, and repeated readings (Biemiller, 2006) have been widely studied and identified as an important source of knowledge about vocabulary, about letters, and about the characteristics of written language. Recent studies (Beck & McKeown, 2007; Duke, 2000) also highlight the importance of introducing children to a wide variety of books in different genres such as information books, poetry, and popular folk tales.
Attention to and support of emergent writing (Clay, 1991) has also been shown to strongly connect with children's developing phonological awareness, phonemic awareness and readiness skills. Activities involve 'driting (drawing and writing), and adult scaffolding help to build the alphabetic principle (Adams, 1990). Further, interactions in literacy-related play have been shown to relate to children's length of utterances, and sustainability in play themes (Neuman & Roskos, 1992). Taken together, activities that engage children in reading, writing, talking, and playing create occasions for meaningful communicative interactions involving language and print.
This research highlights the central role of the caregiver who evokes children's interest and engagement in literacy learning. According to Bus, Van Ijzendoorn, and Pellegrini (1995), children build a mental representation of their interactions with caregivers that influence their expectations and responses to activities. When children feel secure, they engage in learning; when insecure in situations, they may use digressive tactics to avoid activity. For example, in a cross-sectional study of interactive reading with 18-, 32-, and 66-month children, Bus and van Ijzendoorn (1995) found that the atmosphere surrounding book reading was more positive among securely attached caregiver-child dyads than anxiously attached dyads. For securely attached children, book reading was ultimately an enjoyable task, tied to learning improvement; for insecurely attached children, it was negative, with caregivers often using verbal and nonverbal cues to discipline behavior.
Other studies (Blair, 2002; Blair & Razza, 2007; Hamre & Pianta, 2005; Miles & Stipek, 2006; Pianta, La Paro, Payne, Cox, & Bradley, 2002), as well, support the linkage between children's emotional security and cognitive activity. For example, Howes and Smith (1995) report that in settings rich with creative play activities and staffed by adults who provide children with emotional security, children not only thrive socially but cognitively as well. Similarly Peisner-Feinberg and her colleagues (Peisner-Feinberg et al., 2001) found that the influence of close attachments between caregivers and children yielded even stronger positive effects for children from disadvantaged backgrounds than for children from more advantaged backgrounds. Recent studies (Hamre & Pianta, 2005) have shown that these emotional supports may have important moderating effects during the elementary school years as well. Shown in a recent study by Powell and his colleagues (Powell, Burchinal, File & Kontos, 2008), these types of supportive adult interactions are more likely to occur in small group and one-to-one instructional settings, rather than in whole group instruction.
1.5 Addressing the Needs of English Language Learners
All of these environmental supports are especially important for young English language learners (ELL). Their numbers have increased dramatically in the past 15 years in the United States. For example, in 1990, 1 in every 20 children was ELL, that is, a student who speaks English either not at all or with enough limitations that he or she cannot fully participate in mainstream English instruction. Today the figure is 1 in 9 (Goldenberg, 2008). Although these children come from over 400 different language backgrounds, by far the largest proportions of students are Spanish-speakers (over 80%) (U.S. Department of Education, 2005).
Recent syntheses of research (August & Shanahan, 2006; Rolstad, Mahoney, & Glass, 2005; Slavin & Cheung, 2005) suggest that when feasible, children should be taught in their primary language. Primary language instruction helps to promote bilingualism and, eventually, biliteracy. Further, children will need support in transferring what they know in their first language to learning tasks presented in English. Engaging children actively in meaningful tasks and providing many opportunities for them to participate at their functional levels will enable children to feel more efficacious, and to become contributing members in mainstream classrooms.
Adults will need to make adjustments and accommodations—sometimes described as 'instructional scaffolding'—to support children who are beginning English speakers (Goldenberg, 2008). They may have to speak slowly and somewhat deliberately, with clear vocabulary and diction; they may need to use pictures or other objects to illustrate the content being taught; or ask for children to respond either non- verbally (e.g., pointing or signaling) or in one- or two-word utterances (Snow et al., 1998). ELL's language needs are complex. These young children are not only learning a new language, but also a new set of social rules and behaviors that may be different from their home. Given the great variability among ELL children, adults will need to know the different stages of language learning to be able to implement the most appropriate accommodations (for addition information on accommodations (see Carlo et al., 2004; Francis et al., 2006; Vaughn et al., 2006). Consequently, these and other factors are especially important to ensure that these ELL children have many opportunities to use their second language (i.e., English) and their native language in meaningful and motivating situations.
From an ecological perspective, therefore, the physical and psychological environments play vital roles in children's learning about literacy. These supports mediate opportunities for literacy engagement and practice, and will likely influence children's attitudes and efforts to engage in literacy activities despite difficulties they may encounter as they learning to read proficiently.
To summarize, program features that support literacy development include:
• A supportive learning environment in which children have access to a wide variety of reading and writing resources. • Developmentally appropriate practices that actively engages children's minds and builds language and conceptual development. • Adult engagement in children's learning through conversations, discussions, and contingent responses to children's questions and queries. • A daily interactive book reading routine that introduces children to multiple genres, including information books, narrative, poetry, and alphabet books. • Activities that support small group and one-to-one interactions and differing levels of guidance to meet the needs of individual children. • A masterful orchestration of activities that supports play, learning and social-emotional development. • Adjustments and accommodations for English Language Learners that allow them to successfully engage in learning activities in the classroom.
1.6 Potential Avenues for Revisions of ECRR materials
The ECRR kit includes activities that support six critical skills: Print motivation, phonological awareness, vocabulary, narrative skills, print awareness, and letter knowledge. All of these skills are important. At the same time, however, the library community might wish to do the following:
• Rename some of the skills to be better aligned with current research. This would include: phonological awareness, vocabulary and oral language development, print concepts that include letter knowledge and specific concepts about print, and background knowledge and comprehension. Specifically, the library community would be wise to emphasize the informational aspects of book reading and its important relationship to background knowledge and conceptual development.
• Some skills, particularly in these early years are more important than others. The library community might consider focusing on language, vocabulary and its relationship to comprehension and reading success. Letter knowledge, print concepts are constrained skills, with limited predictive power in the long-run for children's achievement.
• The research literature clearly focuses on the importance of materials and interactions, as well as the social components in learning. The library community might consider adding these ecological factors which are critical for literacy motivation and learning.
Have a language expert improve your writing
Run a free plagiarism check in 10 minutes, generate accurate citations for free.
Methodology
How to Write a Literature Review | Guide, Examples, & Templates
How to Write a Literature Review | Guide, Examples, & Templates
Published on January 2, 2023 by Shona McCombes . Revised on September 11, 2023.
What is a literature review? A literature review is a survey of scholarly sources on a specific topic. It provides an overview of current knowledge, allowing you to identify relevant theories, methods, and gaps in the existing research that you can later apply to your paper, thesis, or dissertation topic .
There are five key steps to writing a literature review:
Search for relevant literature
Evaluate sources
Identify themes, debates, and gaps
Outline the structure
Write your literature review
A good literature review doesn't just summarize sources—it analyzes, synthesizes , and critically evaluates to give a clear picture of the state of knowledge on the subject.
Table of contents
What is the purpose of a literature review, examples of literature reviews, step 1 – search for relevant literature, step 2 – evaluate and select sources, step 3 – identify themes, debates, and gaps, step 4 – outline your literature review's structure, step 5 – write your literature review, free lecture slides, other interesting articles, frequently asked questions, introduction.
Quick Run-through
Step 1 & 2
When you write a thesis , dissertation , or research paper , you will likely have to conduct a literature review to situate your research within existing knowledge. The literature review gives you a chance to:
Demonstrate your familiarity with the topic and its scholarly context
Develop a theoretical framework and methodology for your research
Position your work in relation to other researchers and theorists
Show how your research addresses a gap or contributes to a debate
Evaluate the current state of research and demonstrate your knowledge of the scholarly debates around your topic.
Writing literature reviews is a particularly important skill if you want to apply for graduate school or pursue a career in research. We've written a step-by-step guide that you can follow below.

Here's why students love Scribbr's proofreading services
Discover proofreading & editing
Writing literature reviews can be quite challenging! A good starting point could be to look at some examples, depending on what kind of literature review you'd like to write.
Example literature review #1: "Why Do People Migrate? A Review of the Theoretical Literature" ( Theoretical literature review about the development of economic migration theory from the 1950s to today.)
Example literature review #2: "Literature review as a research methodology: An overview and guidelines" ( Methodological literature review about interdisciplinary knowledge acquisition and production.)
Example literature review #3: "The Use of Technology in English Language Learning: A Literature Review" ( Thematic literature review about the effects of technology on language acquisition.)
Example literature review #4: "Learners' Listening Comprehension Difficulties in English Language Learning: A Literature Review" ( Chronological literature review about how the concept of listening skills has changed over time.)
You can also check out our templates with literature review examples and sample outlines at the links below.
Download Word doc Download Google doc
Before you begin searching for literature, you need a clearly defined topic .
If you are writing the literature review section of a dissertation or research paper, you will search for literature related to your research problem and questions .
Make a list of keywords
Start by creating a list of keywords related to your research question. Include each of the key concepts or variables you're interested in, and list any synonyms and related terms. You can add to this list as you discover new keywords in the process of your literature search.
Social media, Facebook, Instagram, Twitter, Snapchat, TikTok
Body image, self-perception, self-esteem, mental health
Generation Z, teenagers, adolescents, youth
Search for relevant sources
Use your keywords to begin searching for sources. Some useful databases to search for journals and articles include:
Your university's library catalogue
Google Scholar
Project Muse (humanities and social sciences)
Medline (life sciences and biomedicine)
EconLit (economics)
Inspec (physics, engineering and computer science)
You can also use boolean operators to help narrow down your search.
Make sure to read the abstract to find out whether an article is relevant to your question. When you find a useful book or article, you can check the bibliography to find other relevant sources.
You likely won't be able to read absolutely everything that has been written on your topic, so it will be necessary to evaluate which sources are most relevant to your research question.
For each publication, ask yourself:
What question or problem is the author addressing?
What are the key concepts and how are they defined?
What are the key theories, models, and methods?
Does the research use established frameworks or take an innovative approach?
What are the results and conclusions of the study?
How does the publication relate to other literature in the field? Does it confirm, add to, or challenge established knowledge?
What are the strengths and weaknesses of the research?
Make sure the sources you use are credible , and make sure you read any landmark studies and major theories in your field of research.
You can use our template to summarize and evaluate sources you're thinking about using. Click on either button below to download.
Take notes and cite your sources
As you read, you should also begin the writing process. Take notes that you can later incorporate into the text of your literature review.
It is important to keep track of your sources with citations to avoid plagiarism . It can be helpful to make an annotated bibliography , where you compile full citation information and write a paragraph of summary and analysis for each source. This helps you remember what you read and saves time later in the process.
A faster, more affordable way to improve your paper
Scribbr's new AI Proofreader checks your document and corrects spelling, grammar, and punctuation mistakes with near-human accuracy and the efficiency of AI!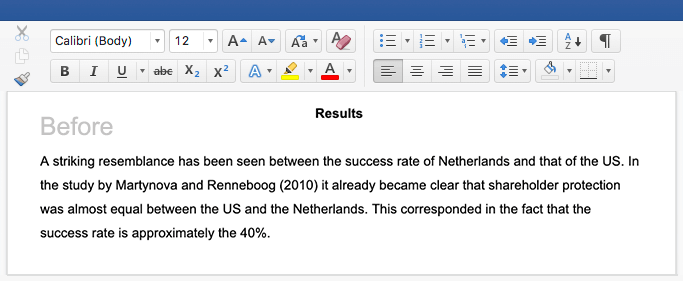 Proofread my paper
To begin organizing your literature review's argument and structure, be sure you understand the connections and relationships between the sources you've read. Based on your reading and notes, you can look for:
Trends and patterns (in theory, method or results): do certain approaches become more or less popular over time?
Themes: what questions or concepts recur across the literature?
Debates, conflicts and contradictions: where do sources disagree?
Pivotal publications: are there any influential theories or studies that changed the direction of the field?
Gaps: what is missing from the literature? Are there weaknesses that need to be addressed?
This step will help you work out the structure of your literature review and (if applicable) show how your own research will contribute to existing knowledge.
Most research has focused on young women.
There is an increasing interest in the visual aspects of social media.
But there is still a lack of robust research on highly visual platforms like Instagram and Snapchat—this is a gap that you could address in your own research.
There are various approaches to organizing the body of a literature review. Depending on the length of your literature review, you can combine several of these strategies (for example, your overall structure might be thematic, but each theme is discussed chronologically).
Chronological
The simplest approach is to trace the development of the topic over time. However, if you choose this strategy, be careful to avoid simply listing and summarizing sources in order.
Try to analyze patterns, turning points and key debates that have shaped the direction of the field. Give your interpretation of how and why certain developments occurred.
If you have found some recurring central themes, you can organize your literature review into subsections that address different aspects of the topic.
For example, if you are reviewing literature about inequalities in migrant health outcomes, key themes might include healthcare policy, language barriers, cultural attitudes, legal status, and economic access.
Methodological
If you draw your sources from different disciplines or fields that use a variety of research methods , you might want to compare the results and conclusions that emerge from different approaches. For example:
Look at what results have emerged in qualitative versus quantitative research
Discuss how the topic has been approached by empirical versus theoretical scholarship
Divide the literature into sociological, historical, and cultural sources
Theoretical
A literature review is often the foundation for a theoretical framework . You can use it to discuss various theories, models, and definitions of key concepts.
You might argue for the relevance of a specific theoretical approach, or combine various theoretical concepts to create a framework for your research.
Like any other academic text , your literature review should have an introduction , a main body, and a conclusion . What you include in each depends on the objective of your literature review.
The introduction should clearly establish the focus and purpose of the literature review.
Depending on the length of your literature review, you might want to divide the body into subsections. You can use a subheading for each theme, time period, or methodological approach.
As you write, you can follow these tips:
Summarize and synthesize: give an overview of the main points of each source and combine them into a coherent whole
Analyze and interpret: don't just paraphrase other researchers — add your own interpretations where possible, discussing the significance of findings in relation to the literature as a whole
Critically evaluate: mention the strengths and weaknesses of your sources
Write in well-structured paragraphs: use transition words and topic sentences to draw connections, comparisons and contrasts
In the conclusion, you should summarize the key findings you have taken from the literature and emphasize their significance.
When you've finished writing and revising your literature review, don't forget to proofread thoroughly before submitting. Not a language expert? Check out Scribbr's professional proofreading services !
This article has been adapted into lecture slides that you can use to teach your students about writing a literature review.
Scribbr slides are free to use, customize, and distribute for educational purposes.
Open Google Slides Download PowerPoint
If you want to know more about the research process , methodology , research bias , or statistics , make sure to check out some of our other articles with explanations and examples.
Sampling methods
Simple random sampling
Stratified sampling
Cluster sampling
Likert scales
Reproducibility
 Statistics
Null hypothesis
Statistical power
Probability distribution
Effect size
Poisson distribution
Research bias
Optimism bias
Cognitive bias
Implicit bias
Hawthorne effect
Anchoring bias
Explicit bias
A literature review is a survey of scholarly sources (such as books, journal articles, and theses) related to a specific topic or research question .
It is often written as part of a thesis, dissertation , or research paper , in order to situate your work in relation to existing knowledge.
There are several reasons to conduct a literature review at the beginning of a research project:
To familiarize yourself with the current state of knowledge on your topic
To ensure that you're not just repeating what others have already done
To identify gaps in knowledge and unresolved problems that your research can address
To develop your theoretical framework and methodology
To provide an overview of the key findings and debates on the topic
Writing the literature review shows your reader how your work relates to existing research and what new insights it will contribute.
The literature review usually comes near the beginning of your thesis or dissertation . After the introduction , it grounds your research in a scholarly field and leads directly to your theoretical framework or methodology .
A literature review is a survey of credible sources on a topic, often used in dissertations , theses, and research papers . Literature reviews give an overview of knowledge on a subject, helping you identify relevant theories and methods, as well as gaps in existing research. Literature reviews are set up similarly to other  academic texts , with an introduction , a main body, and a conclusion .
An  annotated bibliography is a list of  source references that has a short description (called an annotation ) for each of the sources. It is often assigned as part of the research process for a  paper .  
Cite this Scribbr article
If you want to cite this source, you can copy and paste the citation or click the "Cite this Scribbr article" button to automatically add the citation to our free Citation Generator.
McCombes, S. (2023, September 11). How to Write a Literature Review | Guide, Examples, & Templates. Scribbr. Retrieved September 25, 2023, from https://www.scribbr.com/dissertation/literature-review/
Is this article helpful?
Shona McCombes
Other students also liked, what is a theoretical framework | guide to organizing, what is a research methodology | steps & tips, how to write a research proposal | examples & templates, what is your plagiarism score.