Sign up to our Newsletter
Law student cover letter: what you need to know + samples.
Reviewed by:
David Merson
Former Head of Pre-Law Office, Northeastern University, & Admissions Officer, Brown University
Reviewed: 09/14/23
‍ Need to write a law student cover letter? We've got you covered! Below we discuss the dos and don'ts of writing a cover letter for law school. 
A cover letter is often an overlooked aspect of any application, but it is the first thing potential employers read. If your cover letter doesn't impress the reader, your entire application risks being passed over. 
If you are unsure of how to write a strong law student cover letter, look no further. We'll give outline key tips, review examples of cover letters and answer some frequently asked questions. Let's get started!
What Is a Law Student Cover Letter? 
A law student cover letter is a document a law student submits with their resume to potential employers for internships or employment opportunities within their field of study.
It serves as a personalized introduction and persuasive pitch to potential employers. This letter connects the applicant's qualifications and experiences listed in their resume to the specific position they're applying for, highlighting their suitability for the role. 
It concludes with a call to action, expressing interest for an interview. Moreover, a law student cover letter is a tool for law students to demonstrate their qualifications and enthusiasm aiming to secure an interview and the desired role.
Why Do You Need a Cover Letter as a Law Student?
Cover letters are a key part of any job application, whether you are in law school or not. It is important to include a cover letter unless specified otherwise, especially if you're applying to multiple law schools . They allow you to demonstrate professionalism and show off your communication and writing skills. 
Cover letters are important for law students; they allow you to discuss important qualifications and experiences that aren't always included within your resume, such as extracurricular activities . Information you can (and should) include in your cover letter include: 
Research experience and activities 
Coursework 
Other valuable skills 
A cover letter for law students is a great opportunity to share your accomplishments and skills outside of your work experience.
What to Include in Your Law Student Cover Letter
Your cover letter is the first thing an employer will read, so be positive and enthusiastic! While your resume outlines your relevant work experience and education, it doesn't show off your personality. A cover letter can be a great opportunity to humanize yourself to the employer and make them want you to be a part of their team. 
As a law student, what should you include in your cover letter? Berkeley Law outlines the content you should include in your cover letter : 
First Paragraph : Introduce yourself and why you are interested in applying for the position. 
Body Paragraphs : This is where you show off all your work experience, research, achievements, qualifications, and other skills that are related to the position you are applying to. Be persuasive but not too showy. Remember to be honest and genuine. 
Final Paragraph: To conclude, thank the employer for taking the time to read and consider your application, and leave contact information for a prospective interview. Remain positive and confident that you will get an interview!
While these are just suggestions to help you get started and structure your cover letter, you should try to follow this format as closely as you can. 
What NOT to Include in Your Law Student Cover Letter
It is tempting to highlight all of your experiences, but that is not the purpose of a cover letter. Cover letters should be concise and to the point. You should only mention experiences that are relevant to the position you are applying for. 
When deciding which experiences to include, focus on those that you have completed recently. You only have a few short paragraphs to sell yourself to employers, so be sure to avoid accomplishments from over three years ago. 
You also want to avoid being negative, doubtful, or coming across as insecure in your cover letter. 
Formatting Tips for Law Students Cover Letter
Understanding the structure of a cover letter for a law student is essential to create an impressive and effective application for legal internships or job opportunities. Here are some easy to follow tips to help you format your cover letter. 
1. Include a Header
Prior to writing the main sections of your cover letter, review and update your personal information. Make it easily accessible by positioning your contact details in the header section at the top of the letter. 
This includes your full name, email address, phone number, city, state, and date. This ensures the hiring manager can quickly locate your information for interview scheduling.
2. Address the Hiring Manager
Begin your letter with a professional and personalized greeting by addressing the hiring manager by name, incorporating their appropriate title (e.g., Mr. or Ms.). If you don't have their name, conduct online research, as law firms often provide employee information on their websites. 
In cases where you can't find a name, you can use the standard "Dear Hiring Manager" as your greeting.
3. Page Format and Length
When crafting your cover letter, remember to keep it concise, fitting all content onto a single page. Structure it with an introductory paragraph, followed by one to three skill-highlighting paragraphs, and wrap it up with a concluding paragraph. This format ensures that your message is clear and impactful while respecting the reader's time.
4. Margins and Alignment 
Ensure you follow the standard margins , typically one inch on all sides. If you opt for smaller margins, such as around 0.7 inches, make sure to maintain consistency across all sides of the page. 
Additionally, align all paragraphs to the left for a clean and conventional presentation, although some choose to use an indentation for the first line of each paragraph, although this is less common in modern formatting.
5. Use a Suitable Sign-Off
Conclude your cover letter with a professional and balanced tone. It shows your professionalism, which law firms often value in candidates. Consider sign-offs like "Regards," "Sincerely," or "Best Regards." Allow some space after this closing for your name.
Law Student Cover Letter Example
We have some law student cover letter examples below to give you an idea of tone, style, and length. 
Here is an example of a strong cover letter for a first-year law student at Yale University: 
Dear [Employer's Name]: 
I am a first-year student at Yale Law School seeking a position with Curtis, Mallet-Prevost, Colt & Mosle for Summer 20XX. I am a native New Yorker and hope to work in New York City this coming summer. 
I am interested in your firm because of its international law practice generally and, more particularly, because of your firm's presence in France and numerous French clients. Your Paris office's focus in the areas of international commercial arbitration, as well as corporate, banking, and finance work, aligns with my long-term interests in a practice serving international corporations. Having lived and studied in Paris for one year during college and having served as a teaching assistant for French language and literature courses, I am fluent in French and knowledgeable about French culture. My undergraduate majors in International Relations and in Economics provided me with an understanding of many of the complex issues facing businesses with the increase in globalization. I plan to further my understanding of these issues as a member of the Yale Journal of International Law. 
To your firm I will bring proven legal research, writing, and analytical skills that will support your firm and its clients. During my undergraduate education, I served as a member of the University Judiciary Committee, and as a student judge I heard cases, interpreted university codes, and wrote rulings summarizing the Committee's conclusions. I also drafted a thesis in which I drew from archived primary sources and first-person interviews to write a fifty-page document over the course of a year. Here at Yale, through our first-year writing course this fall, I have streamlined my skills and adapted them to the legal environment. Next semester, I will enroll in YLS's Advanced Legal Writing course to deepen my understanding and experience. 
Attached please find my resume. If you would like me to provide you with additional materials, I would be more than happy to do so. I am confident that my background and skills will enable me to make a positive contribution to your clients. Thank you for considering my candidacy. I look forward to hearing from you soon. 
Sincerely, [Your Name]
This is a successful cover letter because the individual outlines specific academic skills and experience that makes them a qualified candidate. Remember, being specific is key to writing a strong cover letter. 
Employers want to read about a couple of examples rather than a general (and usually vague) overview of all your qualifications and experiences. 
For first year law students, you can highlight where you completed your undergrad and your major as you will have most likely just completed this degree. You can also include why you are interested in pursuing a law career. 
For those who are in their second year of law school, here is an example of a good cover letter : 
I am a second-year student at Yale Law School seeking employment with the Food Research and Action Center for the summer. If funding is not available for summer interns, Yale could fund my summer employment. 
FRAC's mandate to eradicate poverty-related hunger and undernutrition in the United States is compelling to me. I understand that through a combination of research, advocacy, program monitoring, training, collaboration, and public-information campaigns you seek to address the root causes of hunger. As a former nurse who has worked on issues of nutrition and health policy, I am very interested in the work of the Center in the areas of health law and nutrition in maternal and child health. I would greatly value the opportunity to work with and learn from your attorneys, policy analysts, and advocates. 
I have practical work experience in these fields that would be of service to you and your clients. My work as an assistant ombudsperson at a major hospital helped me to understand the importance of nutrition for health and the need for advocacy on behalf of those who cannot effectively advocate for themselves. My experience with the National Health Law program exposed me to the legislative and policy side of health law and the value of legal training in public service. After my first year of law school, I was able to combine my nursing degree and health care experience with my new legal research and writing skills at the Center for Reproductive Law and Policy. This experience has strengthened my interest in grassroots organizing and advocacy of nutrition issues for low income Americans.
I would welcome the opportunity to speak with you or someone in your office about a position as a summer intern at the Center. I will call your office in the next few weeks to see whether it might be possible to arrange an interview and look forward to speaking with you then. 
I have enclosed my resume, law school transcript, a writing sample, and a reference list. Should you require additional application materials, please let me know, and I will forward them to you immediately. 
Thank you for your consideration. 
Like the first example, this cover letter works so well because it clearly outlines and describes the specific experience of the candidate. As a second year law student, the individual speaks about how their experience relates to their areas of law the student is interested in pursuing, demonstrating that the position the candidate is applying for will help them achieve their career goals.    
These examples are a good starting point to structure your own letter off of, but remember to make your cover letter your own. 
Cover Letter Template for a Law Student 
Here is a cover letter template for law students provided by the University of Notre Dame. 
Your City, State Zip
Your Phone Number 
Your Email Address
Name of Contact Person 
Title of Contact Person 
Employer Name 
Address City, State Zip     
Dear Mr. (Ms.) last name of contact person:   
First Paragraph: Tell why you are writing – name the position for which you are applying. If you have a personal referral or connection, mention it here. Identify your career goals and indicate why you are interested in working for this employer. If you have ties to or lived in the area, mention it. Specify your interests in the type of work the employer does. Describe what is particularly appealing to you about the employer.    
Second Paragraph: Show how your background qualifies you for the position. Point out the experience and coursework you have that relates to the employer's field or type of work. Focus on what skills or experiences you would bring to the employer. Emphasize pertinent items on your resume and supplement with other details. Tie experience to tangible, transferable skills. Convince the employer that you would be an asset.   
Third Paragraph: Restate your interest in working for the employer. Have an appropriate closing to pave the way for an interview. Indicate your willingness to interview personally by stating when you will be in the area or by offering to make yourself available at the employer's convenience. Thank the employer for his/her consideration.   
Sincerely,    
(leave 4 blank lines for signature)     
Your full typed name 
There are many law school application mistakes to avoid . If you're having trouble writing your cover letter, this help template will aid you in writing a stellar one! 
FAQs: Law Student Cover Letter
Still have questions about writing a law student cover letter? We answer some of your frequently asked questions below. 
1. How Do I Write a Cover Letter for a Law Student?
Before you begin writing any cover letter, familiarize yourself with the job posting, the company/organization you are applying to, and use words and phrases found in the job posting. 
This will demonstrate that you are genuinely interested in the specific job, and will also show off your attention to detail (a skill employers always look for). After you have written the cover letter, proofread and edit for grammar and spelling errors before you submit your application. 
2. What Should Be Included in a Cover Letter for Law?
Your cover letter should include: 
Your Address and Contact Information 
Your Full Name and Location 
The Date of Your Application 
A Brief Introduction to Yourself 
Concise Outline of Professional and Academic Experience 
Highlights of Why You Are Qualified for the Position 
A Professional and Polite Closing 
Highlight the school you're attending, as law firms may prefer students from certain colleges. 
Take your time when writing your cover letter; it takes quite a bit of work to craft an impactful one. However, a strong cover letter will maximize the chances of getting the job or internship you want, so it will be well worth it. 
3. How Long Should a Law School Cover Letter Be?
A cover letter should only be one page long and broken up into a few short paragraphs for ease of reading. Make sure that you follow typical business correspondence formatting. 
4. How Do You Address a Law School Cover Letter?
Normally, people have addressed cover letters with Mr. or Mrs. [Last name] . However, this may not always be appropriate because you do not know how the individual would like to be addressed. 
Nowadays, people typically address employers with a simple Dear [First and last name] . This is still a personal and respectful way to address someone, and avoids assuming someone's gender identity and offending them. Yale Law School suggests addressing your cover letter to a specific individual rather than a vague 'Sir' or 'Madam.'
A job posting may give you specific directions on how and who to address your letter to. For example, some job postings explicitly state to address the letter to Human Resources. Always read through the job ad and instructions thoroughly and follow what they ask for. 
5. ​​Can I Use The Same Cover Letter For Multiple Law Schools?
Yes you can use the same cover letter for multiple law schools , it's an application requirement . However, you may only reuse parts of it. It's important that you personalize every cover letter you write and tailor it to the school you're sending it to. 
6. Do I Need Multiple Cover Letters?
Yes, you need multiple cover letters. You'll need to personalize each cover letter you write. However you can reuse parts of your cover letter that are generic. 
Final Thoughts
Writing a cover letter is not as easy as many people may think. You need to pay close attention to detail, flex your communication and writing skills, and professionally brag about your accomplishments and capabilities. 
If you would like help for your resume, we also have tips on building a great resume to go along with your cover letter. Good luck!
Schedule A Free Consultation
You may also like.
Best Questions to Ask Law School Admissions Officers + Tips
How to Choose a Law School: Main Factors, Tips + FAQs
Law Student Cover Letter Samples
If you're studying law and looking to review some law student cover letter samples, then this blog is for you! Whether you're applying to an internship, or hoping to obtain employment in your field, you'll need a specific cover letter detailing your qualities and skills as a law student. A law student cover letter differs from a law school letter of recommendation , as you'll write it yourself and you'll only need it once you're already admitted into your program. A well written cover letter can help you acquire great learning opportunities!
>> Want us to help you get accepted? Schedule a free strategy call here . <<
Article Contents 11 min read
Law student cover letters are extremely important for students of law to know how to write and have on-hand, regardless of what year of study you're currently in. A cover letter serves as your chance to show off your skills and to make sure that the motivation behind your career choice and your suitability for the role; this is especially important for things like summer job opportunities related to your program and internships. This blog will walk you through everything you need to know about writing a law student cover letter—from what information it should contain, how it should be formatted, and a few samples of law student cover letters so you'll know how to prepare your letter with ease!
What is a Law Student Cover Letter?
You are now a law student! After completing dozens of application components, such as your law school personal statement, law school resume , and other law school optional essays , you have finally made it! But, if you think that you are done planning and working on application materials, you are wrong! Now that you're a law student, you must work to gain relevant experience and knowledge by participating in internships, articling, and other law-related job opportunities. To succeed in your applications, you will need a stellar law student cover letter.
A law student cover letter is a document that you write to accompany your resume, which you send along with your application for various internships or employment opportunities that are related to your area of study. In your case, this is law, but it may be a specific sector of law that you have a special interest in, such as family law or environmental law. A cover letter is used to connect the dots between your experiences listed on your resume by providing your potential employer with a short, organized narrative that details why you're an ideal candidate for the role.
As a law student, it's important for you to create effective marketing materials that stand out from the crowd of applicants. A well-written cover letter will help employers remember who sent them the application—and put it at the top of their pile when they're shortlisting candidates for an interview!
Simply put: you'll want to stand out to potential employers, and having a well written cover letter can enhance your application!
Need help with your cover letter? Reach out to a law school advisor:
Without a cover letter, your application may only consist of a resume, and/or any other documentation that is required. Most, if not all, jobs recommend a cover letter. The same can be said for internships. Whether paid or unpaid, internship positions are often in high demand, and many law students will likely apply for the same position. Many students may have similar academic paths and accomplishments, so, having a stellar cover letter gives you an opportunity to stand out (in just a few short paragraphs) and works to enhance the valuable information and experiences on your resume.
You should prepare a law-specific cover letter when you want to apply for any professional role related to law. Commonly, law student cover letters are required/recommended to go along with internship applications.
Even if you're not currently seeking an internship or employment, you may also want to have an established cover letter if you're interested in alumni networking as a law student, or learning about opportunities without the immediate intent of applying to them.
Your cover letter is a professional extension of you, and should almost act as a narrative that encompasses your abilities as a law student as they relate to the role you're hoping to obtain.
Every law student cover letter you create and submit should be completely unique. This doesn't mean that your latest cover letter cannot follow the same format as another you've written, or include the same background information about your skills. Rather, you should ensure each cover letter is tailored to the specific company and position you're applying for. Each role has different requirements and expectations, so it's important you take the time to share why you feel you'd be a good fit for a specific role, and not submit the same, generalized cover letters to every role you apply for while you're in law school.
If you're a law student, cover letters are an important part of your job search while you're still in school, and can really come in handy if you're planning on pursuing an internship, whether one is a mandatory component of your program or not.
Even if internships are required by your institution, it does not mean you'll be automatically awarded an internship. You may need to apply yourself in order to stand out and be considered above other candidates for your desired position at the company you wish to intern with; especially if it's competitive.
Cover letters give you the chance to explain why you would be a good fit for a position and show that you're serious about getting the job. Resumes are brief and often point-form, highlighting a few academic accomplishments and credentials, along with employment history and workplace skills. But sometimes, a job title and a brief description of your duties isn't sufficient enough to look like the best candidate in the application pool!
The first thing most hiring managers look at when they get an application is the cover letter; this is true across many fields, but especially in law. It gives them a sense of who you are as a professional, and shows them whether or not you may be an ideal fit for their company. Each company has its own culture and set of values; they're looking for specific talent and skills to add to their team, and the only way they'll know if you have these is by reading your detailed cover letter.
If yours doesn't stand out from the rest, you may not hear from your dream company!
What Information Should I Include in my Law Student Cover Letter?
Your law student cover letter should include the following:
Your name, address and phone number.
The date of your application. If you are applying for multiple positions at once, it's helpful to make sure that your cover letter goes with each job posting.
A short summary of your career history so far (including any relevant work experience). This could be a paragraph or two long, but shouldn't take up more than half the page.
Brief descriptions of the internship or role you are applying for and what makes you qualified for it. You should emphasize the knowledge and skills you possess, and experiences you've had, in order to demonstrate why you think you're a perfect candidate.
A concise summary about why you want to work in law, and why you want to work for this employer in particular. You can include the steps you've taken towards achieving this goal so far—this would include some information about your years spent at university as well as activities outside of class, such as extracurriculars related specifically to legal studies or volunteer opportunities.
What Information Should I Refrain from Putting in my Cover Letter?
Yes, there is definitely information that should not be included in any cover letter, but especially a law student cover letter.
First, you should refrain from including overly personal information. This means you should not provide details about your personal life, irrelevant points about hobbies or interests unrelated to law, and any information about your age, race, gender, political opinion, or preferences, unless this was a requirement for the role! For example, some internship and job postings may be looking for students under 30 years of age, somebody who is bilingual, somebody who identities as female, or even a person with a specific area of interest that is relevant to the position.
When formatting your law student cover letter, consider the following:
Remember, no matter what position you\u2019re applying for, or what your experience is, your cover letter is to serve as an informative, concise piece\u2014a narrative\u2014explaining your professional qualifications! Your resume is the place to list your accomplishments and extensive history (usually in point-form of brief sentences), however, your cover letter should highlight skills and points that are specific to the role you\u2019re hoping to obtain. "}]'>
November 1, 2020
Mr. John Smith
XYZ District Attorney's Office
123 Anywhere Street
Newtown, NY
Dear Mr. Smith,
I am a second-year student at ZYX Law School and I'm elated to be writing to you in response to your posting for a spring intern at your downtown office. I have been a passionate advocate for many social justice movements in the downtown core, and feel working at the XYZ District Attorney's Office would be an invaluable experience. I am also confident that I have several established skills that would make me a great addition to your office over the course of the fourth month position.
I attended ABC University for my undergraduate degree and received my honors degree in Justice, Political Policy and Law in 2017, with a minor focus in Labor Studies. Prior to beginning my current program, I accepted a part-time position as a youth program coordinator at Newtown's Indigenous community center. I thoroughly enjoy drafting and organizing programs that will benefit the young minds in this city, and throughout my academic and professional endeavors, I've grown to be the passionate, dedicated law student I am today.
I am passionate about social justice and empowerment which is why a role interning at your office not only piqued my interest as somebody eager to learn more about district law, but somebody who is so excited about working in this city. I also firmly believe I am capable of demonstrating the intensive research skills and organizational abilities required for this role, as I exceeded in political research and research analytics during my undergraduate degree, specifically with my fourth-year thesis, where I presented my case on the relation of Generational Trauma, Systemic Racism and Social Welfare Crises. Last summer, I completed an internship at CDF Law Firm as a research assistant and thoroughly enjoyed my time there. I successfully compiled and drafted several documents during my two months at CDF, and, I learned how to best organize my findings in an approachable and concise manner.
Overall, I feel an internship at XYZ District Attorney's Office would be phenomenal opportunity. I feel in this position, I'd be able to successfully enhance my skills as a law professional, and learn new research and leadership skills that will be imperative to my growth and will contribute to my journey toward one day becoming a District Attorney myself. I have a lot to learn, but I know I have a lot of value and skill to offer.
Thank you in advance for taking the time to review my cover letter. I look forward to connecting with you. I can be reached at (102)-304-1234, or by email, [email protected] .
Sample Law Student Cover Letter 2
ABC County Municipal Government Center
1999 Anytown Ave - 18
Anycity, NY
March 10, 2018
To Whom it may Concern,
I am a third year ABC Law student determined to pursue a career as a public defender, which is why I am excited to be formally applying for your internship at ABC Country Municipal Government Centre. I have an extensive background studying criminal law and public defence, both in my post secondary courses and internships, and volunteer endeavors. I feel my combination of experience and dedication to becoming a law professional allow me to demonstrate the skills necessary for this role, including knowledge of the criminal justice system, municipal law, and defence, as well as impeccable analytical and critical thinking abilities.
Last summer, I worked for the Public Defender Service for the District of CBA as a part-time intern. There, I helped my designated attorney prepare for trial and conducted extensive research on cases specific to juveniles, as well as other crimes that impacted the community, like vandalism. I helped prepare court documents and by the end of my contract, I was preparing documents entirely on my own; they were then granted approval upon review and used in court. I also witnessed and participated in defence interviews as an observer and got a first-hand look at what it takes to not only question to convicted, but to see the big picture and understand, from a professional standpoint, what their true intent is/was. I always strive to hear everybody and ask the appropriate questions to ensure I have a thorough understanding of every case.
I have completed eight criminal law courses, with honors, in my current program, and exceeded in criminal law during my undergraduate career, too. Currently, I volunteer as a journalist for the law "paper", that is a student-run and funded blog, at ABC University. I enjoy volunteering my time to not only to inform the law community of pertinent issues and stories in our community, but to ensure I have polished and pristine research and writing skills. I believe the only way to learn and improve, is by doing.
My training during workshops and mock trials has helped me to develop the strong oral advocacy skills critical in the courtroom, which I am looking to put to use, alongside my research, writing, and analytical skills, at an internship at your office. My academic career and professional goals, make me a strong candidate for this position. I would appreciate the chance to discuss my qualifications with you.
Thank you for your time and consideration.
As a law student, you'll benefit tremendously from knowing how to draft a quality, concise law student cover letter for all of your future internships and employment opportunities. It's essential that you mention relevant details and highlight your assets in your law student cover letter, as it's your only opportunity to offer a narrative to support your resume/application, and speak to your own character and potential!
Be sure to review our samples above, and review the recommended structure so that you can format your law student cover letter well and attach it to all of your applications! Remember, for each job you apply for, you should create a custom cover letter.
A cover letter is a one-page document that you include with your resume when applying for jobs, internships and other positions. The cover letter's purpose is to introduce yourself and explain why you are the best candidate for the job. It should also highlight why you would be an asset to the company or law firm in question.
A law student cover letter is different from a cover letter you'd send along to support your application for a job outside of law. As a law student, you'll require a cover letter when you apply for internship opportunities, or for positions related to the field of law.
Yes, and no. While having a template and outline for your law student cover letter is generally a good idea, you should customize all of your cover letters so that they are tailored to each individual role you are applying for. Be sure to state the company's name, and personalize what you say so it stands out to specific employers!
Mentioning specific skills you have that align with their ideal candidate (refer to job description),and supplying a brief, supportive narrative can strongly support your resume. Remember, your resume acts as an organized list to detail your experience, whereas a cover letter gives you the chance to speak to your character, experiences, and skills, and convince the employer that you're right for the role!
Refrain from providing extensive information about past experiences (educational, employment or personal) that are not relevant to the position of which you're applying! You only have one page, so be sure to only add details that matter and relate to law!
No, when you have not yet entered your law program, you are not yet a law student! You can use cover letters for any job you apply for, however, they should be tailored specifically to your program.
It's important to remember that a law student cover letter is vastly different than a law school letter of recommendation. Your letter of recommendation supports your application to law school, and is written by a recommender. Your law student cover letter will be written by you, once you're already admitted into your law program.
You need one cover letter for each job/internship you apply for, unless you are given instructions that state otherwise. Your cover letter should be no more than one page, and should be broken up into 3-5 short paragraphs to make it readable and professional.
BeMo Academic Consulting can help you! We offer academic support for students studying in a variety of fields, including law, and we'd be happy to help you write your law student cover letter.
Want more free tips? Subscribe to our channels for more free and useful content!
Apple Podcasts
Like our blog? Write for us ! >>
Have a question ask our admissions experts below and we'll answer your questions, get started now.
Talk to one of our admissions experts
Our site uses cookies. By using our website, you agree with our cookie policy .
FREE Training Webinar:
How to make your law school application stand out, (and avoid the top 5 mistakes that get most rejected).
Time Sensitive. Limited Spots Available:
We guarantee you'll get into law school or you don't pay.
Swipe up to see a great offer!
Cover Letters
E. common cover letter mistakes.
Vide o and Slides from the CDO program " Cover Letters That Do The Job" and handouts: Job Postings & Tips and Sample PIPS Cover Letters .
Your cover letter is as important as your resume because it is often read first and plays a vital role in your quest for an interview. A cover letter is not a transmittal letter, and you may be surprised at how time-consuming it is to craft a good one. A cover letter has a purpose, which is to let an employer know why they should bother reading your resume and why they should meet you. It also serves as an example of your written work product; thus it should be clear, brief, and written in a business letter style, without any typographical errors.
1. Cover letters for unsolicited applications come in three main types:
Personal Letter. These are the most effective cover letters and are sent to people you have met or with whom you have a mutual acquaintance. These letters should all start with the sentence: "_______ recommended that I contact you." As this type of letter is most likely to get a response, if you have any possibility of establishing this sort of connection to a prospective employer in advance of sending your letter, you should try your best to do so.
Targeted Letters. Next best thing. Targeted letters are based on research of the employer, and are individually tailored. Your letter should incorporate the information learned through your research to show the employer that you have skills they will be able to put to use.
Mass Mailers. Least desirable. These are generic except for the name and address of the employer, and have a very low success rate of getting interviews.
2. When you respond to a job listing, you will usually be requested to submit a cover letter as part of your application. In this case, use the job description and requested qualifications as a guide. While not simply imitating the language of the listing, your letter should demonstrate that you have what the employer is looking for.
3. A few employers at OCI request that students bring a cover letter to the initial interview. This is essentially to require students to think about why they want to work for this employer, but it makes for a letter which deviates from the usual "please consider me for an interview" approach. See below for suggestions on OCI cover letters.
Cover letters should follow standard business letter format, as to spacing, salutation, etc. If you are not sure of the fine points, consult a business correspondence reference source. Avoid abbreviations, contractions and shortcuts (such as a slash instead of "or"), although if there is an accepted short form of the name of the organization you are writing to (e.g., ACLU or Coblentz) it is acceptable to use it in the text of your letter. Your telephone number and email address should appear somewhere in the letter, either at the top with your address, or in the closing paragraph, when you ask them to contact you. Note that your resume is "enclosed," not "attached" (which means clipped or stapled).
If you are not sure to whom you should send your letter, it is always acceptable to write to the executive director of a nonprofit, or the hiring partner or head of recruiting at a firm; they can forward your application to the appropriate person within the organization. If at all possible, write to an individual by name, not to "Director" or "Recruiting Coordinator." Firm and organization web sites are very useful in finding this information (and for confirming correct spellings and the like); it may be more difficult to find the name of an individual addressee for government job opportunities. If you do not have the name of an individual, the salutation should be "Dear Sir or Madam" (not "To Whom It May Concern"). Of course if you are responding to a job posting, address your letter exactly as instructed.
As for the appropriate salutation, traditionally, it is "Dear [Mr./Ms.] [Last Name].  However, we understand that this prevailing business norm may not be inclusive of individuals who do not use either of those titles (for example, because they identify as gender nonconforming). One alternative, "Dear [First Name] [Last Name]", avoids presuming how the recipient may identify, but it is not without some risk.  
If you use this approach, a recipient less attuned to thinking about gender inclusivity (and accustomed to seeing only "Dear [Mr./Ms] [Last Name]") may wrongly conclude that you were unfamiliar with professional etiquette or that you used a mail merge template and did not bother to customize it.  While awareness around these issues is increasing, we believe that, unfortunately, it is still not a small number of recruiting representatives and attorneys who might draw the wrong conclusion.
One way to navigate this tricky situation might be to see if the recipient has an online presence (e.g., on the firm website or LinkedIn) that might give you a strong clue as to how they would like to be addressed.  Otherwise, you will need to make your own judgment as to whether recipients are more likely to recognize your inclusivity or to view the greeting as awkward or erroneous.
In our office, we are also working to help employers become familiar with gender-inclusive approaches like "Dear [First Name] [Last Name]," but like any process of education, this will take time. In the meantime, our primary goal is to make sure that all Berkeley Law students are fully informed as you navigate legal job markets. We are always available to discuss individually what approach would be the best fit for you.
First Paragraph. Begin your letter with a statement of who you are and why you are writing. Introduce yourself as a law student (including the year you are in) or a graduate of Berkeley Law and specify what it is you are seeking: a summer job, an associate position, a clerkship, part-time work during the school year, etc.
The goal of this paragraph is to give the reader a reason to want to finish reading the letter. If you don't have a personal connection to cite, try to establish a nexus between yourself and the employer, such as knowledge of their practice, an established commitment to or interest in their work, a connection to their city, or something else which conveys that you are not just writing to them as part of a mass mailing for any job in any location. (If that in fact is what you are doing, try not to be too obvious about it. An employer wants to think that you sought him or her out purposely rather than randomly.)
Body Paragraph(s). This is the section in which you "sell" your experience and qualifications to the employer. Your goal here is to answer the question, "Why should the employer meet you?"
Call attention to something which substantiates your interest in this particular employer. It could be coursework in their specialty, the recommendation of a professor in their area of practice, undergraduate residency in their city, or any other indication of your interest. Try also to show how your experiences will translate into skills which will be useful to this particular employer. Highlight relevant qualifications which are not on your resume, such as coursework, research, or a prior connection to the organization or the issues they work on. If you have general legal skills such as negotiation, litigation, client counseling, interviewing, mock trials, etc., you may want to include them. As much as possible, try to convey understanding of, and enthusiasm for, the aims of the organization.
Employers do not expect first-year students to have highly-developed legal skills to offer. Therefore, for first-year students writing to private firms, this section can be a single, short paragraph, unless you have a strong background in a relevant area. However, even inexperienced first-year students writing to public interest/sector organizations should make an effort to describe skills and interests that are relevant to the employer.
It is appropriate and not uncommon for a public interest cover letter to be somewhat more detailed or personal than a private sector cover letter. Of course, it is still very important to be concise, but it is acceptable for the letter to be a full page if your experience dictates. In a public interest cover letter, it is important both to highlight your demonstrated commitment to the mission/work/client base of the organization through your own relevant work or life experience, and to illustrate your relevant skills. Take another look at your resume for items that show your interest, commitment and skills. Even if you do not have experience in the specific area in which an organization works, it is still important to emphasize your demonstrated commitment to the public interest, and to draw connections between that general commitment and the specific work of the organization. As it is important not to merely regurgitate your resume, consider including a story that illustrates you are interested or qualified in the position.
If your application raises questions that are readily answered, such as availability after the Bar exam, judicial clerkship plans, etc., the letter can address those; other issues may be better deferred to the interview stage. Consult a CDO attorney-counselor if you're not sure whether to include something in your cover letter.
Final Paragraph. In your last paragraph, thank them for their consideration, and say you hope to hear from them soon. For out-of-town employers, indicate when you plan to be in their geographic area and state your availability for an interview. Be sure to include your phone number and email in this paragraph unless you use a letterhead style that includes them at the top of the page. If you state that you will call the employer to follow up on your application, be sure you do so.
If you are bringing a cover letter to an on-campus interview (which you should do only if the employer requests you to), the content will be a bit different. You don't need to introduce yourself, as you will be there in person, and you won't request an interview at the closing. But you can thank the employer for interviewing you and say that you welcome the opportunity to learn more about the employer and to discuss the possibility of working for them. The important thing is to show why you are interested in this particular employer, and how you think your background makes you a good match for them.
The mistakes most commonly found in student cover letters are:
Restating your resume. " I graduated from the University of Oregon in 2005, with a B.A., cum laude, in Political Science, then worked as a substitute teacher in an urban high school before starting law school in the fall of 2008 ." Don't waste space with facts that are readily gleaned from your resume! Instead, you could say (briefly) how your work experience led you to pursue a legal career in an area practiced by the employer.
Focusing on what you stand to gain from the job . " I am particularly interested in your firm's excellent training program for summer associates, and in gaining exposure to a variety of different practice areas." Remember, employers only grant interviews to candidates who offer something of potential use to the employer. Try to say how your skills and enthusiasm will help the employer serve its clients, or otherwise further its aims.
Being too informal or familiar. "I'm thrilled by the possibility of working with you this summer, and would love to meet with you in person/by phone to chat about what the options might be." Enthusiasm is good, but it must be presented professionally.
Other cover letter mistakes include: being defensive or apologetic; appearing arrogant or entitled, and being too long and wordy. Unsupported statements of your qualities ("I am highly motivated and a quick study") do not help your case. Generic reasons for your interest in the employer (e.g., its "excellent reputation") tend to demonstrate your lack of specific knowledge. Of course typos and inaccuracies, such as misspelled names, or (please!) stating an interest in a practice area that the firm doesn't have, are automatic application-killers.
Our cover letter template  provides suggestions only; please do not feel excessively constrained by its approach. Your letter should, of course, be original work that reflects your unique background and the job you are aiming at.
Return to Contents
Presidential Power in 2017 , Live from Town Hall, Seattle LIVE STREAM 7:30–9 p.m. Pacific
Get Practical Experience
Find a Practice Area
Sample Cover Letters and Resumes
Registering for the Bar Exam
Mentor program
Legal Resume Basics
Your legal resume is a living document – you will find yourself revising it throughout your legal career and especially during your time in law school. The guidelines below will help you create a basic legal resume, which you and your coach will further revise once you have a chance to meet. Your first legal resume will look vastly different from the resume you submitted in your law school application. By creating your legal resume now, you will be better prepared for your first appointment with a career coach and better prepared to begin applying for summer positions.
No More Than One Page
You have professional publications.
You have more than 10 years of relevant legal-related experience, for example as a paralegal or a business professional.
You have 10 years of public service experience including volunteer work and are interested in pursuing a career in public service law.
Eliminate all use of bullets
Create a header that takes no more than two lines
For each school and/or job, use no more than two lines to state the name of the company/school, location, and time frame (and title, if a job). This is easier if you use symbols like | or like ▪ to separate out these four components
Instead of hitting return after a sentence in your job description, place a period and start the next sentence.
Instead of using an "Achievements" section, include descriptions of your achievements under the relevant experience (either under the school you attended when you received the award or under the job where you worked when you received the acknowledgement).
Use lines to separate sections, rather than spaces.
Use Legible Fonts
The body of the resume should be no smaller than 11 point size font. Preferred fonts include Times New Roman or Garamond
Be Consistent
Use a consistent format throughout your resume, being mindful of your use of whitespace. For example, if you use small caps for your Education section, then you must use small caps for your Work Experience section.
Required Sections
Your resume must contain an education section, an experience section (can be separated into legal experience and other experience), and an interests section (which could be combined with other sections, such as community involvement, skills, and/or languages). If you are interested in public service, you must also include a separate section for volunteer experience or public service.
DO NOT include sections for references or publications on your one-page resume. Publications should be listed on a second page. References are typically submitted on a separate document, as they are not always required at the time of application.
School Experience
The name of the school.
The location (city, state).
What degree you received and what major/emphasis.
When the degree was conferred (so "June 2010", not "Sept. 2006 – June 2010").
Any honors or awards you received, and any leadership positions which you held.
Any study abroad programs
Work & Volunteer Experience
Include the organization name, location, month and year for start and stop dates, and your job title.
Be brief (no more than three lines per experience, unless you have a lot of white space).
Be relevant (to the potential employer).
Be specific ("Managed a staff of 15 people." is better than "Responsible for managing the staff.") Include any awards or recognition that you received.
Be objective. Do not use the "first person" form. No "I" statements.
Be descriptive. Use active verbs to describe what you did. Do not use the same verb more than three times. Do not use "worked on" to describe your position.
Resumes & Cover Letters
Action Verbs for Resumes
Cover Letter Template
Resume Sample
Resume Sample for Experienced Students
Resume Sample for Public Service
Connect with us:
© Copyright 2023, All Rights Reserved University of Washington School of Law
4293 Memorial Way Northeast, Seattle, WA 98195
Include your name, address, phone number and email address at the top of the letter. Consider using the same format as your resume. Your name and contact information can be placed at the left margin, the center or the right margin. A NOTE ABOUT YOUR ADDRESS: If you are applying in St. Louis, use your school address. If you are applying in your hometown, include both your school and home address to show the connection.
The address block should be left justified and include a contact name, if possible.
Do not use first names. Do not use Miss or Mrs. The salutation should be followed by a colon, not a comma.
In this paragraph: \(1\) identify your class year and school; \(2\) mention any geographic ties to the area; and \(3\) include information about why you are interested in the specific employer. If you are applying to multiple offices, indicate that here. For example: "In addition to your Washington, D.C. office, I am also applying to your Baltimore, Philadelphia, and New York offices."
The second paragraph \(and if applicable, the third\) is an opportunity for you to market yourself. Do not regurgitate your resume. Talk about the skills and abilities you possess and back it up with examples from your prior work experience and academic studies. If you do not have prior work experience, look to your extracurricular activities to convey your skills. The skills you reference can be legal in nature and/or general \(e.g., research and writing, attention to detail, communication, diligence, work ethic\). If you are a 2L, you should lead with your legal experience - both your 1L summer position and your law school performance.
The last paragraph should thank the employer and provide for future contact. For example, if you are direct applying in a city where you are not located for the summer, if possible, offer a date you will be in town for a potential meeting. Alternatively, simply state "Please feel free to contact me at the phone number listed above." If you are direct applying and applying through OCI, state that here or in the first paragraph.
Use standard business closings, such as Sincerely, Truly, Regards, and Respectfully. The signature block can be centered, left justified or closer to the right margin.
If you are enclosing only your resume, use "Encl." If you are enclosing more than one other document \(e.g., resume and transcript\), use "Encls."
The date can be centered or left justified and should be placed above the employer's address block.
404 Not found
404 Not found
8+ Law Student Cover Letters – Word, PDF
A cover letter is an avenue for aspiring lawyers to convey their passion and motivation to become good legal counsels. For law students, their cover letter can open a wide array of opportunities and training grounds for them to nurture and develop the art of negotiating and litigating. You may also see student templates .
Cover Letter Samples
Cover Letter Templates
Lawyer Resume Cover Letter Template
Law Student Internship Cover Letter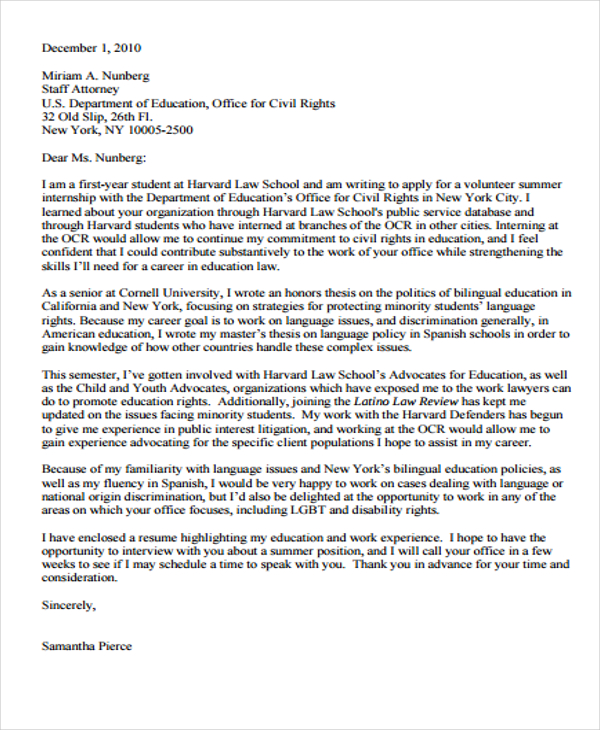 Clerkship Cover Letter
Summer Intern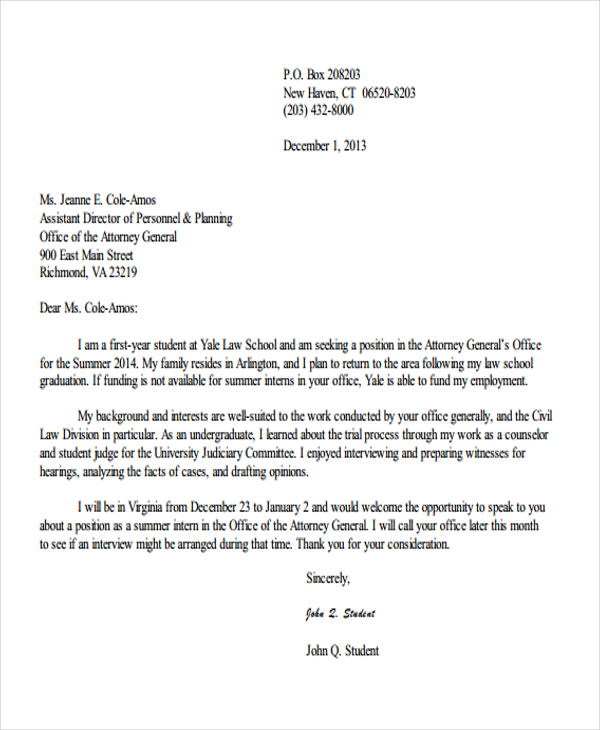 Graduate Law Student
Professional Cover Letters for Graduate Law Students
Like any other formal letters , you need to adopt a professional and formal formatting.
Don't forget to inquire about the correct name and address of the supervisor of the institution you are applying for.
The core of your letter must be emphasis on your extensive experiences either in the field of litigation, investigation, corporate matters, and etc.
You can also cite specific highlights and achievements in your career such as the example given under our graduate law student Free Cover Letter Template . The applicant conveyed that he successfully secured a political asylum for a former client.
Cover Letters for Internships
Law Student Cover Letter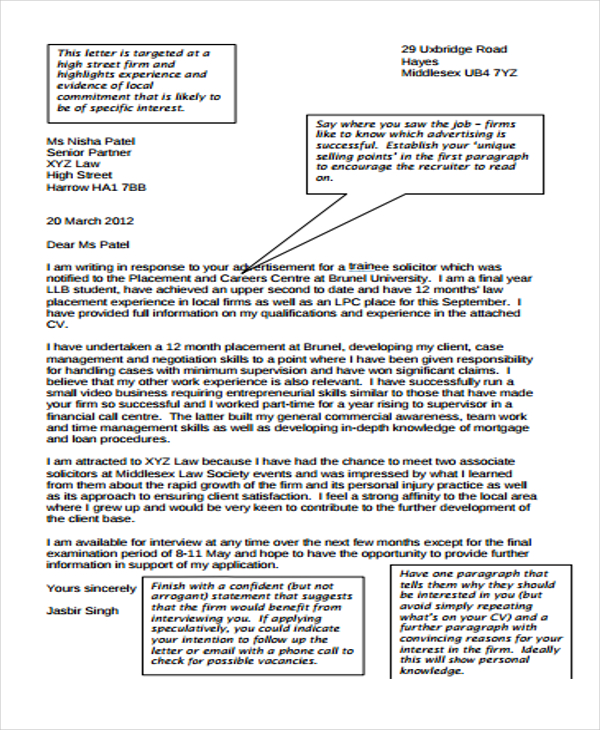 Seasonal Clerkship
Professional Cover Letter for law Student in PDF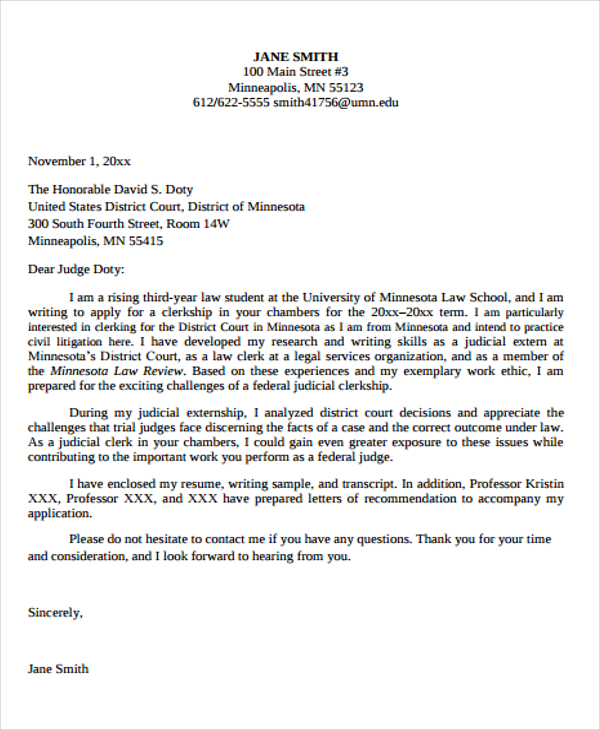 What are Included in a Law Student Cover Letter?
Start the letter with the date and recipient's address. It is highly recommended that you address the cover letter to a particular hiring officer of a law firm or any legal institution.
For the introduction, you can identify yourself and the school you're currently connected to. You have to emphasize the position you are applying for in a clear manner to prevent confusion.
Cite your academic credentials and other qualifications . Let the hiring manager know about your academic achievements and qualifications. Just ensure that you provide only the highlights because the supporting details will be provided by your resume or legal curriculum vitae.
Wrap up your letter with a conclusion. You can reinforce important matters and provide your contact details.
More in Letters
Legal Certificate of Service Template
10+ Legal Template Bundle
Law Firm Letterhead Template
Law Enforcement Bio Template
Law Firm Invoice Template
National Paralegal Day Wallpaper Background
Client Persona Template
Law Firm Policy And Procedure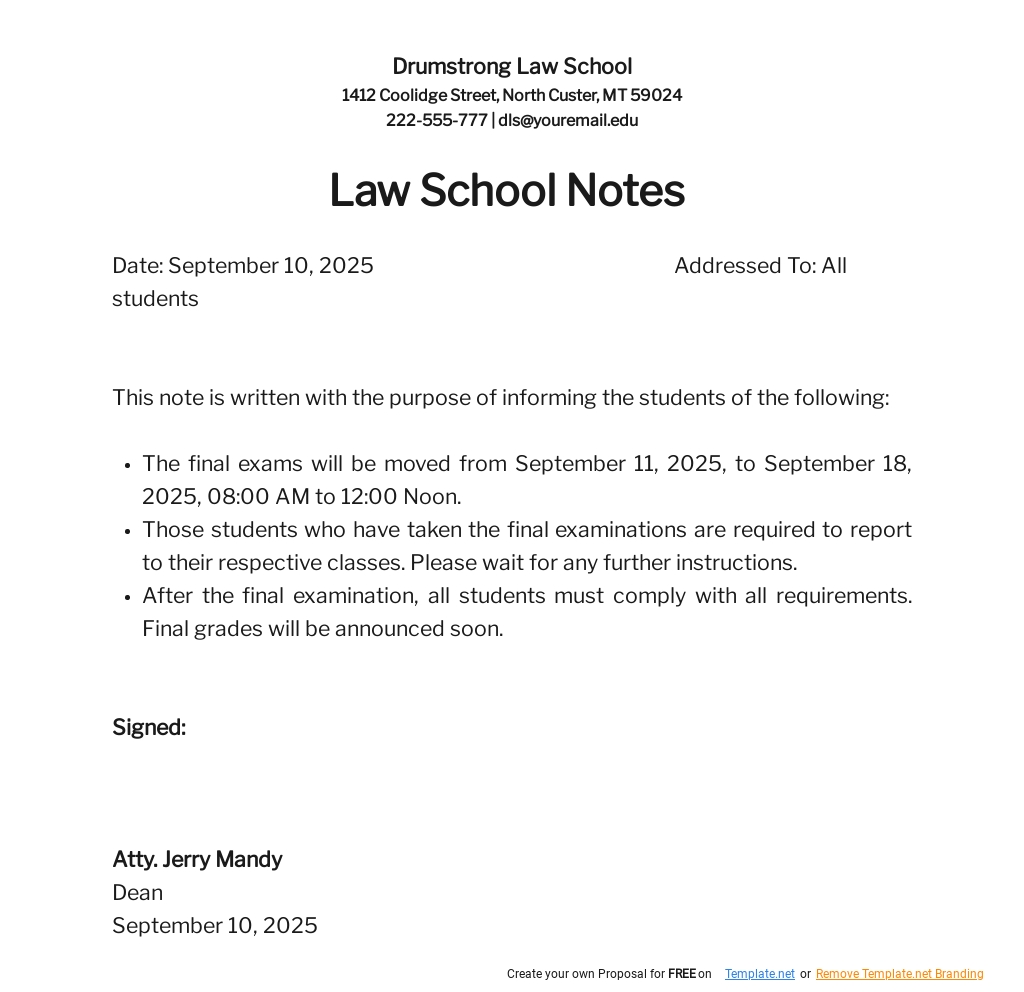 Law School Notes Template
Law Firm Fax Cover Sheet Template
Get instant access to free & premium law firm templates, designs & documents , ai tools & daily fresh content.
Get access to 1 million+ FREE, PRO, template bundles with professional written original content. Advanced AI, design, document editing tools
An official website of the United States government
Here's how you know
Official websites use .gov A .gov website belongs to an official government organization in the United States.
Secure .gov websites use HTTPS A lock ( Lock A locked padlock ) or https:// means you've safely connected to the .gov website. Share sensitive information only on official, secure websites.
MENU Legal Careers Home
Why Justice?
Search Attorney Vacancies & Volunteer Legal Internships
Volunteer Legal Internships
Eligibility
Participating Components
Current Attorney Vacancies
Valuing Diversity
Legal Careers
Law student volunteer/law clerk summer 2024.
The Office of the Associate Attorney General advises and assists the Attorney General and the Deputy Attorney General in formulating and implementing Departmental policies and programs pertaining to a broad range of civil justice, federal and local law enforcement, and public safety matters. The Office oversees the following DOJ components: Antitrust Division, Civil Division, Civil Rights Division, Environment and Natural Resources Division, Tax Division, Office of Justice Programs, Community Oriented Policing Services (COPS), Community Relations Service, Office for Access to Justice, Office on Violence Against Women, Office of Information Policy, Executive Office for U.S. Trustees, and the Foreign Claims Settlement Commission. The Associate Attorney General, Vanita Gupta, has been a leader in the Justice Department and across the federal government on a wide range of issues, including building police-community trust, increasing support for victims of gun violence and other crimes, and promoting competition and economic opportunity. The Associate Attorney General chairs the Justice Department's Reproductive Rights and Opioid Epidemic Civil Litigation Task Forces; spearheads the Department's efforts to implement more than 90 deliverables from the President's Executive Order on Advancing Effective, Accountable Policing and Criminal Justice Practices to Enhance Public Trust and Public Safety; and leads the Department's work to combat unjust and unlawful fines and fees practices. She is a champion for environmental justice initiatives, has convened a Tribal Issues working group, and is leading the effort to bring greater fairness and transparency to the Department's process for handling student loan discharges in bankruptcy proceedings. Our office places a high value on diversity of experiences and perspectives and encourages applications from all qualified individuals from all ethnic and racial backgrounds, veterans, LGBTQ+ individuals, and persons with disabilities.
As the federal agency whose mission is to ensure the fair and impartial administration of justice for all Americans, the Department of Justice is committed to fostering a diverse and inclusive work environment. To build and retain a workforce that reflects the diverse experiences and perspectives of the American people, we welcome applicants from the many communities, identities, races, ethnicities, backgrounds, abilities, religions, and cultures of the United States who share our commitment to public service.
We are seeking one or more legal interns to work directly with attorneys and senior departmental leaders on a wide range of legal and public policy issues such as criminal justice reform, civil rights, consumer protection, antitrust, and environmental justice, among many others. Responsibilities include legal research, legal and policy analysis, legislative monitoring, and speechwriting.
Law clerks will be expected to perform in-depth legal work independently, thus rising third-year law students are encouraged to apply. Rising second-year law students will be considered. Law clerks may work full-time or part-time. If part-time, a minimum of 15 hours per week is required and the ability to work full days is preferred. This position is unpaid. Because of the sensitive nature of the work, law clerks are subject to and must pass DOJ background investigation requirements.
Application deadline: March 29, 2024. Application process: Interviews will be on a rolling basis and may be conducted either virtually or in-person, depending on circumstance. Applicants for internship positions must be enrolled in law school and have: (1) a strong academic background; (2) excellent research and writing skills; and (3) experience or interest in public service. Applicants must submit via email a cover letter, resume, short or partial writing sample (not to exceed 10 pages), a letter of recommendation from someone who can speak to the applicant's professional qualities, and an unofficial law school transcript to: [email protected]
Volunteer (Uncompensated)
* * *
Department Policies
Equal Employment Opportunity : The U.S. Department of Justice is an Equal Opportunity/Reasonable Accommodation Employer. Except where otherwise provided by law, there will be no discrimination because of race, color, religion, national origin, sex - including gender identity, sexual orientation, or pregnancy status - or because of age (over 40), physical or mental disability, protected genetic information, parental status, marital status, political affiliation, or any other non-merit based factor. The Department of Justice welcomes and encourages applications from persons with physical and mental disabilities. The Department is firmly committed to satisfying its affirmative obligations under the Rehabilitation Act of 1973, to ensure that persons with disabilities have every opportunity to be hired and advanced on the basis of merit within the Department of Justice. For more information, please review our full EEO Statement .
Reasonable Accommodations : This agency provides reasonable accommodation to applicants with disabilities where appropriate. If you need a reasonable accommodation for any part of the application and hiring process, please notify the agency. Determinations on requests for reasonable accommodation will be made on a case-by-case basis.
Outreach and Recruitment for Qualified Applicants with Disabilities : The Department encourages qualified applicants with disabilities, including individuals with targeted/severe disabilities to apply in response to posted vacancy announcements. Qualified applicants with targeted/severe disabilities may be eligible for direct hire, non-competitive appointment under Schedule A (5 C.F.R. § 213.3102(u)) hiring authority. Individuals with disabilities are encouraged to contact one of the Department's Disability Points of Contact (DPOC) to express an interest in being considered for a position. See list of DPOCs .
Suitability and Citizenship : It is the policy of the Department to achieve a drug-free workplace and persons selected for employment will be required to pass a drug test which screens for illegal drug use prior to final appointment. Employment is also contingent upon the completion and satisfactory adjudication of a background investigation. Congress generally prohibits agencies from employing non-citizens within the United States, except for a few narrow exceptions as set forth in the annual Appropriations Act (see, https://www.usajobs.gov/Help/working-in-government/non-citizens/ ). Pursuant to DOJ component policies, only U.S. citizens are eligible for employment with the Executive Office for Immigration Review, U.S. Trustee's Offices, and the Federal Bureau of Investigation. Unless otherwise indicated in a particular job advertisement, qualifying non-U.S. citizens meeting immigration and appropriations law criteria may apply for employment with other DOJ organizations. However, please be advised that the appointment of non-U.S. citizens is extremely rare; such appointments would be possible only if necessary to accomplish the Department's mission and would be subject to strict security requirements. Applicants who hold dual citizenship in the U.S. and another country will be considered on a case-by-case basis. All DOJ employees are subject to a residency requirement. Candidates must have lived in the United States for at least three of the past five years. The three-year period is cumulative, not necessarily consecutive. Federal or military employees, or dependents of federal or military employees serving overseas, are excepted from this requirement. This is a Department security requirement which is waived only for extreme circumstances and handled on a case-by-case basis.
Veterans : There is no formal rating system for applying veterans' preference to attorney appointments in the excepted service; however, the Department of Justice considers veterans' preference eligibility as a positive factor in attorney hiring. Applicants eligible for veterans' preference must include that information in their cover letter or resume and attach supporting documentation (e.g., the DD 214, Certificate of Release or Discharge from Active Duty and other supporting documentation) to their submissions. Although the "point" system is not used, per se, applicants eligible to claim 10-point preference must submit Standard Form (SF) 15, Application for 10-Point Veteran Preference, and submit the supporting documentation required for the specific type of preference claimed (visit the OPM website, www.opm.gov/forms/pdf_fill/SF15.pdf for a copy of SF 15, which lists the types of 10-point preferences and the required supporting document(s). Applicants should note that SF 15 requires supporting documentation associated with service- connected disabilities or receipt of nonservice-connected disability pensions to be dated 1991 or later except in the case of service members submitting official statements or retirement orders from a branch of the Armed Forces showing that their retirement was due to a permanent service-connected disability or that they were transferred to the permanent disability retired list (the statement or retirement orders must indicate that the disability is 10% or more).
USAO Residency Requirement : Assistant United States Attorneys must reside in the district to which appointed or within 25 miles thereof. See 28 U.S.C. 545 for district specific information.
This and other vacancy announcements can be found under Attorney Vacancies and Volunteer Legal Internships . The Department of Justice cannot control further dissemination and/or posting of information contained in this vacancy announcement. Such posting and/or dissemination is not an endorsement by the Department of the organization or group disseminating and/or posting the information.
404 Not found
Resume Samples
Resume Examples
Resume Templates
Cover Letters
Writing Objectives
Interview Tips
Career Options
Law Professor Cover Letter
Cover Letter
Sample of Law Professor Cover Letter
Contact Us : Privacy Policy