Kindergarten Teacher Cover Letter Examples
Use these Kindergarten Teacher cover letter examples to help you write a powerful cover letter that will separate you from the competition.
Kindergarten teachers are responsible for teaching basic skills to young students. They need to be patient, organized, and creative to engage their students in learning.
In order to get a job as a kindergarten teacher, you need to submit a well-written cover letter. Use these examples to create a cover letter that will make hiring managers want to meet you in person.
Formal/Professional Writing Style Example
I am excited about the opportunity to bring my passion for teaching and making an impactful contribution to the kindergarten students and staff at your reputable institution.
I hold a Bachelor's degree in Early Childhood Education from XYZ University and I am a certified Kindergarten Teacher in our state. Throughout my five years of experience in teaching kindergarten, I have successfully implemented age-appropriate and engaging curriculums that foster creativity, social skills, and academic growth in a nurturing environment. My positive, patient, and empathetic demeanor naturally aids in developing strong relationships with my students, their families, and fellow staff members.
I strongly believe in the importance of providing a solid foundation for our youngest learners, which includes stimulating cognitive development and fostering a genuine love for learning. My approach to teaching involves utilizing diverse teaching methods that cater to the individual needs of each student, while creating a fun and collaborative atmosphere in the classroom.
I am also proficient in integrating relevant technology into lessons, consistently striving to reach children of all learning styles. Additionally, I have led several after-school extracurricular programs and have successfully collaborated with other teachers, administrators, and community partners to enhance students' educational and social experiences.
In my previous role as a Kindergarten Teacher at ABC Academy, I have received consistently positive feedback from colleagues, parents, and administration, and was recognized as "Teacher of the Year" in 2019.
I am confident that my skills, dedication, and passion make me an ideal candidate for the Kindergarten Teacher role at your esteemed institution. Thank you for considering my application. I look forward to the opportunity to discuss further how I can contribute to your organization's success.
[Your Name]
Entry-Level Writing Style Example
I recently graduated with a Bachelor of Education in Early Childhood Education from Prestigious University, and I am enthusiastic about starting my teaching career at Wonderful Kindergarten Academy. As an entry-level candidate, I am confident in my ability to create a nurturing, engaging, and joyful learning environment for young children.
During my coursework, I gained extensive knowledge of child development, assessment, and early intervention strategies. Furthermore, I completed a successful student teaching placement in a kindergarten classroom, where I was able to implement these principles and strategies by designing and leading age-appropriate lessons that engaged and supported the unique needs of each student. The feedback from my cooperating teacher and university supervisor were highly positive, praising my dedication, creativity, and ability to connect with children.
In addition to my academic qualifications, I have experience working with young children in various settings, such as summer camps and after-school programs. These experiences have taught me valuable skills in communication, behavior management, and collaboration, which I am eager to contribute to Wonderful Kindergarten Academy.
I would be thrilled to have the opportunity to contribute my passion and expertise to your team of dedicated educators. I look forward to discussing how my skills and experiences align with the Kindergarten Teacher position during an interview. Thank you for considering my application.
Networking/Referral Writing Style Example
I was delighted to be referred by Mrs. Jane Smith, a current Kindergarten teacher at your school, who shared with me her enthusiasm and passion for educating young minds. After learning more about your institution and its commitment to early childhood education, I am confident that my experience, skills, and shared values make me an excellent candidate for the role.
As an experienced Kindergarten teacher with over five years of teaching in a diverse and inclusive environment, I am adept at creating engaging and innovative lesson plans tailored to meet the unique needs of my students. Additionally, my background in incorporating technology in the classroom and my fluency in Spanish would be assets to your educational team.
I have always admired your school's dedication in fostering a positive learning environment, and it was evident to me when I volunteered at your annual school fair last year. The strong connection between teachers, students, and parents is something I truly believe in, and I feel that the partnership Mrs. Smith and I share through our personal friendship would, in turn, allow for an even stronger collaboration in the professional setting.
I am eager to contribute my enthusiasm and passion for teaching to your school and work hard to make a lasting impact in each student's life. Thank you for considering my application. I look forward to the opportunity to discuss my qualification further.
Enthusiastic/Passionate Writing Style Example
Ever since I was a young child, I have dreamed of shaping the minds of the next generation, and to have the opportunity to do so in your renowned institution would be an absolute honor.
During my time studying Early Childhood Education at XYZ University, I wholeheartedly devoted myself to learning the most effective and engaging teaching techniques to inspire young minds. I was fortunate enough to gain hands-on experience during my internship at a local kindergarten, where I witnessed firsthand the impact that a dedicated, passionate teacher can have in a child's life. It was during this time that I truly understood the power of connecting with my students and igniting their curiosity and love for learning.
Your kindergarten's commitment to providing a nurturing and inclusive environment resonates deeply with my personal teaching philosophy. I was thrilled to learn about the various educational programs and extracurricular activities you offer to create well-rounded, confident individuals. I am eager to contribute my innovative ideas, dedication, and creativity to your school and collaborate with your exceptional team of educators.
Furthermore, I have developed excellent communication and relationship-building skills, allowing me to quickly establish a rapport with both students and parents. I am devoted to fostering a positive learning environment that encourages self-discovery, exploration, and growth.
I am confident that my passion, experience, and adaptability make me the ideal candidate for this role. Thank you for considering my application. I would be ecstatic to discuss my teaching philosophy and unique qualifications in greater detail during an interview.
Problem-Solving Writing Style Example
I have been following your school's pursuit of providing a well-rounded education and nurturing environment to young learners. I understand that with the ever-changing educational landscape, it is crucial for educators to adapt and enhance their teaching techniques to ensure each student's growth and success. With my six years of experience as a Kindergarten Teacher, I can contribute valuable solutions to the challenges faced by your team.
In my previous role at a prestigious preschool, I noticed a lack of concrete strategies to enhance students' social and emotional learning. After conducting thorough research, I devised a comprehensive curriculum that integrated these crucial aspects of development within daily lessons. I integrated activities that promoted teamwork, empathy, and problem-solving, which resulted in a significant improvement in students' interpersonal skills and heightened classroom engagement.
Moreover, as a strong advocate for cross-disciplinary learning, I have collaborated with other teachers to create project-based lessons, allowing students to discover the connection between different subject areas. Students were encouraged to explore the world around them through hands-on activities, which fostered a deeper understanding of crucial concepts. Consequently, my students exhibited a marked improvement in their academic performance and enthusiasm for learning.
Additionally, recognizing the need for individualized attention to cater to students' unique needs, I have conducted regular assessments and check-ins to customize my teaching approaches accordingly. By offering additional support and resources tailored to each student, I have successfully built a strong and united classroom community where every child feels valued and heard.
I believe my expertise in creating a supportive, engaging, and inclusive learning environment can greatly benefit your school as you strive for academic excellence and student growth. I am eager to contribute my skills and passion for teaching to the Kindergarten Teacher role at your esteemed organization.
Thank you for considering my application. I look forward to the opportunity to further discuss my qualifications with you.
Storytelling/Narrative Writing Style Example
The moment I knew I wanted to dedicate my life to teaching young minds was on a sunny afternoon, when I found myself volunteering at a local community center. As I sat in the tiny chairs, surrounded by bright-eyed children eager to learn, I felt a wave of happiness and satisfaction wash over me. This simple yet profound experience has led me on a fulfilling journey, culminating in my desire to join your exceptional team of educators.
As a graduate of XYZ University's Early Childhood Education program, I have acquired the necessary skills and knowledge to provide a nurturing and engaging learning environment for young children. I have spent the past three years working as a Kindergarten Teacher in a diverse and inclusive school, where my passion for teaching has only grown stronger. My experience has prepared me to adapt my teaching methods to accommodate the unique needs and strengths of each child, fostering their curiosity and love for learning.
I am particularly excited about your school's emphasis on creativity and hands-on learning, as I believe these are essential components of a well-rounded education. During my time as a teacher, I have implemented various art and science projects that not only stimulate the children's creativity but also encourage teamwork and problem-solving skills. I am eager to bring these innovative approaches to your school and inspire young minds to reach their full potential.
In conclusion, I am confident that my passion for early childhood education, combined with my experience and dedication, would make me a valuable asset to your school. Thank you for considering my application. I look forward to the opportunity to meet with you and discuss how I can contribute to the growth and success of your kindergarten program.
Occupational Therapist Cover Letter Examples
Leasing consultant cover letter examples, you may also be interested in..., freight manager cover letter examples, transaction coordinator cover letter examples & writing tips, scrum master cover letter examples, labourer cover letter examples & writing tips.
Kindergarten Teacher Cover Letter Examples
A great kindergarten teacher cover letter can help you stand out from the competition when applying for a job. Be sure to tailor your letter to the specific requirements listed in the job description, and highlight your most relevant or exceptional qualifications. The following kindergarten teacher cover letter example can give you some ideas on how to write your own letter.
Cover Letter Sample
Kaysee Calicott
(168) 904-9670
August 2, 2022
Dear Hiring Manager,
I am interested in applying for the Kindergarten Teacher position at Apple Tree Children's Centers. I have a Bachelor's Degree in Early Childhood Education and have been working as a Kindergarten Teacher for the past five years. I am passionate about working with young children and helping them to grow and learn. I would love to have the opportunity to work at Apple Tree Children's Centers and help to provide a quality education for your students.
I am a Kindergarten Teacher at The Learning Experience. I have been teaching for 3 years and have loved every minute of it. I love seeing the lightbulb moments when my students finally understand something or make a new friend.
I am a Kindergarten Teacher. I have been teaching for many years. I love my job and the children that I work with every day. Every child is special to me, and I try to help each one reach his or her fullest potential. I believe that all children can learn, regardless of their background or circumstances. It is my responsibility to provide a safe and nurturing environment where they can grow and thrive academically, socially, emotionally, and physically. I collaborate closely with parents/guardians and other members of the school community to ensure that every student has what he or she needs to be successful in kindergarten and beyond.
Thank you for considering me for the Kindergarten Teacher position at Apple Tree Children's Centers. I am excited about the opportunity to work with such a great organization and to make a difference in the lives of children. I believe that my experience and education will be an asset to your team, and I look forward to contributing to the success of your school district. Thank you again for your time and consideration, and I eagerly await hearing from you regarding this exciting opportunity.
Related Resume Samples
Privacy preference center
We care about your privacy
When you visit our website, we will use cookies to make sure you enjoy your stay. We respect your privacy and we'll never share your resumes and cover letters with recruiters or job sites. On the other hand, we're using several third party tools to help us run our website with all its functionality.
But what exactly are cookies? Cookies are small bits of information which get stored on your computer. This information usually isn't enough to directly identify you, but it allows us to deliver a page tailored to your particular needs and preferences.
Because we really care about your right to privacy, we give you a lot of control over which cookies we use in your sessions. Click on the different category headings on the left to find out more, and change our default settings.
However, remember that blocking some types of cookies may impact your experience of our website. Finally, note that we'll need to use a cookie to remember your cookie preferences.
Without these cookies our website wouldn't function and they cannot be switched off. We need them to provide services that you've asked for.
Want an example? We use these cookies when you sign in to Kickresume. We also use them to remember things you've already done, like text you've entered into a registration form so it'll be there when you go back to the page in the same session.
Thanks to these cookies, we can count visits and traffic sources to our pages. This allows us to measure and improve the performance of our website and provide you with content you'll find interesting.
Performance cookies let us see which pages are the most and least popular, and how you and other visitors move around the site.
All information these cookies collect is aggregated (it's a statistic) and therefore completely anonymous. If you don't let us use these cookies, you'll leave us in the dark a bit, as we won't be able to give you the content you may like.
We use these cookies to uniquely identify your browser and internet device. Thanks to them, we and our partners can build a profile of your interests, and target you with discounts to our service and specialized content.
On the other hand, these cookies allow some companies target you with advertising on other sites. This is to provide you with advertising that you might find interesting, rather than with a series of irrelevant ads you don't care about.
Kindergarten Teacher Cover Letter Sample
Get more job offers & learn practical tricks for your cover letter with our free, customizable Kindergarten Teacher cover letter sample. Make a copy of this cover letter sample for free or revise it in our intuitive cover letter creator.
Related resume guides and samples
How to craft a job-winning instructor resume?
How to craft a compelling professor resume
How to build a professional school counselor resume?
How to write a great special education teacher resume?
How to craft a job-winning teacher resume?
How to build a jaw-dropping teacher assistant resume?
How to write an impressive tutor resume?
How to write a professional youth advisor resume?
Kindergarten Teacher Cover Letter Sample (Full Text Version)
Rebecca Rodriguez
Dear Hiring Manager,
As a qualified Kindergarten Teacher with 7 years of experience in state, private, and Montessori settings, I apply with enthusiasm for this opportunity.
I am currently a Kindergarten Teacher with the Sunnybank School District, where I have worked at Halliwell Kindergarten for 3 years. I create and implement teaching plans, and teach alphabet, numeracy, personal, social, and emotional skills for 35 children. I use a variety of activities and instructional methods (songs, stories, media, structured games, art, outdoor activities, etc.) to stimulate children's abilities. I am also experienced at maintaining student engagement remotely.
For me, my work is not just a job – it's a calling. I see the role of Kindergarten Teacher as the most formative educator role in a child's school journey. It is during the early years that they are taught how to effectively integrate into the world of learning through social skills, personal hygiene, basic reading skills, art, and music.
In addition to my professional experience, I hold a Bachelor of Early Childhood Education and a Washington State Teacher Certification.
My time with the Sunnybank School District has been very fulfilling. My decision to seek a new position is solely based on our family's decision to relocate. After researching your kindergarten in detail, I feel confident about our mutual fit. I would be delighted to join such a fun team!
Please find attached my résumé for your consideration. Thank you very much for your time. I look forward to hearing from you regarding next steps.
Yours sincerely,
Edit this sample using our resume builder.
Don't struggle with your cover letter. artificial intelligence can write it for you..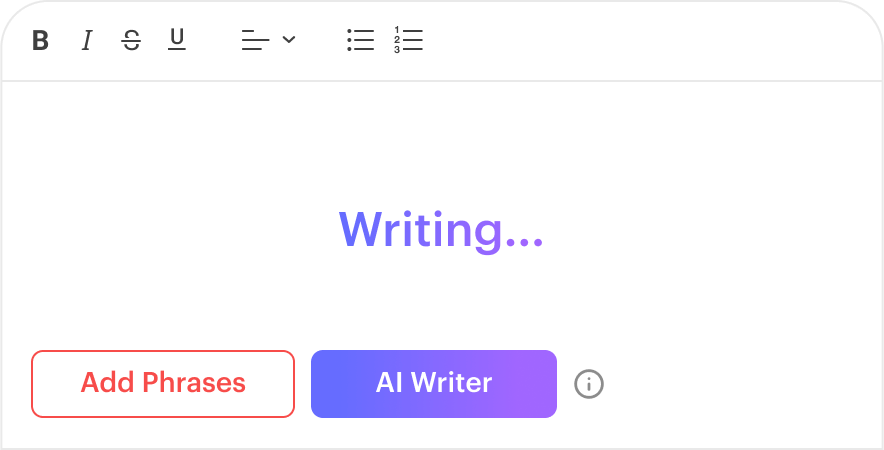 Similar job positions
Special Education Teacher Instructor Teacher Assistant Teacher Tutor School Counselor Youth Advisor Professor
Related teacher resume samples
Related teacher cover letter samples
Turn this sample into your perfect first draft.
Let your resume do the work.
Join 3,600,000 job seekers worldwide and get hired faster with your best resume yet.