QuestionsAnswered.net
What's Your Question?
What Is a Case Study?
When you're performing research as part of your job or for a school assignment, you'll probably come across case studies that help you to learn more about the topic at hand. But what is a case study and why are they helpful? Read on to learn all about case studies.
Deep Dive into a Topic
At face value, a case study is a deep dive into a topic. Case studies can be found in many fields, particularly across the social sciences and medicine. When you conduct a case study, you create a body of research based on an inquiry and related data from analysis of a group, individual or controlled research environment.
As a researcher, you can benefit from the analysis of case studies similar to inquiries you're currently studying. Researchers often rely on case studies to answer questions that basic information and standard diagnostics cannot address.
Study a Pattern
One of the main objectives of a case study is to find a pattern that answers whatever the initial inquiry seeks to find. This might be a question about why college students are prone to certain eating habits or what mental health problems afflict house fire survivors. The researcher then collects data, either through observation or data research, and starts connecting the dots to find underlying behaviors or impacts of the sample group's behavior.
Gather Evidence
During the study period, the researcher gathers evidence to back the observed patterns and future claims that'll be derived from the data. Since case studies are usually presented in the professional environment, it's not enough to simply have a theory and observational notes to back up a claim. Instead, the researcher must provide evidence to support the body of study and the resulting conclusions.
Present Findings
As the study progresses, the researcher develops a solid case to present to peers or a governing body. Case study presentation is important because it legitimizes the body of research and opens the findings to a broader analysis that may end up drawing a conclusion that's more true to the data than what one or two researchers might establish. The presentation might be formal or casual, depending on the case study itself.
Draw Conclusions
Once the body of research is established, it's time to draw conclusions from the case study. As with all social sciences studies, conclusions from one researcher shouldn't necessarily be taken as gospel, but they're helpful for advancing the body of knowledge in a given field. For that purpose, they're an invaluable way of gathering new material and presenting ideas that others in the field can learn from and expand upon.
MORE FROM QUESTIONSANSWERED.NET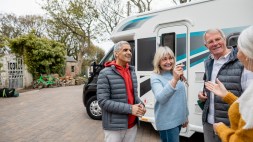 Innovation Case Studies Healthcare
13 Jul 2022 Publications Case studies English Mental Well-being , Total WSH Healthcare Total Workplace Safety and Health Programme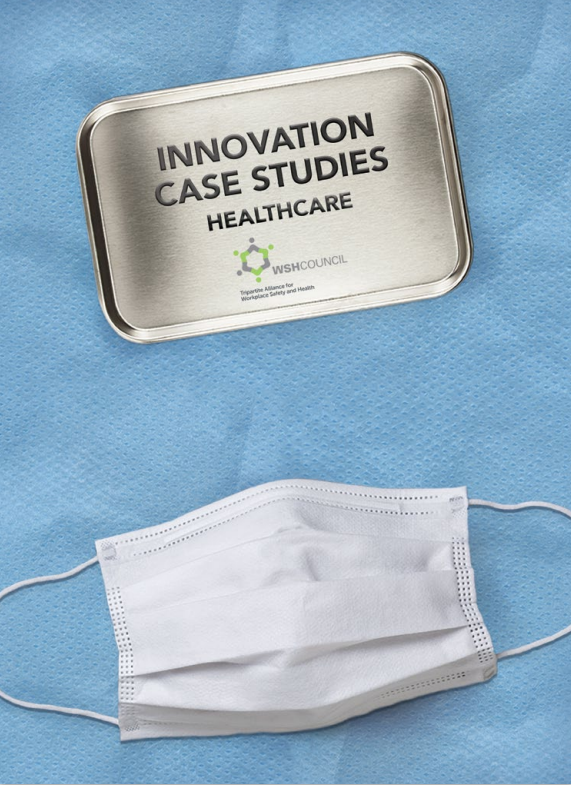 Advisory – Beware of scams and phishing emails
Send us feedback if you receive any suspicious or inappropriate emails asking for your personal information. The email may not have been sent by Workplace Safety and Health Council. Do not click on any link or open any attachments. Your feedback can help us fight against scammers – contact us immediately. We use cookies on wshc.sg to provide a better user experience that's more tailored to you. If you continue, you are giving us your consent to receive cookies only on this site. To decline cookies at any time, simply adjust your browser settings. Read our Privacy Statement.
An official website of the United States government
The .gov means it's official. Federal government websites often end in .gov or .mil. Before sharing sensitive information, make sure you're on a federal government site.
The site is secure. The https:// ensures that you are connecting to the official website and that any information you provide is encrypted and transmitted securely.
Publications
Account settings
Browse Titles
NCBI Bookshelf. A service of the National Library of Medicine, National Institutes of Health.
Kessler I, Spilsbury K, Heron P. Developing a high-performance support workforce in acute care: innovation, evaluation and engagement. Southampton (UK): NIHR Journals Library; 2014 Aug. (Health Services and Delivery Research, No. 2.25.)
Developing a high-performance support workforce in acute care: innovation, evaluation and engagement.
Chapter 3 innovation: case studies.
The primary aim of the IC studies was to develop an understanding of the development of a new role or practice in a given trust, examining the details of how and why it emerged and evolved within a specific organisational context. If the scoping and survey phases were designed to map the form taken by, and the distribution of, innovation, the case study phase sought to explain innovative management and the use of nurse support workers in particular trusts. More specifically, why were some trusts able to innovate in these respects, while others, providing similar health-care services, were not?
Table 10 sets out the six IC studies. The cases were purposefully selected to fall within three dimensions of innovation. Two cases focused on new approaches to management: values-based recruitment and the introduction of a HCA development nurse. Three cases examined new roles: a C-SW; a surgical assistant practitioner; and a band 4 educator role with responsibility for training CSWs. Finally, one case study looked at new ways of working: APs in specialist clinical areas. In all cases, the role or practice was new to the trust, although not necessarily unique to the NHS. The six trusts explicitly agreed to attach their names to the presentation of the material in this report. The cases were, after all, examples of 'good practice', and in general the trusts were proud of their achievement in 'successfully' introducing them.
Innovation case study interviews
Carried out between the winter of 2011 and the early summer of 2013, the cases were mainly based upon interviews with a vertical slice of trust actors who had a stake in the innovation under consideration. Table 10 sets out those interviewed in the respective cases. In total, there were 79 interviews carried out. These interviews were typically supplemented by relevant documentary material, for example trust policies, job descriptions and training programmes.
In general, the interviewees were asked fairly open questions about:
the context for the innovation, including trust structure, culture and history
the nature and aims of the innovation
the design and implementation of the innovation
the impact of the innovation on various stakeholders and outcomes
the broader lessons.
All interviews were recorded and transcribed. The transcriptions were read through on a number of occasions with a view to establishing whether or not there was an agreed narrative from the stakeholders on the development of the innovation, its aims, design features and consequences, and, if not, where differences of view lay. A draft case report was fed back to the respective trusts, providing the opportunity for inaccuracies and misinterpretation to be picked up.
This section presents an overview of the findings from the respective cases. A final section provides a summary and discussion. To protect the identity of those we interviewed, and to provide consistency between the case study reports, the quotes within the text use the identifier IC plus attributions related to three broad job areas: trust manager , which may include senior and executive managers, personnel within HR, the education and learning teams and external managers; service manager, which can include matrons, divisional managers and senior nurses not working on wards; and ward staff, which can include ward or clinic managers, medical staff, nurses, HCAs and APs. Where an interviewee could be easily identified owing to their specific role, they were contacted to give their approval prior to the case study report being made public. Approval was given in all instances.
This case study deals with a new values-based approach to the recruitment and retention of HCAs introduced by York Teaching Hospital NHS Foundation Trust in 2010. The innovative character of this initiative was reflected in the fact that it had won the 2011 HPMA award for innovation in HR and a similar Health Service Journal (HSJ) award in 2012. The trust's interest in such an approach was underpinned by two broad considerations. The first related to a high turnover among its 500-or-so HCAs, particularly in the first 6 months of employment, which the trust found to be associated with recruits not being fully aware of the nature of the HCA job:
So many people just came and didn't have a clue really what they were going to be doing . . . They come and think, 'oh I thought I was only making tea'. And you think, 'gosh no, there's a whole host of things, and tea isn't one of them'. IC1_ward staff_1
The second consideration was values based, and reflected York's interest in aligning its values, revolving around 'caring and 'compassion', with those of new HCAs:
We wanted to be able create the opportunity for the individual to demonstrate their caring disposition. IC1_trust manager_1
The new recruitment model
York's new approach to HCA recruitment comprised a number of elements:
A new band 2 HCA job description placed emphasis on personal disposition rather than formal qualification. The person specification was modified to reduce the need for 'relevant work experience' and the need for a NVQ level 2 qualification. There was a sharper focus on an understanding of the HCA role and an ability to demonstrate a caring orientation.
A new application process sought to address the high turnover of HCAs, stemming from the failure of candidates to fully appreciate the HCA role. The centrepiece of the change was a mandatory open day: 'On the open day, they come and talk to other healthcare assistants, and they get a view of what the job actually entails. They can look around at the stands, and it's a really good push into what the role is' (IC1_trust manager_2). Only those attending were provided with a unique identification number which allowed them access to the application form. As a means of providing more detailed information about the role, the trust also produced a 10-minute film made available on DVD and online, involving HCAs talking about their role.
A new selection process sought to ensure a better fit between applicant and clinical area, with shortlisted candidates having the opportunity to list their order of preferred wards. Moreover, the old standard list of interview questions was replaced by an open, scenarios approach, better able to assess whether or not candidates had a caring disposition.
A new 2-week HCA induction programme was introduced, with new recruits only taking up their post on the ward on its completion. Replacing an often deferred corporate induction of a couple of days, the new programme ensured that HCAs were better prepared for their role, and so more able to deliver compassionate care and become more appreciative of what the role involved before 'hitting the ward'.
Key processes and actors
The emergence of York's new recruitment model rested on a number of processes and actors.
Identifying health-care assistant recruitment as a legitimate issue of concern
Informally, HCA turnover had been a concern for some time, particularly among the trust's matrons:
We were a very sort of tight knit group of matrons and the problem with retention in terms of health-care assistants was not something strange that had escaped our attention. IC1_service manager_1
However, defining high HCA turnover as an issue worthy of further action had to be sanctioned by senior trust managers:
The assistant chief nurse and [recruitment manager] along with their line managers, the chief nurse and HR director had initial meetings to say we're getting feedback from matrons and ward sisters that the health-care assistants . . . don't understand what the role's about. IC1_trust manager_2
Devising the means to address concerns about health-care assistant recruitment
The trust's attempts to deal with the recruitment of HCAs rested on close working relationships between different trust functions, particularly the nursing directorate and the HR directorate. The latter was crucial in presenting substantive ideas; thus, the notion of values-based recruitment came from HR. However, the former was essential in carrying these forward and ensuring 'buy-in' from nurses and ward sisters to any changes in recruitment procedures.
A third partner in the design process was the trust's applied learning and research directorate. This was a standalone directorate at York, rather than more typically a part of the HR function, and it acted as a useful resource in designing and delivering a new, credible induction programme.
In the initial stages, there was some informal working between these partners, especially the assistant chief nurse and the recruitment manager, testing ideas and establishing a 'direction of travel'. These relations were, however, formalised and extended by the establishment of a small working group comprising matrons and ward sisters, which allowed ideas to be sharpened.
Implementation
The implementation of the new recruitment model was an iterative process, with trust managers regularly seeking the views of nursing staff, and 'tweaking' in response to staff views:
We had focus groups, we went to matron meetings to get their feedback. We tried to pull from a whole kind of range of nursing staff, so we didn't just talk to the health-care assistants, we spoke to some of the staff nurses that dealt with them, we spoke to ward sisters, we spoke to matrons . . . And the feedback we got was really beneficial in terms of how we shaped the process. IC1_trust manager_3
Equally crucial was formal sanctioning and buy-in from the trust's senior management, which lent legitimacy and credibility to the initiative, and, more prosaically, helped to address certain obstacles:
We needed that board level sign up because there was an issue when we needed the freedom to really change things, not just tweak things . . . I think it was helpful because you know that you did have the ability to change things and actually just to have, if you're wanting to do it quickly you need that kind of senior sign up. IC1_trust manager_3
There was strong ongoing support from the chief nurse for the initiative:
It is important that you've got the support of your chief nurse and your director of HR who can help overcome some of those obstacles . . . because there are resource implications. IC1_trust manager_3
There were some organisational concerns raised about the introduction of values-based recruitment at York. For example, it was suggested that setting up the model was time consuming:
. . . probably just the time to set it up. Because there was a lot of work in, you know, producing the DVD, getting people to come and feel confident enough as a HCA to stand up and talk to a room of what can be a 100 people. IC1_trust manager_4
More generally, however, responses to the new model were positive, with a number of benefits being highlighted.
In providing applicants with a fuller appreciation of the HCA role, the new process walked a fine line between realism and deterrence: more information about the HCA role might as easily have discouraged as encouraged applicants. However, the trust produced data that revealed the effectiveness of open days in attracting those interested in the HCA role: between May 2010 and April 2011, the average attendance was around 100. The average number submitting a formal application had fallen from some 100 to 67, suggesting some 'deselection' among those attending the open days. The enthusiasm of those who did apply was reflected in the fact that the numbers of those not attending interviews when called fell by over two-thirds.
Preparation
The new induction was seen to better prepare HCAs for their role, particularly in terms of competence. As well as contributing to high-quality care, better preparation was viewed as lowering HCA turnover by reducing initial difficulties and stress. The value of the new induction programme was certainly not uncontested. There was, for example, a 2-week lag between the appointment of a HCA and their taking-up of the role on the ward, which caused some ward manager concern. In general, however, HCAs were seen as more equipped for their role following the new extended induction:
They seem to fit in the team quickly, they pick things up much faster, they have an understanding of what is expected of them, their documentation is pretty quick really, they know what they should be doing and what they shouldn't be doing. IC1_ward staff_2
The new recruitment process, with its open day and extended induction, also signalled the greater support or value placed by the trust on the HCA:
It's nice that they're actually thinking about us [HCAs] now; that they're thinking, 'oh yes well they're doing this role so we need to put some training in'. IC1_ward staff_1
There was circumstantial evidence to suggest that HCA retention had improved under values-based recruitment. The trust's need for fewer rounds of HCA recruitment suggested that HCAs were more inclined to stay. Figures backed this up: turnover reduced from 17% to 12% in the immediate aftermath of the changes and this lower figure has been sustained for 3 years. Indeed, given the costs invested in HCAs who had previously left, this high HCA retention rate was seen to render the initiative highly cost-efficient.
There was similarly anecdotal evidence to suggest that the new interview process was effectively seeking to probe the dispositions of prospective HCAs. As a HCA who had been through the process noted:
They were definitely trying to find out sort of about your personality as well rather than what you are on paper . . . There was quite a lot of that and there was lots of kind of smiling and laughing and it did feel quite relaxed and I did feel that I could bring my personality across and I wasn't just kind of reciting the notes in my head and answering sort of regimented questions. IC1_ward staff_3
Figure 2 provides an overview of York's new approach to HCA recruitment. It can be seen that the initiative was embedded in two closely related but analytically distinct streams of development based on retention and on values, which fed into the design of the new recruitment model in various ways.
Tracking the initiative.
Developing assistant practitioners as a flexible resource
This case study explored the development of the AP role at South Devon Healthcare NHS Foundation Trust (henceforth referred to as Torbay). The AP role was first introduced at Torbay in 2006 and, with the foundation degree (FD) taking 2 years to complete, the first cohort of APs qualified in 2008. Two further cohorts have since completed their training. With three cohorts active, in the summer of 2012 there were around 30 APs in the trust, with another 14 trainees in either the first or the second year of their FD. The emergence of the AP role at Torbay some 7 or 8 years ago placed the trust at the vanguard of developments in the south-west.
This leading position was indicative of an organisational culture, which, in a more general sense, displayed a capacity to innovate. Torbay had won the HSJ Acute Healthcare Organisation of the Year Award in November 2011, with the judges commenting that 'the trust works as a team in an integrated way to deliver best outcomes and innovations in care with high levels of clinical engagement'.
Inevitably, questions arise as to how Torbay was able to develop such an innovative culture, with suggestions that the trust's structure played a part. As a medium-sized district general hospital, with its acute services located on a single site, Torbay was a relatively compact organisation. The workforce was relatively stable, with low turnover. These characteristics fostered an open and friendly organisational culture, encouraging the kind of direct personal interaction needed to raise, share and develop new ideas.
The culture and working environment provided the backdrop to, and fostered, Torbay's lead role in developing APs. Initially, this lead role assumed a somewhat opportunistic form. There was money available from the Strategic Health Authority (SHA) for a pilot to develop an educational programme to support band 4 APs. In 2006, Torbay worked with a trust in Cornwall on such a programme, with an initial intake of around 20 trainee APs covering community and mental health as well as acute health care. The opportunistic nature of this involvement was further reflected in the absence of clearly articulated objectives underpinning Torbay's development of the AP role:
It was a gamble. But we made it work and that was the impetus to do more. There were pound signs and, 'oh we've got some money coming in, let's take it, let's see if we can do something that would actually benefit the patients', without really understanding what the [AP] role would be. IC2_trust manager_1
However, this initial opportunism was quickly transformed into a more strategic approach to the AP role, characterised by a number of features, each discussed below.
Clarifying the assistant practitioner role
The trust felt that the AP role needed to be sensitive to the particular needs of the clinical areas:
The trust didn't use a one model fits all. So like if every ward needs a band 4, I don't think they've ever seen it that way, but they also recognised that there are some things that band 4s will never do and you need a registration for. IC2_trust manager_2
Narrow and deep
The trust acknowledged that the AP role was most likely to become established where a 'critical mass' of post-holders could develop within a given clinical area. This would allow APs to support one another and to become a 'fixture' within the ward team:
We needed to go deep rather than wide . . . and it really did work, because it was sort of safety in numbers because there was at least two in, or two wards, they would work closely together, would have one on each ward, so there was a presence being seen. IC2_trust manager_1
An emergent approach
Torbay's approach was based on learning through practice. By taking the lead in the region, the trust was often the first to confront the difficult issues, such as clarifying the contribution to be made by APs and the design and management of a viable FD programme, and, in so doing, learned from the experience and sharpened their approach going forward:
Torbay has done this with their band 4s over the past five years and they've had really a lot of quite I suppose difficult discussions and challenging problems in order for them to do that. IC2_trust manager_2
A variety of aims came to inform Torbay's interests in the AP role, some formally stated by senior management and others more informally articulated in the organisation.
Career opportunities
Senior managers at Torbay viewed the AP role as a means of developing career opportunities for HCAs at bands 2 and 3, particularly as pathways into registered nursing became limited and problematic. Nurse training represented a significant leap for HCAs, with progression to a band 4 AP role seen as more manageable. The use of the AP role to develop such career opportunities for bands 2 and 3 HCAs was not, however, an end in itself. It was viewed as a means of retaining and making the most of the unregistered part of the workforce, which had considerable skill, experience and potential:
What we said is it's not a stepping-stone to become a nurse; it's a different type of role and it's valued and it's better paid, and it gives you opportunities to think about a different future career if you want to, but at the same time you know you could stay there as well. IC2_trust manager_3
Flexibility: crossing boundaries
The AP role was seen as much more flexible than the RN role, with scope to develop 'bolt-on' competencies to undertake particular tasks. One manager described this flexibility as 'The ability to have a modular content backed up by the academic theory, [with] assessment in clinical practice to do "strange jobs" that really nobody thought of doing before' (IC2_trust manager_1).
Specialisation
Torbay saw the potential for the AP role to fill service gaps, and, in so doing, establishing a new area of expertise within the nursing workforce:
If you're just going to use them like a member of the workforce, that for me is well why bother to even train people at band 4; band 2s and 3s are doing that. If you've got somewhere, for example, the stroke clinic where you've got a band 4 that does some occupational therapy, physiotherapy and some nursing care as well, that person is valuable in terms of care plans, patient journey, discharge planning liaison, a whole slew of things that are very specific around stroke care. IC2_trust manager_2
Nurse shortages
The AP role was seen to address future shortages of RNs:
We know that we're going to see less RNs coming through and I think we have to proactively try and work with the [AP] role to make it a role that we want and it works for us. IC2_service manager_1
Cost reductions
Among staff within clinical areas, cost control was seen as informing the trust's use and development of the AP role, particularly at ward level:
I feel it's [the use of APs] a cheaper option. We run on four trained at the moment, and then they're saying we can have three trained plus an AP and I think that's the way it is. I think they're saving money, truthfully. IC2_ward staff_1
Nurse relief
The AP was viewed as a means of taking away certain tasks from a nurse, and so allowing them to concentrate on 'more pressing' activities:
[The development of the AP] was taking out some of the more basic standard levels of perhaps dressings and chaperoning to allow us to use our specialist, clinical nurse skills. IC2_ward staff_2
Torbay's AP initiative had the following design features:
trainee assistant practitioners (TAPs) recruited from HCAs within the trust
a 2-year FD delivered by South Devon College (SDC), but with significant input from Torbay's education department (ED) and other staff members
TAPs mainly employed as band 3s
two study days, although one of these was taken from their own time
band 4 on qualification
a preceptorship programme, also involving RNs.
The design of this initiative was based on a 'virtuous triangle', set out in Figure 3 .
A virtuous triangle at Torbay.
This 'triangle' rests on two key relationships. The first was between the trust's ED and SDC as the provider of the FD taken by the TAPs. This relationship was strengthened by idiosyncratic features, particularly the fact that the key point of contact at SDC had formerly worked at Torbay, and indeed had been involved in the initial AP pilot.
The quality of the Torbay–SDC relationship ensured that the delivered FD was sensitive to the needs of discrete clinical areas:
Working with SDC was a revelation really because they were hungry for doing something that actually would link them in to us, but also it was actually sort of saying we've got enough people locally, we've got a local workforce, we need to tap in to it. IC2_trust manager_5
This relationship also allowed Torbay to develop a cross-subsidising funding model. SDC had agreed to expand its AP programme to include self-funders, alongside those on the programme employed by and supported by the trust. These funders needed placements and, in providing them, Torbay generated an income stream which supported its internal candidates.
The second key relationship was between the trust's ED and clinical areas interested in introducing an AP role. The most important aspect of this relationship was establishing a clear role for the AP. This was 'hammered out' in intense discussions between ward managers and the ED. The clinical areas brought to these discussions a full appreciation of clinical requirements, work routines and what a distinctive AP role might be able to bring to care delivery. The ED brought a capacity to clarify issues and sort out any 'blockages'. For example, with a need to amend trust policy and develop protocols, allowing APs to undertake certain clinical procedures, the ED engaged the pharmacist in the development the AP role:
Over the years pharmacy started to teach on the AP programme, so they're setting learning standards with me as to what they're teaching. So they're knowing the education they've given and feeling more comfortable because they know the standard of teaching. IC2_trust manager_1
The impact of the AP role at Torbay can be considered from the perspective of different stakeholders, each discussed below.
Assistant practitioner post-holders
While some APs saw the role as a stepping-stone into nursing, many regarded it as an end in its own right, allowing considerable scope for personal development:
I really enjoyed my job as a HCA but I wanted to progress a little bit further, I wanted some promotion, I also kind of felt I deserved some promotion; that I'd been in the trust a long time and had given a long service to the trust. But having children at home and a husband that worked away, I didn't want to go and do my training, I didn't want the responsibility of having to take three years out unpaid, as it would have been if I'd gone on to do my nurse training. IC2_ward staff_3
A few concerns were raised about the impact of the AP role on post-holders. For example, it was suggested that, having taken up an extended role, APs might be somewhat frustrated at not being able to push the boundaries further:
They're [APs] getting frustrated with their job descriptions and they want to do more, and I'm having to say to them 'look, I'm really sorry but you aren't registered and you can't do more'. IC2_trust manager_4
For some nurses, the AP represented a general challenge to the nurse status and role:
Some trained nurses do feel threatened because they've got this cheaper nurse coming up who they definitely are replacing trained nurses. IC2_ward staff_1
More specifically, APs with more specialist or practiced skills were sometimes seen to erode nurse capability:
They're [APs] actually better cannulators than a lot of the RNs. So they'll end up putting canullas in here, there and everywhere around the ward for patients, for their treatment . . . because they're handing it over to the APs to do, they're losing that skill. IC2_ward staff_4
At the same time, nurses often viewed APs as relieving them of certain tasks, allowing them to concentrate on core activities, with positive consequences for patient care:
That shows very well in breast care, that they [APs] will do stuff that's seen as mundane but they'll love it because they'll give more time to the patient in clinics with sort of smaller breast operations, which relieves the RNs to do psychosexual counselling, the more advanced dressings. IC2_trust manager_1
Interviewees suggested that the APs contributed to patient care by taking on technical tasks and not, therefore, having to seek the RNs to carry out certain clinical procedures. This often improved the capacity of a service or clinic, speeding up the flow of patients, reducing service pressures and allowing patients to be dealt with in a more timely manner.
The colorectal support worker
This case study focuses on the development of a role designed to provide support for the delivery of stoma care at Hillingdon NHS Foundation Trust (henceforth referred to as Hillingdon). Developed under the job title 'colorectal support worker', the role was based within a team of specialist coloproctology nurses. This specialist nursing team had four members: a colorectal nurse and a senior colorectal nurse, working alongside the one C-SW, and headed by a nurse consultant. Most of the patients undergoing colorectal surgery at Hillingdon were located on a single ward, although the team were responsible for patients needing stoma care help throughout the hospital.
The specialist nursing team was involved in three broad areas of activity:
consultant- and nurse-led clinics
on-ward work, immediately prior to and following the surgery
community, typically post-operative, outreach work, involving home visits.
Within this set-up, the C-SW was seen as an innovative role, not only within the trust but also across the NHS:
We think it is the only one in the UK, because I haven't come across any more. IC3_service manager_1
The C-SW role was designed principally to engage in on-ward work dealing with those patients in need of stoma care. The number of stoma patients in the trust at any given time varied. During the research fieldwork, there were 13 patients in need of stoma care at Hillingdon. Over the year, it was estimated the trust would deal with between 80 and 100 stomas, with the C-SW likely to be involved in most of these cases.
The role had emerged 3 years ago but then developed organically, rather than in response to any clear-cut strategic initiative. More specifically, the role was a response to the confluence of two broad sets of factors: institutional and personal.
Institutional
At an institutional level, various developments had impacted on ways of working within the specialist nursing team, creating the space for a new support role:
General pressure. Partly in response to public health campaigns, awareness of cancer and the number of cases picked up had increased.
More acute patients. The increasing scale of care needs had been accompanied by the growing acuity of patients treated in a hospital setting. The requirement for more intense care from RNs had, in turn, generated a need for more support, whether in providing such care or in undertaking more routine tasks.
New models of care. The trust's enhanced recovery programme (ERP) had placed new demands on specialist nurses, for example in running enhanced recovery clinics. It also generated a specific need for patients more quickly to become comfortable with, and capable of, dealing with their stomas.
Staffing. These developments placed pressure on the specialist team's staffing capacity: 'It's very easy for the stoma care nurses to get pulled in to other areas with their consultants and things like that at MDT [multidisciplinary team] meetings and all of the sort of upper echelons of patient care' (IC3_trust manager_1).
The institutional factors combined with the availability of a worker already present within colorectal surgery particularly well suited to take up a specialist support role. As a consequence, the development of the role became inextricably linked to the personal circumstances of this individual. A number of characteristics of the post-holder are worth noting:
Experience in care work prior to joining the trust, combined with a personal disposition displaying enthusiasm for taking on an expanded and specialist technical role: 'Initially she [the post-holder] was quite despondent about what healthcare assistants could do. She is quite an assertive person and kind of felt that she wanted more, she wanted to be a bit more autonomous, whereas on the wards it was kind of quite limited' (IC3_trust manager 2).
Experience of working in the trust. The post-holder had worked at Hillingdon for 8 years in a HCA post, before taking on the new specialist support role.
Experience as a HCA working with colorectal patients on the ward before moving into the specialist nursing team. This was reinforced by a 6-month period working on a temporary basis with the specialist colorectal nursing team, which then became a permanent post.
Design and implementation
This confluence of institutional need, and the availability of a person with the background and skills to meet it, was appreciated by the nurse consultant leading the team of specialist colorectal nurses, and taken forward by her, with the support of others, through various processes.
Shaping the role
The C-SW role was initially formalised with the development of a job description by the HR department. Initially, the role was graded at band 2, although at the time of the fieldwork, the C-SW had moved onto pay band 3 and it was envisaged that she would move onto band 4 on completing the FD. The job description listed no fewer than 26 main duties. Exactly half of these were patient-centred, including teaching patients to look after their stomas and ensuring that patients were given appropriate food and nutritional information.
The C-SW role, along with the two specialist colorectal specialist nurses, was funded by a firm producing stoma care products. Given the scale of stoma care at Hillingdon, it was unlikely that the trust would attract sponsorship for a third specialist nurse. However, a C-SW role (particularly one working 25 hours per week) represented a viable, lower-cost sponsorship option.
The post-holder had already achieved a NVQ level 3 in her capacity as a HCA. As a C-SW, this was supplemented by a 1-week dedicated training course on stoma care. Less formally, the post-holder had, over the years, acquired relevant tacit skills and knowledge:
Working on the colorectal ward, you had to have a certain amount of knowledge and training anyway. IC3_ward staff_1
The acquisition of experience, knowledge and skills allowed the post-holder gradually to push the role's boundaries, affecting how others viewed and engaged with it. As nursing and clinical staff became more aware of and confident in the post-holder, increasingly they drew upon her:
Over the last year or so things have evolved and the job itself has matured in a way that she's taken on more and more responsibility as she's got on . . . Overall she has been fairly well supervised and trained to fulfil this role and she's not just been let go on her own, but she's sort of coming to a stage where she could do it independently or with advice. IC3_ward staff_2
In terms of general functioning, the C-SW role largely involved on-ward pre- and post-operative patient-centred work. The nature of the C-SW engagement with patients was intense and sustained, reflected in the following description of her role by the post-holder:
I always see them first day post-op. I like to see them before they have their surgery, just to introduce myself so that they know a familiar face when I see them on the first day post-op and basically review the stoma and everything because at that time they don't want to do anything. Then they gradually get a little bit better and a little bit more mobile, and I start educating them about it; start teaching them about their diet and giving tips. Then I discharge them as well back into the community. IC3_ward staff_3
More specifically, the C-SW's impact assumed a number of forms, each discussed below.
Patient teacher
The core of the C-SW role revolved around preparing and providing support for patients in the future management of their stoma:
The nurses are always busy; there is always something to do, but when the girls are in clinic or doing ERP clinics she will be on the ward; if there's teaching for the stomas to be done, she will do the teaching of the stomas. IC3_service manager_2
Emotion manager
This sustained and close contact with the patient allowed the C-SW to manage patient emotions in invariably difficult circumstances:
[Patients] come in confused and worried and depressed, and the stoma care nurse can only give them five or 10 minutes a day and they might see them twice and that's it. The [C-SW] will see them nearly every day on the ward; she becomes a constant to them and so is much more supportive to their actual needs. She is the most important psychological support for that patient and their subsequent recovery, because the aim is to get them back and living a normal life and doing everything they ever did before. IC3_trust manager_1
Another 'pair of eyes'
The C-SW came to represent another 'pair of eyes' with the capacity to feed insights on the patient into broader clinical deliberation and decision-making. For example, discharge decisions were often informed by the C-SW's perception of the patient's readiness to leave hospital based on whether or not they could manage their stoma care.
In acting as another 'pair of eyes', the C-SW was often able to connect to, and articulate, the patient's perspective, a capacity drawn upon by other carers. As a consultant noted:
If I've got a patient with a stoma, I usually take [the C-SW] along with me on the ward round, and I find it very useful to get her side of the story. She always has a different angle on how the patient should be managed. She's been trained over the years as a HCA on the ward, so she has a more holistic view rather than the stoma nurses who will be looking at stomas and the technical problems with it. IC3_ward staff_2
The C-SW role was designed to relieve specialist colorectal and ward nurses of the main responsibilities for stoma care, allowing them to concentrate on other tasks. The C-SW appeared to be fulfilling this relief role:
So it takes the workload off them as well for them to do other things like clinics and work in the community and all that. So in that sense it does help. IC3_ward staff_2
Expert and mentor
Dedicated to specialist tasks, the C-SW had clearly become an expert in stoma care:
[The C-SW role] is a useful resource because the stoma nurses obviously have got other things on their plate. They're working at the clinic, which [the C-SW] doesn't, and so she's purely dedicated to the ward as such. And, you know, the first port of call would be her if there was any problem on the ward in terms of primary management of stomas. IC3_ward staff_2
This expertise allowed the C-SW to act as a mentor to others, including registered ward nurses, specialist colorectal nurses, HCAs and student nurses. Each is illustrated by a quote below.
When we have newly qualified nurses joining the team, [the C-SW] is there to teach them, to help them. IC3_service manager_3
[The C-SW] is able to tell [name of colorectal nurse] quite a lot of things. [The latter] has not got a lot of back knowledge, whereas [the C-SW] has built up her knowledge over time from first of all being on the ward, enjoying looking at stoma patients, which not many people do, and then doing the temporary post and then moving into it as a full-time job. IC3_service manager_1
As the time's gone on she's [the C-SW] very much more been a link to the other health-care assistants on the ward in terms of getting them more involved in learning stoma care and engaging them in teaching patients as well. IC3_ward staff_4
Most of the students that we have on placement will work with [the C-SW] who will show them about the stoma care. IC3_service manager_1
The C-SW role had a largely positive impact on a range of stakeholders. However, a few qualifications are worth noting. First, the C-SW's capacity to impact in these ways was closely tied to the personal characteristics of the post-holder, someone known and trusted by these various actors. It was, therefore, not a contribution easily replicated by another taking on this role.
Second, there was some resistance to the C-SW role. As an expert, the C-SW might challenge the registered and higher-graded professional:
Registered practitioners maybe feel a bit intimidated because she's [the C-SW] doing teaching on the ward and obviously teaching patients and seeing patients on her own without that direct supervision and that has caused a bit of a problem. IC3_trust manager_2
Third, the specialist nature of the C-SW role might encourage ward staff to 'dump on' her all those tasks associated with the stoma care, with detrimental consequences for the quality of the C-SW's working life and perhaps for patient care more widely:
Most ward staff, because there's a stoma care nurse, it's not their job to change bags, so some would be happy to leave a patient with a leaking bag until they found a stoma care nurse to come and do it. IC3_service manager_1
Figure 4 summarises the C-SW's various contributions.
The C-SW's contribution to stoma care.
The health-care assistant development nurse
This case study explores the introduction of a dedicated corporate role, the HCA development nurse (HCA-DN), to support the management of HCAs at UCLH. One of the first trusts to acquire foundation status in 2004, UCLH is a large organisation comprising seven hospitals, some specialist and some general, located on different sites in central London and employing around 7000 staff in total.
The emergence of the HCA-DN role reflected an increasing focus on the unregistered component of the trust's nursing workforce in the delivery of patient care:
The heads of nursing, corporate nursing and the trust itself has a commitment to training and development and to healthcare assistants and to that support. Otherwise we wouldn't have I suppose the [HCA-DN] post we have. IC4_trust manager_1
Driven by financial pressures, this focus was integral to an attempt to review the trust's traditionally rich skill mix. Indeed, there was a growing interest not only in the balance between unregistered and registered staff, but in the distribution between HCAs at band 2 and band 3 in the trust. UCLH had a relatively high proportion of its HCA workforce at band 3: the trust's 428 HCAs were spilt roughly half and half between band 2s and band 3s.
From a financial perspective they [HCAs] save the trust money and if we can bolster them as much as possible, then it's fantastic not just for their self-esteem and their educational purposes but also from the trust's financial perspective, and I think you're foolish if you don't utilise them to their fullest potential. IC4_ward staff_1
The trust's greater interest in the nurse support workforce was also influenced by perceived challenges to the future supply of RNs with implications for the nature of the nurse role:
We looked at the demographics of the nursing workforce . . . and thought that first of all we might be limited in the numbers of registered nurses and it was thought that the assistant practitioner would be assistants to some of the day to day delivery of care, the sort of routine stuff that didn't need a more advanced assessment of the patient's needs. IC4_trust manager_2
The health-care assistant development nurse role
The HCA-DN post was initially supported by SHA funding. It was filled on secondment by a clinical practice facilitator (CPF) from within the trust (initially for 3 months), who had since remained in the role. In a large and complex organisation, these background characteristics were not without significance: the post-holder understood the trust's systems and routines and had credibility in the role.
In terms of purpose and focus, the HCA-DN role was principally seen by senior nurse managers as a way of developing training standards on entry to the trust, and supporting the establishment of clearer career pathways for HCAs:
What was very frightening to us when we were first expanding the numbers was that for band 2s these are people who could be working in Woolies one day and here tomorrow. There's not a lot of training in between and what we wanted to try and do is make sure that at least there were very clear induction standards, very clear development programmes associated with these roles, and hence the development of [the HCA-DN] role. IC4_trust manager_2
In practice, the role's remit was broader, covering nurse support workers at bands 2 to 4, and concentrating on a number of aspects of HCA training and development:
assessing the capabilities (numeracy and literacy) of candidates for HCA posts
developing and delivering corporate HCA induction
developing and delivering in-house HCA training
managing accredited training/education programmes, including the apprenticeships and the FD
supporting HCA career development
liaising with and supporting wards in the development of their more bespoke training.
Working with wards to address their particular HCA training and development needs involved the HCA-DN connecting to another key role within the trust, the CPF. Graded at band 6, typically performed by a RN and found in many of the trust's wards, the CPF's main purpose, according to the job description, was '. . . to support and develop band 5 and band 6 nursing staff and healthcare assistants through facilitation in clinical practice and promotion/implementation of relevant education and development pathways' [emphasis added]. 50
The training and development of health-care assistants
The HCA-DN role had been responsible for developing a number of initiatives related to HCA training and development. These are set out in Figure 5 .
Training and development initiatives.
Health-care assistant induction
The HCA-DN was heavily involved with HCAs as they entered the trust. This involvement was reflected in some work around recruitment practices, such as establishing whether or not applicants had basic numeracy and literacy skills. It was also aimed at establishing whether or not HCA applicants had appropriate values and capabilities:
One of the things that the [HCA-DN's] been trying is scenario-based assessment so that we understand the values around individuals that we appoint, but we've got much more clarity around, you know, basic life skills like numeracy, literacy and communication. IC4_trust manager_2
At the outset, the HCA-DN role was seen to be particularly concerned with establishing an acceptable level of basic competence in newly recruited HCAs:
The priority was getting the induction programme right, getting the right competencies. IC4_trust manager_3
Consulting with a range of staff, the HCA-DN developed, piloted and implemented a new induction programme. The corporate element of the new induction (including infection control, moving and handling) was held before HCAs began on the ward. The HCA training element was usually held within 5 to 6 weeks of their being in post. This part of the induction covered 4 days of HCA skills, including communication and washing. Each recruit was given a competency pack for their first 6 months that formed their probationary period and had to be achieved to attain a permanent contract.
A more recent initiative, designed to underpin the induction process, was the development by the HCA-DN of an e-learning package to support competencies and development online. This e-learning focused on mandatory training and the development of certain basics, such as vital signs, and, given the scattered nature of the trust across central London, provided an efficient means of dealing with such training.
Still a work in progress, this e-resource, in a more general sense, enabled the HCA-DN to track that HCAs were getting the support they needed:
I'll be able to monitor who logs on, when they log on, if they complete a whole module or whether they do the whole package in one go, and if they haven't passed, do they go back and log on again, how many times they've actually completed a module, how many tries they've had and not completed. IC4_trust manager_3
Domino training
A more specific initiative centred on a half-day study day preparing HCAs to recognise the signs of deteriorating patients. This programme, run monthly under the title 'Domino', extended the delivery of a programme from medical and registered nursing staff to HCAs. Domino was based on the critical care Patient Emergency Response Team training given to nurses and junior doctors. Domino was piloted for HCAs in 2009 and 'went live' in 2010.
Pressure ulcer workshop
The HCA-DN instituted additional study days on other topics of relevance to HCAs. In identifying such topics, the HCA-DN was again sensitive to the views of others, with pressure ulcers emerging as an issue worthy of a study day:
We're sort of having very preliminary discussions about having a mandatory study day to cover some of the things that maybe are required . . . so around pressure ulcers, for example, maybe patient falls. IC4_trust manager_3
Accredited programmes
The HCA-DN was responsible for various aspects of accredited programmes available to nurse support workers: their design, publicising and recruiting to them and dealing with the HEIs. In the case of band 2 and 3 HCAs at UCLH, the main available programme was the apprenticeship. The trust's apprenticeship programme began in 2010 and focused on existing staff. At the time of the research fieldwork, a proposal was pending on a new approach to recruitment, with all future recruitment to the HCA role via a 1-year apprenticeship contract at band 2 level, supported by all new job descriptions, and promotion to the band 3 level restricted to internal candidates only.
In the case of APs, the main programme was the FD. In 2010, UCLH had its first large cohort of APs passing through the London South Bank University FD. Originally, the cohort was for 10 trainee clinical APs at band 3 level but this was extended to 20. The original 10 were guaranteed a band 4 role on completion. There was a forum for APs held quarterly by the HCA-DN to facilitate networking and support. Each session had an external speaker. A band 4 booklet of competencies and expectations was being piloted at the time.
Road show and website
The HCA-DN communicated with HCAs on various types of issues, with two main systems developed to support this activity. Established by the HCA-DN in 2009, the HCA road show was a monthly event open to nurse support workers from across the trust and held on a rotating basis between the different UCLH sites. The road show had evolved to serve a number of purposes: connecting with HCAs and other staff groups from across the trust for the HCA-DN to find out about their concerns and issues; an opportunity for HCAs to raise queries, not least in relation to their current training; and an information and learning space for HCAs, with speakers coming along to make formal presentations.
The second communication initiative was the establishment of a dedicated HCA website. This website played an important role in informing HCAs about the availability of different study days and programmes, along with details about how courses might be accessed:
[The HCA-DN] has written loads of stuff online which are all around processes of applying, when they have workshops, you know, what's entailed. IC4_trust manager_1
The role in practice
As a single post-holder working in a large and multi-site organisation, the HCA-DN needed considerable skill in taking these initiatives forward and in establishing wider commitment to them across the trust. A consideration of process issues suggests the importance of three organisational characteristics ( Figure 6 ): institutions, actors and systems.
Elements of process in developing HCA initiatives. N&M, Nursing and Midwifery.
Institutions
There were a number of formal institutions or bodies within UCLH that played an important part in both discussing and formally signing off a HCA-DN initiative. At the peak of the trust was the Nursing and Midwifery Advisory Board , comprising the chief and assistant chief nurses and the heads of nursing. This board introduced trust-wide initiatives with significant implications for the nursing workforce. The HCA-DN had sought sign-off from this board on the development of HCA competencies and on the design of a new approach to HCA recruitment based on the use of numeracy and literacy tests.
At the next level, divisional meetings involving the relevant head of nursing and her matrons were used as a means of developing or fine-tuning a proposal. For example, the HCA-DN used these meetings to develop specialist modules on certain HCA programmes, particularly the FD.
There were also a couple of bodies, specifically concerned with training and education, which played a role in the development of HCA initiatives. The education forum, convened by the assistant chief nurse, brought HEI providers to the trust for discussions on an accredited training programme. More important in this context was the CPF forum, a monthly meeting for CPFs across the trust. The extension of the Domino programme to HCAs, for example, was signed off at this forum.
At UCLH, a number of actors were crucial to the functioning of the HCA-DN role. The support of the chief nurse was important in setting the broad direction for the development of the trust's unregistered workforce:
[The HCA-DN] needs the chief nurse's support as well. It would be true to say that the chief nurse is essential; they're going to drive the direction that this goes in. IC4_trust manager_2
If the chief nurse set the direction, the assistant chief nurse leading on education and research was needed to 'make things happen': pushing decisions to action and ensuring that the necessary resourcing was in place. The assistant chief was particularly accessible to the HCA-DN.
The HCA-DN's line manager and, in particular, the corporate team of nurse educators and facilitators played an important part in actually delivering aspects of the HCA-DN's programme. For example, the teaching on the study days would often come from this team.
Two systems were particularly important in allowing the HCA-DN to take forward initiatives in such a large and complex organisation. The first was the emphasis placed by the trust on guidance to divisions and clinical areas. Guidance was less prescriptive and more flexible than rules, and, in a large, complex and diverse organisation such as UCLH, played a role in giving effect to some of the HCA developments. The second was the HCA-DN's use of networking to test, consult and build alliances in support of various initiatives:
[The HCA-DN] has done a lot of work around sort of networking with the ward sisters and trying to understand what it is that we want in terms of development. So therefore she's got quite a lot of our buy-in for that. IC4_ward staff_2
The HCA-DN's impact on the training and development of nurse support workers was seen as significant and beneficial. Views on the positive contribution made by the HCA-DN were often provided in an unprompted way, and suggested that the HCA-DN had made a tangible difference to improving these aspects of the HCAs' working lives and changing the trust's capacity in these respects:
The trust has put a lot of funds and effort into it recently, certainly the recruitment of [name of HCA-DN] . . . Giving someone of [name of HCA-DN's] level and experience a whole-time equivalent job to spend putting together training for them, and to be fair pretty much every course that we run for qualified staff, [the HCA-DN] has adapted. So the work [HCA-DN's name] done has been fantastic. So asking me the question now, I do think we have great learning and development opportunities for unqualified staff. IC4_ward staff_2
For some, the HCA-DN role had provided trust focus and direction on HCA training and development:
What [HCA-DN's name] has done is given it a bit more focus. Everybody knows [HCA-DN's name], she's done a lot of good work for lots of other projects within the trust and I think that now she's sort of taken this on-board, it's got a bit more direction. IC4_ward staff_1
In the HCA focus group, the name of the HCA-DN was mentioned on no fewer than 18 separate occasions, providing some insight into how HCAs viewed and used the role. Thus, HCAs perceived the role and engaged with it as a channel for raising concerns, accessing opportunities and sorting out problems. Each of these areas is illustrated with a quote below.
[HCA-DN's name] was one of the persons I said, 'sorry, I'm not here just to do domestics, I'm here because I want to become a nurse; I give up my degree in biomedical because I want to be a nurse, I don't want to be a domestic'. IC4_HCA_focus group
So you have, so you have regular e-mails from [HCA-DN's name] letting you know about things. There's the website to check things on. And so there's the availability of study days, courses that you can do. IC4_HCA_focus group
I didn't know what to do because I finished my nursing from [name of country], came here, was not able to work as a nurse because of the English exam. So then I approached [HCA-DN's name] what to do, then she told me if you're going to go back to nursing, do this course and then go. IC4_HCA_focus group
Data on the scale and coverage of many of the in-house initiatives developed by the HCA-DN are presented in Table 11 . Some noteworthy achievements stand out from these figures. Most striking, perhaps, is the significant number of HCAs completing the Domino and pressure care programmes. The number of HCAs who had been through the new induction programme, close to 100 over the last 2 years, was also striking.
Nursing assistant in-house training numbers
Consultant-driven innovation: the surgical assistant practitioner role
This case study focuses on a band 4 AP role developed in the dermatology department of OUH NHS Trust. Introduced in 2011 and to date held by one post-holder, the role was labelled surgical assistant practitioner (SAP). In examining the nature and consequences of this role, four actors were interviewed in March 2013: the post-holder herself, a consultant dermatologist, a specialist nurse and the trust's AP lead. During the fieldwork, the SAP was observed working alongside a consultant during a procedure.
The SAP role generates interest within the context of this project as an innovative development both within the trust and more generally across the NHS. Pushing role or practice boundaries perhaps further than any other innovative development considered in the project, this unregistered support role was designed to perform relatively complex clinical tasks, including minor surgical procedures.
The development of the SAP role took various turns, emerging in an iterative rather than in a fully formed way. Asked if the nature of the AP role was clear from the outset, the post-holder noted:
No, it's just evolved really. IC5_SAP_1
Indeed, despite clinical consultant interest in it, the role initially emerged through discussion between the AP lead in the ED and a specialist nurse in the dermatology department, within the broader context of the trust's second cohort of APs around 2008–9. These discussions, which also involved the potential AP post-holder, considered service gaps in dermatology that might be filled by an AP role. This encouraged an initial focus on how such a role might contribute to service flows in the outpatient clinic, with the aim of relieving nurses of aspects of work in this area and allowing them to concentrate more on their specialist tasks. All patients were seen in the dermatology department on an outpatient basis, with any surgery being performed as day surgery.
Against the backdrop of these discussions, a person had been selected for the AP support role in dermatology and had begun the FD. However, around 1 year into the degree, the specialist nurse who had originally sponsored the role as a support for the department's clinics left the trust. At around the same time, the value of a role supporting the department's day surgery work became apparent, particularly to one of the department's consultant dermatologists, resulting in a shift in the role's focus from the general clinics to the operating theatres.
The emergence of a support role centred on the dermatology department's surgical activities was related to the confluence of two sets of factors: institutional need and personal circumstance. Institutionally , the need for such a role to contribute to surgical work was linked to the nature of the service provided by the dermatology department, and by the performance management regime underpinning it. Physically, and indeed clinically, the department was divided into two main parts. The upstairs section, comprising consultant-led general clinics, dealt with the full range of conditions: '. . . leg ulcers, anything to do with your skin, so eczema, psoriasis' (IC5_specialist nurse_1).
A tumour clinic was also run upstairs, a 'one-stop' service which provided those in need of skin surgery with a same-day service. This same-day surgery was provided downstairs in the department's operating theatres, along with elective surgery. These operating theatres were staffed by a number of clinical consultants – the department had a team of four consultants working on tumours along with two band 6 specialist nurses and the band 4 SAP.
Within the context of this set-up, a SAP role, able to undertake a wide range of tasks, many overlapping with those performed by the specialist nurses, was seen as a means of addressing service capacity and workload pressure. Such a role could undertake and finish off work, freeing up consultants and specialist nurses to see more patients:
With the one-stop service we try and do as much as we can on the same day, and we have so many referrals it's really hard to keep on top of all the skin cancers that we need to perform surgery on. So having that supportive role, somebody to stitch up a hole while you're doing the paperwork, it means that we can get through everything so much faster. IC5_specialist nurse_1
More specifically, such a role provided a greater a range of options in terms of staff deployment, particularly important given variation in and uncertainty about the availability of staff on any given shift:
The way we've done that is that we have clinics which are designed to see, screen and recommend treatment for patients at the same time as the theatre is open downstairs, so that they can be seen and treated at a one-stop. The difficulty with that is staffing it really, and so the way we've staffed it is by having a consultant downstairs and a consultant upstairs and if one of the consultants is away on holiday, the other consultant comes up and then covers the clinic, and then supervises the nurses and junior doctors downstairs; which is why it's essential that we have the flexibility we've got from the girls [the nursing staff in the operating theatres]. IC5_consultant_1
The personal circumstances contributing to the development of the SAP role were apparent in a potential post-holder with a profile particularly well suited to the role. In part, this profile was characterised by a work history which provided the post-holder with a firm platform to develop in an extended unregistered role. Prior to joining the trust, the post-holder had been involved in nursing work in the military. More significantly, the post-holder had some experience of the trust and the department prior to taking up the SAP role:
I worked with them beforehand anyway and they know that if I was never happy I'd always come and find them, and there is a massive amount of trust involved in this and I think that's one thing that needs to be stressed, you know, that they have to trust me. IC5_SAP_1
In fact, the post-holder had taken up a band 2 HCA post around 7 years before commencing the FD. This allowed her to develop an appreciation of the department's systems, team members and ways of working. Equally significantly, it provided an opportunity for the department's clinical and nursing staff to get to know her and to build trust in her personality and skills.
The disposition to take on more complex tasks was the final feature of the personal profile underpinning the emergence of the SAP role:
I've known [post-holder's name] for I don't know, seven or eight years now, it was very obvious early on that she had the competence to do this. IC5_consultant_1
This approach to identifying development potential in an individual and then building upon it encouraged the view that an evolutionary, 'grow-your-own' process was the 'best' way to develop an extended support role within the department:
The problem is identifying those HCAs that will have the competence and confidence to be able to do those, it's much more of a sort of an evolutionary ad hoc thing, it's very difficult to find the individual right for the job, you know, we have to grow our own almost. IC5_consultant_1
The development of the role
If institutional need and personal circumstance provided the basis for the role, these drivers still needed to be converted into a process that provided for the development and emergence of the SAP role. As played out in the dermatology department of OUH, a number of features of this process are worth highlighting. The first was the emphasis placed on competence as a means of cutting through formalities and any apparent barriers to change. It was a view summed up by the consultant in noting the range of complex tasks undertaken by the unregistered band 4 SAP:
As long as the competencies are in place to demonstrate ability and safety, then to be honest that's far more important than a name or a label. IC5_consultant_1
The second feature of the process was a willingness to push boundaries. Without in any way compromising patient safety, the role was developed to undertake the complex clinical tasks associated with skin surgery, and systems were found to facilitate this extension.
The third feature was the importance of the consultant's authority and support in giving effect to the changes needed to establish the SAP role:
So long as they know that they've got the support of the consultant, then it gives them the confidence to proceed. IC5_consultant_1
The importance of the consultant's support was particularly apparent in his engagement with the post-holder; indeed, this consultant–post-holder relationship was pivotal to the development of the role. The relationship provided the basis for a shaping of the role, and more tangibly drawing out the requisite competencies. It was also a supportive relationship, with the consultant acting not only as a mentor but more actively as a trainer, facilitating on-the-job learning for the post-holder:
I do like the surgical side, and because I've worked down here with him very closely, he said I'd like to develop you into doing anaesthetics. And because I'd given injections and done a little bit of minor surgery in the RAF [Royal Air Force], he said let's have a go and see where you develop. So I started off doing a little bit of suturing, then some minor procedures, and then it's just developed and snowballed from there really. IC5_SAP_1
The significance of the consultant–post-holder relationship should not, however, detract from the importance of other relationships to the development of the role, in particular that between the trust's AP lead and the post-holder. The AP lead was another key support for the post-holder, particularly during the FD. More specifically, the AP lead was able to give effect to the consultant's aspirations for the role by developing appropriate specialist competencies to be built into the second year of the FD. The development of the role also required an education provider able and willing to provide bespoke programmes sensitive to the needs of the trust and the role it was seeking to develop.
Issues of clinical governance needed to be addressed. They were dealt with by putting in place thorough systems, demonstrably ensuring that the post-holder had acquired the requisite competencies without any risk to patient safety. Certainly, staff trust in the post-holder's sensitivity to these safety issues underpinned this approach. There was a confidence in the SAP's awareness of her limits and boundaries.
However, formal and comprehensive guarantees of competence were in place, for example reflected in the number of times a procedure had to be practiced and witnessed before the competence was signed off:
We ensured that her competencies were such that they were kind of unassailable, they were better than had been done for the junior doctors, better than I'd had as a trainee. IC5_consultant_1
There were specific clinical governance issues to be addressed, in particular related to prescribing and the administration of local anaesthetic. These took time to sort out. Indeed, it was suggested that '. . . we worked around it rather than work through it. And then did it properly afterwards' (IC5_consultant_1).
The final aspect of the process relates to the involvement of the nursing directorate or nurse management in the development of the role. This involvement was limited. As a consultant-driven initiative, the role had a particular credibility and legitimacy, with responsibility at the end of the day presented as lying with the consultant:
As long as they know that they've got the support of the consultant, then it gives them the confidence to proceed. I would always ultimately be responsible for what goes on surgically and if there are issues with the nurses. IC5_consultant_1
The post-holder formally took up the SAP role on the completion of the 2-year FD. During the period of the FD, the post-holder was working at band 3, with 2 days per week off for study (one of these in her own time). On completion, she moved on to pay band 4. The role developed during the period of the FD, with the support of the AP lead, the consultant and other colleagues. On completion of the FD, the SAP role was striking in terms both of the range and complexity of the tasks performed.
Unable to secure patient consent for a surgical procedure, the SAP was not in a position to run lists, and therefore concentrated on providing assistance to the specialist nurses and the consultants with their lists. However, with the exception of the issue of acquiring patient consent, there was very little to distinguish the SAP role from that of the specialist nurse. Thus, the SAP tasks included administering local anaesthetic; conducting shave and puncture biopsies; removing moles; undertaking suturing; applying dressing; and dealing with after-care.
The consequences of the SAP role can mainly be seen in terms of positive service outcomes. At the outset, it was suggested that, given staffing and workload pressures, particularly associated with a same-day surgical service, an extended support role contributed to departmental capacity and flexibility:
From an efficiency perspective, it just means that we can ride the peaks and troughs of a busy clinical service, you know, more or less able to deal with whatever comes at us. So it means that we're pretty rock solid. IC5_consultant_1
A more detailed consideration of the role highlights how it contributed to these ends and, arguably, also to improvements in service quality. Thus, the impact of the role can be seen to lie in a number of areas, each discussed below.
Sequential working
The SAP worked sequentially with the consultant in two senses. First, she prepared patients, allowing the consultant to come in and begin his work with speed and confidence. As indicated, this preparation involved not only clinical tasks, such as the administration of the local anaesthetic, but the 'softer' tasks of relaxing and putting the patient at ease:
He [the consultant] knows that my local [anaesthetic] will have been done properly, that the patient's completely nice and numb, comfortable, warm, reassured. I've been with that patient all the time, whereas he'll have to go in and out to see other rooms, so I've very often escorted the patient all the way down and I'm there right until the very end, which he won't be. IC5_SAP_1
Second, the SAP worked in sequence with the consultant by finishing off a surgical procedure and associated activities, allowing the consultant to move on to deal with another patient.
Partnership working
As well as working alone and in sequence, the SAP acted alongside the consultant and the specialist nurse, again allowing a patient to be dealt with in a timely and speedier fashion. A specialist nurse provided an example:
So we work together most days, so if I have a surgical list I might go in and consent the patient, while I'm doing that, she's drawing up the local anaesthetic. And then she'll numb the patient. I might remove the lesion and leave her to stitch up while I do the paperwork. So potentially that patient's time on the bed is halved, the paperwork takes up, you know, as long as the surgery, so while I'm doing the paperwork she can be finishing off and stitching up. IC5_specialist nurse_1
As implied, the SAP appeared to have more time to engage with patients, relaxing them, dealing with anxieties and putting them at ease:
So once you've reduced somebody's blood pressure by being relaxed with the anaesthetic, then usually the operation is a doddle. IC5_SAP_1
Accessibility
Accessibility to the SAP also contributed to a positive patient experience. To the patient, the SAP was far less intimidating than the consultant or indeed the nurse:
I've been able to chat to them and explain to them what's going to happen in more detail, in layman's terms. I'm not as intimidating as a doctor, who's quite loud and I can relax them and say, 'well this is what's going to happen'. IC5_SAP_1
In focusing on the performance of particular support tasks, the SAP became expert in their performance: a degree of specialisation bred increased proficiency. This was seen to be the case in relation to the administration of local anaesthetic:
I've done so many [local anaesthetics] now, so on the sites that are very painful or if people have a needle phobia, I get given those patients because it doesn't bother me. IC5_SAP_1
In a slightly less positive vein, the consequences of the SAP might also be seen in terms of certain tensions. These were apparent in how others in the department viewed the role. Pushing the boundaries of the nurse support role meant that there had been some resistance from RNs in the department:
There are some other nurses in the department who haven't been so accepting and have made comments, but they're in the minority, and actually there's only one that I can really think of who's really made a fuss of it. IC5_specialist nurse_1
A summary of the features and issues associated with the development of the SAP role is presented in Figure 7 .
The development of the SAP role.
The role of the clinical support worker trainer at band 4
This case study explores the development of a new educator role at OUH, specifically designed to help CSWs at pay bands 2 and 3 undertake training, particularly those on the Qualification and Credit Framework (QCF) diplomas and apprenticeships. The trust viewed the role as a means of strengthening its capacity to train CSWs, increasing both the scale of such training and the speed of completion. The fieldwork was undertaken in two phases. The first comprised interviews with key members of the trust's CSW training team and with the CSW trainer herself, conducted at the end of 2012, soon after role had been introduced. The second phase involved repeat interviews with these actors, plus interviews with three CSWs engaging with the CSW trainer. These interviews were carried out in May 2013, some 6 months after the role had been introduced and been given time to 'bed down'. The second-phase CSW interviewees were employed in different clinical areas: maternity, neuroscience and orthopaedics. In total, 11 interviews were completed.
Context and objectives
The CSW trainer was designed as a corporate role, working in a small team positioned in the nursing directorate and responsible for the training and development of the trust's CSWs at bands 1 to 4. The emergence of the CSW trainer role was related to two sets of factors. The first was strategically driven, being tied to a broader initiative on the management and development of CSWs at the trust. OUH had decided to set up what it labelled as a CSW academy, with the CSW trainer role long envisaged as an integral part of it.
The rationale for the CSW trainer role within the CSW academy was associated with a perceived need to improve the trust's approach to the training of CSWs, particularly at bands 2 and 3. Much of this training had been centred on the acquisition of NVQs (levels 2 and 3), although at the time the CSW trainer post took effect, the national training regime was underpinned by the QCF providing level 1 and 2 diplomas, and, when linked to functional skills, an apprenticeship. The trust was seen as 'lagging' in the number of CSWs seeking such accredited qualifications and in the pace and scale of completion.
The problem was seen to lie in the limited support available to CSWs undertaking this programme. In large part, this limited support derived from a lack of assessors in the trust. Indeed, it was the need for a dedicated corporate assessor for trainee CSWs across the trust that underpinned the introduction of the CSW role. The job description for the post noted one of the overall objectives: '[t]o effectively assess NVQ/QCF learners' performance, knowledge and understanding against the national occupational standards'. 51
In more general terms, the CSW trainer role was a means of providing support to trainees during diploma and apprenticeship programmes. Formal training for CSWs was a far from straightforward process: not only had many trainees been away from formal learning for some time, but typically the requisite training involved juggling ongoing work and domestic responsibilities. In this context, support from a dedicated CSW trainer role was seen as assuming different forms. In part, it was related to ongoing advice, particularly on time management. Indeed, the CSW trainer's contribution in this respect was reflected in another job description objective: '[t]o support a cohort of learners to achieve key performance targets relating to achievement and timely success rates'. 51
In addition, such support had a more personal dimension, with the CSW trainer available to deal with the stresses and strains likely to emerge during the training period. As the job description notes, the trainer role seeks 'to provide pastoral support' for trainees.
A significant dimension of this support was accessibility: the CSW trainer needed to be someone CSWs could relate to and readily approach in seeking support. The job description explicitly presented the CSW trainer's post as a 'role model', and suggested the need to appoint an individual with a personal and professional background compatible with such a requirement. 51
The second set of factors driving the introduction of the trainer role was more opportunistic, reflecting immediate needs and pressures. Other initiatives associated with the CSW academy, particularly a new recruitment system and induction programme, were generating unexpected demands on other team members. The academy team was small, comprising only three other staff members, with the intensity of work exacerbated by the lack of replacement cover while the academy lead took 1 year's sabbatical leave. In such circumstances, the CSW trainer role was perceived as crucial in relieving other team members of certain duties in relation to supporting CSW trainees, freeing the team up to concentrate on these other initiatives and activities:
[We] weren't doing a good enough job really in supporting, there was just too much to do in terms of launching the academy, trying to support that initiative and also trying to run apprenticeships and trying to make them effective, trying to meet targets from [college name] who have the overall managerial responsibility for the apprenticeships. So really we felt that we needed someone dedicated to [QCF] assessment and to support apprenticeships. IC6_trust manager_1
Implementation and operation
The CSW trainer took up her post in September 2012. Graded at pay band 4, the post was internally funded and due to last until May 2013. This period of employment was subsequently extended until the end of 2013. The appointee came from outside the trust but had experience as a qualified nurse. As a new role to the trust, issues arose as to how it would establish itself and operate in practice. These processes unfolded iteratively: 'I don't think any of us really knew what was going to happen' (IC6_CSW trainer_1).
In the event, the role developed along three activity tracks: assessor, champion and team. Each of these is discussed below.
An assessor track
The assessor track revolved around the range of tasks associated with managing a group of CSW trainees. At the outset, the post-holder took on six trainees but this rapidly increased to a steady-state number of 19, broken down into seven taking the apprenticeship and 12 taking the standalone QCF diploma. This aspect of the role centred on a one-to-one CSW trainer–trainee relationship. The trainer quickly established a routine of face-to-face meetings with each trainee every 2 weeks.
Such meetings were supplemented by the CSW trainer's engagement with relevant actors at ward level. This included witnessing and assessing the performance of competencies, as well as dealing with ward managers in facilitating the CSW's training and development: 'I always liaise with the managers and try and get them onside' (IC6_CSW trainer_1).
Closely related, the assessor role involved various activities related to the local accrediting college. For example, the post-holder was involved with the college in carrying through a diagnostic process, which evaluated the capabilities of potential trainees. This determined the appropriate level of training and, where necessary, connected the trainee to a bridging programme allowing them to build up capabilities.
Clinical support worker champion track
Working across a large and dispersed trust, as well as 'starting from scratch', championing the CSW role was a challenging aspect of the job. It was initially taken forward by the post-holder developing regular 'drop-in sessions' on the various trust sites. At the outset, these sessions introduced interested parties to and informed them about the presence of the new CSW trainer role. As an appreciation of the role developed, these sessions provided advice and information to CSWs on available training and dealt directly with CSW queries and problems associated with ongoing training.
This champion track had other dimensions. For instance, the CSW trainer made an effort to make the trust's libraries more accessible to CSWs, not least by ensuring that the libraries acquired publications and other sources of use and relevance to CSW trainees. Moreover, the CSW role was increasingly contacted by ward managers seeking to develop competencies for their CSWs, as a means of explaining and encouraging the process: 'She's now sort of helping go round, as I was saying we're doing competency workshops' (IC6_trust manager_1).
The final track involved the CSW trainer in tasks somewhat beyond the training needs of established CSWs and more supportive of the broader activities of the CSW academy. Most striking in this respect was the work undertaken by the post-holder in helping the team to deliver the trust's CSW induction. In part, this support was organisational and administrative: ensuring that speakers were available, rooms were booked and the appropriate paperwork was available. More substantively, the CSW was also contributing some of the teaching on the induction, for instance on the communication sessions.
Responses to the CSW trainer role from various stakeholders were extremely positive. In general, the role was seen as having taken on more than envisaged:
She's taken on a lot more than we'd first anticipated, she's sort of taken on organising key skill sessions and booking rooms for that and liaising with the key skills tutor and liaising with the students, even [when] they're not her students. IC6_trust manager_1
At corporate level and in terms of impact on the trust's CSW academy, the consequences of the role included:
'[It's] freed them up to do other things. I'm always willing to put my hand to whatever's happening if I can help' (IC6_CSW trainer_1).
'With our capacity we couldn't have considered taking on another cohort of apprentices or people just wanting to do standalone QCF awards, but her [the CSW trainer] coming in that September time for when they started, she helped with their recruitment and the interviewing and taking them on, with their induction taking them through their programme' (IC6_trust manager_1).
'There was certainly a gap in the market: they all knew about NVQs, and they all wanted to do them, but up till now there'd never been any way of them accessing it, they didn't know who to go to or where to go' (IC6_CSW trainer_1).
At an interpersonal level, the role impacted by providing various forms of support to trainees, again with meaningful corporate consequences such as improved and quicker completion rates. The CSW trainer noted that 18 of her 19 trainees were on schedule with their training. Asked to reflect on the various ways in which the CSW trainer had impacted on their learning and helped to keep them on schedule, CSWs noted:
I see her as a mentor that helps me with . . . [as] a lot of stuff is written in such a way that you don't understand it. She helps you break it down. IC6_CSW_1
If I've got some question I can always phone to her or e-mail to her that I've got problem, 'can we just meet?' And it's not a problem at all. IC6_CSW_2
More generally, the CSW interviewees highlighted the trainer's role in:
problem solving
clarifying.
The capacity of the CSW trainer to contribute in these different ways can be related to the structure of the role and to three associated factors: personality, background and skills. In terms of role structure, the post was designed as a dedicated trainer role with a core focus on the direct relationship with the CSWs, and as a consequence the post-holder had more time to devote to the CSWs:
I can give all my time to it now really, whereas they're [other members of the CSW academy] constantly having to deal with the AP course, that takes a lot of time up. IC6_CSW trainer_1
It will also be recalled that, as a band 4 role, the post was designed to be more accessible to CSWs than the other, higher-graded members of the CSW academy. There were signs of such accessibility:
I suppose they just feel a bit more comfortable; sometimes I think they're aware [that other members of the CSW academy] are quite high up nurses and, you know, a little bit wary of them. Whereas with me they're, especially after they've known me for a few weeks, because we do have a little bit of a laugh and coffee together and so it's quite informal. IC6_CSW trainer_1
Most of the CSWs were unaware of the CSW trainer's work background, and placed greater weight on her personality and style:
She's [the CSW trainer] just got really positive body language; she's not in your face; she's quite calm; she never raises her voice and if I was struggling to get words out like on a piece of paper, she's like, 'I can see like you're struggling, let's just look at it a different way'. Like she's just more relaxed about it and I never walk out thinking that made no entire sense. IC6_CSW_1
In terms of skills, it was clear that the post-holder was extremely well organised: she was juggling a range of tasks, including meeting all 19 trainees at least every other week. For one CSW, the regular meetings provided a structure and regularity of contact which had been absent in her previous assessor relationship. Indeed, this CSW asserted that without the CSW trainer she would have given up her training:
[Without the CSW trainer] I'd probably be looking at stopping it, to be honest; because [before] I wasn't doing much with it at all . . . The structure wasn't there and I know she's very busy, I wasn't seeing her that often, to be honest, I'd have probably looked at giving up if, if I'm honest. IC6_CSW_1
Figure 8 summarises the form assumed, and objectives achieved, by the CSW trainer role.
Summarising the CSW trainer role.
Overview: discussion and lessons
The purpose of the innovation studies was to examine how and why trusts were able to introduce new nurse support roles and new management or working practices. These innovative interventions were defined as being new to the trust rather than unique to the NHS. There was an interest in why some trusts were able to take such steps while others were not, and what circumstances and organisational architectures permitted and supported them. In exploring various types of innovation, the cases have highlighted important differences in the conditions, processes and outcomes underpinning the introduction of new management practices, new support roles and new ways of working. These differences have included the following:
New management practices are likely to be less threatening to other groups of staff than new work roles and ways of working, which might well challenge job boundaries and status.
New work roles and ways of working represent more of a challenge to ward routines than new management practices, and therefore are more difficult to establish and sustain.
New management practices are less likely to generate clinical governance issues which draw in a distinctive range of actors and often involve more complex and extended procedures.
There is often a stronger training dimension associated with a new support role or way of working than with a new management practice.
Equally striking, however, are the similar lessons to be drawn from innovating in these various ways. These lessons relate to context, systems and actors:
Trusts seeking to innovate in the management and use of nurse support workers are often innovative in other aspects of care delivery.
Such innovative trust cultures are found within compact rather than large, sprawling trusts, with the personal interaction and networks needed to generate, share and develop ideas more likely in the former than in the latter.
Innovation associated with nurse support workers is often initially opportunistic, rather than planned or strategic. The rationale and objectives underpinning such innovation might well emerge and be sharpened once the initiative has been implemented and 'bedded down'.
New nurse support roles and practices develop iteratively, as confidence, trust and understanding grow. Indeed, in doing so, innovation sometimes evolves in unexpected ways: for example, a new role might take on more than originally envisaged.
Innovations need to be resourced; various sources are available and can be used to 'pump-prime' an initiative.
Innovation in the use and management of nurse support roles needs to be seen as legitimate by key trust stakeholders: it has to address a 'real' issue or concern and be seen as an effective way of dealing with it.
Innovation rests upon effective communication with those involved in, and affected by, the innovation. Such communication serves various purposes: testing ideas, getting feedback and informing.
While formal structures might facilitate such communication, more informal contact and interaction often facilitates effective communication.
The bottom-up rather than top-down introduction of an innovation, sensitive to ward-based needs and circumstance, is often more likely to be accepted, particularly by those at ward level.
Actors from a range of functional areas within a trust – nursing, HR, education – often need to work in partnership in taking forward an innovation; they bring complementary capacities and insights to the process.
Access to, and the support of, senior management, particularly senior nurse management, is often crucial to those taking forward an innovation. Senior management commitment legitimises innovation, while also helping to identify and remove barriers to it.
Key individuals within the trust, 'institutional entrepreneurs', are often important in driving through and sustaining an innovation, becoming a hub for processing issues and maintaining essential relationships.
A powerful internal sponsor, for example a clinical consultant, is likely to add weight to calls for the introduction of an innovation related to nurse support workers.
Trust insiders – those with some knowledge and experience of a trust – are more likely to achieve traction in performing a new role and developing a new practice. They will be better known and trusted by others, and have a deeper understanding of trust routines and systems.
Actors external to the trust can be crucial players in innovation, suggesting the need to develop constructive relationships with them. This is particularly the case where accredited training is involved, requiring outside education providers.
Included under terms of UK Non-commercial Government License .
Cite this Page Kessler I, Spilsbury K, Heron P. Developing a high-performance support workforce in acute care: innovation, evaluation and engagement. Southampton (UK): NIHR Journals Library; 2014 Aug. (Health Services and Delivery Research, No. 2.25.) Chapter 3, Innovation: case studies.
PDF version of this title (23M)
In this Page
Other titles in this collection.
Health Services and Delivery Research
Recent Activity
Innovation: case studies - Developing a high-performance support workforce in ac... Innovation: case studies - Developing a high-performance support workforce in acute care: innovation, evaluation and engagement
Your browsing activity is empty.
Activity recording is turned off.
Turn recording back on
Connect with NLM
National Library of Medicine 8600 Rockville Pike Bethesda, MD 20894
Web Policies FOIA HHS Vulnerability Disclosure
Help Accessibility Careers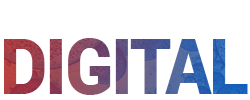 Vaccination Process
Appointment Scheduling
All about Queue Management
All about Patient Experience
Staff Planner
Digital Signage
Workforce Management
NEXA Mobile Q
NEXA Outcome Form
NEXA eConcierge
NEXA Alerts
All about Service Design
Partnerships
Case Studies & White Papers
Testimonials
Contact Support
Order supplies
Order kiosks
Innovation in Healthcare Case Study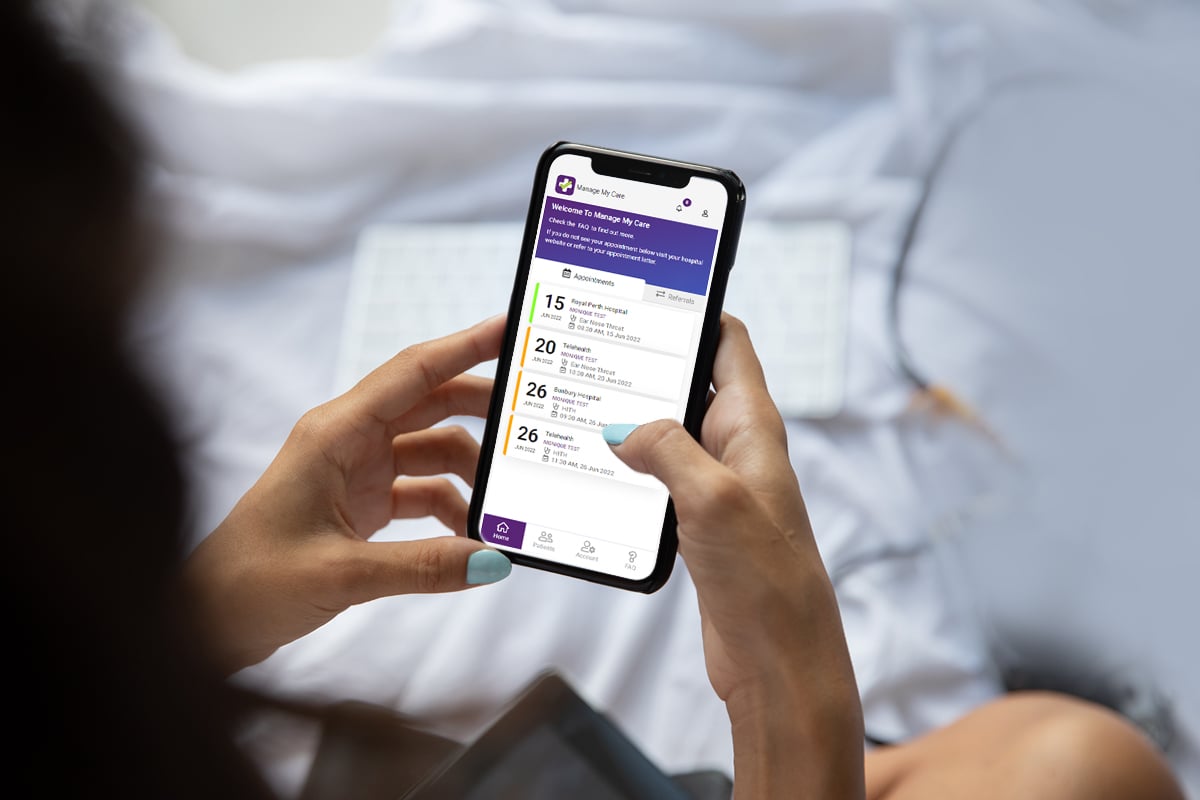 Today, innovation is a must across all industries, especially in healthcare.
When managing patients' health and well-being, it's not only about taking the necessary steps to good health outcomes. It's also about ensuring that people are getting the most out of their experience too.
For public healthcare, this becomes an even bigger responsibility. With the sheer volume of patients, the high expectations and the need for timely responses, every health and medical organisation is striving to find new and better ways to manage patient experiences.
So, how can we encourage better innovation in healthcare? How can we use technology to create more meaningful patient experiences?
To provide more practical insight, we're here to share a recent case study showing how tech innovation has empowered WA Health to streamline their patient journey.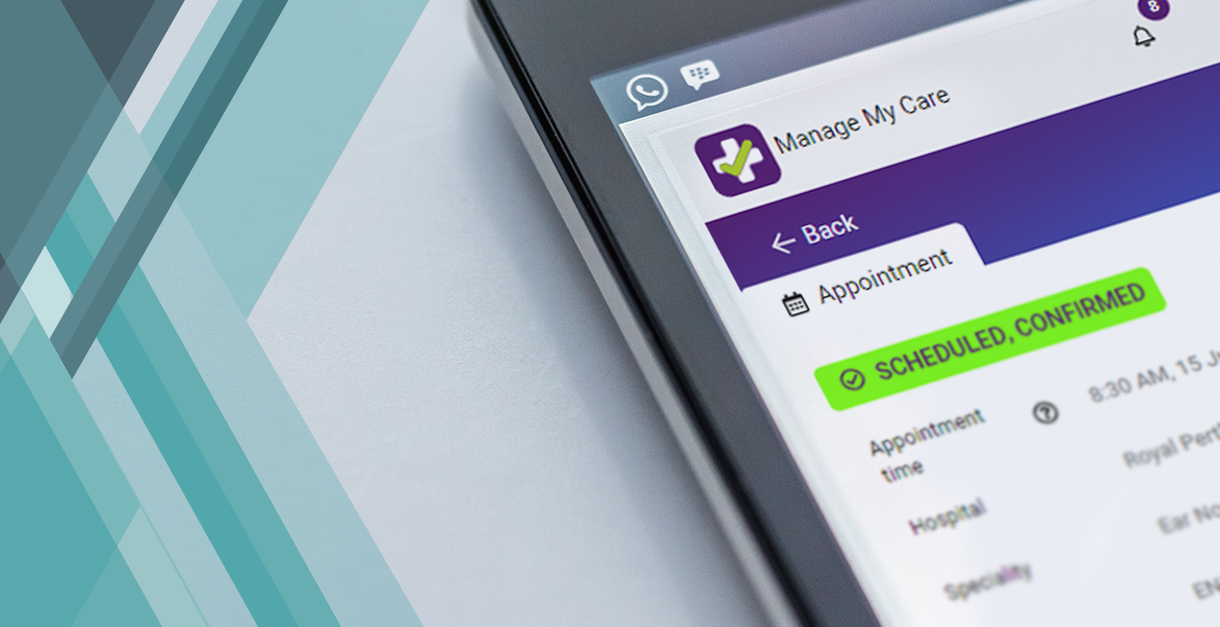 What does tech innovation in healthcare look like?
One of the most common ways to innovate in healthcare is through the use of digital health tech. Using it to manage public healthcare is not only convenient for the providers, but also beneficial for the patients as well.
From minimising queues and more systemised processes to better customer service, tech innovation helps healthcare providers ensure that every patient is getting the care they deserve – not only when it comes to treatments and medication, but throughout the entirety of the service delivery as well.
At NEXA, this is something that we understand very well.
This is why we work closely with Australian healthcare organisations to create innovative healthcare solutions that improve patient experiences, while also supporting staff and productivity levels.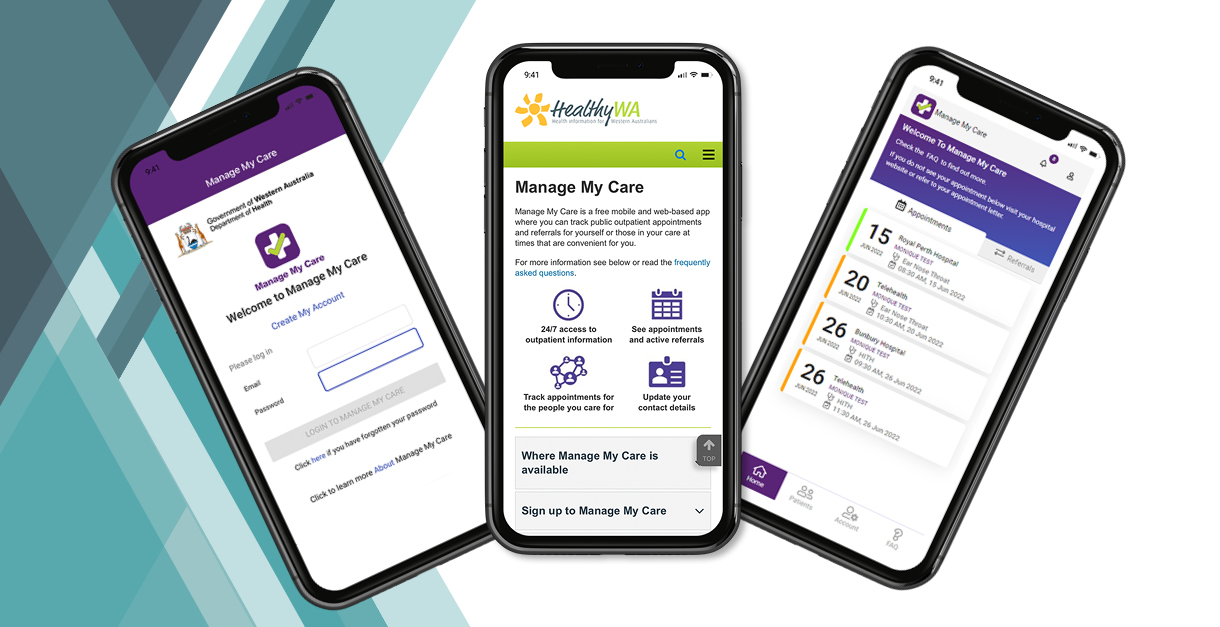 But why innovate your service delivery in healthcare?
There are three reasons why innovation in healthcare is so important today: for your team, for your patients and for your healthcare facility as a whole.
For your team: the use of more advanced technologies reduces manual and repetitive tasks, decreasing the risk of burnout and allowing your staff to focus on higher-value tasks.
For your patients: with digital health technology, you can serve your patients better and faster, and deliver a holistic, seamless experience that will help them enjoy their entire healthcare journey.
For your organisation as a whole: efficiencies boost the patient experience which allows you to attract more loyal patients. This, then, results not only in reduced costs but also an increase in revenue-generating opportunities and productivity,
Manage My Care for WA Health: A Case Study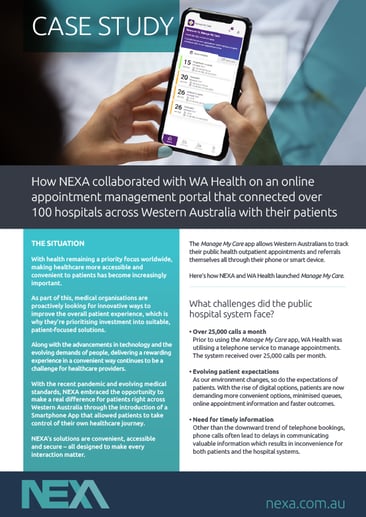 The Challenges
Prior to adopting the solution, the public hospital system in Western Australia was utilising a telephone service that received over 25,000 calls per month – all of which came from patients who needed timely information. They also had very high expectations around service levels.
Taking into consideration all of these factors, NEXA worked closely with WA health across three main factors when designing their healthcare solution:
The Innovative Solution
From there, Manage My Care was developed – free to download on the App Store or Google Play. This Manage My Care app now allows convenient patient access to appointments and referrals 24/7 and provides timely digital notifications to alert patients and carers of upcoming appointments or updates.
From pilot testing and continuous integration to constant monitoring, NEXA worked hand-in-hand with WA Health to ensure that the solution constantly delivered its signature care and convenience.
The Outcomes
Today, Manage My Care provides a seamless experience for patients across Western Australia and has achieved the following:
significantly reduced calls to the WA Health call centre
24/7 visibility over public outpatient appointments
empowered patients to take ownership of their care
You can read the full story about WA Health's innovative solution, Manage My Care, here .
At NEXA, our wide range of innovative healthcare tech solutions can help you streamline your patient journey and maintain a high level of security across your whole healthcare organisation.
Does this healthcare innovation inspire you?
At NEXA, we understand the importance your healthcare facility places on providing the best possible service and experience for every patient – every single day.
That's why we're here to help.
NEXA is an Australian company that delivers innovative digital solutions to empower healthcare providers, staff members and patients by taking advantage of digital technology. With NEXA, you can support and enable your team, deliver excellent service levels and thrive in today's evolving landscape.
Do you want to experience the benefits that come with integrating NEXA's virtual queue management solutions into your healthcare facility?
Talk to us today to find out how you can make your patient interactions matter.

Healthcare Solutions , patient flow , patient journey , appointment booking , patient experience
RECENT POSTS
Online appointment booking for the customers of today, how to find the perfect blend of digital technology and human experiences in service delivery, the problems of perceived wait times and how healthcare facilities can manage them, how long is "too long" in healthcare, why virtual queueing should be the norm in service delivery today, subscribe to nexa's blog.
Customer Experience (71)
Queue management (37)
Healthcare Solutions (34)
Service Design (28)
Appointment Scheduling (27)
queue management system (24)
Queue Flow Systems (22)
patient journey (17)
patient flow (14)
Improve the customer experience, with real data. NEXA is an Australian company that delivers innovative solutions to streamline the customer journey.
FOLLOW US ON LinkedIn
View our Privacy policy
NEXA IN THE NEWS
SERVICE DESIGN
TESTIMONIALS
CASE STUDIES
SUBSCRIBE TO OUR NEWSLETTER
+61 (02) 8383 3800 [email protected]
NEXA Group Pty Ltd Level 6, 1 Newland Street, Bondi Junction 2022 NSW Australia
Our Case Studies and work portfolio
Privacy Overview
HIHI Innovation Portal
HIHI Open Call Winners 2022
Clinical Innovation Award
Innovation Qualification
Innovation Accelerators
Health Innovation Hub Ireland publications
Innovation Tools
Case Studies
It looks like JavaScript is disabled in your browser. You'll need to enable it if you want to create an account.
Find out how to enable JavaScript for Windows , or how to enable JavaScript for Mac .
Cookies on the NHS website
We've put some small files called cookies on your device to make our site work.
We'd also like to use analytics cookies. These send information about how our site is used to services called Adobe Analytics, Hotjar and Google Analytics. We use this information to improve our site.
Let us know if this is OK. We'll use a cookie to save your choice. You can read more about our cookies before you choose.
You can change your cookie settings at any time using our cookies page .
Case studies
Discover the stories of innovators who have joined the NHS Innovation Service. Find out about the support they received and find inspiration for your own journey.
Improving outcomes for people needing kidney dialysis
How a collaborative approach underpinned by real-world evidence has seen a novel device been introduced into the NHS within 12 months of working with NHS Supply Chain.
July 31, 2023
Testing for the effectiveness of biologic treatments of inflammatory bowel diseases: developing a new patient-led product
AlphaBiomics is a London-based start-up, with a product in development to improve the clinical care of people with Crohn's disease or ulcerative colitis.
April 25, 2023
Artificial intelligence (AI)
An at-home fertility screening solution: entering the UK market
Amy Beckley explains her innovation journey and how she is now trying to get her innovation into the UK market with the help of the NHS Innovation Service.
April 21, 2023
Monitoring medication adherence for respiratory disease: bringing a proven innovation to market
Garth Sutherland, an asthma patient in New Zealand, developed a gadget that connected his asthma inhaler with his phone, to remind him to use it when he should. This was the first step towards creating an innovation that is now being brought to market.
March 23, 2023
Navigating personal health budgets: research-led innovation
Peter Glick is an unexpected innovator, building an online wiki as a result of his PhD studies. Now his platform supports thousands of people in the UK and across the world, to manage their personal health budgets.
March 16, 2023
Manufacturing COVID-19 PPE using sustainable plastics: adapting to the market need
When COVID-19 hit in April 2020, Transcend Packaging, a relatively new company founded in 2017 found its normal markets dramatically reduced, and switched to making personal protective equipment (PPE), following a plea from the Welsh Government.
February 10, 2023
Personal protective equipment (PPE)
Developing a digital innovation to support the mental health care pathway: establishing the evidence
Amy Manning is a social worker specialising in mental health, and regularly carries out 'Section 12' assessments, the process by which people in mental health crisis are assessed under the Mental Health Act (1983).
Clothing tailored to support patients living with long-term catheters and ports: patient led design
Stephen Tooke is behind the development of a number of successful products designed to support patients who have lines and tubes fitted to their body, which they often have to live with long-term.