The 8 Types of Presentation Styles: Which Category Do You Fall Into?

Updated: December 16, 2020
Published: September 24, 2018
Types of Presentations
Visual Style
Freeform Style
Instructor Style
Coach Style
Storytelling Style
Connector Style
Lessig Style
Takahashi Style
Everyone on the internet has an opinion on how to give the "perfect" presentation.
One group champions visual aids, another thinks visual aids are a threat to society as we know it. One expert preaches the benefits of speaking loudly, while another believes the softer you speak the more your audience pays attention. And don't even try to find coordinating opinions on whether you should start your presentation with a story, quote, statistic, or question.
But what if there wasn't just one "right" way to give a presentation? What if there were several? Below, I've outlined eight types of presentation styles. They're used by famous speakers like Steve Jobs and Al Gore -- and none of them are wrong.
Check out each one and decide which will be most effective for you.
Types of Presentation Styles
1. visual style.
What it is: If you're a firm believer slides simply exist to complement your talking points, this style is for you. With this speaking style, you might need to work a little harder to get your audience engaged, but the dividends can be huge for strong public speakers, visionaries, and storytellers.
When to use it: This style is helpful when speaking to a large audience with broad interests. It's also great for when you need to throw together slides quickly.
Visual style presenter: Steve Jobs
2. Freeform Style
What it is: This impromptu style of presenting doesn't require slides. Instead, the speaker relies on strong stories to illustrate each point. This style works best for those who have a short presentation time and are extremely familiar with their talking points.
When to use it: Elevator pitches, networking events, and impromptu meetings are all scenarios in which to use a freeform style of speaking. You'll appear less rehearsed and more conversational than if you were to pause in the middle of a happy hour to pull up your presentation on a tablet.
Freeform style presenter: Sir Ken Robinson
3. Instructor Style
What it is: This presentation style allows you to deliver complex messages using figures of speech, metaphors, and lots of content -- just like your teachers and professors of old. Your decks should be built in logical order to aid your presentation, and you should use high-impact visuals to support your ideas and keep the audience engaged.
When to use it: If you're not a comfortable presenter or are unfamiliar with your subject matter (i.e., your product was recently updated and you're not familiar with the finer points), try instructor-style presenting.
Instructor style presenter: Al Gore
4. Coach Style
What it is: Energetic and charismatic speakers gravitate towards this style of presenting. It allows them to connect and engage with their audience using role play and listener interaction.
When to use it: Use this presentation style when you're speaking at a conference or presenting to an audience who needs to be put at ease. For example, this style would work well if you were speaking to a group of executives who need to be sold on the idea of what your company does rather than the details of how you do it.
Coach style presenter: Linda Edgecombe
5. Storytelling Style
What it is: In this style, the speaker relies on anecdotes and examples to connect with their audience. Stories bring your learning points to life, and the TED's Commandments never let you down: Let your emotions out and tell your story in an honest way.
When to use it: Avoid this style if you're in the discovery phase of the sales process. You want to keep the conversation about your prospect instead of circling every point or question back to you or a similar client. This style is great for conference speaking, networking events, and sales presentations where you have adequate time to tell your stories without taking minutes away from questions.
Storytelling style presenter: Jill Bolte Taylor
6. Connector Style
What it is: In this style, presenters connect with their audience by showing how they're similar to their listeners. Connectors usually enjoy freeform Q&A and use gestures when they speak. They also highly encourage audience reaction and feedback to what they're saying.
When to use it: Use this style of presenting early in the sales process as you're learning about your prospect's pain points, challenges, and goals. This type of speaking sets your listener at ease, elicits feedback on how you're doing in real time, and is more of a dialogue than a one-sided presentation
Connector style presenter: Connie Dieken
7. Lessig Style
What it is: The Lessig Style was created by Lawrence Lessig , a professor of law and leadership at Harvard Law School. This presentation style requires the presenter to pass through each slide within 15 seconds. When text is used in a slide, it's typically synchronized with the presenter's spoken words.
When to use it: This method of presentation is great for large crowds -- and it allows the speaker to use a balance of text and image to convey their message. The rapid pace and rhythm of the slide progression keeps audiences focused, engaged, and less likely to snooze.
Lessig style presenter: Lawrence Lessig
8. Takahashi Style
What it is: This method features large, bold text on minimal slides. It was devised by Masayoshi Takahashi , who found himself creating slides without access to a presentation design tool or PowerPoint. The main word is the focal point of the slide, and phrases, used sparingly, are short and concise.
When to use it: If you find yourself in Takahashi's shoes -- without presentation design software -- this method is for you. This style works well for short presentations that pack a memorable punch.
Takahashi style presenter: Masayoshi Takahashi
Slides from one of Takahashi's presentations:
Whether you're speaking on a conference stage or giving a sales presentation , you can find a method that works best for you and your audience. With the right style, you'll capture attention, engage listeners, and effectively share your message. You can even ask an AI presentation maker tool to create presentations for you in your preferred style
Don't forget to share this post!
Related articles.
10 Best Sales Presentations To Inspire Your Sales Deck [+ 5 Tips]
15 Sales Presentation Techniques That Will Help You Close More Deals Today
9 Ways to End Your Sales Presentation With a Bang
7 Apps That Help Salespeople Become Even Better Speakers
7 Secrets of a Winning Capabilities Presentation
Insight Selling: The 8-Slide Framework for a Better Pitch
The Best Work-Appropriate GIFs to Use in Your Next Sales Slide Deck
How to Make a Business Presentation in 7 Easy Steps [Free Business Presentation Templates]
How to Handle Difficult Sales Calls Like a Pro
Technology Give You the Middle Finger in a Demo? 7 Reactions to Avoid
Download ten free PowerPoint templates for a better presentation.
6 Different Types of Presentations
Presentations should be as unique as your business and the information you're trying to present. However, there are certain types of presentations that are common across industries and teams. Before you worry about which slides to include or how to organize your information, you'll need to determine which type of presentation is best for your audience. 
To figure this out, ask yourself: Are you entertaining or informing? Are you speaking to colleagues, investors, or potential customers? Asking these questions will help you choose the type of presentation that supports you best. Beautiful.ai is here to make this even easier with a description of different types of presentations to help you choose.
Informative Presentations
An informative presentation is educational, concise, and to the point. While other presentations may entertain or inspire, the main goal of an informative presentation is to share information.
A good example of an informative presentation is a human resources benefits presentation. Human resources needs to explain what benefits employees receive, how benefits work, which important dates employees need to remember, where employees can find more information, and so on. 
An HR benefits presentation for new hires (or any informational presentation) should be short, straightforward, and easy to understand so that new employees will remember the information they're given. 
Instructive Presentations
A presentation that teaches something is similar to an informative presentation, but it goes beyond sharing facts. It also instructs the audience on a specific topic. People attend or view an instructive presentation with the intention to learn, and they leave with a better understanding of the topic of the presentation.
There are many examples of instructive presentations. Workshops, training sessions, or webinars teach audiences a new skill or procedure by offering specific information or instructions. Explaining new policies to a company is another type of instructive presentation. For example, an HR benefits presentation for new employees may be informative, but a presentation for existing employees about policy changes might lean more towards instructive, especially if employees have to take action or need to ask questions.     
Persuasive Presentations
Many presentations hope to sell something or persuade the audience to take certain actions. Persuasive presentations often present a problem and explain their solution using data. Examples of persuasive presentations include business pitches or sales proposals.
For example, a startup company looking for initial funding may need a startup pitch deck or a Series A presentation to convince investors to back their idea. A startup pitch deck would explain a problem in the market, how their startup will solve that problem, and how they'll monetize their business. A Series A presentation can help a startup secure more rounds of funding to grow their company and pursue further goals.
Motivational Presentations
One of the most prominent examples of inspiring presentations? TEDTalks. Many motivational speakers use TEDTalks to inspire people to think or change their behavior. 
Motivational presentations in the business world may not be as dramatic or life-changing as a TEDTalk, but they still aim to generate interest or gain an audience's approval. A company overview presentation is a good example of a motivational presentation. It may present the information of a company — how it was founded, who is leading it, what the company does — but more importantly, it tells the company's story. 
A company overview presentation connects with the audience. A manager may use it to boost morale at a team meeting. Or an executive may present a company overview to convince potential customers or investors to work with them. Or, an HR rep may use it to make new hires feel welcome and excited to join the company.
Decision-making Presentations
Need to make a decision within the company? A presentation that shares a problem, solution options, and their outcomes can help speed along the process. Decision making presentations might be found in business meetings, government meetings, or all-hands meetings.
For example, let's say a company wants to improve engagement on their social media channels. There are many ways they might achieve their goal, including hosting giveaways, dedicating more resources to creating Facebook posts or Instagram stories, and researching their audience or competitors to see how they can improve. A marketing campaign plan template for a presentation would keep details of the problem, different options, and possible outcomes organized in one place. It would inform and guide everyone involved in the meeting, helping them make informed decisions on how to move forward.
Progress Presentations
Imagine our hypothetical company decided on a marketing strategy to meet their goals. Now that they have a campaign in place, they need to report on the progress of said campaign. This sixth presentation type shares status updates, progress towards deadlines, collected data so far, any obstacles popping up, and tasks that need to be added or adjusted.
A team stand up presentation is a great example of this type of presentation. Team stand up presentations usually include an agenda, talking points, deliverable updates, discussion topics, and time for questions at the end. This presentation keeps everyone organized and focused, ensuring that everyone is still on the same page and working towards the same end goal.
Whichever Presentation Type You Choose, Create it With Beautiful.ai
Now that you know which presentation type is right for your project, it's time to create a beautiful and effective presentation. With Beautiful.ai , you don't need to set aside hours of time to build your presentation, nor do you need design expertise to do it. Use one of our many presentation templates that can be customized for your needs in minutes. No matter what type of presentation you create, Beautiful.ai can help you do it.
Beautiful.AI Team
Beautiful is an AI-powered presentation tool that makes it fast and easy for anyone to build clean, modern and professionally designed slides that they can be proud of.
Recommended Articles
Video for sales: how teams can use multimedia to supercharge sales assets across the organization, the key components of a sales deck , crush your 2022 planning with your team, the top 7 slide templates that will transform any presentation.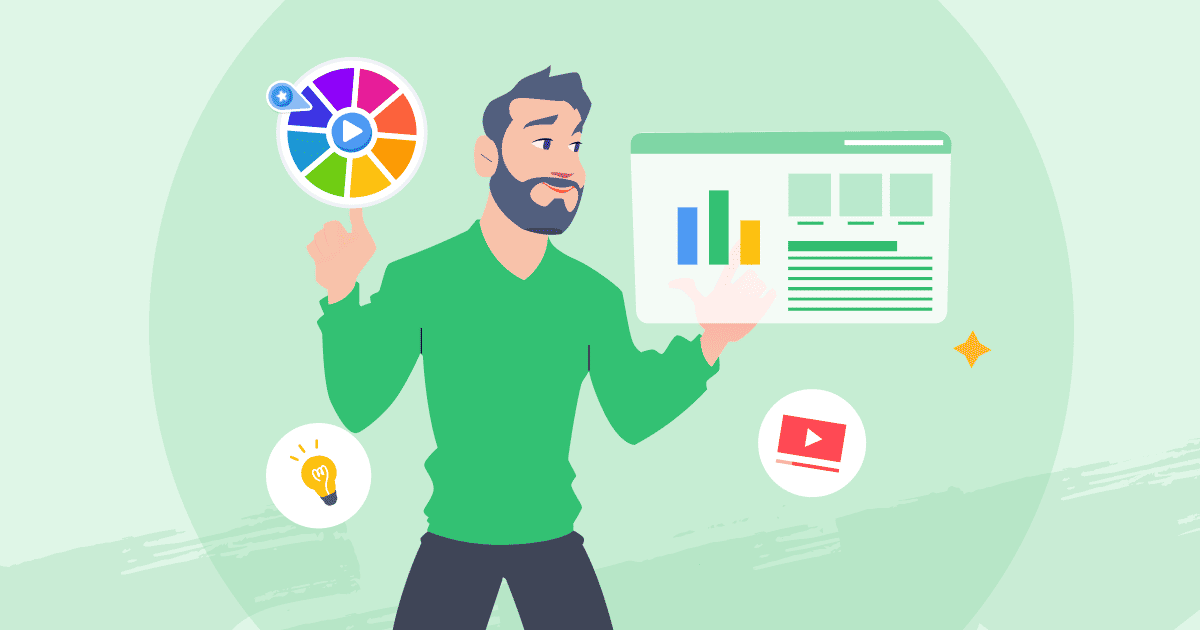 8 Types of Presentations (With Tips) You Need to Know in 2023
Leah Nguyen • 25 Oct 2023 • 10 min read
Benjamin Franklin has a famous quote that 'nothing can be said to be certain except for death and taxes'. Well, there's another thing we'd like to throw in… Types of Presentation …
Presentations seem to follow us along in life. From children in school to suited salary people, we're expected to use presentation software to make presentations that delight our audiences.
Executing a well-rounded presentation is by no means an easy task. There are many things to consider, but before we head to finer details, you must know what type of presentation you should deliver to your audience so that they get the message just right .
In this article, we will explore the most common types of presentations you'll come across in your life, plus a few helpful tips to create them.
Let's jump in 💪
Table of Contents
College presentation.
Business Presentations – Types of Presentation
Product Presentation
Marketing Presentation
Data Presentation
5-minute Presentation
10-minute Presentation
Webinar Platforms
The 10 20 30 Rule
The 5/5/5 Rule
What is 7×7 rule?
So, what are the 8 steps to create a successful college presentation, serving any topics which you have in mind! Tips to create the best College Presentation !
Or, learn how visual presentation examples really affect engagement within a speech section!
Failed performance might stay behind a range of fruitless presentation slides or lack of body language. A useful idea to kill participants' boredom while doing a public speech is to ask for help from presentation tools or implement different creative presentation ideas from experts. So, let's check out few useful creative presentation ideas !
Tips on how to make a 5 minute presentation ! Or, learn how survey result presentation really affect the ended results, to make the next one much better!
Business Presentation s – Types of Presentation
In the business world, you'll undoubtedly need presentations for anything, from product launching and strategy planning , to company trend reports and many more.
Let's take a glance at the different types of presentations you might encounter in the business world 👇
Check out our Guide on 'How to Nail A Presentation Like Apple' . or tips to host Business Presentation successfully!
More Tips with AhaSlides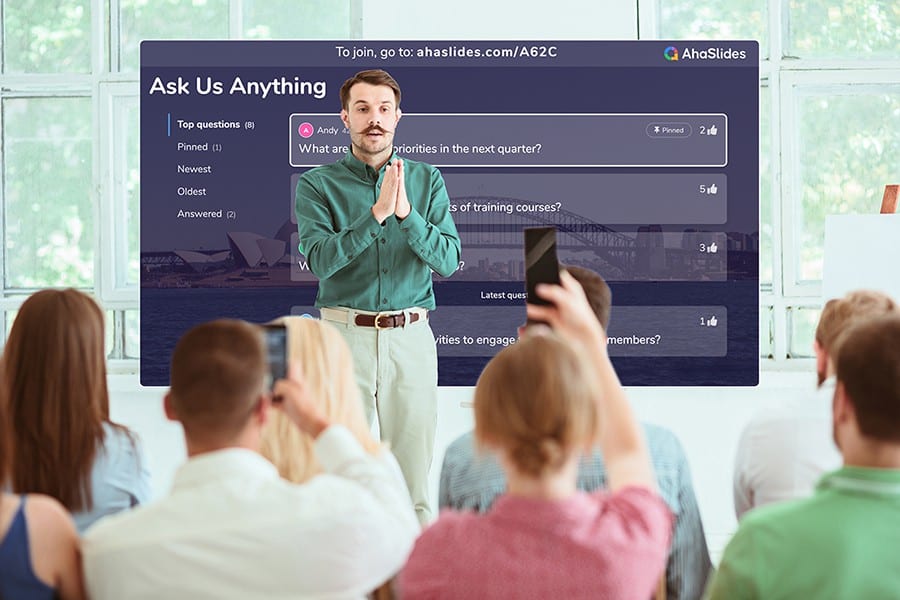 Start in seconds.
Get free templates for your next interactive presentation. Sign up for free and take what you want from the template library!
Product Presentation – Types of Presentation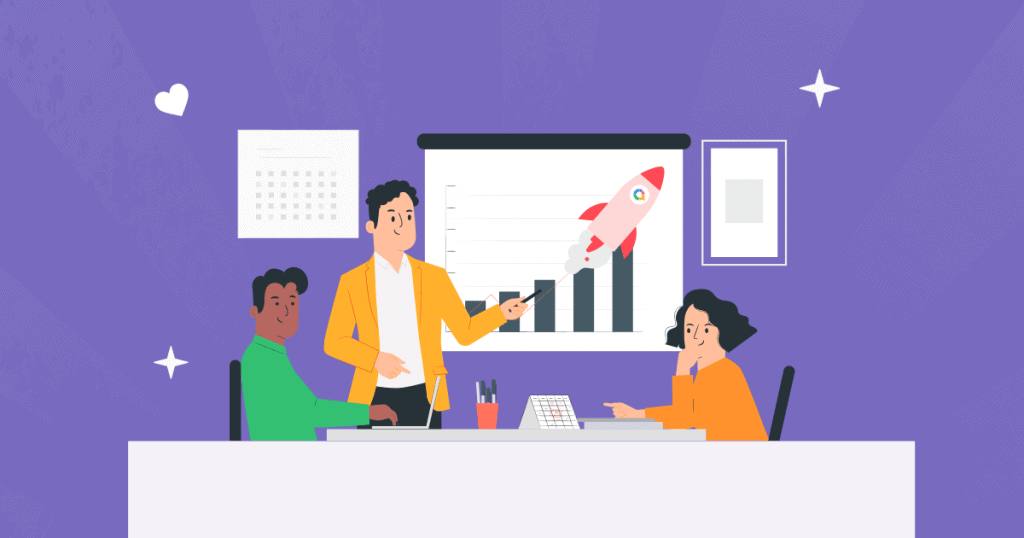 In different presentation styles, a product presentation is a great opportunity to show off your newly built or renovated product features to the world.
Unlike other types of business presentations, the main purpose of this presentation is either to build hype around your product with users or to outline the idea of your product to your own team and shareholders.
Tips for delivering a product presentation
Demonstrate it live . How does the audience know what you're talking about when all you've given them is some vague speech about the product? For a product presentation to reach its full potential, it's best to demonstrate the features visually so the audience can truly believe in them.
Present with passion . When it comes to types of presentations in business, this is not the time to instruct or educate your audience about something. You want to introduce a new thing that no one has heard about, penetrate a new segment/market and either get people to incorporate your product into their lives or convince stakeholders that it's worth a punt. The best way to do that? Make as much noise as possible.
Offer a bonus at the end . Give the audience something to walk away with for a powerful ending; this can be an incentive for ordering the new product early or a bit of fun trivia to excite the crowd.
Hosting a product presentation can be big pressure. Our all-rounded guide with real-life examples can help.
Marketing Presentation – Types of Presentation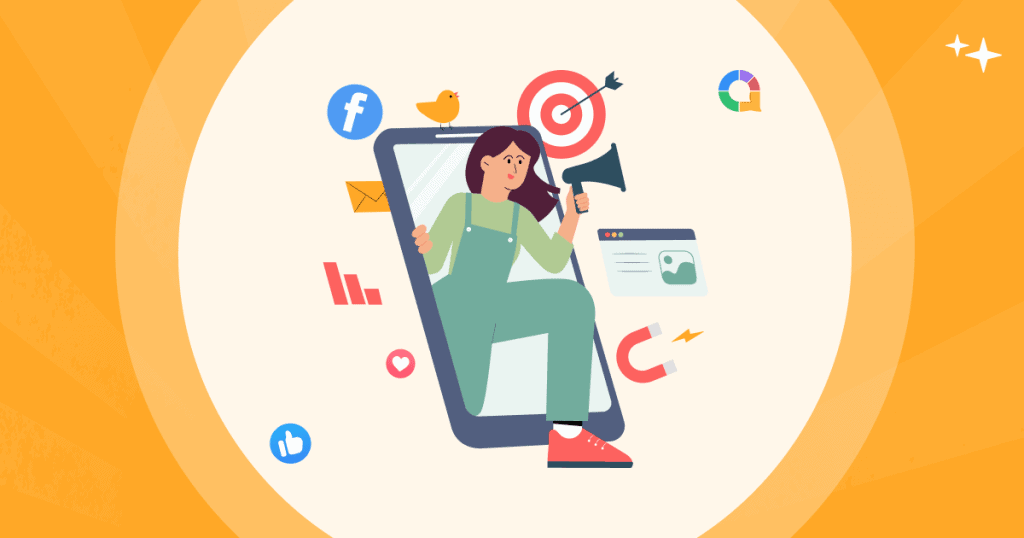 No matter how solid your product or service is, you'll have to come up with a proper plan to make it known and sell it to your intended audience.
This is where marketing presentations come into play. They introduce how, when and where you plan to sell your product to the board of directors or other shareholders. They will decide if those strategies are good to go.
Tips for delivering a marketing presentation
Match your theme with the audience . There's nothing wrong with being business-boring, but if your company is selling toys for children, your audience won't understand the fun, bubbly spirit you're trying to convey. Try to centre the slide designs and the attitude around the target audience.
Show real-life data . No matter what styles of presentation you choose, back up your bold statements with facts. Don't rely on a hunch or people will doubt what you're claiming.
You're just one step away from creating an awesome marketing presentation. Nail the talk by checking our guide .
Methods of Data Presentation – Types of Presentation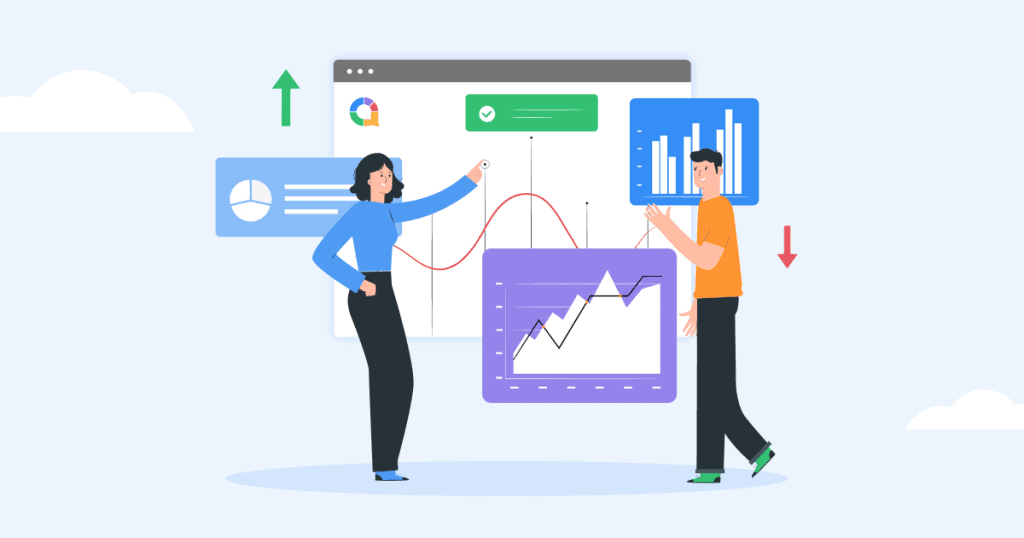 In a world where every business relies on data analysis to make a difference, turning hard digits into meaningful and understandable insights is the role of a data presentation .
Make informed decisions, see the gap, and take the risky leap; all are possible if you have the ability to make sense of your data through various visualisation methods like bar charts, line graphs, histograms, and such.
Tips for delivering a data presentation
Communicate the numbers clearly . You'll have to stop assuming that everyone, including your boss, knows what you're talking about. More often than not, they don't, and it's not their job to dig below the surface. Explain to them what the numbers mean and why this is important before presenting any data; the audience will surely appreciate that.
Avoid presenting too many different things on one slide . We've seen people tackling four to five different types of charts on a single slide and it's not nice. It's overwhelming to process all of the data across all the different formats, so next time, go through one thing at a time to give the audience a chance to understand and remember it.
We've got these 10 methods of data presentation to make your numbers as clear as day. Examples and great tips included!
Timed Presentation – Types of Presentation
Do you know that the most impactful presentations in the world never exceed 20 minutes?
Real-life cases have proven that a lengthy one-hour talk is not as effective or memorable as a shorter one. That's why more presenters are shifting to timed presentations where they are compelled to deliver concise content within a specific time block.
The most common time presentations that you often meet in business or education settings are 5-minute presentations and 10-minute presentations . They are short, and will push you to make the most out of them.
5-minute Presentation – Types of Presentation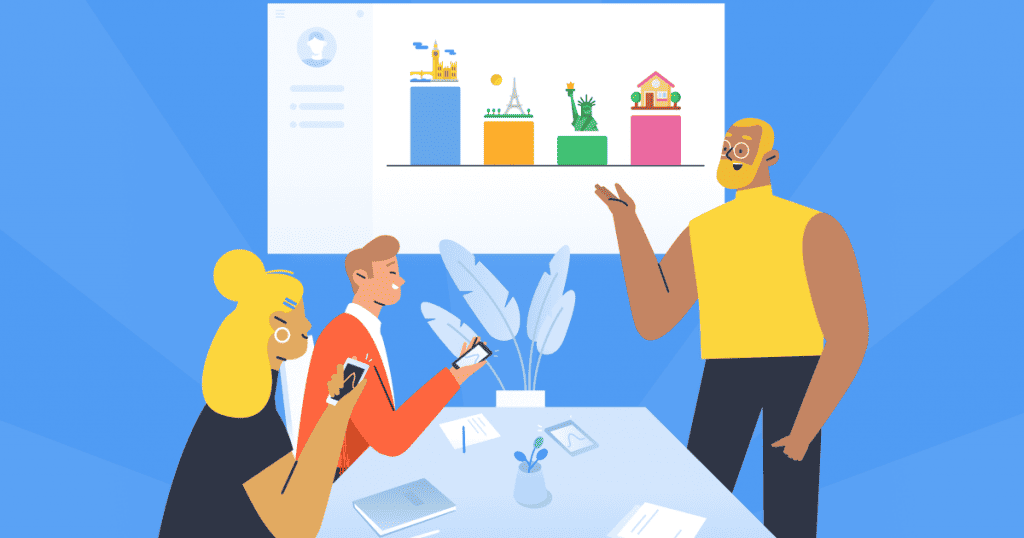 A 5-minute presentation is made for busy people who don't want to waste half an hour listening to someone ramble. However, this type of presentation is one of the most difficult forms of presentation to master, because being concise but also informative is harder than you think.
Tips for delivering a 5-minute presentation
Plan the timing . There's not much room for procrastination when you've only got 5 minutes, so divide what you're going to say into different time blocks. For example, make an introduction no longer than 1 minute, then dedicate the most time to explaining the main points.
Remember that less is more . As you have such a short timeframe, don't cram too much information like you're stuffing a turkey; be selective with the content you choose…Try the 5-5-5 rule if you have trouble turning your back from a maximalist lifestyle.
Practice flowing . If you're stuttering or giving out spaces of prolonged silence, you're already losing so much precious time. Set the timer, practice speaking at a normal speed and see if there are any parts in which you should speed up, consider cutting or say in another way.
Check out our comprehensive guide on how to hold a 5-minute presentation , including free topics to get you started.
10-minute Presentation – Types of Presentation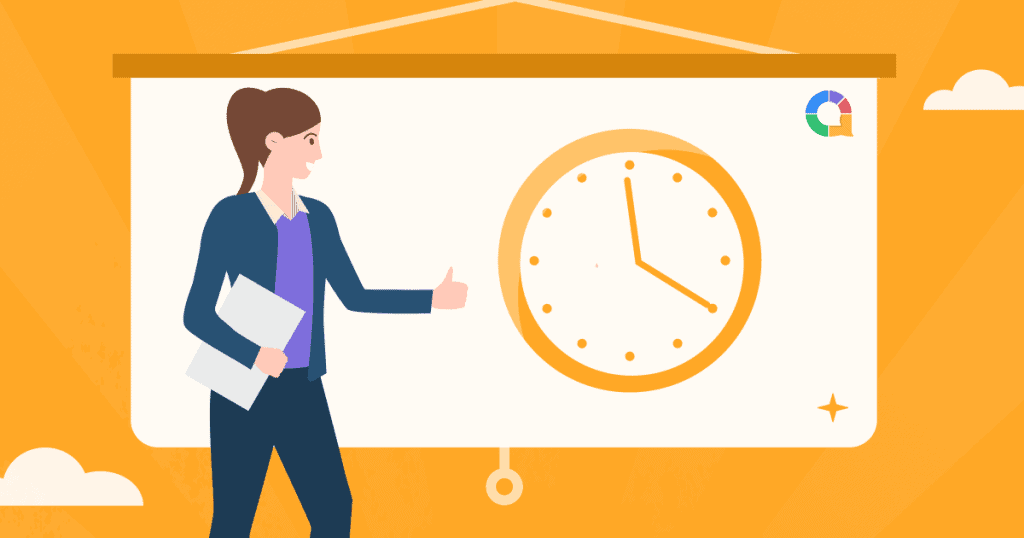 When you want to introduce a new topic, perspective, or study to your audience, a 10-minute presentation is enough to bring all the new, exciting information to the table without exhausting them.
Even though they are longer than 5-minute presentations, one can still fumble at fitting the material during the 10 minutes. However, you can get over the fear of going overtime with our tips:
Tips for delivering a 10-minute presentation
Know your structure . Typically a 10-minute presentation format includes an introduction (1 slide) – a body (3 slides) and a conclusion (1 slide). Your presentation should contain no more than three ideas as that's the optimal number for the audience to remember.
Start with a bang . In the first few seconds the audience can already decide if your presentation is worth listening to, so use any means necessary to grab their attention. It can be a provocative statement, a "what if" scenario, or a hard-hitting question that you plan to address during the talk.
Get interactive . A 10-minute presentation exceeds the average attention span of humans, which is 7 minutes . Counter that by adding interactive activities that actively engage the audience in the talk like a fun poll, word cloud , or live Q&A session.
You can't turn your presentation into gold without a proper topic. Check out our 50 unique topics for a 10-minute presentation .
Webinar Platforms – Types of Presentation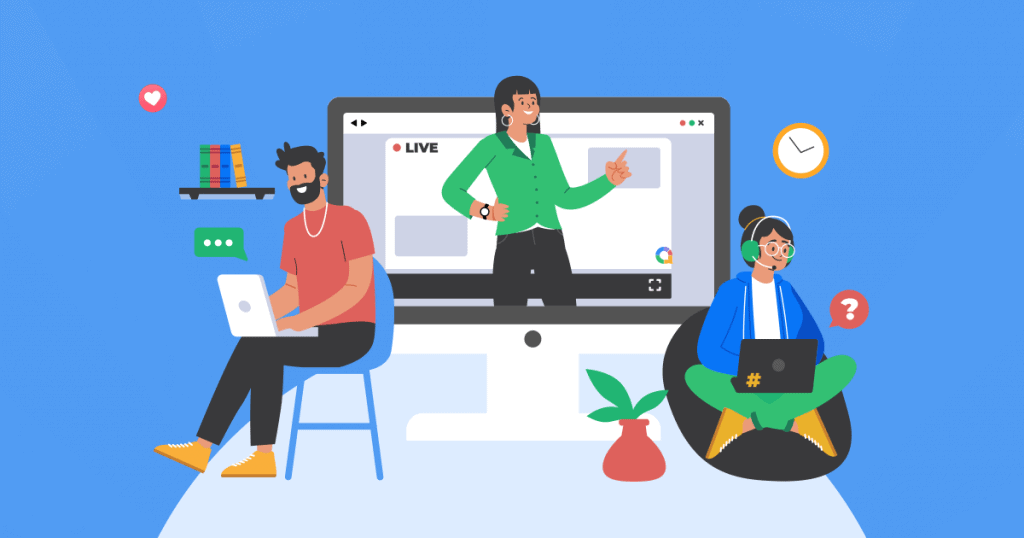 A webinar is an online event hosted by an individual or an organisation. The keynote speaker will give a presentation and interact with the audience entirely online.
With the shift to remote working, training and learning, webinar platforms have become a popular choice for many organisations due to their convenience. You can join virtually anytime, anywhere in just a few clicks.
No need for costly set-up, all you need is a video conferencing platform plus the type of presentation software that ensures you get all the interaction you need.
Tips for delivering a webinar presentation
Test out the equipment beforehand . " Wait, I don't know why it's like this"; "Please wait a few minutes since we're having minor issues" – these are phrases that turn the audience off immediately after they join. Recheck everything and have a backup plan whenever a technical issue arises.
Define a plan to create engagement . The biggest problem with having a webinar is the audience won't be able to engage as much as they can in a physical space. Try having an ice-breaker activity as the base, with quizzes , word clouds , or open-ended questions as the icing on the cake, and wrap up with a sentiment poll or a Q&A as the cherry on top for a robust and dynamic webinar.
Check out 10 best practices for a webinar presentation that's sure to keep people coming back for more.
The Golden Rules of Presentation – Types of Presentation
Are we implying that a successful presentation has a holy grail formula to follow? – Yes, we are!
If you are still learning the ropes of storytelling and presentation design, and have always fantasised about delivering an impeccable presentation, then these simple, easy-to-follow rules should keep you nicely on track.
The 10 20 30 rule – Types of Presentation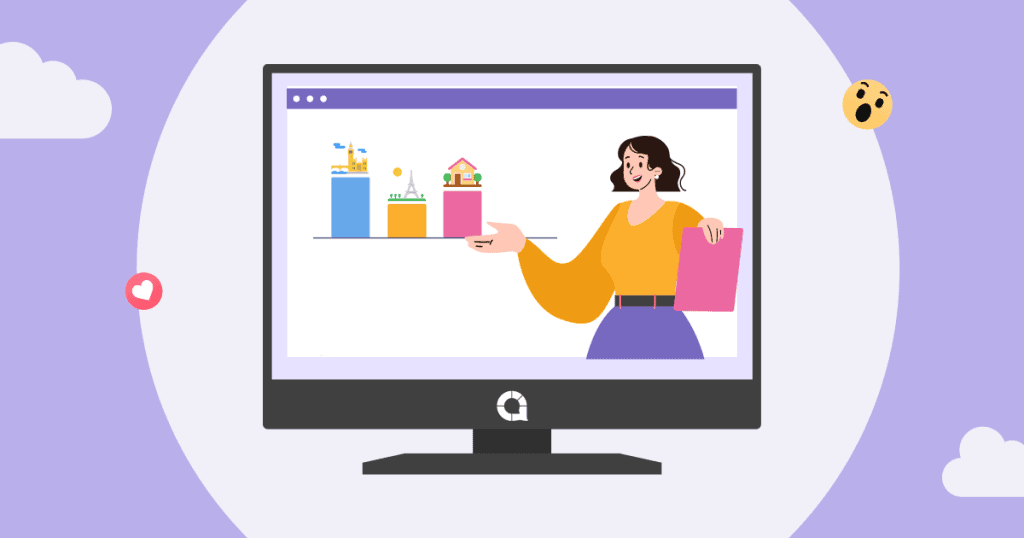 This may sound like a collection of gibberish numbers, but honestly, they make total sense.
The 10 20 30 rule states that your presentation should…
Contain a maximum of 10 slides
Be a maximum length of 20 minutes
Have a minimum font size of 30 points
With the 10-20-30 rule, you can say goodbye to hour-long presentations that have everyone mentally checked out.
Tips for delivering a 10 20 30 rule presentation
Follow the guide wholeheartedly . Don't just sneakily sneak a couple more slides into the 10 presentation slides you have already; the science says that people can't process more than 10 concepts in a presentation. Go over that and the chances of you losing the crowd drastically increases.
Mind the idea . No presentation rule in reality is going to save you if your idea is terrible. Focus on researching what piques the audience's interest, reach out to them beforehand if necessary and let them know how you can address their big questions.
Here's the full guide: The 10 20 30 Rule: What it is and 3 Reasons to Use it in 2022 .
The 5/5/5 rule – Types of Presentation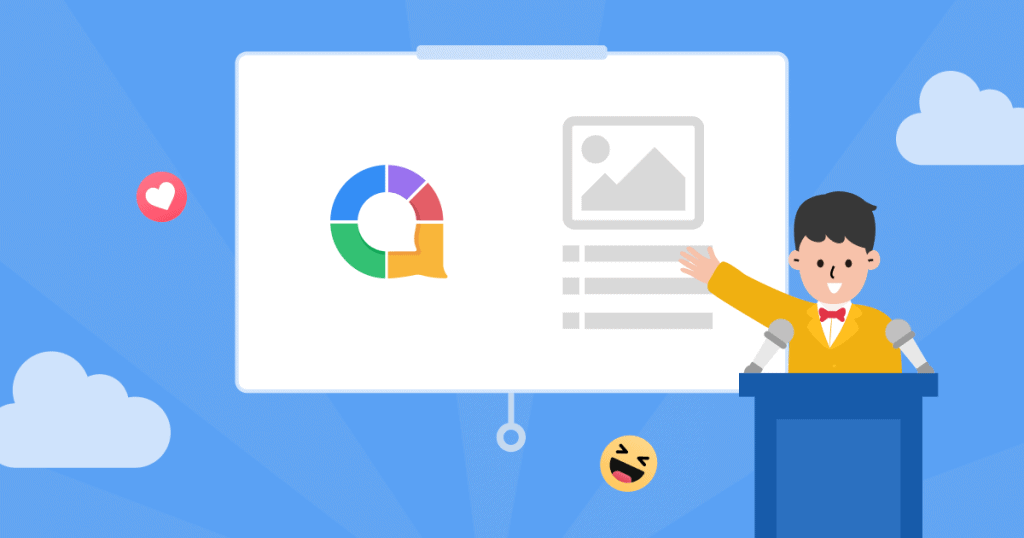 A 5/5/5 rule is one of the types of presentation that:
Contains no more than 5 words per line of text
Has 5 lines of text per slide
Has no more than 5 text-heavy slides in a row
The 5/5/5 rule is incredibly effective for people who are struggling with measuring how much text is enough. You can focus on your main points with ease and end up with more professional-looking presentations (aka make use of negative space and emphasise what really matters).
Tips for delivering a 5/5/5 rule presentation
Use data and images to tell the story . With just a chart or line graph you can draw out so many key points and takeaways from it. Replace texts with visuals if possible since it's a more powerful way to communicate.
Make use of headings, short phrases, and common abbreviations . For example, instead of writing The website's overall click-through rate increased by 10% compared to last year , you can rephrase it to The website's CTR ↑10% YOY (CTR: click-through rate, YOY: year-over-year, which are common abbreviations in business). You can elaborate more on the numbers in the talk, so don't throw everything on the slide.
Here's the full guide:​​ The 5/5/5 Rule: How and Why to Use It (With Examples) .
Explore what is 7×7 , offer you invaluable best practices and examples in actions, and equip you with the right tools to transform your presentation into an engaging and impactful experience. Get ready to captivate your audience and deliver a truly memorable performance.
The Takeaway
Presentations come in all shapes and sizes, and the key to creating an outstanding experience for your audience is matching them with the right type of presentation. Once you've got it right, you've established yourself on a solid platform that can launch your successful speech🚀
Frequently Asked Questions
Got a question? We've got answers.
Why are presentation styles important?
What is most important in the presentation, what are the 4 key elements of powerful presentation.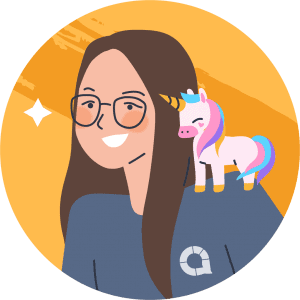 Leah Nguyen
A former event organiser on the ultimate quest - to help presenters create the juiciest online experiences and leave all attendees on a high note.
More from AhaSlides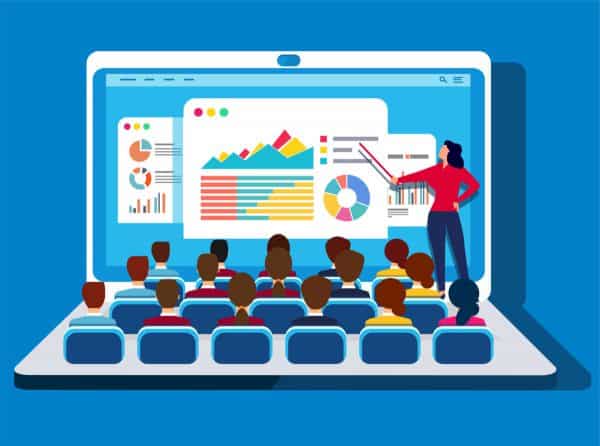 Microsoft 365 Life Hacks > Presentations > How to Format Presentation Slides
How to Format Presentation Slides
Learn how to give your presentation slides a facelift so they captivate your audience.
Why is Presentation Design and Formatting Important?
A well-designed presentation can help you connect with your audience and gets your message across in an easily digestible manner. Great presentation design can impart a positive first impression and is more likely to draw in and engage an audience.
Pretend you're attending a presentation and instead of formatted PowerPoint slides, each one is plain white with a lot of dark text that's hard to read. And even though the background and text colors are the same, none of the text is lined up and multiple fonts are used. There are no transitions or title pages that help to differentiate between topics being discussed and you're presented with slide after slide of confusing, jumbled text.
Tell your story with captivating presentations
Powerpoint empowers you to develop well-designed content across all your devices
Formatting slides in your presentation is what enhances the look of the slides and transforms them into something that complements the content and resonates with the audience.
What Else Should a Good Presentation Include?
While formatted slides can help to connect with the audience, a good presentation should also include:
Well-written, concise content that clearly explains the problem that you're trying to solve and the unique solution you've come up with.
A great hook or emotionally compelling introduction.
Visuals that support your message and aren't too busy.
Most importantly, a good presentation should be efficient and engage with the audience. And that engagement can be found in the content as well as how the slides are formatted.
Tips for Creating & Formatting Presentation Slides
Before you start creating your PowerPoint presentation, make sure that your content is solid. Making an outline can help you keep information organized, clear, and concise before you put it into a presentation. The outline can also help you break down what information is shared on each slide to keep things from being overcrowded or wordy. Take a minute to consider your audience and the best ways to connect with them and present what you're trying to share.
Once your content is finalized, you can get to work on creating and formatting your presentation slides.
How to Make a Slide
A PowerPoint presentation is sometimes known as a deck and is composed of different slides. When you're putting your own deck together, you'll certainly need to add slides and format them in different ways.
In order to make a new slide appear in your presentation, first select the slide that you'd like your new slide to follow. Then click Home and choose New Slide . From there, you can choose your desired layout , and start inputting content. The layout options in PowerPoint are great for keeping your text lined up and consistent through the deck. You can also rearrange, duplicate, and delete slides as necessary.
Formatting Your Presentation Slides
Once you've created your content or slides, it's time to consider design and formatting. This is where you make choices about themes, templates, color schemes, and fonts.
If you don't feel confident about your design abilities, you might want to try applying a template . This customizable option offers a variety of artistic skins that can give your deck a professional polish. There is even a range of downloadable templates available from Microsoft to suit any kind of presentation.
Don't feel like you must use a template, though. Many users may prefer to use or create a theme to visually tie together their presentations. PowerPoint provides a variety of themes which include color schemes, backgrounds, fonts, and placeholder slides. In the Design tab, you can choose a theme that appeals to you or matches with your content. You can even try different color variations within the theme by selecting Variants . Each variant has built in options for colors, fonts, and background colors and styles that can help you format your slides and create a cohesive look throughout the deck.
There are a few things to keep in mind if you decide to eschew the suggestions made by PowerPoint:
Consider the colors you're using. There are definitely a few color combinations you should avoid .
Choose fonts that are easy to read and make sure that your text isn't too small to be read across a large room. You'll also want to remember to keep the text on your slides relatively sparse, with no more than three bullet points per slide.
Using Visual Aids in Your Presentation
One way to break up the monotony of an all-text presentation is to use visual aids like charts, graphs, static images, gifs, and movies.
As with all other aspects of your deck, ensure that your visuals are easy to see and understand, and aren't too wordy. Imagine trying to read a line graph with lots of muddy colors and small text from across a conference room. The goal of a visual aid is to make the presentation you're giving more compelling and the information you're sharing easier to understand.
Here are a few tips for adding visuals to your presentation:
Make sure the images you use are of high quality and that they fit in your deck. They shouldn't be distorted or pixelated, as this will distract from the content.
All charts should be very easy to read and understand. If someone can't immediately glean what information is presented, you may be trying to fit too much into a single chart.
Don't use more than one chart per slide unless it's necessary. Keep it simple.
If you're including a brand or logo in your deck, make sure you're adhering to that brand's style guide .
A great way to get design ideas for slides in your presentation us to use the Designer feature in PowerPoint. It automatically generates design ideas for you to choose from based on the content of your slide. Designer detects when you're using pictures, charts, and tables and gives you suggestions for arranging them on your slides in a cohesive layout that's easy on the eyes. Designer can also help to format your lists and timelines into easy-to-read graphics and suggests relevant graphics to pair with keywords that it finds within your content.
Create a PowerPoint deck that stands out and resonates with your audience by formatting it in a professional manner. And don't forget to prep for your presentation !
Get started with Microsoft 365
It's the Office you know, plus the tools to help you work better together, so you can get more done—anytime, anywhere.
Topics in this article
More articles like this one.
How to password protect your PowerPoint presentations
Learn how to password protect your PowerPoint presentations and secure your valuable files.
Choosing the Right Font For Your PowerPoint Presentation
Make your presentation look great by choosing the best font for PowerPoint. We'll highlight some of the best fonts and why you should use them over others.
Tips and tricks for managing up
Whether you have the best boss in the world or find your manager challenging to work with, your relationship with them does not have to be one-sided.
Different Types of Fonts And How to Choose One
There are so many different types of fonts available. Do you know how to choose a font? Our guide will highlight types of fonts and the best time to use them.
Everything you need to achieve more in less time
Get powerful productivity and security apps with Microsoft 365
Explore Other Categories
PowerPoint.Guru
Types of Presentations
Presentations can be called ideal objects for visualizing ideas. Slides allow you to focus on important things in more detail or discuss complex things. There are usually some types of visuals for presentations that are extremely effective in illustrating the relationships between things and processes. You can use images, text, drawings, graphs, charts, and screenshots when creating slides. But how to design a presentation? What are the nuances you need to know before crafting slides? For starters, you should know the difference between presentation types.
Why Do You Need to Craft Slides?
There is a simple rule of storytelling: if you can't tell something, you have to show it! That is why people of different professions and fields of activity should use presentations. A set of slides greatly simplifies the visualization and systematization of various information nuances. In addition, presentations are a great addition to public speaking, reporting, or academic debates.
Presentations: Types of Slides and Their Purpose
Any presentation is not just a set of slides. Instead, your goal is to keep important aspects related to the general topic, goals, and ideas. But how to design a presentation? And where to start in the first place? To begin with, you should pay attention to the types of presentations and their purpose. Such knowledge will give you the key to further action.
Presentations for Business
Your presentation graphic design will be very different from standard slides. Much of the difference will come from the goals of your presentation. For example, a business needs clear statistics, direct answers, and slide control. Here are the types of presentations you should know.
As a rule, pitch deck presentations help young entrepreneurs get funding by showing business prospects. Such slides allow you to list your company's benefits, the number of new customers, or revenue growth over a certain period. In other words, each slide is a demonstration of your attractiveness in a commercial sense.
In addition, pitch deck presentations allow you to present to investors the project team, new talented employees, or growth paths that will become real by investing in your project. In some way, such a presentation is analogous to a shop window where representatives of business structures can see the most important things.
Sales Presentation
Imagine that your company has been successful for a certain period. Surely you need details to report to investors or the project team. That is why you need a sales presentation because it can show how profitable and effective the period of the company's activity was through such a presentation. For example, you can show the gross income, operating profit, the growth rate of your product, and other information.
Sometimes such a sales presentation aims to promote new teams within the company based on the statistics of the goods or services provided. You can also add selling propositions, pricing information, testimonials, and other things that will show the positive growth dynamics of your company.
Marketing Presentations
Most marketing presentations consist of slides designed to promote products and services. Your goal as a presentation creator is to find effective ways to promote your sales pitch. For example, you must show how profitable cooperation with you is or how good your products or services are.
As a rule, marketing presentations contain graphic elements designed to create a solid image and reputation of a good company worth trusting. That is why you should choose bright facts that allow you to gather a loyal audience. Also, such slides may include future business plans or goals that can be implemented through certain actions.
30-60-90 Day Plan
Many people who want a good position in any company should create a 30-60-90 day plan. So this is a strategic action plan for thirty, sixty, and ninety days. In other words, you must show what you intend to do in a new position to justify your trust.
In a way, your 30-60-90 day plan is a manifesto and a demonstration of your ambitions. Showing the action plan on slides demonstrates the steps you are ready to take and the tools you use to implement all the ideas. In addition, such a presentation aims to achieve loyalty among the company owners or top managers.
Business Plan
And here is the most important type of presentation for startups. Your business plan is a step forward to attract investors and show the prospects of your ideas and the possibilities of their implementation. Moreover, you are selling an idea that will become a reality if someone gives you money.
In addition, a business plan is a type of presentation that should show the niche you want to occupy. Perhaps you should also point out your competitors and the ways you are using to leave them far behind. As a rule, such presentations should be concise and provide the final audience with a summary of the prospects for your business.
Budget Presentations
Most startups and companies need budget presentations, as they allow you to determine the appropriateness of certain financial flows. In addition, slides with data are needed to visualize spending on payroll projects and purchasing goods and services. In other words, most financial processes can be visualized through the presentation.
Let's say the company's management wants to optimize the costs of managing subsidiaries and decides to hold a meeting. With detailed budget presentations, they can quickly consolidate their focus on those transactions that can be reduced in number.
Slides for Teachers
Presentation graphic design can be especially amazing if you are a teacher. Your task is to prepare for classes and create a comfortable springboard for students ready to gain knowledge. That is why every slide must be polished. Here are examples to help you learn more.
Lecture Presentation
Many teachers must create slides to visualize information and a springboard for academic activities. For example, a good lecture presentation allows you to focus on certain facts, terms, or research results. In other words, slides are vital for visualizing important lecture facts. The lecture presentation has a classical academic structure, graphs, images, tables, and diagrams.
Course Presentation
Each course presentation is a set of slides vital to condense a piece of learning content in a structured and interactive format. All slides are based on information relevant to the main topic. In addition, the course presentation should contain key ideas, goals, and tools to achieve them. In general, these are academic slides that make it extremely easy to visualize the tasks of your course.
Lessons Plan Presentation
Teachers must craft lessons plan presentation weekly to interact more effectively with students. As a rule, such a set of slides allows young people to learn more about what information they will receive during the lesson. In addition, the lessons plan presentation is a springboard for teachers who do not want to forget important details while explaining new topics.
Research Presentation
Typically, the average research presentation includes a short intro, your hypotheses, a brief description of the methods, and graphs related to your findings. Here you will interpret the data and be able to show how valuable your finds turned out to be. As a rule, any research presentation is a springboard that helps students understand exactly how students should approach the visualization of the results of their work.
Interactive Planner
Sometimes your main goal may be to create a so-called interactive planner. So this is a presentation, the purpose of which is to create a systematic approach to the company's development. It is all about the visualization of goals that can be changed in the future. In other words, your interactive planner is a set of slides aimed at systematically analyzing a business or individual goals in the context of a common (global) idea.
Case Presentation
As a rule, any case presentation is a way of interaction between the professor and the audience. Such a set of slides allows you to organize the most important information related to the academic or medical process. In other words, your case presentation is a way to tailor complex terms and key data to the needs of a specific audience.
For Students
Every student should know how to design presentation slides right. But your slides' type and visual style depend on your academic assignment. Here are the most popular presentation types you should know about.
Thesis Presentation
As a rule, creating a solid thesis presentation can take time. The fact is that such a set of slides should describe in detail the goals, research methods, and results of your work. Each thesis presentation slide is a brick that forms a solid wall of information relevant to your topic. Here you can add graphs, charts, images, and tables to visualize in detail the work you have done.
Dissertation Defense Presentations
While writing your dissertation, you must prepare data to defend your position and research. Typically, you will need to create data comparison slides, research graphs, and visual patterns to help build a base for your judgments. So this is why dissertation defense presentations are so important. They should become a mix of your ideas and an auxiliary source for your speech. Try to sort your slides according to the order of your paragraphs. And do not forget about the data you will use during your performance. That is why dissertation defense presentations should copy the general paper structure.
Research Paper Presentation
Imagine that you have to write a research paper and craft a dozen slides to support your idea. Usually, a research paper presentation is a basis that is needed to emphasize certain parts of your paper. As a rule, students must craft 10-15 slides with background information, key ideas, results, and data interpretation. In other words, your research paper presentation is important for you and your professor, who will probably analyze the results of your work.
Admission Presentation
As a rule, each first-year student must create an admission presentation as an addition to the essay. This work is part of the admission process to show that the future student is worthy of becoming part of the academic community. Usually, the average admission presentation is a set of slides that contain key ideas, goals, ambitions, and sources of your inspiration. Plus, colleges and universities don't have strict formatting and style requirements, so you can craft your slides to suit your inspiration.
Presentation Design Tips: Everything You Need to Know About Slides
Surely you want to craft your slides well and stick to certain rules. That is why you should check out these design tips for presentations. Read each tip carefully, and you will surely be able to create a good presentation.
1. Stay Away From Bullet Points
The bullet points aren't necessary. Moreover, they can turn an original presentation into a trivial PowerPoint template. Instead, list important aspects of your presentation using the paragraph form. Such a presentation graphic design idea will allow you to stick to the original approach and say no to the boring enumeration of dozens of parameters. Try to keep your slides lighter regarding the amount of content on the page.
2. Insert a Single Animation Style
The animation style is important for storytelling because your audience should not be distracted from key information. In addition, different animation styles when switching slides can confuse your audience. Try to choose only animations that work and look natural. Surely you are not interested in visual effects that will lead to total design presentation failure.
3. Highlight Key Points
Try to use shapes, bright fonts, or characters pointing to put a visual emphasis on some piece of information. This strategy is extremely effective as it allows you to focus your audience's attention on the things that matter most. In addition, highlighting key data using graphic elements helps to prioritize zones and makes it easier to perceive any information.
4. Incorporate Data Visualization
Data visualization is what you need to make your presentation look solid. Use pie charts, bar charts, graphs, and other types of content that allow your audience to understand certain nuances quickly. For example, you can add a percentage pie chart describing the percentage of people who do not subscribe to streaming services. Visualization is the key to simplicity and elegance.
5. Keep Your Slide Design Consistent
You may love variety and vibrant color combinations, but your presentation needs to be solid. Keep your slide design consistent, and you'll see how much better your visual style will get. Use the same fonts, color elements, and data visualization types. This approach is extremely important for those who want to achieve effective presentations.
6. Break Up Sections
One of the key secrets is to break up sections. This strategy allows you to separate important information blocks and prepare your audience for new slides. For example, use blank slides with pictures, large print for subtitles, or even short videos. Your visual content should create a clear transition that will help the audience prepare for a new block of slides ahead of time.
7. Limit A Single Takeaway Per Slide
Some people like to create 3-5 slide presentations and add a few paragraphs to each page. But such a strategy is not profitable in advance since it will be difficult for your audience to focus on important things. So instead, center all your text and visuals around one takeaway or idea. First, this strategy will allow you to make each slide lighter and more visually appealing. Secondly, each page will be like one of the chain links that look monolithic.
Final Words
As you can see, there are quite a few types of presentations depending on the goals you are pursuing. Knowing a clear differentiation and approach to create each slide will help you stand out from the crowd and craft something special. And don't forget about tips to help you avoid common mistakes. Many ideas are simple enough that you won't have to analyze them for long.
Keynote vs Powerpoint
Presentation design techniques
Types of presentations
Presentation types and styles explained
From high school, then all through college, and now in the workplace — presentations have been a pillar of passing down knowledge to various audiences.
But, what are presentations?
They are a tool used to inform and educate audiences in a fun and informative way.
Well, that is the simple way of explaining their purpose and meaning.
We want to dig in deeper, and that is what this article will bring to you — a deeper understanding of different types and styles of presentation, so you never get overwhelmed or confused when you need to make a presentation.
We will discuss:
Different types and styles of presentations,
The purpose of using presentations in the workplace, and
How to utilize and recognize types and styles of presentations.
We will also show you:
Famous presenters for each style,
How you can use each presentation style, and
A quote for each style to work as a useful reminder if you ever get confused.
Let's dive in, shall we?
Table of Contents
What are the purposes of presentations?
Sometimes, when a term is widely used, to the point where we subconsciously know the meaning and its purpose, it's hard to pinpoint the true definition from memory.
So, let's start with the basics — what is the definition of presentations?
Presentation is a manner of passing down knowledge from the speaker to the audience. A presentation can be a:
Demonstration,
Lecture, or
Speech.
The purpose of a presentation is whatever goal you set up to achieve. Those goals can be:
To educate,
To persuade, and/or
To entertain.
According to LinkedIn's article 4 goals for any speech, pitch or presentation , when you combine the goals we mentioned, your presentation will become powerful, meaningful, and impactful. The goals mentioned above are general and can be applied to any situation. Different types and styles of presentation can lead to different results. With the right type and style, you can:
Better your work and image with clients,
Be more effective when presenting new ideas or solutions, and
Ensure more progressive career growth.
These are only some of the business goals you can achieve with the right presentation type and presenting style. The more types and styles you try out, the more skillful you become, which helps you achieve your goals more efficiently.
What are the different presentation types?
Presentation types illustrate the way you structure your presentation .
We've mentioned the 4 purposes of presentations — every goal or purpose corresponds to a certain type. Before you can choose a structure, you need to answer the question " What is the purpose of this presentation? "
And methods and techniques, which we'll talk about later, help you maintain that structure.
Once you know what you want to achieve with your presentation, you can choose its type.
Here's what you need to know about each presentation type:
Type #1: Informative presentations
Informative presentations are analytical and, as the name states, informative. With this type of presentation, your end goal is to inform and educate .
Your audience only has to listen and soak up all the knowledge that is given by you.
With this type of presentation, you can report on new findings and new data or deliver a lecture.
Since the goal is to educate, your presentation must be precise and correct. Make sure that the information you are communicating has real value. When presenting, try to engage your audience with visuals of your data to help them understand.
Type #2: Persuasive presentations
To use persuasive presentations, you must answer the question " What do I want my audience to do after listening to me ?"
The point of this type of presentation is to persuade your audience, change their minds, or offer a new point of view, so that they take action .
Persuasive presentation comes in handy if you are presenting a new product or a service and you want your audience to feel the urge to buy said product.
When you use this presentation type you must exude confidence, since you are your audience's only source of information for your product.
Type #3: Motivational presentations
You've probably heard of motivational speakers, and if you haven't, here's a quick crash course. Motivational presentations have a purpose to inspire and change people's minds .
Most people who use this type of presentation have a story to tell. These people use their own experiences as key points in their presentations to help the audience to relate to them.
Since the goal is to inspire and change people's minds, you have to have a powerful topic to discuss.
Remember to cater to your audience and adjust your presentation to them and their level.
Type #4: Instructive presentations
Instructive presentation is technical, precise, and often longer than other types we mentioned. This type is here to offer instructions to an audience.
So, if your goal is to explain step by step how to achieve a goal or do a task— an instructive presentation should be your choice.
When you are delivering this type of presentation you need to make sure that every instruction is clear, understandable, and easy to follow.
How to determine which presentation type you should use?
To choose the correct type for your presentation, you must determine your goal. Once you have your goals clear, it will be easy to see which type works best with your presentation.
Here are some helpful questions that will help you to narrow it down to one type:
What do I want the audience to take away from my presentation?'
What am I trying to give the audience? Is it information, a lecture, or a look into a new product/feature?
What obstacles are keeping me from delivering my presentation effectively?
Determining the correct type for your presentation is a trial-and-error process. You will find that some types are more your speed, while others might give you trouble. But, keep in mind that the end goal should always be to give your audience what they came for.
No matter which type you prefer, they all exist for a reason. Give them all a chance, and remember that practice makes perfect.
Presentation methods and techniques
When you define the type of your presentation, it's time to get into methods and techniques for delivering a presentation.
There are a lot of ways you can deliver your presentation, and here is our take on it.
Presentation methods
A method is how you approach your problem .
When it comes to presentation methods, we linked them with public speaking. Methods cover:
How you choose to deliver your presentation and
How you structure your speech.
Here are the 4 main methods:
Method #1: Impromptu or unscripted
The impromptu method applies to speeches that are:
Not prepared ,
Emotionally charged, and
'Given on the spot'.
This method of speaking is purely done by improvising, so there are no written rules on how it should be done.
Improvising and making up your speech as you go is not a wrong way to deliver your presentation. Still, instead of basing your entire speech on your ability to ramble on, incorporate this method in segments where you see fit or feel inspired to do so.
Method #2: Memorizing
The memorizing method implies that the speaker needs to know their speech word for word.
It is mostly used in oratory contests for high school and college students. This method is difficult, and you would need to spend a lot of time reading and memorizing your text.
But, this method is the easiest when it comes to performance anxiety. Since the text is perfectly constructed and your only job is to memorize and relay it to the audience, it's less nerve-racking.
💡 Pumble Pro-Tip
If you struggle with anxiety before a presentation, we have an article to help you with that:
How not to be nervous for a presentation
The memorizing method, while being challenging at its core, can be freeing once the speaker is on stage. With this method, you can practice your body language to go with the text. And since the text is scripted and perfected, the speaker can move around the stage as they see fit.
Method #3: Extemporaneous
Extemporaneous is a synonym for impromptu and unscripted — so why is a synonym to a method we've already covered, now a completely new method?
Well, that is because when it comes to the extemporaneous method, we think of a speaker that allows help during their performance .
The extemporaneous method is a combination of the first two methods we mentioned. This method allows the speaker to prepare their speech and use notes and key points as an aid to keep on course. However, they will not learn their presentation by heart, but use their own words and speak in a conversational manner.
Method #4: Scripting
The scripting method used to require a written speech from which the orator reads to the audience. Nowadays, we can see this method used by news outlets, with a teleprompter.
So, to make use of this method, you need to write down your speech and read it proficiently to your audience.
When it comes to in-person presentations and public speaking, this method is not the go-to.
You shouldn't spend the whole presentation just reading off of papers. When we present, we need to maintain eye contact and overall connection with the audience — and holding a piece of paper in front of the audience will get in the way of that connection.
Presentation techniques
Presentation techniques are what you use before and during the presentation to make it compelling, informative, and easier to understand .
Here are some of the techniques that we find quite useful:
Technique #1: Practice
As a presenter, you want to make sure that everything goes smoothly — and for that to happen, you need to practice. The key to giving the best presentation is to practice relentlessly.
Some useful tips to help you make the most of your practice are to:
Practice in front of a friend. — Practicing in front of a friend will not only help you with performance anxiety, but a friend might also have some useful tips on how to perform better.
Film yourself practicing. — When you film yourself giving your presentation aloud, it will help you to get used to cameras and the spotlight. Also, the camera will capture every mistake you make, and from there you can see what needs to be worked on.
Practice in the auditorium. — It will do you good if you can practice giving your presentation in a meeting room or the auditorium. If you practice in the place you will be presenting, you will get used to the space, and it will be familiar to you on the day of your presentation.
Technique #2: Use visuals
There is no need to overwhelm your audience with endless blocks of text. Think about how you can transform the data or information into a simple visual .
The important thing to remember is that your audience might not be on the same level of knowledge as you. So, use visuals to help them follow your point.
Technique #3: Incorporate stories
No matter how informative and to the point your presentation is, including a story that is illustrating your point can be very helpful to your audience.
Not only is storytelling a great way to engage and entertain your audience, but it is also a great way to show how your information is relevant to real-world events.
If you are curious to see what more you can do to prepare for your presentation, check out our article:
How to prepare for a presentation: Your 9-step guide to a successful presentation
Technique #4: Incorporate appropriate style
Your presentation style is how you choose to deliver your presentation as a speaker. Style builds on the methods we have mentioned earlier, and it comes down to how you choose to speak to your audience. You can be a storyteller or a coach to your audience, and with each style comes a different influence.
Methods and techniques are a great starting point when you are approaching your presentation structure and topic.
But, there are different styles of presentation that you also should consider before walking up to that stage. Let's learn more about them.
What is a presentation style?
A style is your preferred way of doing things, and when it comes to presentations, a style is how you choose to deliver your speech . Everything from your vocabulary to your tone defines your presenting style.
If you are not sure what your personal presentation style is, you can always pick and choose from the already-established styles. Those include:
Storyteller,
Instructor,
Closer,
Connector,
Coach,
Lessig style, and
Visual style.
Let's get into more detail about each one of them.
Style #1: The Storyteller
The storytelling style consists of a (usually personal) story or anecdote.
This style is used when the presentation doesn't have any data or numbers that need to be explained.
You can use this style to emphasize your point and to easily relay your goal to the audience.
The storytelling style is great for the beginning of the presentation, as it is there to capture the audience's attention.
Formality level for the Storyteller style: Low
Since this style uses the speaker's personal experiences and anecdotes to help the audience relate to the topic easily, the language used is conversational. There is no need for any excessive formality , and the speaker can address the audience in a friendly and familiar tone.
The Storyteller style characteristics
What characteristics should you be aware of when you want to utilize this style?
The vocabulary that storytellers use is simple and conversational. Think about how you tell a story to your friends, colleagues, or family. Once you have that in mind, becoming a storyteller on stage won't be a problem.
Since the formality level is low, there is no need to overcomplicate things or to use synonyms for words that already have simpler and more known versions.
Your story should have an introduction, where you will introduce the problem. Then, you can move into the main plot point that explains your topic. And finally, you should have a conclusion where you can circle back to the beginning and where you will untangle the web you cast and leave your audience with a final thought.
The pros of the Storyteller style
Now let's look at some of the pros of this style:
It's easy to follow.
It illustrates your problem and solution in a creative way.
It's relatable and, therefore, more influential to the audience.
The cons of the Storyteller style
Here are the cons of being the storyteller type:
A story that's too long or not interesting enough can leave your audience bored.
Getting too caught up in the story can make your presentation longer than it should be.
Who is the Storyteller style best suitable for?
This style is great if you want to truly connect with your audience and have them feel as if you speak to them, rather than at them. Many people don't like to be lectured, and if you are trying to make a point or a message stick out, try out the storytelling style.
Famous presenter with the Storyteller style
The storytelling style is preferred among TED talk speakers.
But, when we think of storytelling, one particular speaker comes to mind — Nick Vujicic. He overcame great obstacles and has learned how to take what's best from life. So now, when he tries to spread his message of endurance, he puts his trust into the storytelling style and lets his emotions and experiences speak to his audience.
Quote by Nik Vujicic that embodies the Storyteller style
" What really matters are the lives you touch along the way and how you finish your journey ." ― Nick Vujicic
Style #2: The Instructor
The instructing style of presenting shares some traits of the storytelling style. It still uses the power of metaphors to get the message across to the audience.
But, the difference is that the instructing style has more of a commanding voice . The instructor can carefully align the story and the data in a logical and compelling manner, leaving the audience convinced and educated.
Formality level for the Instructor style: Medium
A lot of politicians use the Instructor style when they are trying to influence a larger crowd. Since this style has a higher formality level than the storytelling one, it allows the speaker to use more serious vocabulary and address the audience as superior.
The Instructor style characteristics:
The Instructor's style is characterized by logic and command. As we mentioned, the speaker who is fond of the Instructor's style needs to be able to handle the facts and connect with the audience.
So, the main characteristics of this style would be:
More formal use of language,
Commanding voice, and
Persuasive nature.
The pros of the Instructor style
Let's take a look at some of the pros of this style:
It helps get a complicated message across.
It's persuasive.
It's fairly easy to use.
The cons of the Instructor style
Here are some of the cons to be aware of:
The speaker could be deemed distant or cold. 
The audience can lose interest if the presentation is too focused on pure data.
Who is the Instructor style best suitable for?
This style is great if the speaker has a complicated topic to discuss with a less knowledgeable audience. This style is used mainly for lectures and political speeches.
Famous presenter with the Instructor style
A famous presenter with the Instructor style is none other than the former Vice President of the United States, Al Gore. He uses metaphors, data, his own personal experience, and even visuals to bring complex issues closer to a wide audience.
Quote by Al Gore that embodies the Instructor style
" When you have the facts on your side, argue the facts. When you have the law on your side, argue the law. When you have neither, holler. " — Al Gore
Style #3: The Closer style
The Closer style of presenting is a style that demands action from the audience . Presenters who opt for this style want their audience to not only learn something new but to get up from their seats with a newfound urge to make a change.
This style is a personification of a call to action. The presentations made in this style are short, since the speaker has a goal in mind. They then use this style to convincingly reach said goal.
Formality level for the Closer style: Medium
This style is a great tool to connect with the audience. So, to make a connection between the speaker and the audience, the formality level drops. But instead of treating the audience as friends, the speaker simply talks to them.
The Closer style characteristics
The Closer style is persuasive and somewhat commanding. People who are fond of the Closer style cut right to the chase and make their audience get to a decision. With this presentation style, there are no boring statistics or data. The key points are clear and delivered with a short and clear explanation.
The pros of the Closer style
Here are some of the pros of the Closer style:
The presentation is short.
The Closer is confident and knows how to deliver a point.
The audience rarely gets bored with this style.
The cons of the Closer style
Take a look at some of the cons of this style:
Some audiences aren't ready to make a quick decision.
Some audiences might feel that this style is too harsh or rash.
Who is the Closer style best suitable for?
The Closer style is best to use when you need your audience to make a decision or to give them the urge to make things happen.
This style is mainly used by CEOs and salesmen.
Famous presenter with the Closer style
Many presenters use this style, but the one that stands out the most is the philosopher Ruth Chang. She has delivered great presentations on how to make hard decisions. She keeps her presentations short, sweet, and straight to the point.
Quote by Ruth Chang that embodies the Closer style
"A world full of only easy choices would enslave us to reasons." — Ruth Chang
Style #4: The Connector style
The Connector style speaker is most comfortable engaging with the audience . Some could say that the storytelling style is very similar to the Connector in that sense. Both styles base their presentations on the connection with the audience. The difference here is that the Connector is both a presenter and a member of the audience — and they are comfortable in both roles.
This style of presentation (as the name suggests) allows the speaker to connect to the audience, and therefore deliver the materials easier. One way that this style connects the speaker and the audience is through Q&A.
Formality level for the Connector: Low 
Since this style's main purpose is to connect the speaker to the audience, the formality level is low. The speaker appears as one of the audience, even though they are on stage. To keep the audience engaged and get them to ask questions, the Connector treats the audience as friends and acquaintances.
The Connector style characteristics
The user of this style needs to appear as if they are one of the members of the audience, but they just happen to be on the stage instead in a seat. One of the main characteristics that stand out for this style is the eagerness of the speaker to engage with the audience. When a speaker is a Connector, they will constantly ask questions and listen to the audience's opinions.
The pros of the Connector style
Let's take a look at the pros of this style:
The audience is engaged and encouraged to participate.
The presentation flows at a relaxed pace.
The audience feels connected to the subject.
The cons of the Connector style
Audience might not be comfortable with asking questions.
The presentation might be longer than planned.
Too many opinions will derail the presentation.
Who is the Connector style best suitable for?
The great thing about the Connector style is that it can be used in any presentation and any setting. Since the main goal of this style is to connect the speaker and the topic with the audience, there are no rules or limits as to where it can and where cannot be used.
Famous presenter with the Connector style
Padraig Hyland is a TED Talk speaker and a specialist in audience engagement, so it is only natural that he uses the Connector style. He has delivered countless speeches on how to be a great presenter and how to connect with any audience.
Quote by Padraig Hyland that embodies the Connector style
" To successfully navigate the current disruption, organizations need to nourish their authentic leadership voice and create a new story that engages their people on the journey ." — Padraig Hyland
Style #5: The Coach style
What is a coach? In every sense of the word, a coach is a person who guides you, teaches you, and helps you achieve your goals.
It is the same with the coaching style. The person who uses this style guides their audience with their own enthusiasm for the subject. The Coach style is mainly used in motivational speeches, as it allows the coaches to interact with the audience and share knowledge on a topic they feel passionate about.
Formality level for the Coach style: Medium
The Coach style serves as a guide . It gives the speaker freedom to use their knowledge and personal experience to drive the audience to feel the same passion about the subject as the speaker does. To achieve that level of familiarity with the audience, the formality level drops, and the speaker talks to the audience as a teacher and, well, as a coach would.
The Coach style characteristics
The Coach style allows the speaker to guide their audience from point A to point Z, through knowledge and passion, which makes the presentation interactive and informative.
This style of presentation can be seen in motivational speeches, lectures, and speeches delivered by sports coaches. The main characteristic that follows this style is that it is delivered by enthusiastic speakers.
The pros of the Coach style
Here are some of the pros of this style to look into:
It allows the speaker to connect to the audience through enthusiasm.
Presentations in this style are interactive and engaging.
It gives the audience step-by-step instructions on the topic.
The cons of the Coach style
Let's examine some of the cons:
The speaker's passion can be overwhelming to the audience.
The speaker can forget to ask for feedback .
Who is the Coach style best suitable for?
The Coach style, since it serves as a guide, is commonly used by motivational speakers and in self-help presentations.
They tend to choose this presentation style because it allows them to connect with the audience while still delivering a detailed step-by-step on the topic they are discussing.
Famous presenter with this style
There are a lot of motivational speakers today that are a fan of the Coach style, but the one that caught our attention is Mel Robbins. She is a lawyer and a motivational speaker that helps her audience to form healthy habits and attain discipline to achieve their goals.
Quote by Mel Robbins that embodies the Coach style
" You have been assigned this mountain so you can show others that it can be moved ." — Mel Robbins
Style #6: The Lessig style
If you are in a time crunch, but you have a lot of material to cover, then the Lessig style is the perfect style for you.
The Lessig style was invented by Lawrence Lessig, and it states that a speaker should spend only 15 seconds on each slide or point during a presentation . This style usually agrees very well with the visual style.
Since not all presentations have slides, this style cannot be used with any type of presentation. However, if you have too many slides and too many points to make, then the Lessig style can help you use your time slot well.
Formality level for the Lessig style: Depends
The Lessig style is not a style of speaking per se, but a style for presentation time management . So, the formality of the language you use will be up to you and your topic. You can decrease or increase the formality level and the Lessig style would still be the same.
The Lessig style characteristics
The main characteristic of this style is that it includes slides or at least some visual aid.
This style is also the one that is not concerned with your verbal cues and style of speaking. If you choose to try out this style you can combine it with any of the styles we previously mentioned.
The pros of the Lessig style
Here are the pros of this style:
It's easy to use.
It helps you keep track.
It saves time.
The cons of the Lessig style
Here are some of the cons of this style:
It is not applicable to presentations without slides.
Sometimes the suggested 15-second rule isn't enough.
The presentation may feel rushed or unfinished.
Who is the Lessig style best suitable for?
The Lessig style bases its rules on slides and visual aids, so it's best suitable for presentations that consist of slides. The topics for this style are endless, and it is up to the speaker to see where this style works best in their presentation.
The most logical choice is, of course, the founder of this style — Lawrence Lessig, a lawyer and a political activist.
Quote by Lawrence Lessig that embodies the Lessig style
" Technology means you can now do amazing things easily ." — Lawrence Lessig
Style #7: The Visual style
Presentations can be all about the slides, data, or videos, and there are also powerful presentations that are delivered with only the speaker on the stage. But, technology is not something to shy away from . There are great advantages to using technology and feeding your audience with visuals that will support your claims. As they say, a picture is worth a thousand words.
Formality level for the Visual style: Depends
The formality of this style doesn't depend on the visuals used, but on the speaker and the topic. The great thing about the visual style is that it can be used with almost any topic and type of data. So, when using this style of presentation, you can choose the level of formality you feel comfortable with.
The Visual style characteristics
The Visual presentation style's main characteristics are the visuals, as the name suggests. The visuals can be anything from a picture, video, or creatively shown data and statistics.
This style can be used together with any other style that we mentioned, as long as you add some pictures or other visual elements.
The pros of the Visual style
Here are the pros of the Visual style:
Visuals help the audience understand the presentation better — sometimes, they can illustrate your point better than your own words.
Visuals can help you move your presentation forward.
The cons of the Visual style
Here are some of the cons of the Visual style:
Overusing visuals in your presentation can take focus away from you.
Visuals can be redundant.
Who is the Visual style best suitable for?
If you are creative enough or confident enough to not let the glamor of visuals take over your spotlight, you can incorporate visuals into any workplace presentation. Visuals can be helpful almost everywhere, and they can aid your audience if the topic is too complicated for them to follow.
Famous presenter with the Visual style
One of the best visual presenters is Steve Jobs. He was one of the founders of Apple, and every year he used to give a great visual presentation or a rundown of Apple's new product releases.
Quote by Steve Jobs that embodies the Visual style
" For you to sleep well at night, the aesthetic, the quality, has to be carried all the way through ." — Steve Jobs
How to determine which presentation style to use?
If you are wondering which style to use, first you need to ask yourself what kind of audience will be attending your presentation . Once you have an idea of who you will be talking to, you can start to think about your presentation style.
Also, you need to know what is the purpose of your presentation and what you wish to achieve.
Beyond that, try out different styles until you find the one you are comfortable with.
That's a wrap: Time, place, and audience
Presentations in the workplace serve a great purpose, but utilizing different presentation types and presenting styles can affect your overall workplace image.
When it comes to business presentations, each type and style influences the audience differently . For instance, the coaching style will help you to guide your colleagues through a new and complicated task. The instructive type will help you to showcase each employee's new role and responsibilities with ease.
Now, you might have realized that presentation is a more intricate topic than you previously thought.
So, to become a skillful presenter and to put together great presentations, you have to know how they work and what they consist of.
This guide of presentation types and styles can deepen your understanding of presentations, but it all comes down to:
Knowing your audience and purpose.
Knowing where you will deliver your presentation, and
Knowing how to make use of the time slot you got.
Once you know the basics, determining your type of presentation and style will be a piece of cake.
✉️ Did you know that there are so many different presentation styles and types? What do you think is your presentation style?
Let us know what your presentation type and style are via [email protected] and we might include your answers in this or future posts. If you found this article helpful, share it with someone who would also benefit from it.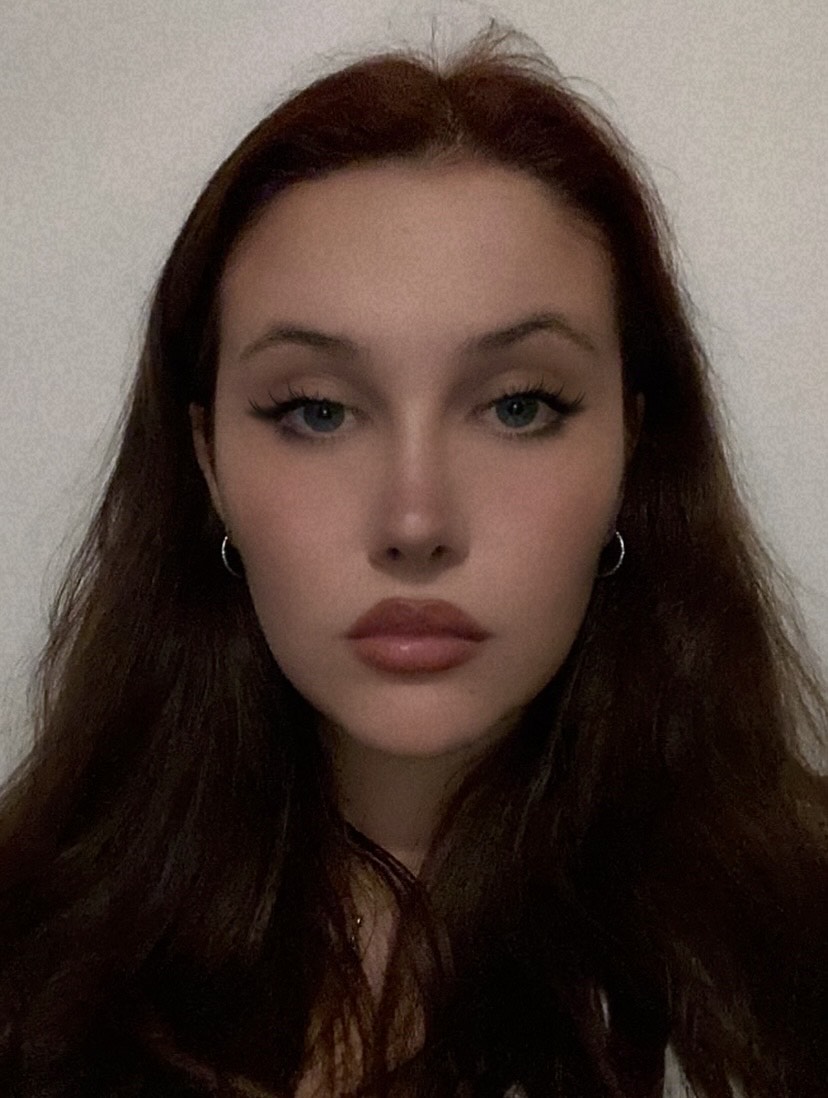 Jana Pavlovic is a communication author and researcher. She enjoys educating herself and others on various team collaboration and technology topics. She found that working from home in a hybrid-type company is her perfect combination for work-life balance, and she's eager to share her new-found knowledge with you.
What's your team up to?
START COLLABORATING
with Pumble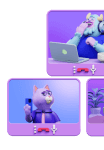 Related posts
How to write a proper employee leaving announcement with tips and examples .
Learn how to write an effective employee leaving announcement, properly informing your staff, with templates for various departure scenarios. …
Friendly Reminder Email: 21 Examples and Templates You Can Try
Learn how to write a perfect friendly reminder email. Get all the tips and 21 friendly reminder email examples and templates….
How to Network Effectively to Advance in Your Career (+ Tips)
Learn how to network to boost your career and expand your business connections, with valuable tips to achieve your professional goals….
12 Key Safety Meeting Topics and Expert Tips to Keep Your Team Safe
Learn what safety meeting topics you should discuss with your employees. …
All-hands Meeting: What Is It and How to Host a Great One
Get all the tips and best practices for running great all-hands meetings, incl. how to host one, its benefits and most important topics to cover….
12 Leadership Styles Explained: Learn How to Find Yours
Find out everything about different leadership styles — their characteristics, pros and cons, and get expert tips on how to pick one! …
Need better team communication??
Pumble is an all-in-one team collaboration app. Send messages and files, and start video conferencing with one click, and reduce emails. Free forever.
Free team chat app
Improve collaboration and cut down on emails by moving your team communication to Pumble.
FREE FOREVER • UNLIMITED COMMUNICATION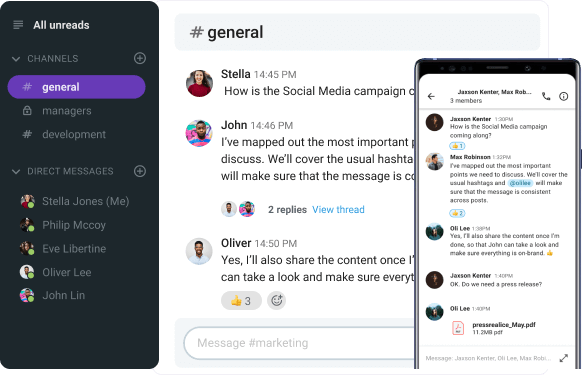 Unlimited users • Unlimited chat history • Free forever
A step-by-step guide to captivating PowerPoint presentation design
november 20, 2023
by Corporate PowerPoint Girl
Do you often find yourself stuck with a lackluster PowerPoint presentation, desperately seeking ways to make it more engaging and visually appealing? If your boss has ever told you to "please fix" a presentation and you didn't know where to start, you're not alone. In this article, we'll walk you through a straightforward method to transform your PowerPoint slides into a visually captivating masterpiece. 
Let's dive right in! 
Clean up your slides 
The first step in this journey to presentation excellence is all about decluttering your slides and elevating their impact. Say goodbye to those uninspiring bullet points that often dominate presentations. Instead, focus on what truly matters – the key call-out numbers. By increasing the font size of these numbers, you ensure they take center stage, immediately drawing your audience's attention. 
To make those numbers pop, consider breaking the text after the numbers into the next line and adding a touch of color. The contrast created by pairing a dark color with a lighter shade, like dark teal and light teal or burnt orange with peach, can work wonders. This simple adjustment makes your data more engaging , enhancing the overall impact of your presentation. 
Add dimension with boxes 
Now, let's introduce an element of depth and organization to your slides. By adding boxes, you'll create a visually pleasing structure that guides your audience through the content. In the "Insert" menu, select "Table" and opt for a one-by-one table. Change the table color to a light gray shade, elongate it, and position it neatly to the left of your text. 
To improve readability and aesthetics, increase the spacing between text phrases. A small adjustment in the before spacing setting (setting it to 48) significantly enhances the visual appeal of your slides. 
Insert circles 
To further enhance the visual appeal and engagement of your slides, let's introduce circles. In the Insert menu, navigate to Shapes and choose the circle. Adjust the circle's height and width to 1.2, ensuring it complements your content seamlessly. Match the circle's shape fill color with the corresponding text color for a harmonious look. 
Avoid using colored outlines for the circles, as they may distract from the overall aesthetic. This simple addition of circles adds an element of visual interest to your presentation, making it more captivating. 
Choose icons 
Now, it's time for a touch of creativity. Selecting icons to complement your text can elevate the clarity and appeal of your slides. In the "Insert" menu, you can search for relevant keywords to find the perfect icon from PowerPoint's extensive library . 
For instance, if your text discusses investment portfolio yield, search for "growth" and choose an upward arrow growth icon. These icons add an extra layer of visual appeal and clarity to your content, making it more engaging and informative. 
Final touches 
To wrap up the transformation process, we come to the final touches that give your presentation a polished, professional finish. Align your icons with their corresponding circles and change the shape fill color to white. This simple adjustment creates a crisp, cohesive look that ties everything together seamlessly. 
In conclusion, by following these steps, you've embarked on a journey to enhance your PowerPoint presentation . These initial steps are just the beginning of your exploration into the world of design elements and styles that can cater to your specific presentation needs. The key to a stunning PowerPoint presentation lies in the details. By following these steps, you can turn a lackluster set of slides into a visually engaging and dynamic presentation that will captivate your audience. So, the next time your boss says, "Please fix," you'll know exactly where to start. Happy presenting! 
Related topics
🎁 Disc. 25% off for sevice special on Before Holiday Program Today! 🎁
#startwithpower
Our designers just create something for you. Show your love with downloading their works for free.
Top 10 Different Types of Presentation Styles: Which to Choose?
Guest Writer
Published on December 1, 2022
Table of Contents
You're about to give a presentation, but you need to figure out the best presentation style to give to your audience. There are many different types of presentation styles to choose from. How do you know which one is right for your specific situation?
This article will describe the most popular types of presentations and give you a brief overview of each, so you know which type of presentation is best for you based on the context and your target audience.
This should help you make a more informed decision about which style is best for your needs so that you can deliver it the most effectively. Let's get started!
What are the different types of presentation styles?
There are many different presentation styles, and the best style for any given situation depends on the purpose of the presentation and the audience that will be viewing it.
For example, a scientific presentation might use data visualizations to communicate complex information, while a sales presentation might focus on delivering an engaging and persuasive speech. Other presentation styles include using props or demonstrating products, giving a TED-style talk, or using PowerPoint slides . Ultimately, the goal is to choose a style that will best help you achieve your desired outcome.
In this article, we will start by discussing the broader presentation types, such as seminars, meetings, and training sessions, and move on to more specific presentation types, like informative presentations, persuasive presentations, sales presentations, etc.
Here are the top types of presentation styles:
Training Sessions
Informative presentation, persuasive presentation, sales presentation, motivational presentation, business presentation, instructive presentation, elevator pitch.
We'll end with how you can deliver your presentation: orally, visually, or remotely.
A seminar is a small, informal class typically conducted by a university professor to allow for personalized instruction and student interaction. Seminars often focus on discussions of scholarly articles or papers, and students are often expected to prepare for the session by reading the assigned material.
The intimate size of seminars allows for a more in-depth exploration of the topic than would be possible in a large lecture class. The format also encourages student participation and debate.
Seminars can be an excellent way to learn about a particular subject and develop critical thinking skills.
A meeting is a gathering of people assembled to achieve a common goal through discussion and deliberation. Meetings can be conducted in person or remotely and involve many people. The size and structure of a meeting will vary depending on its purpose, but all meetings typically involve some form of discussion or information sharing.
The participants in a meeting may share their ideas and opinions, debate various topics, or make decisions about a course of action.
To be effective, meetings typically require some level of planning and organization. This can include setting a schedule or appointing a leader.
By planning and preparing for a meeting properly , its participants can ensure that it is productive and efficient.
A training session is a time for employees to learn or improve new skills. Training can take many forms, but it typically involves some combination of lectures, group activities, and hands-on practice. The goal of a training session is to help employees be better equipped to do their jobs and to improve the overall quality of the workplace.
To be effective, training must be tailored to the needs of the individual employees and the specific demands of their jobs. An effective training program will also include regular follow-up and assessment to ensure that employees retain what they have learned.
Businesses can improve employee morale, strengthen retention rates, and boost productivity by investing in employee training.
An informative presentation is a presentation that provides information about a particular subject. An informative presentation aims to educate the audience about a specific topic.
It is essential to be clear and concise when giving an informative presentation . The presentation should be well-organized and easy to follow.
It is also essential to use reliable sources of information and provide citations. Informative presentations can be given in various formats, such as PowerPoint presentations, lectures, or speeches.
Regardless of the format, the goal is always to provide the audience with accurate and up-to-date information.
A persuasive presentation is a speech to convince the audience to accept a particular point of view or take a specific action. The goal of persuasive presentations is to change the audience's beliefs, attitudes, or behaviors.
To be effective, persuasive presentations must be well-researched and carefully planned. The speaker must be clear and concise and address any objections the audience may have.
Persuasiveness will also often depend on the delivery of the presentation, as passionate and charismatic speakers are more likely to win over an audience than those who are dry or monotone.
A successful persuasive presentation can be the difference between winning over a new customer or losing a sale.
A sales presentation is a formal meeting between a potential buyer and a seller in which the seller presents their product or service to convince the buyer to make a purchase. Sales presentations can take many forms, from highly scripted and rehearsed pitches to more informal conversations.
Regardless of the format, the best sales presentations have some aspects in common. These include:
An engaging opening
A detailed overview of the product or service
A demonstration of how the product or service can benefit the buyer
A clear call-to-action
With these elements in place, a sales presentation can be an effective way to close a deal.
A motivational presentation is a speech or presentation given to motivate the audience to take action. The speaker typically uses stories, analogies, and personal experiences to inspire the audience and encourage them to pursue their goals.
Well-crafted motivational presentations can be an excellent way to boost morale, build team spirit, and promote positive change. However, it is essential to ensure that the content is appropriate for the audience and that the delivery is dynamic and engaging. Otherwise, the presentation may fail to achieve its intended purpose.
A business presentation is an event where businesses discuss essential topics related to their work. Plus, business presentations typically involve a large audience and may be held in person or virtually.
This types of presentation often include PowerPoint presentations and other visual aids and may involve guest speakers' speeches. Business presentations allow businesses to share information with their employees, customers, and other interested parties.
They can also be used to promote new products or services or to unveil new initiatives. Business presentations can be an effective way to communicate complex information concisely and engagingly.
In the business world, the correct presentation style can make a massive difference in the success of a project or initiative. By understanding the different presentation styles and when to use them, people can ensure that their presentations are effective and engaging.
An instructive presentation is a type of presentation that is designed to teach its audience something new. Unlike a traditional presentation, which may provide information or entertain its audience, an instructive presentation is focused on delivering instructional content.
This can include anything from teaching a new skill to offering tips and tricks for using a particular product. When giving instructive presentations, it is essential to identify the goals and objectives of the instruction. This will help to ensure that the audience walks away with the desired knowledge or skill.
Additionally, it is essential to use clear and concise language, as well as visual aids such as diagrams, charts, and images, to effectively communicate the instruction.
With careful planning and execution, instructive presentations can be an excellent way to educate an audience on various topics.
An elevator pitch is a brief, persuasive speech you use to sell yourself, your product, or your company. You make an elevator pitch when you want to convince someone to invest in your idea, give you a job, or buy your product.
The name "elevator pitch" comes from the idea that you should be able to explain your idea in the time it takes to ride an elevator (about 30 seconds). An elevator pitch is sometimes called an "elevator speech" or an "elevator statement."
A good elevator pitch is clear, concise, and engaging. It should explain what you do, why it's valuable, and who it's for. An effective elevator pitch will make the listener want to hear more about your product or idea.
You might use an elevator pitch in a job interview, meet someone at a networking event, or pitch your product to a potential investor. An elevator pitch is not just for entrepreneurs– anyone who wants to sell an idea can benefit from having a good elevator speech.
How can you deliver a presentation?
You can deliver a presentation in three main ways: orally, visually, or remotely.
Oral Presentation
An oral presentation is a type of presentation in which the presenter speaks to an audience without visual aids such as slides. Oral presentations can be used to present information, share ideas, or give a persuasive speech.
When giving an oral presentation, it is essential to be well-prepared and to practice beforehand. This will help ensure that the presentation flows smoothly and that the audience understands the presented information.
Additionally, it is crucial to be aware of body language and tone of voice to engage the audience and deliver a successful presentation.
Visual Presentation
A visual presentation is a presentation that uses visuals to communicate information. These visuals can include:
The aim of a visual presentation is to make the information easier to understand and remember. Our brains are hardwired to respond to visuals, so using them in presentations can effectively engage your audience and get your point across.
When done well, visual presentations can be incredibly powerful tools for conveying information. However, it's important to use visuals wisely. Overloading your slides with text or using low-quality images can make your presentation confusing and less effective. Make sure you choose the right font that has high readability and use images sparingly, so people don't get too distracted and miss the point of your presentation.
If you plan to use visuals in your next presentation, choose them carefully and use them sparingly. With some thought and creativity, you can create a visual presentation that will engage and inform your audience.
Remote Presentation
A remote presentation is a presentation that is given over the internet, typically using video conferencing software . This type of presentation has several advantages over in-person presentations, including reaching a wider audience and saving time and money by avoiding travel.
Additionally, remote presentations can be recorded and shared, allowing viewers to watch the presentation at their convenience. While there are many benefits to giving a remote presentation, there are challenges, such as ensuring that everyone can hear and see the presentation.
With careful planning and execution, however, a remote presentation can effectively communicate with a large audience.
Now that you've read about the different presentation styles, it's time to choose one. Which style will work best for your audience and your purpose?
Keep in mind that there is no single correct answer – it all depends on what you want to accomplish with your presentation, the context, and the audience you will be presenting to. If possible and appropriate, try using visual aids to convey your message, like PowerPoint.
Armed with this information, you'll be able to select a style that will help you deliver your message effectively and engage your audience.
Let's visit RRSlide to download free PowerPoint templates . But wait, don't go anywhere and stay here with our RRGraph Design Blog to keep up-to-date on the best pitch deck template collections and design advice from our PowerPoint experts .
Author Bio : Janine Heinrichs is a graphic designer who writes at Janine Designs Daily . Her mission is to show people that the faster and more effective way to become a graphic designer is not by going to school; it's by being bold and putting your work out into the world. Her work has been featured on popular design sites like Creative Boom.
More Articles
RRGraph Design Signs CSR Partnership, Starting from Poverty Reduction to Land Ecosystems Preservation
RRGraph Design Signs CSR Partnership, Starting from Poverty Reduction to Land Ecosystems Preservation This is …
5 Ways of Using Your Digital Presence to Grow Your Business in 2023
Increasing visibility is among the main aims of businesses in today's chaotic markets. In this …
Simple Ways to Make Your Office Run Smoother
Running a successful office is no easy feat. With so many moving parts and people …
Reliable place to create PowerPoint slides.
Marketplace
Office Address
Simpang L.A. Sucipto Gg. 22A No.85, Malang 65126
+6281 334 783 938 [email protected]
Business Hours
Monday – Saturday 07:00 – 18.00 WIB GMT+9
People Also View
30+ Best PowerPoint Template for 2021
50+ Best Pitch Deck Template by Top Startups
How Much Does It Cost for PowerPoint Presentation Services?
How to be PowerPoint Experts?
© 2021 by RRGraph Design. All rights reserved.
Terms of Use
Privacy Policy
Product Delivery Policy
Join our community
You will receive monthly tips, stories, and exclusive freebies!
We use essential cookies to make Venngage work. By clicking "Accept All Cookies", you agree to the storing of cookies on your device to enhance site navigation, analyze site usage, and assist in our marketing efforts.
Manage Cookies
Cookies and similar technologies collect certain information about how you're using our website. Some of them are essential, and without them you wouldn't be able to use Venngage. But others are optional, and you get to choose whether we use them or not.
Strictly Necessary Cookies
These cookies are always on, as they're essential for making Venngage work, and making it safe. Without these cookies, services you've asked for can't be provided.
Show cookie providers
Functionality Cookies
These cookies help us provide enhanced functionality and personalisation, and remember your settings. They may be set by us or by third party providers.
Performance Cookies
These cookies help us analyze how many people are using Venngage, where they come from and how they're using it. If you opt out of these cookies, we can't get feedback to make Venngage better for you and all our users.
Targeting Cookies
These cookies are set by our advertising partners to track your activity and show you relevant Venngage ads on other sites as you browse the internet.
Google Tag Manager
Infographics
Graphic Design
Graphs and Charts
Data Visualization
Human Resources
Training and Development
Beginner Guides
Blog Graphic Design
Powerpoint Presentation Templates and Design Tips to Hold Your Audience's Attention
By Sara McGuire , May 03, 2023
What's worse than sitting through a boring presentation? Being the one to deliver a boring presentation. Presentation templates to the rescue!
Say goodbye to typical, boring PowerPoint slides, too. Instead, create a presentation that will make a lasting impression with presentation templates like this one to engage your audience:
Just so you know, some of our templates are free and some require a small monthly fee to use. Signing up to Venngage is always free.
In this post, we'll show you how to create a presentation that will not only grab the attention of your audience but hold onto it as well.
This post will offer tips for creating different types of presentations , including:
Pitch decks
Elearning slides
Class presentations
Webinar presentations
Marketing presentations
We'll also give you design tips to customize our presentation templates.
Click to jump ahead:
Dedicate each slide to only one topic
Start with presentation templates
Don't overburden your slides with text
Establish a visual hierarchy on your slides
Pick a visual motif that runs throughout your presentation templates
Visualize data using charts and infographics
Create custom illustrations using icons to help tell stories
Highlight important information using big, bold colorful text
Alternate between different slide layouts to keep your audience engaged
Add a progress tracker to your presentation slides
Download your presentation as a PDF
The example above shows how you can customize our templates and export them directly to PowerPoint. Click any of the presentation templates on this page, sign up for free and you'll enter Venngage's online presentation maker tool. It's a drag and drop editor that anyone can use.
Design a presentation that engages your audience
Think about the last boring presentation you sat through:
What did the slides look like?
Did they have a bland color scheme?
Were there too many points (or worse, paragraphs) crammed onto one slide?
Were the charts and diagrams clunky and hard to understand?
When people see the same old boring PowerPoint themes, there's a good chance they're going to lose focus.
Rich media, like video, matters more than ever and there's no better way to stand out than by creating creative and engaging visual content . If you want to really capture your audience's attention, you need to design creative presentations , like this one:
That means incorporating eye-catching images, effective data visualizations, and bold typography into your slide decks.
This onboarding presentation, for example, strategically uses bright icons and illustrations to make the material more engaging. This is especially important when presenting to new hires, who are likely dealing with information overload on their first day.
In this particular case, a more visual approach is not necessarily a matter of aesthetic preference, but a decision that can make your presentations more likely to stick. Pro Tip: Venngage has over 40,000 icons and illustrations you can use to spice up your presentations!
Need something more geared towards speaking? Our keynote presentation templates are all the rage.
Many Venngage users have told us that they're always looking for ways to make presentations more engaging. But most of them don't have any formal design experience.
If you're in the same boat, don't worry–this guide is for you. You can also check out this video for all the highlights:
Here are my top tips for designing a presentation with impact:
1. Dedicate each slide to only one topic
Just as it's important for your slides to not be cluttered, it's also important for your slides to be cohesive.
Keep each slide focused on just one topic. The topic of each slide should be clearly stated in the slide title.
For example, this presentation template covers different ways to be creative. Each individual slide covers one approach:
This simple, straightforward slide pattern will help the audience follow along without any confusion.
Or take this presentation template that introduces some of this year's biggest business trends. Rather than listing multiple trends on one slide, each trend is fleshed out in its own slide:
As a presenter, keeping your slide topics organized will help you organize your thoughts as well. Each new slide will signal a new topic.
2. Start with presentation templates
Before jumping into the other tips, let's set the foundation.
You've decided to create something a little more interesting than a standard PowerPoint theme–good on you! But that doesn't mean you have to start completely from scratch.
Instead, you can give yourself a head start by using creative presentation templates, like this one:
Or this one:
While most PowerPoint themes are fairly limited in how much you can customize them, freeform presentation templates will give you the freedom to alter the design as much as you want.
For example, let's take this template:
I used Venngage's My Brand Kit tool to efficiently apply our brand color palette to the Uber template in one click:
We've got a ton of creative presentation templates. You can take a look at them in our presentations templates library .
Cool? Now let's talk presentation design.
3. Don't overburden your slides with text
Even if you decide to ignore most of the other tips in this guide, don't skip over this one. This is presentation design 101.
When you flip to a slide covered wall-to-wall with text, there's a good chance your audience is going to think:
I don't want to read all of that.
This presenter isn't well-prepared.
In fact, a study published in Business and Professional Communication Quarterly found that anxious presenters tended to use more text on their slides, usually because they used their slides as speaking notes.
Instead of using a bunch of text, look for ways to present information visually charts and infographics .
For example, this slide template uses brief text and some simple icons to summarize the presentation :
This startup pitch deck makes use of evocative images, icons and big text to help present its ideas:
4. Establish a visual hierarchy on your slides
When you flip to a new slide, your audience will be seeing it for the first time. Their eyes are going to naturally be drawn whatever the focal point on the page is.
The focal point is the most dominant area on your slide–the point that draws the most attention.
You can create a hierarchy of information on your slide by making the most important information the focal point of your slide. In most cases, the focal point will be the slide title, or a particular visual, or an important phrase or number.
There are a few ways you can create a visual hierarchy on your slides.
You can bold important phrases, like the word "Facebook" in this slide:
Icons also help to establish a reading order. They draw your eye from point to point. Placing icons beside headers and important points will make them stand out from the other information on the slide.
Icons can also be used to indicate where a new point begins:
Color selection can also be used to establish a visual hierarchy. Take a look at how the colorful blocks in this slide help to make the slide titles pop:
Your eyes are drawn first to the title text, then to the supporting information beside it.
5. Pick a visual motif that runs throughout your presentation templates
You can use visuals to pull your presentation design together and make it cohesive. Picking a visual motif will allow you to use consistent visuals throughout your presentation.
A visual motif is a repeated pattern, design, or image. In your presentation design, a motif can take many forms.
When it comes to infographic color selection , one of the simplest approaches is to use a consistent color motif (or color scheme). That could mean using one or two colors for all of your headers, background and borders.
For example, this presentation template uses two shades of purple for a modern design:
But combining different colors and patterns can also make for a more interesting design. For example, this presentation template uses a blue stripe motif to link the slides together visually:
You could also use a recurring shape or image, like the circle image frames in this presentation template:
Or you could use a motif that reflects the theme of your presentation. For example, this presentation template uses a recurring cloud motif throughout the presentation to reflect the "dream" theme of the brand:
This is a case where starting with a presentation template can really come in handy, because the template will already have a motif. Look for presentation templates with a motif that fits your topic and brand.
6. Visualize data using charts and infographics
Replacing text with visuals is one of the best ways to prevent your slide design from becoming cluttered. Charts and infographics present information in an engaging, digestible way.
I won't go into too much detail here about what types of charts you should use for what data. We've got an in-depth guide to picking charts for that.
But I'll give you a few ideas for some types of charts and infographics that work well in presentations.
Related : How to Make Better Infographics for PowerPoint
If you want to visualize steps in a process, the history of something, or a roadmap, use a timeline.
This slide template uses a simple timeline with complementary icons to emphasize each date:
To compare amounts or sizes, a bubble chart can help drive the point home:
Learn how to customize this template:
To create an infographic for geographic and demographic information , a map can make a big impact on your audience:
A classic pie chart or bar graph should be easily understood by your audience, provided you're following chart best practices .
This presentation template uses a bar graph, a pie chart and a line graph to show different metrics:
If you can, mix up the types of data visualizations you use. This will help prevent your audience from getting bored.
Those are just a few different ways you can use charts to visualize. For more ideas, check out our guide to picking the best charts for your data .
7. Create custom illustrations using icons to help tell stories
Custom illustrations are one of this year's biggest graphic design trends . They're fun, quirky, and more exciting than a boring old stock photo.
Creating your own illustrations for social media graphics might seem like a costly and time-consuming undertaking. And it can be. But I'm going to offer you a hack:
Use icons to create illustrations.
You can arrange icons together to create a scene–like the pieces of a puzzle. (Venngage offers over 40,000 icons, so finding an image shouldn't be too hard!)
For example, this real estate presentation template uses icons to illustrate each real estate hack:
When picking ico ns or symbols for your illustrations , make sure that the icon style you use is consistent. For example, this presentation template uses line art icons for a scribbly youthful look:
For more ideas, read our guide to creating icon illustrations .
8. Highlight important information using big, bold colorful text
Returning to the idea or focal points on your slide: emphasize a key number or phrase when creating a persuasive presentation using big, bold text in a contrasting color.
This will communicate to your audience that if they take away one thing from your slide, it should be that piece of information.
For example, this presentation template uses bright colored font in several sizes larger than the rest of the text to emphasize important numbers on each slide:
But you could also pick one color to emphasize key information with. That way, your audience will catch on to the pattern and look for that color in upcoming slides.
Take a look at how this presentation uses teal to contrast with the other text and emphasize information:
9. Alternate between different slide layouts to keep your audience engaged
You may be tempted to use the same slide layout throughout your entire presentation–either for consistency or because you're not sure how else to design your slide.
The problem is, using the same slide layout over and over again won't do much to excite your audience.
There are other ways you can create consistency throughout your presentation, while also using different slide layouts–like through a visual motif.
For example, this presentation template uses five different slide layouts. The consistent color scheme, image style and font style pull the presentation together.
To come up with different slide layouts, try dividing your slide into columns. This can make it easier to arrange the elements in your slide.
This can make it easier to arrange the elements in your slide.
10. Add a progress tracker to your presentation slides
Creating a sense of forward movement will help keep your audience engaged.
Similar to how you would put the chapter title at the top of the pages in a book, you can track the progress of your presentations in your slides. This will let your audience know what stage you're at in your presentation. Your audience will also be able to refer to the sections in your presentation more easily afterward.
That said, pacing your presentation thoughtfully with well-designed presentation slides also adds brownie points to your presentation. Check out the top qualities of awesome presentations and learn all about how to make a good presentation to help you nail that captivating delivery.
A simple progress bar at the bottom of your slide shouldn't distract too much from the rest of your information.
11. Download your presentation as a PDF
It's common for audience members to request a copy of your presentation for their reference. Make sharing your presentation easy by exporting it as a PDF or zipped file.
If you don't want to send a PDF, you can present it directly in Venngage using our presentation tool. Simply Publish your presentation to be taken to the presentation page, or click the Preview button to view your presentation privately.
Now that you're equipped with some fundamentals of presentation design, the best way to learn is by doing. It's also the perfect time to upgrade your presentation skills while you're thinking about it too!
If you have any questions, please don't hesitate to leave a comment below.
More presentation templates and design guides:
120+ Best Presentation Ideas, Design Tips & Examples (+ Presentation Templates!)
12 Business Pitch Deck Templates and Design Best Practices to Impress Investors
5 Foolproof Presentation Layout Ideas (+ Presentation Templates!)
How to Get Featured on the Front Page of SlideShare [Infographic]
What Is A Webinar & How Do They Work? [Beginners Guide]
6 Types of Presentations and Which One is the Best for You
Last updated on October 5th, 2022
Presentations are an important part of the routine lives of students, business people, and other professionals. Different presentations are used for different occasions and purposes, such as student speeches, seminars, conferences, webinars, other eLearning activities, etc.
Choosing a proper presentation type for your next activity or meeting can be hectic for many professionals. That is why you must have a quick idea about how many presentation types are actually there and which one is best for you to achieve your specific goal or objective.
Are there any specific categories of presentations? Why is there a need for different types of presentation methods? This article will answer all of these questions in addition to some free premade presentation templates that have been made to save time and other resources for professionals, students, and business people.
Why Do You Need Different Types of Presentation Styles?
To deliver a persuasive and results-oriented presentation , the speaker must use techniques and tools to engage his audience and retain their attention. To achieve different objectives, a speaker may implement various techniques and methods of delivering his message.
If one expert says that the presenter should speak loudly, the other professional may argue that the visuals must be present throughout your presentation slides. Someone may stress the need for storytelling, while another mentor may think that statistics, infographics, or quotes are integral parts of successful presentations.
What if there was not a single way of delivering a presentation? What if there are several types of presentations that are used on different occasions for achieving specific objectives? Below, 6 different types of presentation styles are mentioned that are used for specific purposes only.
6 Different Types of Presentations (Plus Actionable Tips to Deliver Them)
When do you need specific types of presentation methods? How do they fulfill your specific purposes? Let's have a look at 6 different types of presentations.
1. Informative Presentations
One of the most common presentation types is an informative presentation used for endless occasions, from educational to corporate business activities.
Why is there a need for informative presentations?
When you want to deliver detailed information or data about a specific product, service, idea, or process to a specific audience, these kinds of presentations are ideal. In such presentations, the speaker may seem analytical and rational to prove and make his concepts understandable to listeners. Informative presentations can be used in many situations . A news anchor may use informative presentations to present his data and information more systematically and comprehensively. Businesses and institutions' decision-makers use such presentations to discuss the pros and cons of a specific process, situation, or activity to reach effective solutions for specific problems. Hence, if you are looking forward to delivering a relatively longer presentation, an informative presentation can prove to be an appropriate choice for you. You can look at articles regarding how many slides for a long presentation or how many slides for 30 minutes to have a better idea of how to effectively present longer-duration presentations.
Tips for delivering effective informative presentations
Here are a few tips for informative presentations.
You should focus on the main points or agenda of your topic first
Don't use complex sentences and graphics to avoid confusion among listeners.
Try telling your presentation's outline in the introduction section
Summarize important points and ideas of your presentation in the end
2. Persuasive Presentations
Persuasion is an art through which an individual influences the opinions, thoughts, decisions, and actions of others. Delivering persuasive presentations is a need of the hour for many business people like marketers, project managers, and salespersons.
Why is there a need for persuasive presentations?
There are various circumstances in which persuasive presentations can be used.
Governmental institutions can use persuasive presentations in policy-making and election campaigns to convince their listeners to respond to a specific call to action . Senior executives or management of an organization can leverage such presentations to win the trust and confidence of their relevant stakeholders. Speakers in TED Talks also need to convince their listeners regarding their concepts and ideas, and they use persuasive presentations to leave a significant impact on the minds of their audience . From youtube videos to sermons of religious leaders, persuasive presentations find their applications in many fields of life. If you are looking for premade free templates for your next persuasive presentation, look at our best PowerPoint Templates specifically made for your needs.
Tips for delivering effective persuasive presentations
Here are some actionable tips for delivering persuasive presentations.
To develop credibility, start your presentation with a relevant quote or statistical analysis.
Try to relate your arguments and data with personal experiences and stories.
Try delivering your presentation passionately with genuine interest and attention.
Your presentation should be an answer to the queries of your audience. Try to leave no stone unturned to deliver your message efficiently.
3. Demonstrative Presentations
Known as a demonstrative presentation when a presentation is based on the step-by-step demonstration of a product, service, or process . The audience is usually more attentive in such presentations, and you can leverage this added characteristic to your maximum advantage by implementing effective measures.
Why is there a need for demonstrative presentations?
When an employer or trainer teaches his employees about a specific operational process, activity, or task systematically, he usually uses demonstrative presentation. Instructional videos and training generally depend on such presentations to effectively guide the audience.
You don't need to develop demonstrative presentations from scratch all by yourself. Our website Free PowerPoint Templates offers quality premade templates with in-built process demonstrations and infographics for your every possible need. Just download any of your desired templates with a simple click. You can make a few changes to the specific areas of your template as per your requirements, and in no time, your own professionally crafted demonstrative presentation will be ready to deliver. You can also easily get ideas regarding different presentation backgrounds for your next eye-catching and persuasive presentation.
Tips for delivering effective demonstrative presentations
Here are some effective tips for you.
Try introducing your product, service, or process a bit before its elaborative demonstration.
Use the maximum number of diagrams and visuals.
Try clearing the doubts of your listeners during your presentation for better understanding.
Spend less time on the introduction part and more time on the demonstration part.
Try mentioning some options or alternatives for the audience in the end so that they can implement the suggested measures as per their own desires and needs.
4. Inspirational Presentations
Also known as motivational presentations, inspirational presentations aim to inspire and motivate the audience . By developing an emotional connection with the listeners, the speaker tries to convey his ideas and thoughts through stories, personal experiences, and even humor sometimes.
Why is there a need for inspirational presentations?
Motivational speakers use such presentations to inspire their audience and make them see the positive aspects of life and the circumstances they face. For example, in TED Talks, a speaker uses a slide presentation along with his/her verbal speech to influence his/her listeners more effectively. Farewell speeches and presentations delivered by senior executives or management of businesses can also be considered examples of inspirational presentations.
Tips for delivering effective inspirational presentations
By following the below-mentioned tips, you can become an appealing inspirational speaker.
Start with a startling question or statement that will leave the audience thinking for a long time.
Use the storytelling approach to resonate with the minds of your listeners.
Emphasize your presentation's main points and ideas.
Use humor if it helps in achieving your audience's attention.
Improve your body language and posture to establish authority on the stage.
5. Business Presentations
In the business landscape, presentations are used for countless purposes like business planning, decision-making, developing a strategy, forecasting future results, hiring new employees, analyzing project management activities, etc.
Why is there a need for business presentations?
As told before, business presentations have numerous applications in several areas of the business world . One of the most common usage of such presentations is in sales and marketing activities. A salesperson can use such a presentation to market his product effectively to convert his listener into a customer.
Look at our Sales PowerPoint Templates to better understand such presentations. Business presentations are also used in corporate training sessions, meetings, e-presentations, seminars, webinars, one-on-one interviews, etc.
Tips for delivering effective business presentations
Here are some actionable business presentation tips for you.
Use concise and solid points in your slides by making important keywords either bold or highlighted.
Avoid informal tone of speech. Business presentations are usually formal and should be delivered accordingly.
Be punctual during such presentations. Being late or showing irresponsible behavior is highly discouraged by the audience in such kinds of presentations.
Go prepared in front of the audience so that you can answer all of their questions effectively.
6. PowerPoint Presentations
PowerPoint presentations are one of the most effective and widely used presentation types worldwide . They are easy to develop, deliver and understand. No matter what type of purpose you are trying to achieve, PowerPoint presentations can always come in handy in almost all possible situations you may find yourself in.
Why is there a need for PowerPoint presentations?
You can deliver such presentations for any audience, like for educational, business, formal, or informal purposes. You can use them to educate your listeners and inform them about a specific issue or process. PechaKucha presentations are also very popular for telling a story or narrating a personal experience. You don't need to design and develop PowerPoint presentations yourself, as our website Free PowerPoint Templates is now offering thousands of free premade templates. Delivering and designing any PowerPoint presentation was never this easy.
In Conclusion
Although all types of presentations have their benefits and specific use cases , some are universal, and by modifying them a little bit, you can use them for various purposes. The best examples of such types of presentations are PowerPoint Presentations that can be used for a variety of purposes with the help of premade templates (as mentioned above).
Every audience has different requirements; therefore, the presenter must be ready to deliver the desired message or idea per the needs of his listeners. Using the previously mentioned presentation types and methods, any user can now fulfill the demands of every possible situation in which he may have to deliver a presentation. With actionable tips, strategies, and premade templates mentioned above, you are now fully equipped to efficiently hit your desired presentation targets.
Leave a Comment Cancel reply
Your email address will not be published. Required fields are marked *
Save my name, email, and website in this browser for the next time I comment.
Sign up to our newsletter
We will send you our curated collections to your email weekly. No spam, promise!
File formats that are supported in PowerPoint
PowerPoint supports several different presentation-file formats, as described below.
Use File > Save As to save your presentation as one of the file types listed below.  
The default file format in PowerPoint version 2007 or newer is .pptx .
Important:  PowerPoint doesn't support the following:
Saving to PowerPoint 95 (or earlier) file formats.
Pack and Go Wizard (.ppz) files.
Top of Page
The default file format in PowerPoint for macOS version 2008 or newer is .pptx .
Save as JPEG or other image type
When you save a presentation as a JPEG or other image file type, each slide becomes a picture and is saved as a separate file in a new folder.
Click File > Export .
Choose the location where you want to save your files, and then in the File Format box, click an option: JPEG, TIFF, PNG, GIF, or BMP.
Click Save .
In PowerPoint for the web, you can open these types of files for editing:
You can also open these older file types, but only to read the file, not edit it. If you want to edit a file of this type, open it and then use File > Save a Copy to save the file as a .pptx that can be edited:
You can't open the following file formats in PowerPoint for the web, but you can open a .pptx, .ppsx, or .odp file and then use File > Download As to save a presentation in these formats:
.jpg (When you choose this format, each slide in the presentation is saved as an individual .jpg image file.)
Video and audio file formats supported in PowerPoint
Package a presentation for CD or USB flash drive
Block or unblock external content in Office documents
Get Microsoft PowerPoint templates
Need more help?
Want more options.
Explore subscription benefits, browse training courses, learn how to secure your device, and more.
Microsoft 365 subscription benefits
Microsoft 365 training
Microsoft security
Accessibility center
Communities help you ask and answer questions, give feedback, and hear from experts with rich knowledge.
Ask the Microsoft Community
Microsoft Tech Community
Windows Insiders
Microsoft 365 Insiders
Was this information helpful?
Thank you for your feedback.
Types Of Presentation Styles Used In The Workplace
Keeping your audience engaged while you deliver a presentation can be quite challenging but remember, nothing is impossible. With the appropriate method of presentation style, you can make this happen. 
It's okay if you are not aware of the styles. Continue reading as we'll go over the significant presentation styles that you might utilize at work. Further, we'll also discuss how you can employ various presentation techniques to enlighten and entertain your audience. Let's begin with this.
Types of presentation styles:
Although there are many types of presentation styles, we have mentioned below the general six presentations styles:
1. Freeform Presentation style:
In this form of presentation, you can just go without planning each and every step, with no specified rules or defined structure. Freeform presenters just believe in themselves and convey what they have in their minds regarding that subject matter. They don't plan in particular but just speak their minds at the very moment. If you want to give this method a try, then don't opt for many themes; limit yourself to max three main themes, add some comedy, and speak to your audience through stories. In case you think you might need reminders, then you can have a few flashcards with you; however, ensure that the information on the cards is brief.
Besides, if you are a salesperson in a casual setting, the freeform approach can be appropriate for you. You wouldn't want many notes to have a conversation if you have a comprehensive understanding of what your firm is and what offerings are since you have already been speaking about your products very often. By then, you have it on your fingertips.
2. Connector Presentation style:
In the connector presentation, the speaker emphasizes whatever they and the audience have in common. By doing so, listeners will be more open to the presenter's message if they believe the speaker is just one of them.
You can also add an improvisation Q&A session in this style of presentation. Again, listeners may feel at ease contributing since the speaker frequently makes gestures, which could also inspire members of the audience to join in the conversation.
To employ this technique effectively, you must be well-organized and detail-oriented, as well as at ease on stage and in the audience.
3. Instructor Presentation style:
This presentation style might be useful for persons who want to transmit a complicated message in order to convince their audience to think about or embrace a particular point of view. Considering employing metaphors, figures of speech, and visual aids can help the listeners understand what you're talking about if you want to utilize this style with more effectiveness. Moreover, it would be helpful if you find a way to strike a balance between focusing on the topic and your audience at the same time.
This strategy would work best for teachers to effectively give daily presentations to their students as they can break down the comprehensive themes into smaller sections in order to educate your listeners during your speeches more effectively.
4. Coach presentation style:
Coach-styled presentations are most effective when the presenter is enthused about the subject at hand. However, in order to make this work for yourself, you'll be needing to strike a balance between soliciting audience reactions and speaking and the input you get from the audience. In addition, you must also speak and exchange information at a reasonable speed.
Motivational speakers frequently use the coach-style presentation. If you're speaking to an audience at a conference or in any setting where you are required to calm your audience's worries, you might have to use coach-style presentations. This is a style that is often used by salespeople or sales representatives.
5. Visual Presentation style:
6. storytelling presentation style:.
Speakers can connect very well with their audience by using the storytelling technique especially when you utilize tales to support your key ideas and employ words that stimulate the emotional sentiments of the listener.
People working in the communications area may find this approach very effective. For example, sports broadcasters usually do not only discuss the fundamentals of the sports they are reporting, but they also use personal experiences to connect with current events that is what probably makes the audience engaged.
Now that you have learned about the types of presentation styles, it's time to look up the things that you must consider when choosing a presentation style for yourself. Let's not drag it more and come to the point straight. Some major factors that you must never overlook are:
Formality level of the conference:
The formality level of the conference you will be attending must never be overlooked. For instance, if you're a part of a formal conference, then visual or instructor presentation style would probably work the best. 
In addition, hanging overwritten pieces of information can also be considered in such a formal conference so that the members of the conference can keep up with you during the presentation.
The audience of the meeting:
Every business presentation has a unique audience and a different level of interaction. Hence, it would help if you looked out to the audience who are going to attend the meeting since that would greatly affect the effectiveness of your style. Therefore, ensure that you have a thorough understanding of the audience so that you can alter your style accordingly.
For example, the presentation delivered in the connector style might work effectively for a small group as compared to the larger groups since that the presenter is only required to pay attention and connect to a few people.
The number of people attending the session:
The next factor is the total number of attendants because if you have a larger audience, then it's obvious that it will be difficult for you to interact with all the members. 
Incorporating visual aids:
Visual aids such as slideshows or video clips tend to help your audience not to get distracted. Thus, you can maintain their interest and can leverage your speech but incorporating visual aids into your presentation. However, some presentation styles might need visual aids to pave their way, while few do not really require any of such things as their speech is solid enough to grip the audience's attention.
Location of the presentation
The location where you will be presenting will determine your presentation type. For instance, If you are to present in a conference hall then you would know that you will be addressing a large audience. Having this in mind, you would Adopt A style that suits the larger groups well, for example, the visual or storytelling style.
Experience level: 
If your audience's experience level is more than your public speaking experience, then you may need any aid to get you through successfully. For instance, if you are a newbie and have never spoken in public, then it would be great if you incorporate research from the experts by citing them in the presentation. This way, you will boost your credibility level.
Summing up this article here with the hope that the above discussion might have made your thoughts clear regarding your matter of concern. Consider the suggestions and see how well your presentation goes.
Steve Todd, founder of Open Sourced Workplace and is a recognized thought leader in workplace strategy and the future of work. With a passion for work from anywhere, Steve has successfully implemented transformative strategies that enhance productivity and employee satisfaction. Through Open Sourced Workplace, he fosters collaboration among HR, facilities management, technology, and real estate professionals, providing valuable insights and resources. As a speaker and contributor to various publications, Steve remains dedicated to staying at the forefront of workplace innovation, helping organizations thrive in today's dynamic work environment.
Recent Posts
Remote Jobs at ERPA, Involgix, Binding Minds, NetApp, RR Donnelley
Remote Job opportunity at ERPA: Workday Payroll Consultant Job Descriptions:ERPA – Workday Payroll ConsultantA Payroll Consultant will be responsible for ensuring successful production support...
Remote Jobs at FamilyAid, Lytx, Parsons, Philips, Ministry Brands, CBRE
Remote Job opportunity at FamilyAid: K-12 Education Navigator Job Descriptions:FamilyAid – K-12 Education NavigatorExperienced, knowledgeable, and networked with the K-12 service delivery...

Deutsch (DE)
10 Types of PowerPoint Slides for Convincing Presentations!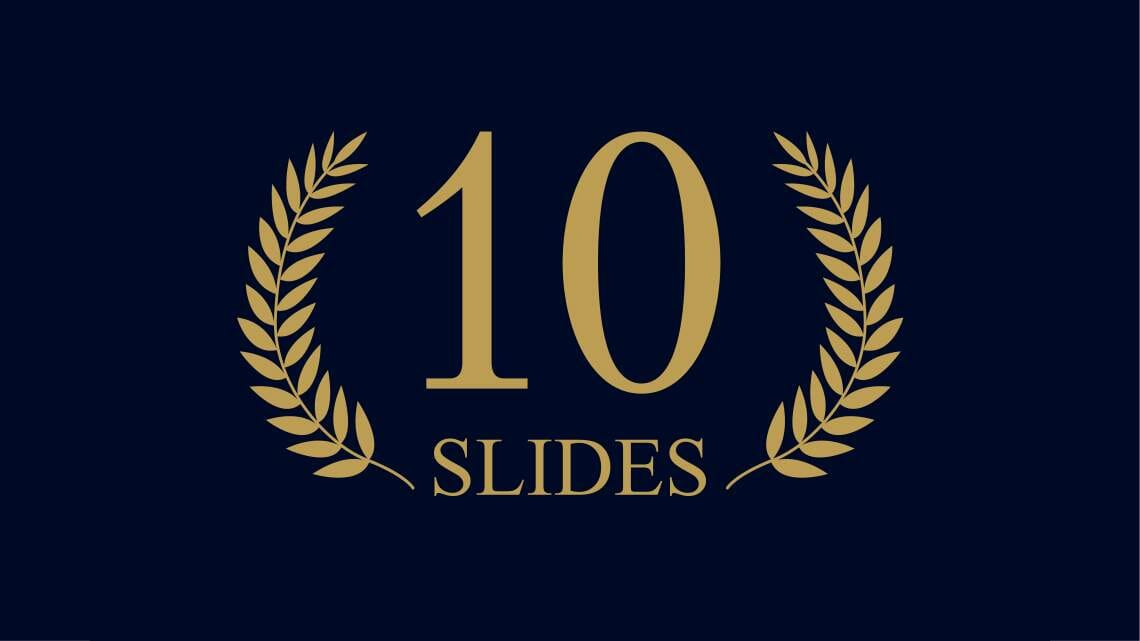 When it comes to creating presentations, PowerPoint is indispensable. Obviously, the most important part of any presentation are PowerPoint slides with the right content to communicate your message.
We'll show you 10 types of PowerPoint slides that you can use in your presentation. We'll also explain the benefits of each slide type and the added value they can bring to your presentation.
PowerPoint slides: Different slide types for your presentation
A presentation lives and dies by its PowerPoint slides and content. Have you ever noticed how many diverse types of PowerPoint slides there are? Text and picture slides usually have different layouts. And this is just the beginning – there are so many more slide types and layouts.
In the following breakdown, we'll show you what PowerPoint slides are out there and how to use them to create a professional presentation!
10 types of PowerPoint slides
1. the text slide.
You're sure to have at least one text slide in very presentation. Text belongs in your presentation . This type of slide is unavoidable if you want to simply convey information .
Be sure to use text in measured doses ; no one wants to read large blocks of text anymore. Less is definitely more . As soon as you display your slide, your audience will begin to read the text to themselves. This limits their capacity to focus on your presentation.
Use the 5×5 rule or reduce your text to one key message per slide . Click here to find out how the 5×5 rule works and how you can further reduce text .
You can also play with the design of text slides!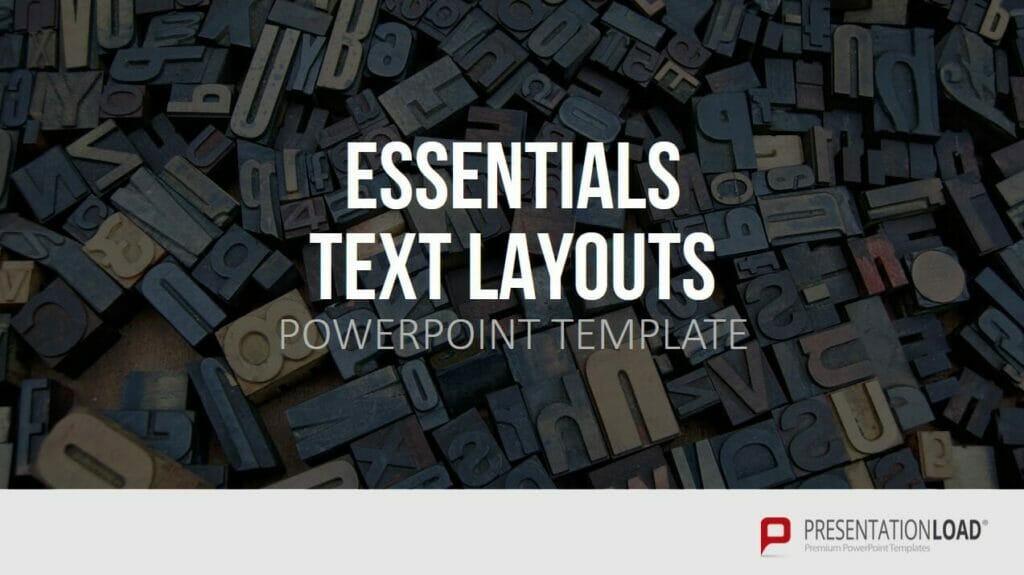 2. The picture slide
You're probably no stranger to PowerPoint slides with picture elements. This slide type is the perfect way to underscore your statements and visually enhance your presentation – true to the motto, "A picture is worth a thousand words". Moreover, the right use of images will inspire emotions in your audience and grab their attention .
But just like text, images should be used wisely . Pictures that are meaningless and only used to fill empty slides look unprofessional and out of place. Also make sure to use professional images and avoid stock images as much as possible, as they don't add any individuality.
Take a look at these articles for more information about images in PowerPoint:
Insert images quickly with the Scan&Paste app
Compress pictures
Flip pictures
Make images transparent
Optimize images in presentations
Highlight pictures with a grid design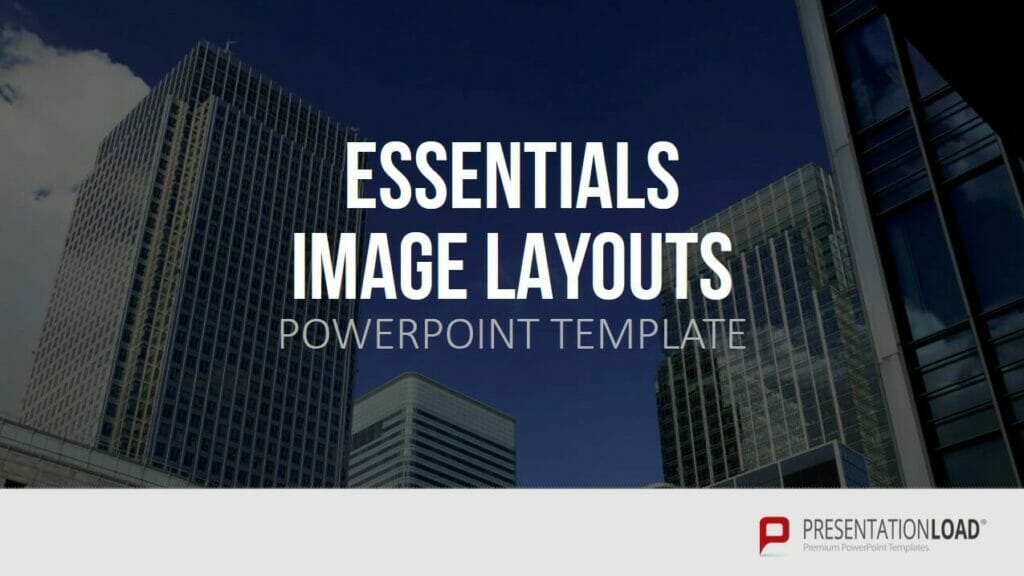 3. Introduction and closing slides
These PowerPoint slides belong in every presentation. Whether it's a business or university presentation, introduction and closing slides will bookend your presentation perfectly .
With an introduction slide, you pave the way for a strong start to your presentation . With a closing slide, you summarize the main points of your presentation . This guarantees that by the end of your presentation, these points are clear to your audience and will stay fresh in their minds.
Tip: Looking for tips on how to end your presentation on the perfect note ? This post summarizes some effective ways to do just that. We also have helpful tips for kicking off your presentation in this post .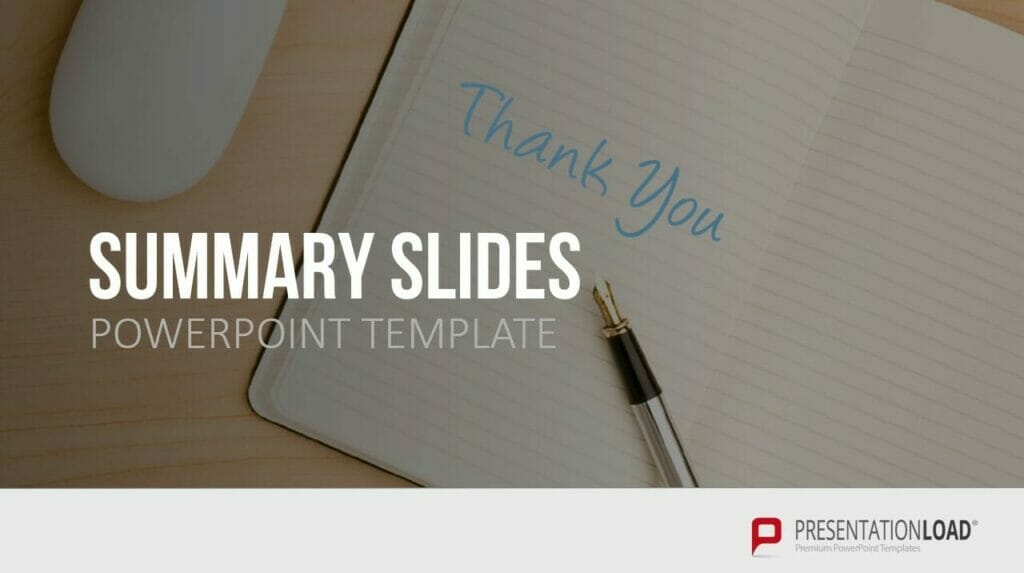 4. The agenda slide
This PowerPoint slide should be included in every high-quality and professional PowerPoint presentation. The agenda slide provides an audience with a brief outline of the presentation's content and structure right from the get-go.
It also provides you, the presenter, with a quick reminder of how the presentation will flow and gets you off to a good start.
This article explains how you can create your own PowerPoint table of contents for your agenda slide.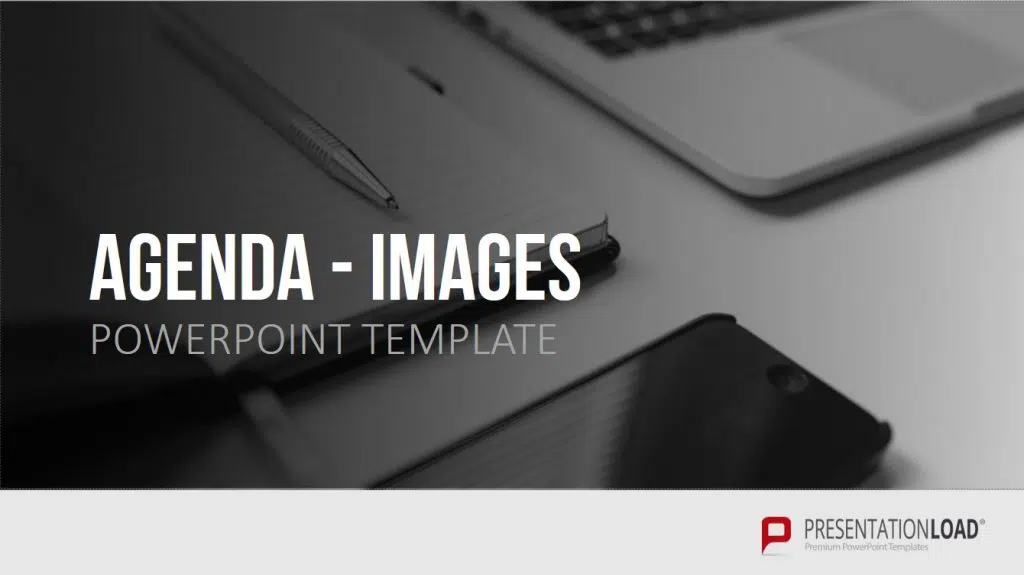 5. The quote slide
The quote slide is effective and shouldn't be overlooked. As the name suggests, this slide consists only of a quote, usually placed in the center, without any further expository text or images . Quotes are mostly short-form statements of opinion, either personal or from well-known individuals.
Why should you use this type of PowerPoint slide? How will a quote slide support your presentation?
Quote slides support your content . For example, you can use a quote from a famous person (e.g., successful entrepreneur) to support your data and key messages . The truthfulness of the quote also provides weight to your content and supports the veracity of your key messages.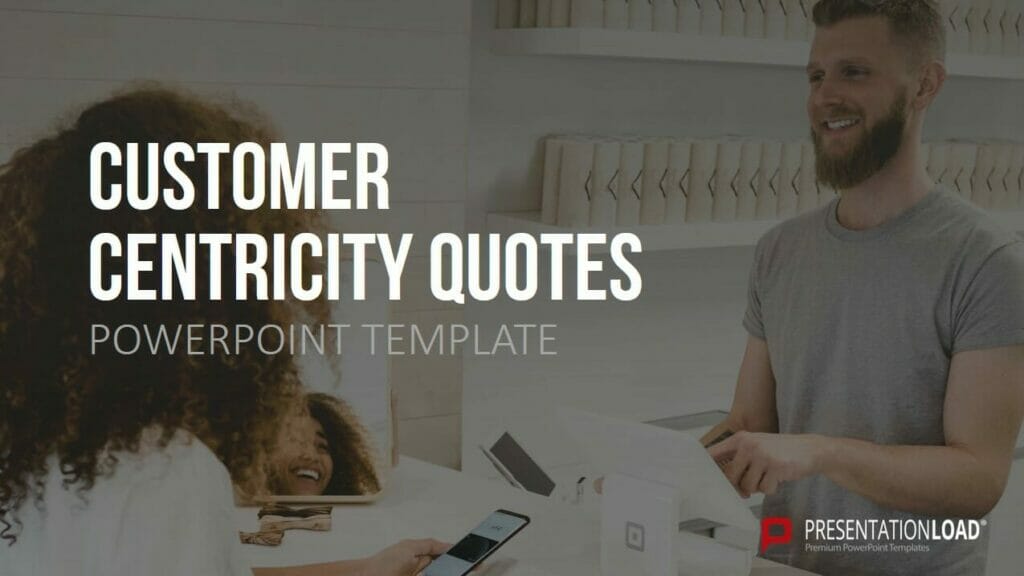 6. Chart and diagram slides
Chart and diagram slides are used often in presentations, particularly in presentations for companies within the financial sector.
Chart and diagram slides are similar to picture slides in that they underscore what is being said. Numbers and data can be clearly presented to the audience using a chart and diagram slide, making the content understandable without the need for any additional text.
Charts and diagrams also add visual appeal and variety to your presentation. By using a diagram, you avoid long blocks of text, which are often less interesting for your audience.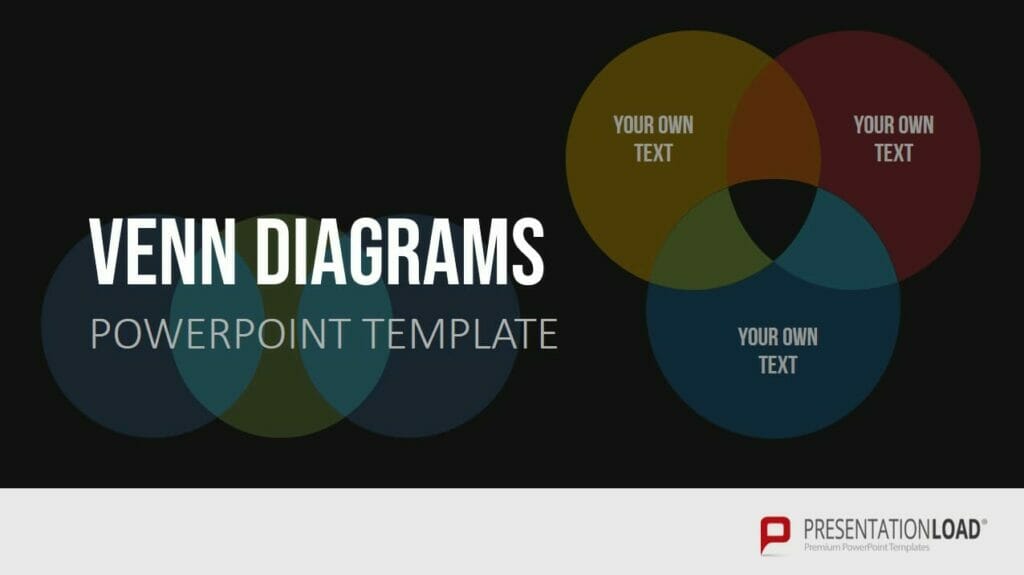 7. The table slide
Similar to chart and diagram slides, table slides visually support your data and facts. They help declutter presentations and clearly convey your messages to your audience .
This type of PowerPoint slide also helps you avoid overly long blocks of text that honestly, your audience won't read anyway.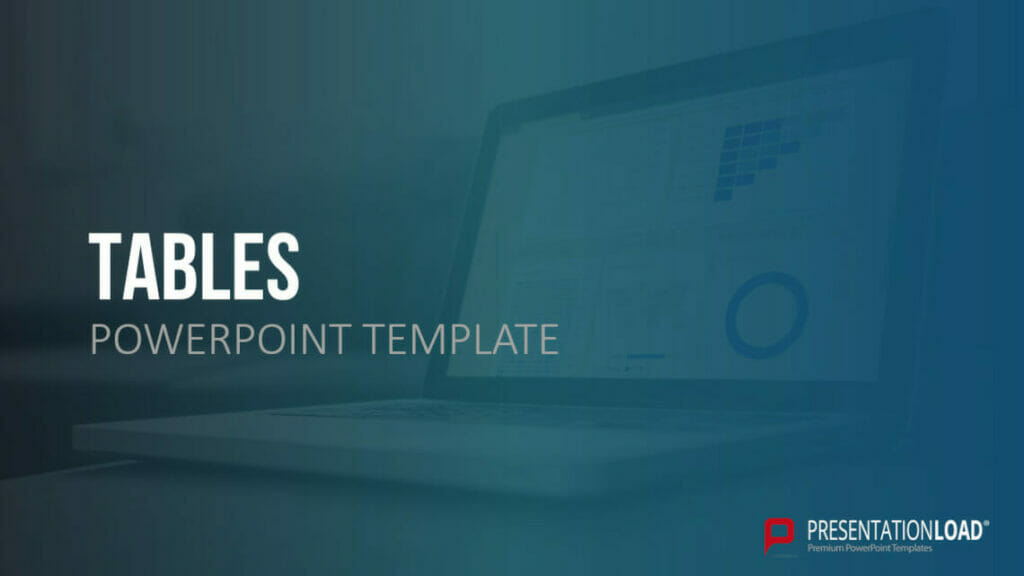 8. The link/hyperlink slide
Do you want to link to an internet page within your presentation? Maybe to a YouTube video that supports your topic or to an internal website with your products? Links can be used in so many ways in a presentation.
This PowerPoint slide type will also be a positive change for your audience. Calling up a link creates a new visual stimulus, which in turn helps you hold your audience's attention.
Links reinforce your slide content and leave a professional impression on your audience.
Using a link slide can only benefit your presentation. Think about how you can use this PowerPoint slide type effectively for your topic.
9. The animation slide
How about some moving images? With these PowerPoint slides, you'll definitely grab your audience's attention! Animations are visually engaging and offer the audience a welcome change from a presentation's typically static slides .
The broad range of animation options is something you can really use to your advantage. For example, you can focus your audience's attention by making text appear with a click of the mouse . This is especially effective with bullet points. When you display all the bullet points simultaneously, your audience will start reading through them, meaning they'll be paying less attention to you and what you're saying.
Or try using a unique GIF as an animation. You can find out how to do this here .
Other animation options are animation paths , such as flashing arrows, emphasis effects , color effects, etc. Read more about what you can do with animations here .
The important thing with animations is to stick to your presentation style and use them in moderation. A presentation full of flashing slides or pop-up images can be irritating and look unprofessional. Always use animations carefully and sensibly.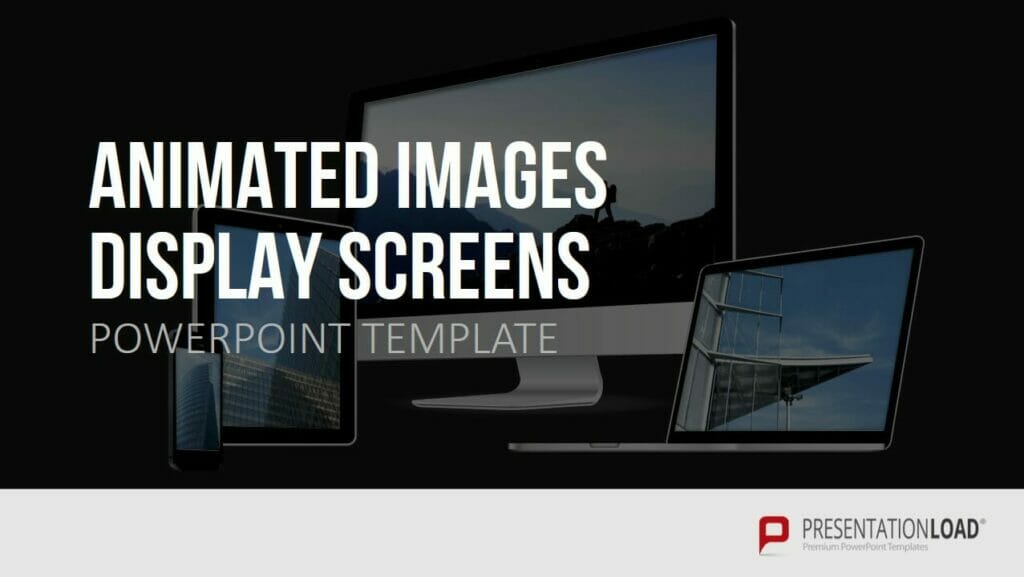 10. The call-to-action slide
Even though you may not be familiar with this PowerPoint slide, you should really think about using it in a professional presentation. Especially if your presentation goal is to attract new customers or to sell products.
A call to action – what is it exactly? In short, it's a prompt from a company or presenter to encourage an audience to perform an action . For example, this can be a request on what to do after the presentation (visit an online store to see products, write an email with questions, etc.). You can find more information in this post .
Do you want to make a request or invitation to your audience at the end of the presentation? Then this is the PowerPoint slide for you!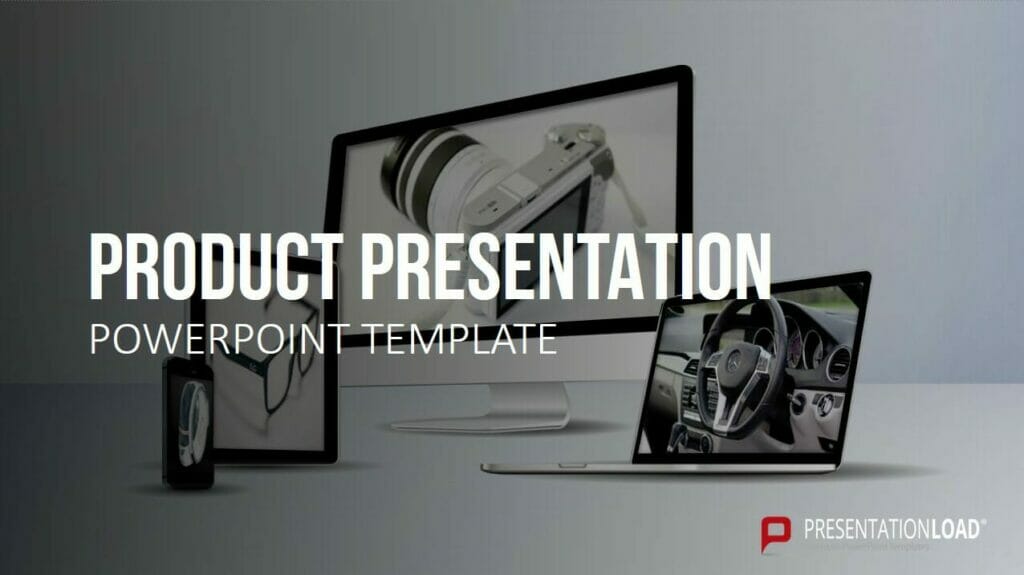 10 Types of PowerPoint slides: So many ways to make your presentation more varied and professional
No doubt you've already used some of the 10 types of PowerPoint slides from our breakdown and integrated them perfectly into your presentations.Maybe it's time to try a novel approach and use a wide variety of PowerPoint slides to suit your topic .
Remember: The PowerPoint slides you choose should be cohesive , especially if you use different slide types.
A variety of slide types will always be a welcome addition to your presentation. So, ask yourself what might be exciting for your audience and incorporate these ideas into your presentation preparation .
Do you have questions about the 10 types of PowerPoint slides in this article or are you looking for PowerPoint help in general? Please feel free to contact us by email at [email protected] . We'd be happy to help you!
Looking to add variety to your slides, but would like to have the work of creating a presentation taken off your hands? No problem. Our team will create a professional presentation for you according to your wishes. Click here to get in touch.
These articles might also interest you:
6 modern ideas for your slide layout
The ideal presentation structure
Creating a presentation: Tips & tricks
PowerPoint slide master
How many slides does a presentation need?
Viva presentations: Tips & tricks
Share this post
Powerpoint-templates.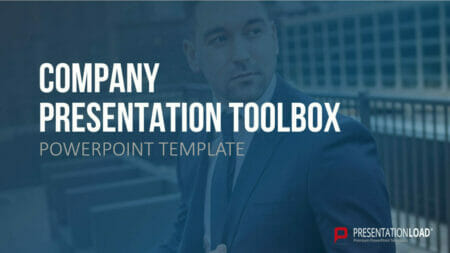 Latest posts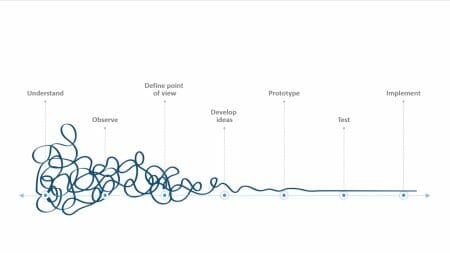 Design Thinking: Problem Solving with a Difference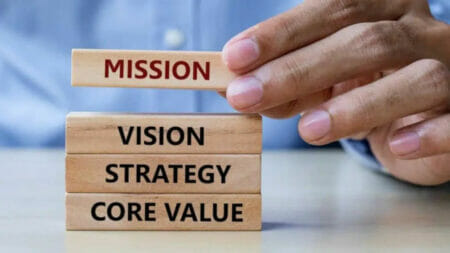 Why Corporate Mission Statements Are So Important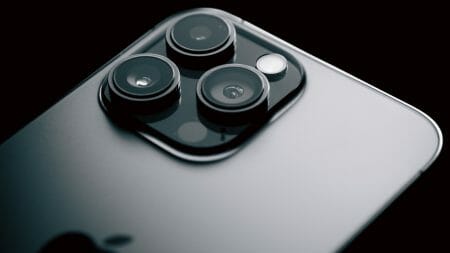 7 Tips & Learnings from the Apple Keynote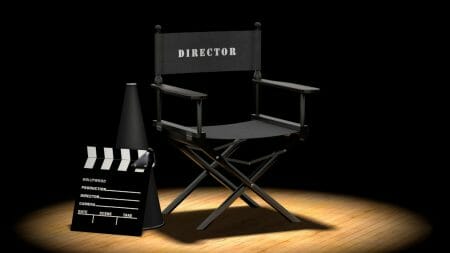 Deliver Captivating Presentations with the Hollywood Storytelling Method!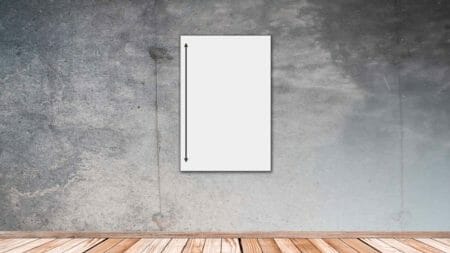 PowerPoint Portrait Format – How to Set Your Presentations on Edge!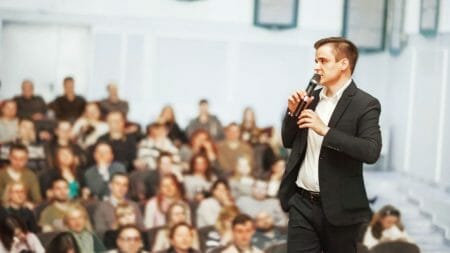 16 Ways to Kick-Start Your Presentation!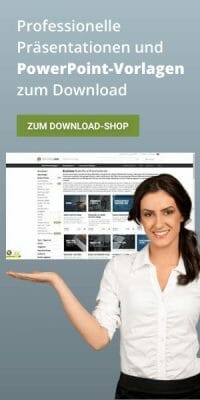 Different Formats for PowerPoint Presentations
Small Business
Business Communications & Etiquette
Presentations
')" data-event="social share" data-info="Pinterest" aria-label="Share on Pinterest">
')" data-event="social share" data-info="Reddit" aria-label="Share on Reddit">
')" data-event="social share" data-info="Flipboard" aria-label="Share on Flipboard">
Message Formatting in Thunderbird
Applications to edit an mht file, what does "default view" mean on a computer.
What Are Standard PC Fonts?
How to Distribute a Powerpoint to Cell Phones
PowerPoint's file type menu, visible in the program's Save As window, lists over two dozen formats in which you can save one of your business presentations. If you've never looked at those file formats, you may overlooking simple ways to make it easier for people to view and enjoy presentations that you create using PowerPoint.
PowerPoint Presentation Format
Many of the PowerPoint files that you save will be in the .pptx format. PPTX is PowerPoint's default format, and the application chooses it by default if you don't select a different format. If you post a PPTX file on the Web or send it to people via email, recipients must view it using the PowerPoint application or a PowerPoint viewer. PowerPoint versions 2010 and 2007 use the PPTX format when saving PowerPoint Presentation files.
Support for Older Versions
Remember that people still use older versions of PowerPoint such as PowerPoint 2003 and even PowerPoint 97. If you send them a regular PPTX file, they won't be able to view it using their PowerPoint applications. If you think some members of your viewing audience use old PowerPoint versions, save a copy of your presentation in a format they can open. When you click the "Save As" drop-down box in PowerPoint's "Save As" window, select the option named PowerPoint 97-2003 (*.ppt). Click "Save" and PowerPoint saves your presentation in the older PPT format. You can then make that version available to people who use PowerPoint versions 97 - 2003.
Compatibility Issues
People who use PowerPoint 97 to 2003 have the option to install converter programs that allow them to view regular PowerPoint 2007 and 2010 PPTX files. Microsoft warns, however, that they still may not be able to see some of the effects and features that PowerPoint 2010 may add to presentations that you save in the PPTX format. You can find a list PowerPoint 2010 features that change when you view them in versions 97 to 2003 on Microsoft's website. (link in Resources).
Slide Show Formats
When you send people PPS or PPSX files, they can click them and view your presentation in Slide Show view instead of Normal View. If you're using PowerPoint 2007 or 2010, select the PPSX file type before saving your file to save it in Slide Show format. Select PPS instead if you're using an older PowerPoint version. You might also find the PPSX version useful when giving live presentations. You can simply double-click your PPSX file and launch your slide show without bringing up the PowerPoint application.
Increasing Your Audience Size
Some people may not want to install a PowerPoint viewer or PowerPoint to view your presentation. You can accommodate them by distributing your files in other formats such as PDF, RTF or even an image format. Anyone using Windows can view an RTF file because WordPad, which comes with Windows, opens those types of files. Save your presentation as a GIF, JPG or PNG, and people can view them using their default image viewers. You'll find all these formats in the Save As window that appears after you click "File" and select "Save As" to save your presentation.
Microsoft Office: File Formats That Are Supported in PowerPoint 2010 - PowerPoint
Microsoft Office: Features That Change When You Open a PowerPoint 2010 Presentation in PowerPoint 2003 or Earlier - PowerPoint
After majoring in physics, Kevin Lee began writing professionally in 1989 when, as a software developer, he also created technical articles for the Johnson Space Center. Today this urban Texas cowboy continues to crank out high-quality software as well as non-technical articles covering a multitude of diverse topics ranging from gaming to current affairs.
Related Articles
What is the ppsx format, what media player is compatible with drop box video, how to play a powerpoint presentation on an ipad, what are benefits of powerpoint, what is the compatibility mode in microsoft excel, how to open word files in older versions of microsoft office word, how to open an emf, how to delete a registry entry to reconfigure office powerpoint, is wordpad compatible with word, most popular.
1 What Is the PPSX Format?
2 What Media Player Is Compatible With Drop Box Video?
3 How to Play a PowerPoint Presentation on an iPad
4 What Are Benefits of PowerPoint?