Research Process
Brainstorming
Explore Google This link opens in a new window
Explore Web Resources
Explore Background Information
Explore Books
Explore Scholarly Articles
Narrowing a Topic
Primary and Secondary Resources
Academic, Popular & Trade Publications
Scholarly and Peer-Reviewed Journals
Grey Literature
Clinical Trials
Evidence Based Treatment
Scholarly Research
Database Research Log
Search Limits
Keyword Searching
Boolean Operators
Phrase Searching
Truncation & Wildcard Symbols
Proximity Searching
Field Codes
Subject Terms and Database Thesauri
Reading a Scientific Article
Website Evaluation
Article Keywords and Subject Terms
Cited References
Citing Articles
Related Results
Search Within Publication
Database Alerts & RSS Feeds
Personal Database Accounts
Persistent URLs
Literature Gap and Future Research
Web of Knowledge
Annual Reviews
Systematic Reviews & Meta-Analyses
Finding Seminal Works
Exhausting the Literature
Finding Dissertations
Researching Theoretical Frameworks
Research Methods & Design
Tests and Measurements
Organizing Research & Citations This link opens in a new window
Scholarly Publication
Learn the Library This link opens in a new window
Research Articles
These examples below illustrate how researchers from different disciplines identified gaps in existing literature. For additional examples, try a NavigatorSearch using this search string: ("Literature review") AND (gap*)
Addressing the Recent Developments and Potential Gaps in the Literature of Corporate Sustainability
Applications of Psychological Science to Teaching and Learning: Gaps in the Literature
Attitudes, Risk Factors, and Behaviours of Gambling Among Adolescents and Young People: A Literature Review and Gap Analysis
Do Psychological Diversity Climate, HRM Practices, and Personality Traits (Big Five) Influence Multicultural Workforce Job Satisfaction and Performance? Current Scenario, Literature Gap, and Future Research Directions
Entrepreneurship Education: A Systematic Literature Review and Identification of an Existing Gap in the Field
Evidence and Gaps in the Literature on HIV/STI Prevention Interventions Targeting Migrants in Receiving Countries: A Scoping Review
Homeless Indigenous Veterans and the Current Gaps in Knowledge: The State of the Literature
A Literature Review and Gap Analysis of Emerging Technologies and New Trends in Gambling
A Review of Higher Education Image and Reputation Literature: Knowledge Gaps and a Research Agenda
Trends and Gaps in Empirical Research on Open Educational Resources (OER): A Systematic Mapping of the Literature from 2015 to 2019
Where Should We Go From Here? Identified Gaps in the Literature in Psychosocial Interventions for Youth With Autism Spectrum Disorder and Comorbid Anxiety
What is a 'gap in the literature'?
The gap, also considered the missing piece or pieces in the research literature, is the area that has not yet been explored or is under-explored. This could be a population or sample (size, type, location, etc.), research method, data collection and/or analysis, or other research variables or conditions.
It is important to keep in mind, however, that just because you identify a gap in the research, it doesn't necessarily mean that your research question is worthy of exploration. You will want to make sure that your research will have valuable practical and/or theoretical implications. In other words, answering the research question could either improve existing practice and/or inform professional decision-making (Applied Degree), or it could revise, build upon, or create theoretical frameworks informing research design and practice (Ph.D Degree). See the Dissertation Center for additional information about dissertation criteria at NU.
For a additional information on gap statements, see the following:
How to Find a Gap in the Literature
Write Like a Scientist: Gap Statements
How do you identify the gaps?
Conducting an exhaustive literature review is your first step. As you search for journal articles, you will need to read critically across the breadth of the literature to identify these gaps. You goal should be to find a 'space' or opening for contributing new research. The first step is gathering a broad range of research articles on your topic. You may want to look for research that approaches the topic from a variety of methods – qualitative, quantitative, or mixed methods.
See the videos below for further instruction on identifying a gap in the literature.
Identifying a Gap in the Literature - Dr. Laurie Bedford
How Do You Identify Gaps in Literature? - SAGE Research Methods
Literature Gap & Future Research - Library Workshop
This workshop presents effective search techniques for identifying a gap in the literature and recommendations for future research.
Where can you locate research gaps?
As you begin to gather the literature, you will want to critically read for what has, and has not, been learned from the research. Use the Discussion and Future Research sections of the articles to understand what the researchers have found and where they point out future or additional research areas. This is similar to identifying a gap in the literature, however, future research statements come from a single study rather than an exhaustive search. You will want to check the literature to see if those research questions have already been answered.
Roadrunner Search
Identifying the gap in the research relies on an exhaustive review of the literature. Remember, researchers may not explicitly state that a gap in the literature exists; you may need to thoroughly review and assess the research to make that determination yourself.
However, there are techniques that you can use when searching in NavigatorSearch to help identify gaps in the literature. You may use search terms such as "literature gap " or "future research" "along with your subject keywords to pinpoint articles that include these types of statements.
Was this resource helpful?
<< Previous: Resources for a Literature Review
Next: Web of Knowledge >>
Last Updated: Nov 29, 2023 5:42 PM
URL: https://resources.nu.edu/researchprocess
The Research Gap (Literature Gap)
Everything you need to know to find a quality research gap
By: Ethar Al-Saraf (PhD) | Expert Reviewed By: Eunice Rautenbach (DTech) | November 2022
If you're just starting out in research, chances are you've heard about the elusive research gap (also called a literature gap). In this post, we'll explore the tricky topic of research gaps. We'll explain what a research gap is, look at the four most common types of research gaps, and unpack how you can go about finding a suitable research gap for your dissertation, thesis or research project.
Overview: Research Gap 101
What is a research gap
Four common types of research gaps
How to find research gaps
Recap & key takeaways
What (exactly) is a research gap?
Well, at the simplest level, a research gap is essentially an unanswered question or unresolved problem in a field, which reflects a lack of existing research in that space. Alternatively, a research gap can also exist when there's already a fair deal of existing research, but where the findings of the studies pull in different directions , making it difficult to draw firm conclusions.
For example, let's say your research aims to identify the cause (or causes) of a particular disease. Upon reviewing the literature, you may find that there's a body of research that points toward cigarette smoking as a key factor – but at the same time, a large body of research that finds no link between smoking and the disease. In that case, you may have something of a research gap that warrants further investigation.
Now that we've defined what a research gap is – an unanswered question or unresolved problem – let's look at a few different types of research gaps.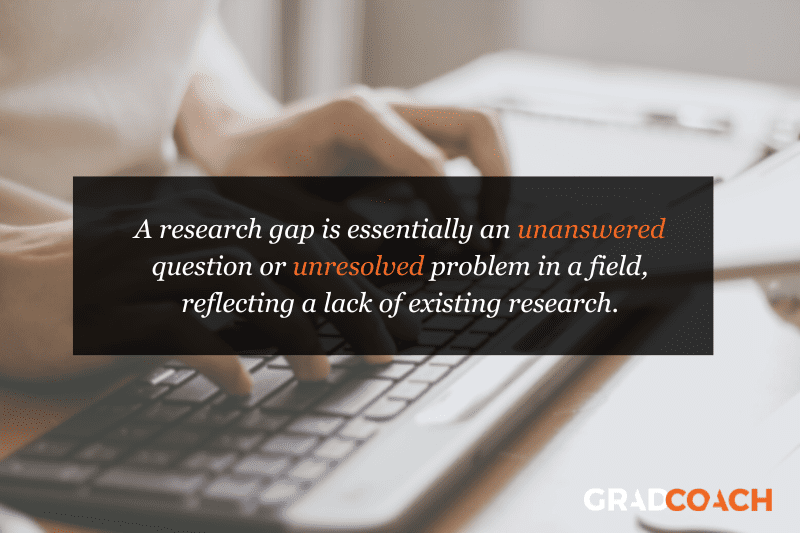 The different types of research gaps
While there are many different types of research gaps, the four most common ones we encounter when helping students at Grad Coach are as follows:
The classic literature gap
The disagreement gap
The contextual gap, and
The methodological gap
Need a helping hand?
1. The Classic Literature Gap
First up is the classic literature gap. This type of research gap emerges when there's a new concept or phenomenon that hasn't been studied much, or at all. For example, when a social media platform is launched, there's an opportunity to explore its impacts on users, how it could be leveraged for marketing, its impact on society, and so on. The same applies for new technologies, new modes of communication, transportation, etc.
Classic literature gaps can present exciting research opportunities , but a drawback you need to be aware of is that with this type of research gap, you'll be exploring completely new territory . This means you'll have to draw on adjacent literature (that is, research in adjacent fields) to build your literature review, as there naturally won't be very many existing studies that directly relate to the topic. While this is manageable, it can be challenging for first-time researchers, so be careful not to bite off more than you can chew.
2. The Disagreement Gap
As the name suggests, the disagreement gap emerges when there are contrasting or contradictory findings in the existing research regarding a specific research question (or set of questions). The hypothetical example we looked at earlier regarding the causes of a disease reflects a disagreement gap.
Importantly, for this type of research gap, there needs to be a relatively balanced set of opposing findings . In other words, a situation where 95% of studies find one result and 5% find the opposite result wouldn't quite constitute a disagreement in the literature. Of course, it's hard to quantify exactly how much weight to give to each study, but you'll need to at least show that the opposing findings aren't simply a corner-case anomaly .
3. The Contextual Gap
The third type of research gap is the contextual gap. Simply put, a contextual gap exists when there's already a decent body of existing research on a particular topic, but an absence of research in specific contexts .
For example, there could be a lack of research on:
A specific population – perhaps a certain age group, gender or ethnicity
A geographic area – for example, a city, country or region
A certain time period – perhaps the bulk of the studies took place many years or even decades ago and the landscape has changed.
The contextual gap is a popular option for dissertations and theses, especially for first-time researchers, as it allows you to develop your research on a solid foundation of existing literature and potentially even use existing survey measures.
Importantly, if you're gonna go this route, you need to ensure that there's a plausible reason why you'd expect potential differences in the specific context you choose. If there's no reason to expect different results between existing and new contexts, the research gap wouldn't be well justified. So, make sure that you can clearly articulate why your chosen context is "different" from existing studies and why that might reasonably result in different findings.
4. The Methodological Gap
Last but not least, we have the methodological gap. As the name suggests, this type of research gap emerges as a result of the research methodology or design of existing studies. With this approach, you'd argue that the methodology of existing studies is lacking in some way , or that they're missing a certain perspective.
For example, you might argue that the bulk of the existing research has taken a quantitative approach, and therefore there is a lack of rich insight and texture that a qualitative study could provide. Similarly, you might argue that existing studies have primarily taken a cross-sectional approach , and as a result, have only provided a snapshot view of the situation – whereas a longitudinal approach could help uncover how constructs or variables have evolved over time.
How To Find A Research Gap
Now that you've got a clearer picture of the different types of research gaps, the next question is of course, "how do you find these research gaps?" .
Well, we cover the process of how to find original, high-value research gaps in a separate post . But, for now, I'll share a basic two-step strategy here to help you find potential research gaps.
As a starting point, you should find as many literature reviews, systematic reviews and meta-analyses as you can, covering your area of interest. Additionally, you should dig into the most recent journal articles to wrap your head around the current state of knowledge. It's also a good idea to look at recent dissertations and theses (especially doctoral-level ones). Dissertation databases such as ProQuest, EBSCO and Open Access are a goldmine for this sort of thing. Importantly, make sure that you're looking at recent resources (ideally those published in the last year or two), or the gaps you find might have already been plugged by other researchers.
Once you've gathered a meaty collection of resources, the section that you really want to focus on is the one titled " further research opportunities " or "further research is needed". In this section, the researchers will explicitly state where more studies are required – in other words, where potential research gaps may exist. You can also look at the " limitations " section of the studies, as this will often spur ideas for methodology-based research gaps.
By following this process, you'll orient yourself with the current state of research , which will lay the foundation for you to identify potential research gaps. You can then start drawing up a shortlist of ideas and evaluating them as candidate topics . But remember, make sure you're looking at recent articles – there's no use going down a rabbit hole only to find that someone's already filled the gap 🙂
Let's Recap
We've covered a lot of ground in this post. Here are the key takeaways:
A research gap is an unanswered question or unresolved problem in a field, which reflects a lack of existing research in that space.
The four most common types of research gaps are the classic literature gap, the disagreement gap, the contextual gap and the methodological gap. 
To find potential research gaps, start by reviewing recent journal articles in your area of interest, paying particular attention to the FRIN section .
If you're keen to learn more about research gaps and research topic ideation in general, be sure to check out the rest of the Grad Coach Blog . Alternatively, if you're looking for 1-on-1 support with your dissertation, thesis or research project, be sure to check out our private coaching service .
Psst… there's more (for free)
This post is part of our dissertation mini-course, which covers everything you need to get started with your dissertation, thesis or research project. 
You Might Also Like:
24 Comments
This post is REALLY more than useful, Thank you very very much
Very helpful specialy, for those who are new for writing a research! So thank you very much!!
I found it very helpful article. Thank you.
Just at the time when I needed it, really helpful.
Very helpful and well-explained. Thank you
VERY HELPFUL
We're very grateful for your guidance, indeed we have been learning a lot from you , so thank you abundantly once again.
hello brother could you explain to me this question explain the gaps that researchers are coming up with ?
Am just starting to write my research paper. your publication is very helpful. Thanks so much
How to cite the author of this?
your explanation very help me for research paper. thank you
Very important presentation. Thanks.
Best Ideas. Thank you.
I found it's an excellent blog to get more insights about the Research Gap. I appreciate it!
Kindly explain to me how to generate good research objectives.
This is very helpful, thank you
Very helpful, thank you.
Thanks a lot for this great insight!
This is really helpful indeed!
This article is really helpfull in discussing how will we be able to define better a research problem of our interest. Thanks so much.
Reading this just in good time as i prepare the proposal for my PhD topic defense.
Very helpful Thanks a lot.
Thank you very much
Submit a Comment Cancel reply
Your email address will not be published. Required fields are marked *
Save my name, email, and website in this browser for the next time I comment.

UNE Library Services
Research Help
Gaps in the literature.
Gaps in the literature are missing pieces or insufficient information in the published research on a topic. These are areas that have opportunities for further research because they are unexplored, under-explored, or outdated.
Finding Gaps
Gaps can be missing or incomplete:
Population or sample: size, type, location etc…
Research methods: qualitative, quantitative, or mixed
Data collection or analysis
Research variables or conditions
Conduct a thorough literature search to find a broad range of research articles on your topic. Search research databases ; you can find recommended databases for your subject area in research by subject for your course or program.
Identifying Gaps
If you do not find articles in your literature search, this may indicate a gap.
If you do find articles, the goal is to find a gap for contributing new research. Authors signal that there is a gap using words such as:
Has not been clarified, studied, reported, or elucidated
Further research is required or needed
Is not well reported
Suggestions for further research
Key question is or remains
It is important to address
Poorly understood or known
Lack of studies
These findings provide valuable insights into the potential benefits of mindfulness-based interventions for stress management,however, further study is needed to address several limitations and extend our understanding in this area .
While this study provides preliminary evidence of the potential efficacy of VRET in reducing PTSD symptoms, several aspects related to its implementation and specific treatment outcomes  remain inadequately clarified, highlighting the need for further research .
Although the studies reviewed provide valuable insights into the potential effects of climate change on species composition and ecosystem functioning.  The question of how climate change will interact with other anthropogenic stressors to influence the resilience and adaptive capacity of tropical rainforest ecosystems remains unanswered, highlighting the need for further research .
Questions & Help
If you have questions on this, or another, topic, contact a librarian for help!
Shapiro Library
SNHU Library Frequently Asked Questions
FAQ: What is a research gap and how do I find one?
5 Academic Integrity & Plagiarism
62 Academic Support, Writing Help, & Presentation Help
27 Access/Remote Access
7 Accessibility
9 Building/Facilities
8 Career/Job Information
26 Catalog/Print Books
28 Circulation
126 Citing Sources
14 Copyright
309 Databases
24 Directions/Location
18 Faculty Resources/Needs
7 Hours/Contacts
19 Innovation Lab & Makerspace/3D Printing
25 Interlibrary Loan
43 IT/Computer/Printing Support
3 Library Instruction
40 Library Technology Help
8 Multimedia
16 Online Programs
20 Periodicals
25 Policies
8 RefWorks/Citation Managers
5 Research Guides (LibGuides)
220 Research Help
2 Social Media
23 University Services
1 Workshops/Events
Last Updated: Jun 27, 2023 Views: 419729
What is a research gap.
A research gap is a question or a problem that has not been answered by any of the existing studies or research within your field. Sometimes, a research gap exists when there is a concept or new idea that hasn't been studied at all. Sometimes you'll find a research gap if all the existing research is outdated and in need of new/updated research (studies on Internet use in 2001, for example). Or, perhaps a specific population has not been well studied (perhaps there are plenty of studies on teenagers and video games, but not enough studies on toddlers and video games, for example). These are just a few examples, but any research gap you find is an area where more studies and more research need to be conducted. Please view this video clip from our Sage Research Methods database for more helpful information: How Do You Identify Gaps in Literature?
How do I find one?
It will take a lot of research and reading. You'll need to be very familiar with all the studies that have already been done, and what those studies contributed to the overall body of knowledge about that topic. Make a list of any questions you have about your topic and then do some research to see if those questions have already been answered satisfactorily. If they haven't, perhaps you've discovered a gap! Here are some strategies you can use to make the most of your time:
One useful trick is to look at the "suggestions for future research" or conclusion section of existing studies on your topic. Many times, the authors will identify areas where they think a research gap exists, and what studies they think need to be done in the future.
As you are researching, you will most likely come across citations for seminal works in your research field. These are the research studies that you see mentioned again and again in the literature. In addition to finding those and reading them, you can use a database like Web of Science to follow the research trail and discover all the other articles that have cited these. See the FAQ: I found the perfect article for my paper. How do I find other articles and books that have cited it? on how to do this. One way to quickly track down these seminal works is to use a database like SAGE Navigator, a social sciences literature review tool. It is one of the products available via our SAGE Knowledge database.
In the PsycINFO and PsycARTICLES databases, you can select literature review, systematic review, and meta analysis under the Methodology section in the advanced search to quickly locate these. See the FAQ: Where can I find a qualitative or quantitative study? for more information on how to find the Methodology section in these two databases.
In CINAHL , you can select Systematic review under the Publication Type field in the advanced search.
In Web of Science , check the box beside Review under the Document Type heading in the "Refine Results" sidebar to the right of the list of search hits.
If the database you are searching does not offer a way to filter your results by document type, publication type, or methodology in the advanced search, you can include these phrases ("literature reviews," meta-analyses, or "systematic reviews") in your search string. For example, "video games" AND "literature reviews" could be a possible search that you could try.
Please give these suggestions a try and contact a librarian for additional assistance.
Content authored by: GS
Was this helpful? Yes 341 No 145
Frequently Asked Questions (FAQs) are a self-serve option for users to search and find answers to their questions.
Use the search box above to type your question to search for an answer or browse existing FAQs by group, topic, etc.
Tell Me More
Link to Question Form
More assistance.
Submit a Question
Related FAQs
Identifying Research Gaps to Pursue Innovative Research
This article is an excerpt from a lecture given by my Ph.D. guide, a researcher in public health. She advised us on how to identify research gaps to pursue innovative research in our fields.
What is a Research Gap?
Today we are talking about the research gap: what is it, how to identify it, and how to make use of it so that you can pursue innovative research. Now, how many of you have ever felt you had discovered a new and exciting research question , only to find that it had already been written about? I have experienced this more times than I can count. Graduate studies come with pressure to add new knowledge to the field. We can contribute to the progress and knowledge of humanity. To do this, we need to first learn to identify research gaps in the existing literature.
A research gap is, simply, a topic or area for which missing or insufficient information limits the ability to reach a conclusion for a question. It should not be confused with a research question, however. For example, if we ask the research question of what the healthiest diet for humans is, we would find many studies and possible answers to this question. On the other hand, if we were to ask the research question of what are the effects of antidepressants on pregnant women, we would not find much-existing data. This is a research gap. When we identify a research gap, we identify a direction for potentially new and exciting research.
How to Identify Research Gap?
Considering the volume of existing research, identifying research gaps can seem overwhelming or even impossible. I don't have time to read every paper published on public health. Similarly, you guys don't have time to read every paper. So how can you identify a research gap?
There are different techniques in various disciplines, but we can reduce most of them down to a few steps, which are:
Identify your key motivating issue/question
Identify key terms associated with this issue
Review the literature, searching for these key terms and identifying relevant publications
Review the literature cited by the key publications which you located in the above step
Identify issues not addressed by  the literature relating to your critical  motivating issue
It is the last step which we all find the most challenging. It can be difficult to figure out what an article is  not  saying. I like to keep a list of notes of biased or inconsistent information. You could also track what authors write as "directions for future research," which often can point us towards the existing gaps.
Different Types of Research Gaps
Identifying research gaps is an essential step in conducting research, as it helps researchers to refine their research questions and to focus their research efforts on areas where there is a need for more knowledge or understanding.
1. Knowledge gaps
These are gaps in knowledge or understanding of a subject, where more research is needed to fill the gaps. For example, there may be a lack of understanding of the mechanisms behind a particular disease or how a specific technology works.
2. Conceptual gaps
These are gaps in the conceptual framework or theoretical understanding of a subject. For example, there may be a need for more research to understand the relationship between two concepts or to refine a theoretical framework.
3. Methodological gaps
These are gaps in the methods used to study a particular subject. For example, there may be a need for more research to develop new research methods or to refine existing methods to address specific research questions.
4. Data gaps
These are gaps in the data available on a particular subject. For example, there may be a need for more research to collect data on a specific population or to develop new measures to collect data on a particular construct.
5. Practical gaps
These are gaps in the application of research findings to practical situations. For example, there may be a need for more research to understand how to implement evidence-based practices in real-world settings or to identify barriers to implementing such practices.
Examples of Research Gap
Limited understanding of the underlying mechanisms of a disease:.
Despite significant research on a particular disease, there may be a lack of understanding of the underlying mechanisms of the disease. For example, although much research has been done on Alzheimer's disease, the exact mechanisms that lead to the disease are not yet fully understood.
Inconsistencies in the findings of previous research:
When previous research on a particular topic has inconsistent findings, there may be a need for further research to clarify or resolve these inconsistencies. For example, previous research on the effectiveness of a particular treatment for a medical condition may have produced inconsistent findings, indicating a need for further research to determine the true effectiveness of the treatment.
Limited research on emerging technologies:
As new technologies emerge, there may be limited research on their applications, benefits, and potential drawbacks. For example, with the increasing use of artificial intelligence in various industries, there is a need for further research on the ethical, legal, and social implications of AI.
How to Deal with Literature Gap?
Once you have identified the literature gaps, it is critical to prioritize. You may find many questions which remain to be answered in the literature. Often one question must be answered before the next can be addressed. In prioritizing the gaps, you have identified, you should consider your funding agency or stakeholders, the needs of the field, and the relevance of your questions to what is currently being studied. Also, consider your own resources and ability to conduct the research you're considering. Once you have done this, you can narrow your search down to an appropriate question.
Tools to Help Your Search
There are thousands of new articles published every day, and staying up to date on the literature can be overwhelming. You should take advantage of the technology that is available. Some services include  PubCrawler ,  Feedly ,  Google Scholar , and PubMed updates. Stay up to date on social media forums where scholars share new discoveries, such as Twitter. Reference managers such as  Mendeley  can help you keep your references well-organized. I personally have had success using Google Scholar and PubMed to stay current on new developments and track which gaps remain in my personal areas of interest.
The most important thing I want to impress upon you today is that you will struggle to  choose a research topic  that is innovative and exciting if you don't know the existing literature well. This is why identifying research gaps starts with an extensive and thorough  literature review . But give yourself some boundaries.  You don't need to read every paper that has ever been written on a topic. You may find yourself thinking you're on the right track and then suddenly coming across a paper that you had intended to write! It happens to everyone- it happens to me quite often. Don't give up- keep reading and you'll find what you're looking for.
Class dismissed!
How do you identify research gaps? Share your thoughts in the comments section below.
Frequently Asked Questions
A research gap can be identified by looking for a topic or area with missing or insufficient information that limits the ability to reach a conclusion for a question.
Identifying a research gap is important as it provides a direction for potentially new research or helps bridge the gap in existing literature.
Gap in research is a topic or area with missing or insufficient information. A research gap limits the ability to reach a conclusion for a question.
Thank u for your suggestion.
Very useful tips specially for a beginner
Thank you. This is helpful. I find that I'm overwhelmed with literatures. As I read on a particular topic, and in a particular direction I find that other conflicting issues, topic a and ideas keep popping up, making me more confused.
I am very grateful for your advice. It's just on point.
The clearest, exhaustive, and brief explanation I have ever read.
Thanks for sharing
Thank you very much.The work is brief and understandable
Thank you it is very informative
Thanks for sharing this educative article
Thank you for such informative explanation.
Great job smart guy! Really outdid yourself!
Nice one! I thank you for this as it is just what I was looking for!😃🤟
Thank you so much for this. Much appreciated
Rate this article Cancel Reply
Your email address will not be published.
Enago Academy's Most Popular
Research Recommendations – Guiding policy-makers for evidence-based decision making
Research recommendations play a crucial role in guiding scholars and researchers toward fruitful avenues of…
Concept Papers in Research: Deciphering the blueprint of brilliance
Concept papers hold significant importance as a precursor to a full-fledged research proposal in academia…
8 Effective Strategies to Write Argumentative Essays
In a bustling university town, there lived a student named Alex. Popular for creativity and…
Disclosing the Use of Generative AI: Best practices for authors in manuscript preparation
The rapid proliferation of generative and other AI-based tools in research writing has ignited an…
Setting Rationale in Research: Cracking the code for excelling at research
Knowledge and curiosity lays the foundation of scientific progress. The quest for knowledge has always…
Intersectionality in Academia: Dealing with diverse perspectives
Meritocracy and Diversity in Science: Increasing inclusivity in STEM education
Avoiding the AI Trap: Pitfalls of relying on ChatGPT for PhD applications
10 Ways to Help Students Restore Focus on Learning
Sign-up to read more
Subscribe for free to get unrestricted access to all our resources on research writing and academic publishing including:
2000+ blog articles
50+ Webinars
10+ Expert podcasts
50+ Infographics
10+ Checklists
Research Guides
We hate spam too. We promise to protect your privacy and never spam you.
I am looking for Editing/ Proofreading services for my manuscript Tentative date of next journal submission:
What support would you need for successful conference participation?

Publication
Development
Editing Services
What are the different types of research gaps in the literature review?
What is the research gap in literature review?
The purpose of a literature review is not only to examine the past available literature but also identifying gaps in the literature.
According to Robinson et al., a research gap arises 'when the capability of the reviewer to draw conclusions from existing studies is limited.' A research gap forms a starting point for conducting further research.
While a research gap in literature review can be considered an 'output' of a literature review, it can also be considered an 'input' that motivates further research (Bloch, 2015).
One needs careful planning and organisation for writing a research gap. For more guidance on writing one, check out our study guide on How to write a research gap for a literature review?
Types of research gaps
Research gaps can also arise due to contradictory findings, changing trends and unanswered questions. Classification of research gaps facilitates convenience and can be classified as follows:-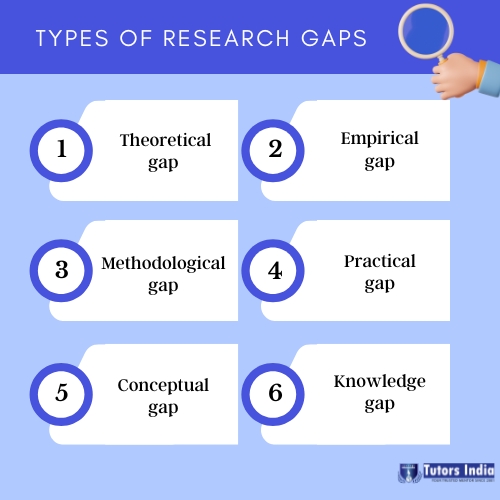 1.Theoretical gap: A gap in existing theories and models in the field that has not been effectively addressed is known as a theoretical gap or theory application void gap.
It can be identified through a literature review, where the researcher examines the existing literature on the research topic and identifies inconsistencies, limitations, and gaps in the research.
Example: In economics and finance , a theoretical gap arises when there is a lack of understanding of the factors that lead to financial bubbles, characterised by periods of a stark increase in prices followed by a decline.
2.Empirical gap: The term "empirical gap" refers to the missing or undiscovered components of a phenomenon that can be addressed through empirical research. When the available data or empirical research is unable to answer specific research questions, a gap results, known as an empirical gap or empirical void gap.
For instance, a study conducted by Goh and Lee (2020) on the impact of social media on consumer behaviour found that there is a lack of research on the role of social media influencers in shaping consumer behaviour for availing services and purchasing products. This can be considered an empirical gap that can be addressed through new empirical research.
An example of an empirical gap is understanding the environmental, social and governance (ESG) factors and financial performance. Some studies reveal a positive connection between strong ESG practices and financial performance, whereas others find no or even a negative association.
For guidance on empirical research in economics dissertation, check out our blog on How to build empirical modelling for economic dissertation research .
3.Methodological gap: A methodological gap, or method and research design gap, is a gap in the research procedures and techniques employed in previous studies that may affect the precision and reliability of the findings. This can impair the accuracy of analysis, limit the scope of research, and hinder the development of robust models or solutions in the field of finance.
Sometimes, researchers conducting research in finance may lack the necessary data, leading to methodological research gaps. Limited data hinders the ability to conduct further research, leading to a methodological gap.
4.Practical gap: Practical gap arises when there is a discrepancy between theory and practice, where there is a necessity to conduct further research to address this gap and improve the application of the theoretical findings into practice. A practical gap is also called Practical-Knowledge Gap or Action-Knowledge-Conflict Gap.
An example of a practical gap in finance is the access and utilisation of financial education programs, workshops and online resources that can help individuals to gain and apply knowledge to manage their finances effectively. This gap occurs since financial literacy varies between populations.
5.Conceptual gap: Conceptual gaps occur when there is inconsistency or ambiguity in a concept's definition, interpretation, or application, resulting in confusion and misunderstanding. Conceptual gaps lead to inconsistent or unclear definitions and interpretations.
For instance, there is a conceptual gap in building frameworks that explicitly recognise the crucial role of managing stakeholders and creating value for long-term financial performance and sustainable growth.
Another example of a conceptual gap is the f uture applications of financial instruments , where the definition of financial instruments was not clear till Brown gave one for understanding .    
6.Knowledge gap: A knowledge gap is the difference between what is known and what needs to be known about a specific topic. A knowledge gap can occur for various reasons, including insufficient or incomplete information, contradictory information, limited research, and outdated information.
To identify a knowledge gap, researchers must extensively examine the available literature and identify areas where additional study is required. They can also conduct surveys or interviews to examine the general public's or specialists' knowledge and awareness of a specific problem. Addressing a knowledge gap leads to advancing knowledge in a particular field and gives rise to new concepts, theories or practices.
An example of a knowledge gap is the effect of emerging financial technologies on traditional banking systems. There is a greater risk for cybersecurity, like identity theft, data breaches and cyber threats, and researchers can study the risks of financial technologies and offer management strategies for customers and financial institutions (Kavuri, 2019).
A research gap occurs when a researcher is unable to draw conclusions from existing literature. Identifying gaps in literature is crucial for a literature review. There are various types of research gaps that include theoretical gas, empirical gaps, methodological gaps, practical gaps, conceptual gaps and knowledge gaps. Addressing these types of research gaps can significantly add to the existing body of knowledge and lead to knowledge advancement in a given field.
We are a team of professional academic writers who assist Master's students in writing a literature review from various specialisations. We guide students in writing a literature review dissertation and coursework, offer study guides and samples and ensure that the students comply with their university guidelines. We also offer editing and proofreading services, which ensure the literature review is error-free and plagiarism-free. In addition, we offer numerous examples that will help students write a well-structured literature review.
To learn more about how a literature review is written in various disciplines, check out our literature review examples .
References:
Müller-Bloch, C., & Kranz, J. (2015). A framework for rigorously identifying research gaps in qualitative literature reviews.
Kavuri, Anil Savio and Milne, Alistair K. L., Fintech and the Future of Financial Services: What Are the Research Gaps? (February 13, 2019). CAMA Working Paper No. 18/2019
conceptual gap
empirical gap
gaps in literature
knowledge gap
literature review
literature review examples
methodological gap
practical gap
research gap
research gap in literature review
theoretical gap
types of research gaps
What is research gap in literature review
writing a literature review dissertation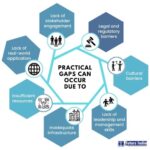 Comments are closed.
Enquire Now
Recent posts.
Do's and Don'ts of Writing a Dissertation Methodology for Management Research
Future Research Directions on the Applications of AI in imaging and diagnosis
Exploring the Use of Art Therapy for Adolescents with Mental Health Conditions
SHRM practices for Enhancing Organisational Performance
Optimizing Learning Outcomes in Programming Education: A Multifaceted Approach
Dissertation Writing Journey
The purpose of a research proposal in dissertation writing.
Tutors India, is world's reputed academic guidance provider for the past 15 years have guided more than 4,500 Ph.D. scholars and 10,500 Masters Students across the globe.
FUNCTIONAL AREA
– Masters Dissertation Writing
– PhD/DBA Dissertation Writing
– Coursework Writing
– Publication Support
– Development Services
– Dissertation Editing/Rewriting
– Assignment Writing
– Dissertation Writing
– PhD Dissertation Writing
CORPORATE OFFICE
#10, Kutty Street,
Nungambakkam, Chennai,
India No : +91 8754446690,
UK No : +44-1143520021,
US No : +1-9725029262
Email: [email protected]
Website: www.tutorsindia.com
© 2023 TutorsIndia. All Rights Reserved.