All You Wanted to Know About How to Write a Case Study
What do you study in your college? If you are a psychology, sociology, or anthropology student, we bet you might be familiar with what a case study is. This research method is used to study a certain person, group, or situation. In this guide from our dissertation writing service , you will learn how to write a case study professionally, from researching to citing sources properly. Also, we will explore different types of case studies and show you examples — so that you won't have any other questions left.
What Is a Case Study?
A case study is a subcategory of research design which investigates problems and offers solutions. Case studies can range from academic research studies to corporate promotional tools trying to sell an idea—their scope is quite vast.
What Is the Difference Between a Research Paper and a Case Study?
While research papers turn the reader's attention to a certain problem, case studies go even further. Case study guidelines require students to pay attention to details, examining issues closely and in-depth using different research methods. For example, case studies may be used to examine court cases if you study Law, or a patient's health history if you study Medicine. Case studies are also used in Marketing, which are thorough, empirically supported analysis of a good or service's performance. Well-designed case studies can be valuable for prospective customers as they can identify and solve the potential customers pain point.
Case studies involve a lot of storytelling – they usually examine particular cases for a person or a group of people. This method of research is very helpful, as it is very practical and can give a lot of hands-on information. Most commonly, the length of the case study is about 500-900 words, which is much less than the length of an average research paper.
The structure of a case study is very similar to storytelling. It has a protagonist or main character, which in your case is actually a problem you are trying to solve. You can use the system of 3 Acts to make it a compelling story. It should have an introduction, rising action, a climax where transformation occurs, falling action, and a solution.
Here is a rough formula for you to use in your case study:
Problem (Act I): > Solution (Act II) > Result (Act III) > Conclusion.
Types of Case Studies
The purpose of a case study is to provide detailed reports on an event, an institution, a place, future customers, or pretty much anything. There are a few common types of case study, but the type depends on the topic. The following are the most common domains where case studies are needed:
Historical case studies are great to learn from. Historical events have a multitude of source info offering different perspectives. There are always modern parallels where these perspectives can be applied, compared, and thoroughly analyzed.
Problem-oriented case studies are usually used for solving problems. These are often assigned as theoretical situations where you need to immerse yourself in the situation to examine it. Imagine you're working for a startup and you've just noticed a significant flaw in your product's design. Before taking it to the senior manager, you want to do a comprehensive study on the issue and provide solutions. On a greater scale, problem-oriented case studies are a vital part of relevant socio-economic discussions.
Cumulative case studies collect information and offer comparisons. In business, case studies are often used to tell people about the value of a product.
Critical case studies explore the causes and effects of a certain case.
Illustrative case studies describe certain events, investigating outcomes and lessons learned.
Case Study Format
The case study format is typically made up of eight parts:
Executive Summary. Explain what you will examine in the case study. Write an overview of the field you're researching. Make a thesis statement and sum up the results of your observation in a maximum of 2 sentences.
Background. Provide background information and the most relevant facts. Isolate the issues.
Case Evaluation. Isolate the sections of the study you want to focus on. In it, explain why something is working or is not working.
Proposed Solutions. Offer realistic ways to solve what isn't working or how to improve its current condition. Explain why these solutions work by offering testable evidence.
Conclusion. Summarize the main points from the case evaluations and proposed solutions. 6. Recommendations. Talk about the strategy that you should choose. Explain why this choice is the most appropriate.
Implementation. Explain how to put the specific strategies into action.
References. Provide all the citations.
How to Write a Case Study
Let's discover how to write a case study.
Setting Up the Research
When writing a case study, remember that research should always come first. Reading many different sources and analyzing other points of view will help you come up with more creative solutions. You can also conduct an actual interview to thoroughly investigate the customer story that you'll need for your case study. Including all of the necessary research, writing a case study may take some time. The research process involves doing the following:
Define your objective. Explain the reason why you're presenting your subject. Figure out where you will feature your case study; whether it is written, on video, shown as an infographic, streamed as a podcast, etc.
Determine who will be the right candidate for your case study. Get permission, quotes, and other features that will make your case study effective. Get in touch with your candidate to see if they approve of being part of your work. Study that candidate's situation and note down what caused it.
Identify which various consequences could result from the situation. Follow these guidelines on how to start a case study: surf the net to find some general information you might find useful.
Make a list of credible sources and examine them. Seek out important facts and highlight problems. Always write down your ideas and make sure to brainstorm.
Focus on several key issues – why they exist, and how they impact your research subject. Think of several unique solutions. Draw from class discussions, readings, and personal experience. When writing a case study, focus on the best solution and explore it in depth. After having all your research in place, writing a case study will be easy. You may first want to check the rubric and criteria of your assignment for the correct case study structure.
Read Also: 'CREDIBLE SOURCES: WHAT ARE THEY?'
Although your instructor might be looking at slightly different criteria, every case study rubric essentially has the same standards. Your professor will want you to exhibit 8 different outcomes:
Correctly identify the concepts, theories, and practices in the discipline.
Identify the relevant theories and principles associated with the particular study.
Evaluate legal and ethical principles and apply them to your decision-making.
Recognize the global importance and contribution of your case.
Construct a coherent summary and explanation of the study.
Demonstrate analytical and critical-thinking skills.
Explain the interrelationships between the environment and nature.
Integrate theory and practice of the discipline within the analysis.
Need Case Study DONE FAST?
Pick a topic, tell us your requirements and get your paper on time.
Case Study Outline
Let's look at the structure of an outline based on the issue of the alcoholic addiction of 30 people.
Introduction
Statement of the issue: Alcoholism is a disease rather than a weakness of character.
Presentation of the problem: Alcoholism is affecting more than 14 million people in the USA, which makes it the third most common mental illness there.
Explanation of the terms: In the past, alcoholism was commonly referred to as alcohol dependence or alcohol addiction. Alcoholism is now the more severe stage of this addiction in the disorder spectrum.
Hypotheses: Drinking in excess can lead to the use of other drugs.
Importance of your story: How the information you present can help people with their addictions.
Background of the story: Include an explanation of why you chose this topic.
Presentation of analysis and data: Describe the criteria for choosing 30 candidates, the structure of the interview, and the outcomes.
Strong argument 1: ex. X% of candidates dealing with anxiety and depression...
Strong argument 2: ex. X amount of people started drinking by their mid-teens.
Strong argument 3: ex. X% of respondents' parents had issues with alcohol.
Concluding statement: I have researched if alcoholism is a disease and found out that…
Recommendations: Ways and actions for preventing alcohol use.
Writing a Case Study Draft
After you've done your case study research and written the outline, it's time to focus on the draft. In a draft, you have to develop and write your case study by using: the data which you collected throughout the research, interviews, and the analysis processes that were undertaken. Follow these rules for the draft:
Your draft should contain at least 4 sections: an introduction; a body where you should include background information, an explanation of why you decided to do this case study, and a presentation of your main findings; a conclusion where you present data; and references.
In the introduction, you should set the pace very clearly. You can even raise a question or quote someone you interviewed in the research phase. It must provide adequate background information on the topic. The background may include analyses of previous studies on your topic. Include the aim of your case here as well. Think of it as a thesis statement. The aim must describe the purpose of your work—presenting the issues that you want to tackle. Include background information, such as photos or videos you used when doing the research.
Describe your unique research process, whether it was through interviews, observations, academic journals, etc. The next point includes providing the results of your research. Tell the audience what you found out. Why is this important, and what could be learned from it? Discuss the real implications of the problem and its significance in the world.
Include quotes and data (such as findings, percentages, and awards). This will add a personal touch and better credibility to the case you present. Explain what results you find during your interviews in regards to the problem and how it developed. Also, write about solutions which have already been proposed by other people who have already written about this case.
At the end of your case study, you should offer possible solutions, but don't worry about solving them yourself.
Use Data to Illustrate Key Points in Your Case Study
Even though your case study is a story, it should be based on evidence. Use as much data as possible to illustrate your point. Without the right data, your case study may appear weak and the readers may not be able to relate to your issue as much as they should. Let's see the examples from essay writing service :
‍ With data: Alcoholism is affecting more than 14 million people in the USA, which makes it the third most common mental illness there. Without data: A lot of people suffer from alcoholism in the United States.
Try to include as many credible sources as possible. You may have terms or sources that could be hard for other cultures to understand. If this is the case, you should include them in the appendix or Notes for the Instructor or Professor.
Finalizing the Draft: Checklist
After you finish drafting your case study, polish it up by answering these 'ask yourself' questions and think about how to end your case study:
Check that you follow the correct case study format, also in regards to text formatting.
Check that your work is consistent with its referencing and citation style.
Micro-editing — check for grammar and spelling issues.
Macro-editing — does 'the big picture' come across to the reader? Is there enough raw data, such as real-life examples or personal experiences? Have you made your data collection process completely transparent? Does your analysis provide a clear conclusion, allowing for further research and practice?
Problems to avoid:
Overgeneralization – Do not go into further research that deviates from the main problem.
Failure to Document Limitations – Just as you have to clearly state the limitations of a general research study, you must describe the specific limitations inherent in the subject of analysis.
Failure to Extrapolate All Possible Implications – Just as you don't want to over-generalize from your case study findings, you also have to be thorough in the consideration of all possible outcomes or recommendations derived from your findings.
You can always buy an essay on our site. Just leave a request ' do my homework ' and we'll help asap.
How to Create a Title Page and Cite a Case Study
Let's see how to create an awesome title page.
Your title page depends on the prescribed citation format. The title page should include:
A title that attracts some attention and describes your study
The title should have the words "case study" in it
The title should range between 5-9 words in length
Your name and contact information
Your finished paper should be only 500 to 1,500 words in length. With this type of assignment, write effectively and avoid fluff.
Here is a template for the APA and MLA format title page:
There are some cases when you need to cite someone else's study in your own one – therefore, you need to master how to cite a case study. A case study is like a research paper when it comes to citations. You can cite it like you cite a book, depending on what style you need.
Citation Example in MLA ‍ Hill, Linda, Tarun Khanna, and Emily A. Stecker. HCL Technologies. Boston: Harvard Business Publishing, 2008. Print.
Citation Example in APA ‍ Hill, L., Khanna, T., & Stecker, E. A. (2008). HCL Technologies. Boston: Harvard Business Publishing.
Citation Example in Chicago Hill, Linda, Tarun Khanna, and Emily A. Stecker. HCL Technologies.
Case Study Examples
To give you an idea of a professional case study example, we gathered and linked some below.
Eastman Kodak Case Study
Case Study Example: Audi Trains Mexican Autoworkers in Germany
To conclude, a case study is one of the best methods of getting an overview of what happened to a person, a group, or a situation in practice. It allows you to have an in-depth glance at the real-life problems that businesses, healthcare industry, criminal justice, etc. may face. This insight helps us look at such situations in a different light. This is because we see scenarios that we otherwise would not, without necessarily being there. If you need custom essays , try our research paper writing services .
Get Help Form Qualified Writers
Crafting a case study is not easy. You might want to write one of high quality, but you don't have the time or expertise. If you're having trouble with your case study, help with essay request - we'll help. EssayPro writers have read and written countless case studies and are experts in endless disciplines. Request essay writing, editing, or proofreading assistance from our custom case study writing service , and all of your worries will be gone.
Don't Know Where to Start?
Crafting a case study is not easy. You might want to write one of high quality, but you don't have the time or expertise. Request essay writing, editing, or proofreading assistance from our writing service.
Related Articles
How to write a case study — examples, templates, and tools
It's a marketer's job to communicate the effectiveness of a product or service to potential and current customers to convince them to buy and keep business moving. One of the best methods for doing this is to share success stories that are relatable to prospects and customers based on their pain points, experiences, and overall needs.
That's where case studies come in. Case studies are an essential part of a content marketing plan. These in-depth stories of customer experiences are some of the most effective at demonstrating the value of a product or service. Yet many marketers don't use them, whether because of their regimented formats or the process of customer involvement and approval.
A case study is a powerful tool for showcasing your hard work and the success your customer achieved. But writing a great case study can be difficult if you've never done it before or if it's been a while. This guide will show you how to write an effective case study and provide real-world examples and templates that will keep readers engaged and support your business.
In this article, you'll learn:
What is a case study?
How to write a case study, case study templates, case study examples, case study tools.
A case study is the detailed story of a customer's experience with a product or service that demonstrates their success and often includes measurable outcomes. Case studies are used in a range of fields and for various reasons, from business to academic research. They're especially impactful in marketing as brands work to convince and convert consumers with relatable, real-world stories of actual customer experiences.
The best case studies tell the story of a customer's success, including the steps they took, the results they achieved, and the support they received from a brand along the way. To write a great case study, you need to:
Celebrate the customer and make them — not a product or service — the star of the story.
Craft the story with specific audiences or target segments in mind so that the story of one customer will be viewed as relatable and actionable for another customer.
Write copy that is easy to read and engaging so that readers will gain the insights and messages intended.
Follow a standardized format that includes all of the essentials a potential customer would find interesting and useful.
Support all of the claims for success made in the story with data in the forms of hard numbers and customer statements.
Case studies are a type of review but more in depth, aiming to show — rather than just tell — the positive experiences that customers have with a brand. Notably, 89% of consumers read reviews before deciding to buy, and 79% view case study content as part of their purchasing process. When it comes to B2B sales, 52% of buyers rank case studies as an important part of their evaluation process.
Telling a brand story through the experience of a tried-and-true customer matters. The story is relatable to potential new customers as they imagine themselves in the shoes of the company or individual featured in the case study. Showcasing previous customers can help new ones see themselves engaging with your brand in the ways that are most meaningful to them.
Besides sharing the perspective of another customer, case studies stand out from other content marketing forms because they are based on evidence. Whether pulling from client testimonials or data-driven results, case studies tend to have more impact on new business because the story contains information that is both objective (data) and subjective (customer experience) — and the brand doesn't sound too self-promotional.
Case studies are unique in that there's a fairly standardized format for telling a customer's story. But that doesn't mean there isn't room for creativity. It's all about making sure that teams are clear on the goals for the case study — along with strategies for supporting content and channels — and understanding how the story fits within the framework of the company's overall marketing goals.
Here are the basic steps to writing a good case study.
1. Identify your goal
Start by defining exactly who your case study will be designed to help. Case studies are about specific instances where a company works with a customer to achieve a goal. Identify which customers are likely to have these goals, as well as other needs the story should cover to appeal to them.
The answer is often found in one of the buyer personas that have been constructed as part of your larger marketing strategy. This can include anything from new leads generated by the marketing team to long-term customers that are being pressed for cross-sell opportunities. In all of these cases, demonstrating value through a relatable customer success story can be part of the solution to conversion.
2. Choose your client or subject
Who you highlight matters. Case studies tie brands together that might otherwise not cross paths. A writer will want to ensure that the highlighted customer aligns with their own company's brand identity and offerings. Look for a customer with positive name recognition who has had great success with a product or service and is willing to be an advocate.
The client should also match up with the identified target audience. Whichever company or individual is selected should be a reflection of other potential customers who can see themselves in similar circumstances, having the same problems and possible solutions.
Some of the most compelling case studies feature customers who:
Switch from one product or service to another while naming competitors that missed the mark.
Experience measurable results that are relatable to others in a specific industry.
Represent well-known brands and recognizable names that are likely to compel action.
Advocate for a product or service as a champion and are well-versed in its advantages.
Whoever or whatever customer is selected, marketers must ensure they have the permission of the company involved before getting started. Some brands have strict review and approval procedures for any official marketing or promotional materials that include their name. Acquiring those approvals in advance will prevent any miscommunication or wasted effort if there is an issue with their legal or compliance teams.
3. Conduct research and compile data
Substantiating the claims made in a case study — either by the marketing team or customers themselves — adds validity to the story. To do this, include data and feedback from the client that defines what success looks like. This can be anything from demonstrating return on investment (ROI) to a specific metric the customer was striving to improve. Case studies should prove how an outcome was achieved and show tangible results that indicate to the customer that your solution is the right one.
This step could also include customer interviews. Make sure that the people being interviewed are key stakeholders in the purchase decision or deployment and use of the product or service that is being highlighted. Content writers should work off a set list of questions prepared in advance. It can be helpful to share these with the interviewees beforehand so they have time to consider and craft their responses. One of the best interview tactics to keep in mind is to ask questions where yes and no are not natural answers. This way, your subject will provide more open-ended responses that produce more meaningful content.
Whether pulling from client testimonials or data-driven results, case studies tend to have more impact on new business because the story contains information that is both objective (data) and subjective (customer experience) — and the brand doesn't sound too self-promotional.
4. Choose the right format
There are a number of different ways to format a case study. Depending on what you hope to achieve, one style will be better than another. However, there are some common elements to include, such as:
An engaging headline
A subject and customer introduction
The unique challenge or challenges the customer faced
The solution the customer used to solve the problem
The results achieved
Data and statistics to back up claims of success
A strong call to action (CTA) to engage with the vendor
It's also important to note that while case studies are traditionally written as stories, they don't have to be in a written format. Some companies choose to get more creative with their case studies and produce multimedia content, depending on their audience and objectives. Case study formats can include traditional print stories, interactive web or social content, data-heavy infographics, professionally shot videos, podcasts, and more.
5. Write your case study
We'll go into more detail later about how exactly to write a case study, including templates and examples. Generally speaking, though, there are a few things to keep in mind when writing your case study.
Be clear and concise. Readers want to get to the point of the story quickly and easily, and they'll be looking to see themselves reflected in the story right from the start.
Provide a big picture. Always make sure to explain who the client is, their goals, and how they achieved success in a short introduction to engage the reader.
Construct a clear narrative. Stick to the story from the perspective of the customer and what they needed to solve instead of just listing product features or benefits.
Leverage graphics. Incorporating infographics, charts, and sidebars can be a more engaging and eye-catching way to share key statistics and data in readable ways.
Offer the right amount of detail. Most case studies are one or two pages with clear sections that a reader can skim to find the information most important to them.
Include data to support claims. Show real results — both facts and figures and customer quotes — to demonstrate credibility and prove the solution works.
6. Promote your story
Marketers have a number of options for distribution of a freshly minted case study. Many brands choose to publish case studies on their website and post them on social media. This can help support SEO and organic content strategies while also boosting company credibility and trust as visitors see that other businesses have used the product or service.
Marketers are always looking for quality content they can use for lead generation. Consider offering a case study as gated content behind a form on a landing page or as an offer in an email message. One great way to do this is to summarize the content and tease the full story available for download after the user takes an action.
Sales teams can also leverage case studies, so be sure they are aware that the assets exist once they're published. Especially when it comes to larger B2B sales, companies often ask for examples of similar customer challenges that have been solved.
Case studies are a vital tool for any marketing team as they enable you to demonstrate the value of your company's products and services to others.
Now that you've learned a bit about case studies and what they should include, you may be wondering how to start creating great customer story content. Here are a couple of templates you can use to structure your case study.
Template 1 — Challenge-solution-result format
Start with an engaging title. This should be fewer than 70 characters long for SEO best practices. One of the best ways to approach the title is to include the customer's name and a hint at the challenge they overcame in the end.
Create an introduction. Lead with an explanation as to who the customer is, the need they had, and the opportunity they found with a specific product or solution. Writers can also suggest the success the customer experienced with the solution they chose.
Present the challenge. This should be several paragraphs long and explain the problem the customer faced and the issues they were trying to solve. Details should tie into the company's products and services naturally. This section needs to be the most relatable to the reader so they can picture themselves in a similar situation.
Share the solution. Explain which product or service offered was the ideal fit for the customer and why. Feel free to delve into their experience setting up, purchasing, and onboarding the solution.
Explain the results. Demonstrate the impact of the solution they chose by backing up their positive experience with data. Fill in with customer quotes and tangible, measurable results that show the effect of their choice.
Ask for action. Include a CTA at the end of the case study that invites readers to reach out for more information, try a demo, or learn more — to nurture them further in the marketing pipeline. What you ask of the reader should tie directly into the goals that were established for the case study in the first place.
Template 2 — Data-driven format
Start with an engaging title. Be sure to include a statistic or data point in the first 70 characters. Again, it's best to include the customer's name as part of the title.
Create an overview. Share the customer's background and a short version of the challenge they faced. Present the reason a particular product or service was chosen, and feel free to include quotes from the customer about their selection process.
Present data point 1. Isolate the first metric that the customer used to define success and explain how the product or solution helped to achieve this goal. Provide data points and quotes to substantiate the claim that success was achieved.
Present data point 2. Isolate the second metric that the customer used to define success and explain what the product or solution did to achieve this goal. Provide data points and quotes to substantiate the claim that success was achieved.
Present data point 3. Isolate the final metric that the customer used to define success and explain what the product or solution did to achieve this goal. Provide data points and quotes to substantiate the claim that success was achieved.
Summarize the results. Reiterate the fact that the customer was able to achieve success thanks to a specific product or service. Include quotes and statements that reflect customer satisfaction and suggest they plan to continue using the solution.
Ask for action. Include a CTA at the end of the case study that asks readers to reach out for more information, try a demo, or learn more — to further nurture them in the marketing pipeline. Again, remember that this is where marketers can look to convert their content into action with the customer.
While templates are helpful, seeing a case study in action can also be a great way to learn. Here are some examples of how Adobe customers have experienced success.
Juniper Networks
One example is the Adobe and Juniper Networks case study , which puts the reader in the customer's shoes. The beginning of the story quickly orients the reader so that they know exactly who the article is about and what they were trying to achieve. Solutions are outlined in a way that shows Adobe Experience Manager is the best choice and a natural fit for the customer. Along the way, quotes from the client are incorporated to help add validity to the statements. The results in the case study are conveyed with clear evidence of scale and volume using tangible data.
The story of Lenovo's journey with Adobe is one that spans years of planning, implementation, and rollout. The Lenovo case study does a great job of consolidating all of this into a relatable journey that other enterprise organizations can see themselves taking, despite the project size. This case study also features descriptive headers and compelling visual elements that engage the reader and strengthen the content.
Tata Consulting
When it comes to using data to show customer results, this case study does an excellent job of conveying details and numbers in an easy-to-digest manner. Bullet points at the start break up the content while also helping the reader understand exactly what the case study will be about. Tata Consulting used Adobe to deliver elevated, engaging content experiences for a large telecommunications client of its own — an objective that's relatable for a lot of companies.
Case studies are a vital tool for any marketing team as they enable you to demonstrate the value of your company's products and services to others. They help marketers do their job and add credibility to a brand trying to promote its solutions by using the experiences and stories of real customers.
When you're ready to get started with a case study:
Think about a few goals you'd like to accomplish with your content.
Make a list of successful clients that would be strong candidates for a case study.
Reach out to the client to get their approval and conduct an interview.
Gather the data to present an engaging and effective customer story.
Adobe can help
There are several Adobe products that can help you craft compelling case studies. Adobe Experience Platform helps you collect data and deliver great customer experiences across every channel. Once you've created your case studies, Experience Platform will help you deliver the right information to the right customer at the right time for maximum impact.
To learn more, watch the Adobe Experience Platform story .
Keep in mind that the best case studies are backed by data. That's where Adobe Real-Time Customer Data Platform and Adobe Analytics come into play. With Real-Time CDP, you can gather the data you need to build a great case study and target specific customers to deliver the content to the right audience at the perfect moment.
Watch the Real-Time CDP overview video to learn more.
Finally, Adobe Analytics turns real-time data into real-time insights. It helps your business collect and synthesize data from multiple platforms to make more informed decisions and create the best case study possible.
Request a demo to learn more about Adobe Analytics.
https://business.adobe.com/blog/perspectives/b2b-ecommerce-10-case-studies-inspire-you
https://business.adobe.com/blog/basics/business-case
https://business.adobe.com/blog/basics/what-is-real-time-analytics
Have a language expert improve your writing
Run a free plagiarism check in 10 minutes, generate accurate citations for free.
Methodology
What Is a Case Study? | Definition, Examples & Methods
What Is a Case Study? | Definition, Examples & Methods
Published on May 8, 2019 by Shona McCombes . Revised on June 22, 2023.
A case study is a detailed study of a specific subject, such as a person, group, place, event, organization, or phenomenon. Case studies are commonly used in social, educational, clinical, and business research.
A case study research design usually involves qualitative methods , but quantitative methods are sometimes also used. Case studies are good for describing , comparing, evaluating and understanding different aspects of a research problem .
Table of contents
When to do a case study, step 1: select a case, step 2: build a theoretical framework, step 3: collect your data, step 4: describe and analyze the case, other interesting articles.
A case study is an appropriate research design when you want to gain concrete, contextual, in-depth knowledge about a specific real-world subject. It allows you to explore the key characteristics, meanings, and implications of the case.
Case studies are often a good choice in a thesis or dissertation . They keep your project focused and manageable when you don't have the time or resources to do large-scale research.
You might use just one complex case study where you explore a single subject in depth, or conduct multiple case studies to compare and illuminate different aspects of your research problem.
Here's why students love Scribbr's proofreading services
Discover proofreading & editing
Once you have developed your problem statement and research questions , you should be ready to choose the specific case that you want to focus on. A good case study should have the potential to:
Provide new or unexpected insights into the subject
Challenge or complicate existing assumptions and theories
Propose practical courses of action to resolve a problem
Open up new directions for future research
TipIf your research is more practical in nature and aims to simultaneously investigate an issue as you solve it, consider conducting action research instead.
Unlike quantitative or experimental research , a strong case study does not require a random or representative sample. In fact, case studies often deliberately focus on unusual, neglected, or outlying cases which may shed new light on the research problem.
Example of an outlying case studyIn the 1960s the town of Roseto, Pennsylvania was discovered to have extremely low rates of heart disease compared to the US average. It became an important case study for understanding previously neglected causes of heart disease.
However, you can also choose a more common or representative case to exemplify a particular category, experience or phenomenon.
Example of a representative case studyIn the 1920s, two sociologists used Muncie, Indiana as a case study of a typical American city that supposedly exemplified the changing culture of the US at the time.
While case studies focus more on concrete details than general theories, they should usually have some connection with theory in the field. This way the case study is not just an isolated description, but is integrated into existing knowledge about the topic. It might aim to:
Exemplify a theory by showing how it explains the case under investigation
Expand on a theory by uncovering new concepts and ideas that need to be incorporated
Challenge a theory by exploring an outlier case that doesn't fit with established assumptions
To ensure that your analysis of the case has a solid academic grounding, you should conduct a literature review of sources related to the topic and develop a theoretical framework . This means identifying key concepts and theories to guide your analysis and interpretation.
There are many different research methods you can use to collect data on your subject. Case studies tend to focus on qualitative data using methods such as interviews , observations , and analysis of primary and secondary sources (e.g., newspaper articles, photographs, official records). Sometimes a case study will also collect quantitative data.
Example of a mixed methods case studyFor a case study of a wind farm development in a rural area, you could collect quantitative data on employment rates and business revenue, collect qualitative data on local people's perceptions and experiences, and analyze local and national media coverage of the development.
The aim is to gain as thorough an understanding as possible of the case and its context.
Prevent plagiarism. Run a free check.
In writing up the case study, you need to bring together all the relevant aspects to give as complete a picture as possible of the subject.
How you report your findings depends on the type of research you are doing. Some case studies are structured like a standard scientific paper or thesis , with separate sections or chapters for the methods , results and discussion .
Others are written in a more narrative style, aiming to explore the case from various angles and analyze its meanings and implications (for example, by using textual analysis or discourse analysis ).
In all cases, though, make sure to give contextual details about the case, connect it back to the literature and theory, and discuss how it fits into wider patterns or debates.
If you want to know more about statistics , methodology , or research bias , make sure to check out some of our other articles with explanations and examples.
Normal distribution
Degrees of freedom
Null hypothesis
Discourse analysis
Control groups
Mixed methods research
Non-probability sampling
Quantitative research
Ecological validity
Research bias
Rosenthal effect
Implicit bias
Cognitive bias
Selection bias
Negativity bias
Status quo bias
Cite this Scribbr article
If you want to cite this source, you can copy and paste the citation or click the "Cite this Scribbr article" button to automatically add the citation to our free Citation Generator.
McCombes, S. (2023, June 22). What Is a Case Study? | Definition, Examples & Methods. Scribbr. Retrieved November 14, 2023, from https://www.scribbr.com/methodology/case-study/
Is this article helpful?
Shona McCombes
Other students also liked, primary vs. secondary sources | difference & examples, what is a theoretical framework | guide to organizing, what is action research | definition & examples, what is your plagiarism score.
Student Academic Success
1:1 Consultation 1:1 Consultation
Study better Study better
Build digital capabilities Build digital capabilities
Understand assessments Understand assessments
Excel at writing Excel at writing
Enhance your thinking Enhance your thinking
Present confidently Present confidently
Collaborate with others Collaborate with others
Improve your academic English Improve your academic English
Maintain academic integrity Maintain academic integrity
Advance your graduate studies Advance your graduate studies
Workshops Workshops
Feedback studio Feedback studio
About us About us
Skip to content
Skip to navigation
Writing a case study
What is a case study.
A case study requires you to analyse a specific situation and discuss how its different elements relate to theory. The case can refer to a real-life or hypothetical event, organisation, individual or group of people and/or issue. Depending upon your assignment, you will be asked to develop solutions to problems or recommendations for future action.
Generally, a case study is either formatted as an essay or a report. If it is the latter, your assignment is often divided into sections with headings and subheadings to ensure easy access to key points of interest.
There are different approaches to case studies, so always check the specific instructions you have been given. There are two main types of case studies: descriptive and problem-solving .
Case study types accordion
Descriptive case studies.
ask you to explore a specific event or issue to identify the key facts, what happened and who was/is involved.
can be used to compare two instances of an event to illustrate how one is similar to the other.
generally does not include solutions or recommendations as its main purpose is to help the reader or stakeholder to gain greater insight into the different dimensions of the event, etc. and/or to make an informed decision about the event, etc.
For example:
In Nursing, you could be asked to select a medical clinic or hospital as your case study and then apply what you have studied in class about wound care approaches. You would then identify and apply the relevant theories of wound care management discussed in class to your case.
Problem-solving case studies
ask you to critically examine an issue related to a specific individual or group, and then recommend and justify solutions to the issue, integrating theory and practice.
In Business and Economics, you could be asked to describe a critical incident in the workplace. Your role as the manager is to apply your knowledge and skills of key intercultural communication concepts and theories in management to determine the causes of the conflict and propose relevant communication strategies to avoid and/or resolve it.
Tips for undertaking a problem-based case study View
Writing to your audience.
Your language expression should be persuasive and user-centred communication. To do this, you need to carefully research your audience, or your stakeholders . Your stakeholders are not only those people who will read your writing, but also people who will be impacted by any decisions or recommendations you choose to include. In other words, your audience may be varied with different needs and perspectives. This applies to both your case study as an assessment task and a report in your workplace.
Understanding your audience will help you to edit how you express your information, including tailoring your language expression, tone and style to meet the expectations of your stakeholders. For example, if your case study is written for the Minister of Health, then your tone will need to be formal, ensuring that any technical terms are clearly and concisely explained with concrete examples.
Questions to ask yourself:
Who will read my case study and why?
What are the stakeholders' needs, preferences, expectations and goals?
How can I write clearly and concisely for this particular audience?
How will the stakeholders use my case study in their work?
What are the relevant technical terms and have I explained them in clear and concise language?
Writing up your case study
If your case study is in the form of a report, you can divide it into 8 main sections, as outlined below. However, these vary depending on discipline-specific requirements and assessment criteria.
1. Executive Summary/Synopsis
Introduce the topic area of the report.
Outline the purpose of the case study.
Outline the key issue(s) and finding(s) without the specific details.
Identify the theory used.
Summarise recommendations.
2. Introduction
Summarise the your task
Briefly outline the case to identify its significance.
State the report's aim(s).
Provide the organisation of the main ideas in the report.
Briefly describe the key problem and its significance (You usually do not need to provide details of findings or recommendations. However, it is best to first check your assessment task instructions.)
3. Findings
presenting the central issue(s) under analysis,
providing your reasoning for your choices such as supporting your findings with facts given in the case, the relevant theory and course concepts
highlighting any underlying problems.
Identify and justify your methodology and analytical tools.This might not be applicable to your assessment, so you will need to check your assessment instructions.
This section is often divided into sub-sections. Your headings and subheadings need to be ​​informative and concise as they act as a guide for the reader to the contents of that section.
4. Discussion
Summarise the major problem(s).
Identify alternative solutions to these major problem(s).
Briefly outline each alternative solution where necessary and evaluate the advantages and disadvantages.
Depending on your assessment criteria, you might need to refer to theory or professional practice here.
Note that as a case study is based on a specific situation, it is difficult to generalise your findings to other situations. Make sure that your discussion focuses on your case and what can be learnt from your specific case analysis for your stakeholders.
5. Conclusion
Restate the purpose of the report
Sum up the main points from the findings, discussion and recommendations.
Restate the limitations if required.
6. Recommendations
Choose which of the alternative solutions should be adopted.
Briefly justify your choice, explaining how it will solve the major problem/s.
Remember to integrate theory and practice as discussed in your unit with respect to the case.
If needed, suggest an action plan, including who should take action, when and what steps, and how to assess the action taken.
If appropriate include a rough estimate of costs (both financial and time).
This section is sometimes divided into Recommendations and Implementation with details of the action plan placed in the Implementation section.
Recommendations should be written in a persuasive, audience-centred style that communicates your suggestions clearly, concisely and precisely .
7. References
List in alphabetical order all the references cited in the report.
Make sure to accurately format your references according to the specified referencing style for your unit.
8. Appendices (if any)
Attach any original data that relates to your analysis and the case but which would have interrupted the flow of the main body.
Reference list
Ivančević-Otanjac, M., & Milojević, I. (2015). Writing a case report in English. Srpski arhiv za celokupno lekarstvo , 143 (1-2), 116-118.
Take it further
Buseco: report writing.
This resource is designed to assist you in completing a business report. It provides a guide to approaching and structuring your report and includes annotated examples with written feedback.
Engineering: Lab report
This resource expands on the general report structure and provides useful tips and examples on how to turn practical work and lab experiments into a written lab report.
Engineering: Technical report
This resource expands on the general report structure and provides useful tips and examples on how to write a report for key stakeholders, using experimental and practical data.
This resource provides information about what reports look like in IT, and how you might consider structuring your IT report. It includes student samples for each possible section of an IT report, along with video and written feedback.
MNHS: Health sciences case report
This resource provides a guide to approaching and structuring a patient-based case report. It includes an annotated example with written feedback.
MNHS: Comparative report
This resource is designed to assist you in completing your Comparative Report [CR] for Integrating Science and Practice [iSAP] assessment tasks. It provides a guide to approaching and structuring your report and includes an annotated example with written feedback.
MNHS: Psychology case report
This resource provides detailed guidance on the structure and content of the psychology case report, with numerous examples from the recommended reading.
Science: Lab report
Your feedback matters.
We want to hear from you! Let us know what you found most useful or share your suggestions for improving this resource.
How to Write a Case Study: Bookmarkable Guide & Template

Updated: October 10, 2023
Published: January 12, 2023
Earning the trust of prospective customers can be a struggle. Before you can even begin to expect to earn their business, you need to demonstrate your ability to deliver on what your product or service promises.
Sure, you could say that you're great at X or that you're way ahead of the competition when it comes to Y. But at the end of the day, what you really need to win new business is cold, hard proof.
One of the best ways to prove your worth is through a compelling case study. In fact, HubSpot's 2020 State of Marketing report found that case studies are so compelling that they are the fifth most commonly used type of content used by marketers.
Below, I'll walk you through what a case study is, how to prepare for writing one, what you need to include in it, and how it can be an effective tactic. To jump to different areas of this post, click on the links below to automatically scroll.
Case Study Definition
Case study templates, how to write a case study.
How to Format a Case Study
Business Case Study Examples
A case study is a specific challenge a business has faced, and the solution they've chosen to solve it. Case studies can vary greatly in length and focus on several details related to the initial challenge and applied solution, and can be presented in various forms like a video, white paper, blog post, etc.
In professional settings, it's common for a case study to tell the story of a successful business partnership between a vendor and a client. Perhaps the success you're highlighting is in the number of leads your client generated, customers closed, or revenue gained. Any one of these key performance indicators (KPIs) are examples of your company's services in action.
When done correctly, these examples of your work can chronicle the positive impact your business has on existing or previous customers and help you attract new clients.
Free Case Study Templates
Showcase your company's success using these three free case study templates.
Data-Driven Case Study Template
Product-Specific Case Study Template
General Case Study Template
You're all set!
Click this link to access this resource at any time.
Why write a case study?
I know, you're thinking " Okay, but why do I need to write one of these? " The truth is that while case studies are a huge undertaking, they are powerful marketing tools that allow you to demonstrate the value of your product to potential customers using real-world examples. Here are a few reasons why you should write case studies.
1. Explain Complex Topics or Concepts
Case studies give you the space to break down complex concepts, ideas, and strategies and show how they can be applied in a practical way. You can use real-world examples, like an existing client, and use their story to create a compelling narrative that shows how your product solved their issue and how those strategies can be repeated to help other customers get similar successful results.
2. Show Expertise
Case studies are a great way to demonstrate your knowledge and expertise on a given topic or industry. This is where you get the opportunity to show off your problem-solving skills and how you've generated successful outcomes for clients you've worked with.
3. Build Trust and Credibility
In addition to showing off the attributes above, case studies are an excellent way to build credibility. They're often filled with data and thoroughly researched, which shows readers you've done your homework. They can have confidence in the solutions you've presented because they've read through as you've explained the problem and outlined step-by-step what it took to solve it. All of these elements working together enable you to build trust with potential customers.
4. Create Social Proof
Using existing clients that have seen success working with your brand builds social proof . People are more likely to choose your brand if they know that others have found success working with you. Case studies do just that — putting your success on display for potential customers to see.
All of these attributes work together to help you gain more clients. Plus you can even use quotes from customers featured in these studies and repurpose them in other marketing content. Now that you know more about the benefits of producing a case study, let's check out how long these documents should be.
How long should a case study be?
The length of a case study will vary depending on the complexity of the project or topic discussed. However, as a general guideline, case studies typically range from 500 to 1,500 words.
Whatever length you choose, it should provide a clear understanding of the challenge, the solution you implemented, and the results achieved. This may be easier said than done, but it's important to strike a balance between providing enough detail to make the case study informative and concise enough to keep the reader's interest.
The primary goal here is to effectively communicate the key points and takeaways of the case study. It's worth noting that this shouldn't be a wall of text. Use headings, subheadings, bullet points, charts, and other graphics to break up the content and make it more scannable for readers. We've also seen brands incorporate video elements into case studies listed on their site for a more engaging experience.
Ultimately, the length of your case study should be determined by the amount of information necessary to convey the story and its impact without becoming too long. Next, let's look at some templates to take the guesswork out of creating one.
To help you arm your prospects with information they can trust, we've put together a step-by-step guide on how to create effective case studies for your business with free case study templates for creating your own.
Tell us a little about yourself below to gain access today:
And to give you more options, we'll highlight some useful templates that serve different needs. But remember, there are endless possibilities when it comes to demonstrating the work your business has done.
1. General Case Study Template
Do you have a specific product or service that you're trying to sell, but not enough reviews or success stories? This Product Specific case study template will help.
This template relies less on metrics, and more on highlighting the customer's experience and satisfaction. As you follow the template instructions, you'll be prompted to speak more about the benefits of the specific product, rather than your team's process for working with the customer.
4. Bold Social Media Business Case Study Template
You can find templates that represent different niches, industries, or strategies that your business has found success in — like a bold social media business case study template.
In this template, you can tell the story of how your social media marketing strategy has helped you or your client through collaboration or sale of your service. Customize it to reflect the different marketing channels used in your business and show off how well your business has been able to boost traffic, engagement, follows, and more.
5. Lead Generation Business Case Study Template
It's important to note that not every case study has to be the product of a sale or customer story, sometimes they can be informative lessons that your own business has experienced. A great example of this is the Lead Generation Business case study template.
If you're looking to share operational successes regarding how your team has improved processes or content, you should include the stories of different team members involved, how the solution was found, and how it has made a difference in the work your business does.
Now that we've discussed different templates and ideas for how to use them, let's break down how to create your own case study with one.
Get started with case study templates.
Determine the case study's objective.
Establish a case study medium.
Find the right case study candidate.
Contact your candidate for permission to write about them.
Ensure you have all the resources you need to proceed once you get a response.
Download a case study email template.
Define the process you want to follow with the client.
Ensure you're asking the right questions.
Layout your case study format.
Publish and promote your case study.
1. Get started with case study templates.
Telling your customer's story is a delicate process — you need to highlight their success while naturally incorporating your business into their story.
If you're just getting started with case studies, we recommend you download HubSpot's Case Study Templates we mentioned before to kickstart the process.
2. Determine the case study's objective.
All business case studies are designed to demonstrate the value of your services, but they can focus on several different client objectives.
Your first step when writing a case study is to determine the objective or goal of the subject you're featuring. In other words, what will the client have succeeded in doing by the end of the piece?
The client objective you focus on will depend on what you want to prove to your future customers as a result of publishing this case study.
Your case study can focus on one of the following client objectives:
Complying with government regulation
Lowering business costs
Becoming profitable
Generating more leads
Closing on more customers
Generating more revenue
Expanding into a new market
Becoming more sustainable or energy-efficient
3. Establish a case study medium.
Next, you'll determine the medium in which you'll create the case study. In other words, how will you tell this story?
Case studies don't have to be simple, written one-pagers. Using different media in your case study can allow you to promote your final piece on different channels. For example, while a written case study might just live on your website and get featured in a Facebook post, you can post an infographic case study on Pinterest and a video case study on your YouTube channel.
Here are some different case study mediums to consider:
Written Case Study
Consider writing this case study in the form of an ebook and converting it to a downloadable PDF. Then, gate the PDF behind a landing page and form for readers to fill out before downloading the piece, allowing this case study to generate leads for your business.
Video Case Study
Plan on meeting with the client and shooting an interview. Seeing the subject, in person, talk about the service you provided them can go a long way in the eyes of your potential customers.
Infographic Case Study
Use the long, vertical format of an infographic to tell your success story from top to bottom. As you progress down the infographic, emphasize major KPIs using bigger text and charts that show the successes your client has had since working with you.
Podcast Case Study
Podcasts are a platform for you to have a candid conversation with your client. This type of case study can sound more real and human to your audience — they'll know the partnership between you and your client was a genuine success.
4. Find the right case study candidate.
Writing about your previous projects requires more than picking a client and telling a story. You need permission, quotes, and a plan. To start, here are a few things to look for in potential candidates.
Product Knowledge
It helps to select a customer who's well-versed in the logistics of your product or service. That way, he or she can better speak to the value of what you offer in a way that makes sense for future customers.
Remarkable Results
Clients that have seen the best results are going to make the strongest case studies. If their own businesses have seen an exemplary ROI from your product or service, they're more likely to convey the enthusiasm that you want prospects to feel, too.
One part of this step is to choose clients who have experienced unexpected success from your product or service. When you've provided non-traditional customers — in industries that you don't usually work with, for example — with positive results, it can help to remove doubts from prospects.
Recognizable Names
While small companies can have powerful stories, bigger or more notable brands tend to lend credibility to your own. In fact, 89% of consumers say they'll buy from a brand they already recognize over a competitor, especially if they already follow them on social media.
Customers that came to you after working with a competitor help highlight your competitive advantage and might even sway decisions in your favor.
5. Contact your candidate for permission to write about them.
To get the case study candidate involved, you have to set the stage for clear and open communication. That means outlining expectations and a timeline right away — not having those is one of the biggest culprits in delayed case study creation.
Most importantly at this point, however, is getting your subject's approval. When first reaching out to your case study candidate, provide them with the case study's objective and format — both of which you will have come up with in the first two steps above.
To get this initial permission from your subject, put yourself in their shoes — what would they want out of this case study? Although you're writing this for your own company's benefit, your subject is far more interested in the benefit it has for them.
Benefits to Offer Your Case Study Candidate
Here are four potential benefits you can promise your case study candidate to gain their approval.
Brand Exposure
Explain to your subject to whom this case study will be exposed, and how this exposure can help increase their brand awareness both in and beyond their own industry. In the B2B sector, brand awareness can be hard to collect outside one's own market, making case studies particularly useful to a client looking to expand their name's reach.
Employee Exposure
Allow your subject to provide quotes with credits back to specific employees. When this is an option for them, their brand isn't the only thing expanding its reach — their employees can get their name out there, too. This presents your subject with networking and career development opportunities they might not have otherwise.
Product Discount
This is a more tangible incentive you can offer your case study candidate, especially if they're a current customer of yours. If they agree to be your subject, offer them a product discount — or a free trial of another product — as a thank-you for their help creating your case study.
Backlinks and Website Traffic
Here's a benefit that is sure to resonate with your subject's marketing team: If you publish your case study on your website, and your study links back to your subject's website — known as a "backlink" — this small gesture can give them website traffic from visitors who click through to your subject's website.
Additionally, a backlink from you increases your subject's page authority in the eyes of Google. This helps them rank more highly in search engine results and collect traffic from readers who are already looking for information about their industry.
6. Ensure you have all the resources you need to proceed once you get a response.
So you know what you're going to offer your candidate, it's time that you prepare the resources needed for if and when they agree to participate, like a case study release form and success story letter.
Let's break those two down.
Case Study Release Form
This document can vary, depending on factors like the size of your business, the nature of your work, and what you intend to do with the case studies once they are completed. That said, you should typically aim to include the following in the Case Study Release Form:
A clear explanation of why you are creating this case study and how it will be used.
A statement defining the information and potentially trademarked information you expect to include about the company — things like names, logos, job titles, and pictures.
An explanation of what you expect from the participant, beyond the completion of the case study. For example, is this customer willing to act as a reference or share feedback, and do you have permission to pass contact information along for these purposes?
A note about compensation.
Success Story Letter
As noted in the sample email, this document serves as an outline for the entire case study process. Other than a brief explanation of how the customer will benefit from case study participation, you'll want to be sure to define the following steps in the Success Story Letter.
7. Download a case study email template.
While you gathered your resources, your candidate has gotten time to read over the proposal. When your candidate approves of your case study, it's time to send them a release form.
A case study release form tells you what you'll need from your chosen subject, like permission to use any brand names and share the project information publicly. Kick-off this process with an email that runs through exactly what they can expect from you, as well as what you need from them. To give you an idea of what that might look like, check out this sample email:
8. Define the process you want to follow with the client.
Before you can begin the case study, you have to have a clear outline of the case study process with your client. An example of an effective outline would include the following information.
The Acceptance
First, you'll need to receive internal approval from the company's marketing team. Once approved, the Release Form should be signed and returned to you. It's also a good time to determine a timeline that meets the needs and capabilities of both teams.
The Questionnaire
To ensure that you have a productive interview — which is one of the best ways to collect information for the case study — you'll want to ask the participant to complete a questionnaire before this conversation. That will provide your team with the necessary foundation to organize the interview, and get the most out of it.
The Interview
Once the questionnaire is completed, someone on your team should reach out to the participant to schedule a 30- to 60-minute interview, which should include a series of custom questions related to the customer's experience with your product or service.
The Draft Review
After the case study is composed, you'll want to send a draft to the customer, allowing an opportunity to give you feedback and edits.
The Final Approval
Once any necessary edits are completed, send a revised copy of the case study to the customer for final approval.
Once the case study goes live — on your website or elsewhere — it's best to contact the customer with a link to the page where the case study lives. Don't be afraid to ask your participants to share these links with their own networks, as it not only demonstrates your ability to deliver positive results and impressive growth, as well.
9. Ensure you're asking the right questions.
Before you execute the questionnaire and actual interview, make sure you're setting yourself up for success. A strong case study results from being prepared to ask the right questions. What do those look like? Here are a few examples to get you started:
What are your goals?
What challenges were you experiencing before purchasing our product or service?
What made our product or service stand out against our competitors?
What did your decision-making process look like?
How have you benefited from using our product or service? (Where applicable, always ask for data.)
Keep in mind that the questionnaire is designed to help you gain insights into what sort of strong, success-focused questions to ask during the actual interview. And once you get to that stage, we recommend that you follow the "Golden Rule of Interviewing." Sounds fancy, right? It's actually quite simple — ask open-ended questions.
If you're looking to craft a compelling story, "yes" or "no" answers won't provide the details you need. Focus on questions that invite elaboration, such as, "Can you describe ...?" or, "Tell me about ..."
In terms of the interview structure, we recommend categorizing the questions and flowing them into six specific sections that will mirror a successful case study format. Combined, they'll allow you to gather enough information to put together a rich, comprehensive study.
Open with the customer's business.
The goal of this section is to generate a better understanding of the company's current challenges and goals, and how they fit into the landscape of their industry. Sample questions might include:
How long have you been in business?
How many employees do you have?
What are some of the objectives of your department at this time?
Cite a problem or pain point.
To tell a compelling story, you need context. That helps match the customer's need with your solution. Sample questions might include:
What challenges and objectives led you to look for a solution?
What might have happened if you did not identify a solution?
Did you explore other solutions before this that did not work out? If so, what happened?
Discuss the decision process.
Exploring how the customer decided to work with you helps to guide potential customers through their own decision-making processes. Sample questions might include:
How did you hear about our product or service?
Who was involved in the selection process?
What was most important to you when evaluating your options?
Explain how a solution was implemented.
The focus here should be placed on the customer's experience during the onboarding process. Sample questions might include:
How long did it take to get up and running?
Did that meet your expectations?
Who was involved in the process?
Explain how the solution works.
The goal of this section is to better understand how the customer is using your product or service. Sample questions might include:
Is there a particular aspect of the product or service that you rely on most?
Who is using the product or service?
End with the results.
In this section, you want to uncover impressive measurable outcomes — the more numbers, the better. Sample questions might include:
How is the product or service helping you save time and increase productivity?
In what ways does that enhance your competitive advantage?
How much have you increased metrics X, Y, and Z?
10. Lay out your case study format.
When it comes time to take all of the information you've collected and actually turn it into something, it's easy to feel overwhelmed. Where should you start? What should you include? What's the best way to structure it?
To help you get a handle on this step, it's important to first understand that there is no one-size-fits-all when it comes to the ways you can present a case study. They can be very visual, which you'll see in some of the examples we've included below, and can sometimes be communicated mostly through video or photos, with a bit of accompanying text.
Here are the sections we suggest, which we'll cover in more detail down below:
Title: Keep it short. Develop a succinct but interesting project name you can give the work you did with your subject.
Subtitle: Use this copy to briefly elaborate on the accomplishment. What was done? The case study itself will explain how you got there.
Executive Summary : A 2-4 sentence summary of the entire story. You'll want to follow it with 2-3 bullet points that display metrics showcasing success.
About the Subject: An introduction to the person or company you served, which can be pulled from a LinkedIn Business profile or client website.
Challenges and Objectives: A 2-3 paragraph description of the customer's challenges, before using your product or service. This section should also include the goals or objectives the customer set out to achieve.
How Product/Service Helped: A 2-3 paragraph section that describes how your product or service provided a solution to their problem.
Results: A 2-3 paragraph testimonial that proves how your product or service specifically benefited the person or company and helped achieve its goals. Include numbers to quantify your contributions.
Supporting Visuals or Quotes: Pick one or two powerful quotes that you would feature at the bottom of the sections above, as well as a visual that supports the story you are telling.
Future Plans: Everyone likes an epilogue. Comment on what's ahead for your case study subject, whether or not those plans involve you.
Call to Action (CTA): Not every case study needs a CTA, but putting a passive one at the end of your case study can encourage your readers to take an action on your website after learning about the work you've done.
When laying out your case study, focus on conveying the information you've gathered in the most clear and concise way possible. Make it easy to scan and comprehend, and be sure to provide an attractive call-to-action at the bottom — that should provide readers an opportunity to learn more about your product or service.
11. Publish and promote your case study.
Once you've completed your case study, it's time to publish and promote it. Some case study formats have pretty obvious promotional outlets — a video case study can go on YouTube, just as an infographic case study can go on Pinterest.
But there are still other ways to publish and promote your case study. Here are a couple of ideas:
Lead Gen in a Blog Post
As stated earlier in this article, written case studies make terrific lead-generators if you convert them into a downloadable format, like a PDF. To generate leads from your case study, consider writing a blog post that tells an abbreviated story of your client's success and asking readers to fill out a form with their name and email address if they'd like to read the rest in your PDF.
Then, promote this blog post on social media, through a Facebook post or a tweet.
Published as a Page on Your Website
As a growing business, you might need to display your case study out in the open to gain the trust of your target audience.
Rather than gating it behind a landing page, publish your case study to its own page on your website, and direct people here from your homepage with a "Case Studies" or "Testimonials" button along your homepage's top navigation bar.
Format for a Case Study
The traditional case study format includes the following parts: a title and subtitle, a client profile, a summary of the customer's challenges and objectives, an account of how your solution helped, and a description of the results. You might also want to include supporting visuals and quotes, future plans, and calls-to-action.
Image Source
The title is one of the most important parts of your case study. It should draw readers in while succinctly describing the potential benefits of working with your company. To that end, your title should:
State the name of your custome r. Right away, the reader must learn which company used your products and services. This is especially important if your customer has a recognizable brand. If you work with individuals and not companies, you may omit the name and go with professional titles: "A Marketer…", "A CFO…", and so forth.
State which product your customer used . Even if you only offer one product or service, or if your company name is the same as your product name, you should still include the name of your solution. That way, readers who are not familiar with your business can become aware of what you sell.
Allude to the results achieved . You don't necessarily need to provide hard numbers, but the title needs to represent the benefits, quickly. That way, if a reader doesn't stay to read, they can walk away with the most essential information: Your product works.
The example above, "Crunch Fitness Increases Leads and Signups With HubSpot," achieves all three — without being wordy. Keeping your title short and sweet is also essential.
2. Subtitle
Your subtitle is another essential part of your case study — don't skip it, even if you think you've done the work with the title. In this section, include a brief summary of the challenges your customer was facing before they began to use your products and services. Then, drive the point home by reiterating the benefits your customer experienced by working with you.
The above example reads:
"Crunch Fitness was franchising rapidly when COVID-19 forced fitness clubs around the world to close their doors. But the company stayed agile by using HubSpot to increase leads and free trial signups."
We like that the case study team expressed the urgency of the problem — opening more locations in the midst of a pandemic — and placed the focus on the customer's ability to stay agile.
3. Executive Summary
The executive summary should provide a snapshot of your customer, their challenges, and the benefits they enjoyed from working with you. Think it's too much? Think again — the purpose of the case study is to emphasize, again and again, how well your product works.
The good news is that depending on your design, the executive summary can be mixed with the subtitle or with the "About the Company" section. Many times, this section doesn't need an explicit "Executive Summary" subheading. You do need, however, to provide a convenient snapshot for readers to scan.
In the above example, ADP included information about its customer in a scannable bullet-point format, then provided two sections: "Business Challenge" and "How ADP Helped." We love how simple and easy the format is to follow for those who are unfamiliar with ADP or its typical customer.
4. About the Company
Readers need to know and understand who your customer is. This is important for several reasons: It helps your reader potentially relate to your customer, it defines your ideal client profile (which is essential to deter poor-fit prospects who might have reached out without knowing they were a poor fit), and it gives your customer an indirect boon by subtly promoting their products and services.
Feel free to keep this section as simple as possible. You can simply copy and paste information from the company's LinkedIn, use a quote directly from your customer, or take a more creative storytelling approach.
In the above example, HubSpot included one paragraph of description for Crunch Fitness and a few bullet points. Below, ADP tells the story of its customer using an engaging, personable technique that effectively draws readers in.
5. Challenges and Objectives
The challenges and objectives section of your case study is the place to lay out, in detail, the difficulties your customer faced prior to working with you — and what they hoped to achieve when they enlisted your help.
In this section, you can be as brief or as descriptive as you'd like, but remember: Stress the urgency of the situation. Don't understate how much your customer needed your solution (but don't exaggerate and lie, either). Provide contextual information as necessary. For instance, the pandemic and societal factors may have contributed to the urgency of the need.
Take the above example from design consultancy IDEO:
"Educational opportunities for adults have become difficult to access in the United States, just when they're needed most. To counter this trend, IDEO helped the city of South Bend and the Drucker Institute launch Bendable, a community-powered platform that connects people with opportunities to learn with and from each other."
We love how IDEO mentions the difficulties the United States faces at large, the efforts its customer is taking to address these issues, and the steps IDEO took to help.
6. How Product/Service Helped
This is where you get your product or service to shine. Cover the specific benefits that your customer enjoyed and the features they gleaned the most use out of. You can also go into detail about how you worked with and for your customer. Maybe you met several times before choosing the right solution, or you consulted with external agencies to create the best package for them.
Whatever the case may be, try to illustrate how easy and pain-free it is to work with the representatives at your company. After all, potential customers aren't looking to just purchase a product. They're looking for a dependable provider that will strive to exceed their expectations.
In the above example, IDEO describes how it partnered with research institutes and spoke with learners to create Bendable, a free educational platform. We love how it shows its proactivity and thoroughness. It makes potential customers feel that IDEO might do something similar for them.
The results are essential, and the best part is that you don't need to write the entirety of the case study before sharing them. Like HubSpot, IDEO, and ADP, you can include the results right below the subtitle or executive summary. Use data and numbers to substantiate the success of your efforts, but if you don't have numbers, you can provide quotes from your customers.
We can't overstate the importance of the results. In fact, if you wanted to create a short case study, you could include your title, challenge, solution (how your product helped), and result.
8. Supporting Visuals or Quotes
Let your customer speak for themselves by including quotes from the representatives who directly interfaced with your company.
Visuals can also help, even if they're stock images. On one side, they can help you convey your customer's industry, and on the other, they can indirectly convey your successes. For instance, a picture of a happy professional — even if they're not your customer — will communicate that your product can lead to a happy client.
In this example from IDEO, we see a man standing in a boat. IDEO's customer is neither the man pictured nor the manufacturer of the boat, but rather Conservation International, an environmental organization. This imagery provides a visually pleasing pattern interrupt to the page, while still conveying what the case study is about.
9. Future Plans
This is optional, but including future plans can help you close on a more positive, personable note than if you were to simply include a quote or the results. In this space, you can show that your product will remain in your customer's tech stack for years to come, or that your services will continue to be instrumental to your customer's success.
Alternatively, if you work only on time-bound projects, you can allude to the positive impact your customer will continue to see, even after years of the end of the contract.
10. Call to Action (CTA)
Not every case study needs a CTA, but we'd still encourage it. Putting one at the end of your case study will encourage your readers to take an action on your website after learning about the work you've done.
It will also make it easier for them to reach out, if they're ready to start immediately. You don't want to lose business just because they have to scroll all the way back up to reach out to your team.
To help you visualize this case study outline, check out the case study template below, which can also be downloaded here .
You drove the results, made the connection, set the expectations, used the questionnaire to conduct a successful interview, and boiled down your findings into a compelling story. And after all of that, you're left with a little piece of sales enabling gold — a case study.
To show you what a well-executed final product looks like, have a look at some of these marketing case study examples.
1. "Shopify Uses HubSpot CRM to Transform High Volume Sales Organization," by HubSpot
What's interesting about this case study is the way it leads with the customer. This reflects a major HubSpot value, which is to always solve for the customer first. The copy leads with a brief description of why Shopify uses HubSpot and is accompanied by a short video and some basic statistics on the company.
Notice that this case study uses mixed media. Yes, there is a short video, but it's elaborated upon in the additional text on the page. So, while case studies can use one or the other, don't be afraid to combine written copy with visuals to emphasize the project's success.
2. "New England Journal of Medicine," by Corey McPherson Nash
When branding and design studio Corey McPherson Nash showcases its work, it makes sense for it to be visual — after all, that's what they do. So in building the case study for the studio's work on the New England Journal of Medicine's integrated advertising campaign — a project that included the goal of promoting the client's digital presence — Corey McPherson Nash showed its audience what it did, rather than purely telling it.
Notice that the case study does include some light written copy — which includes the major points we've suggested — but lets the visuals do the talking, allowing users to really absorb the studio's services.
3. "Designing the Future of Urban Farming," by IDEO
Here's a design company that knows how to lead with simplicity in its case studies. As soon as the visitor arrives at the page, he or she is greeted with a big, bold photo, and two very simple columns of text — "The Challenge" and "The Outcome."
Immediately, IDEO has communicated two of the case study's major pillars. And while that's great — the company created a solution for vertical farming startup INFARM's challenge — it doesn't stop there. As the user scrolls down, those pillars are elaborated upon with comprehensive (but not overwhelming) copy that outlines what that process looked like, replete with quotes and additional visuals.
4. "Secure Wi-Fi Wins Big for Tournament," by WatchGuard
Then, there are the cases when visuals can tell almost the entire story — when executed correctly. Network security provider WatchGuard can do that through this video, which tells the story of how its services enhanced the attendee and vendor experience at the Windmill Ultimate Frisbee tournament.
5. Rock and Roll Hall of Fame Boosts Social Media Engagement and Brand Awareness with HubSpot
In the case study above , HubSpot uses photos, videos, screenshots, and helpful stats to tell the story of how the Rock and Roll Hall of Fame used the bot, CRM, and social media tools to gain brand awareness.
6. Small Desk Plant Business Ups Sales by 30% With Trello
This case study from Trello is straightforward and easy to understand. It begins by explaining the background of the company that decided to use it, what its goals were, and how it planned to use Trello to help them.
It then goes on to discuss how the software was implemented and what tasks and teams benefited from it. Towards the end, it explains the sales results that came from implementing the software and includes quotes from decision-makers at the company that implemented it.
7. Facebook's Mercedes Benz Success Story
Facebook's Success Stories page hosts a number of well-designed and easy-to-understand case studies that visually and editorially get to the bottom line quickly.
Each study begins with key stats that draw the reader in. Then it's organized by highlighting a problem or goal in the introduction, the process the company took to reach its goals, and the results. Then, in the end, Facebook notes the tools used in the case study.
Showcasing Your Work
You work hard at what you do. Now, it's time to show it to the world — and, perhaps more important, to potential customers. Before you show off the projects that make you the proudest, we hope you follow these important steps that will help you effectively communicate that work and leave all parties feeling good about it.
Editor's Note: This blog post was originally published in February 2017 but was updated for comprehensiveness and freshness in July 2021.
Don't forget to share this post!
Related articles.
How to Market an Ebook: 21 Ways to Promote Your Content Offers
7 Pieces of Content Your Audience Really Wants to See [New Data]
How to Write a Listicle [+ Examples and Ideas]
28 Case Study Examples Every Marketer Should See
What Is a White Paper? [FAQs]
What is an Advertorial? 8 Examples to Help You Write One
How to Create Marketing Offers That Don't Fall Flat
20 Creative Ways To Repurpose Content
16 Important Ways to Use Case Studies in Your Marketing
11 Ways to Make Your Blog Post Interactive
Showcase your company's success using these free case study templates.
Social Anxiety Disorder
Bipolar Disorder
Kids Mental Health
Therapy Center
When To See a Therapist
Types of Therapy
Best Online Therapy
Best Couples Therapy
Best Family Therapy
Managing Stress
Sleep and Dreaming
Understanding Emotions
Self-Improvement
Healthy Relationships
Relationships in 2023
Student Resources
Personality Types
Verywell Mind Insights
2023 Verywell Mind 25
Mental Health in the Classroom
Editorial Process
Meet Our Review Board
Crisis Support
What Is a Case Study?
An in-depth study of one person, group, or event
Kendra Cherry, MS, is a psychosocial rehabilitation specialist, psychology educator, and author of the "Everything Psychology Book."
Cara Lustik is a fact-checker and copywriter.
Verywell / Colleen Tighe
Benefits and Limitations
Types of case studies, how to write a case study.
A case study is an in-depth study of one person, group, or event. In a case study, nearly every aspect of the subject's life and history is analyzed to seek patterns and causes of behavior. Case studies can be used in various fields, including psychology, medicine, education, anthropology, political science, and social work.
The purpose of a case study is to learn as much as possible about an individual or group so that the information can be generalized to many others. Unfortunately, case studies tend to be highly subjective, and it is sometimes difficult to generalize results to a larger population.
While case studies focus on a single individual or group, they follow a format similar to other types of psychology writing. If you are writing a case study, it is important to follow the rules of APA format .
A case study can have both strengths and weaknesses. Researchers must consider these pros and cons before deciding if this type of study is appropriate for their needs.
One of the greatest advantages of a case study is that it allows researchers to investigate things that are often difficult to impossible to replicate in a lab. Some other benefits of a case study:
Allows researchers to collect a great deal of information
Give researchers the chance to collect information on rare or unusual cases
Permits researchers to develop hypotheses that can be explored in experimental research
On the negative side, a case study:
Cannot necessarily be generalized to the larger population
Cannot demonstrate cause and effect
May not be scientifically rigorous
Can lead to bias
Researchers may choose to perform a case study if they are interested in exploring a unique or recently discovered phenomenon. The insights gained from such research can help the researchers develop additional ideas and study questions that might be explored in future studies.
However, it is important to remember that the insights gained from case studies cannot be used to determine cause and effect relationships between variables. However, case studies may be used to develop hypotheses that can then be addressed in experimental research.
Case Study Examples
There have been a number of notable case studies in the history of psychology. Much of Freud's work and theories were developed through the use of individual case studies. Some great examples of case studies in psychology include:
Anna O : Anna O. was a pseudonym of a woman named Bertha Pappenheim, a patient of a physician named Josef Breuer. While she was never a patient of Freud's, Freud and Breuer discussed her case extensively. The woman was experiencing symptoms of a condition that was then known as hysteria and found that talking about her problems helped relieve her symptoms. Her case played an important part in the development of talk therapy as an approach to mental health treatment.
Phineas Gage : Phineas Gage was a railroad employee who experienced a terrible accident in which an explosion sent a metal rod through his skull, damaging important portions of his brain. Gage recovered from his accident but was left with serious changes in both personality and behavior.
Genie : Genie was a young girl subjected to horrific abuse and isolation. The case study of Genie allowed researchers to study whether language could be taught even after critical periods for language development had been missed. Her case also served as an example of how scientific research may interfere with treatment and lead to further abuse of vulnerable individuals.
Such cases demonstrate how case research can be used to study things that researchers could not replicate in experimental settings. In Genie's case, her horrific abuse had denied her the opportunity to learn language at critical points in her development.
This is clearly not something that researchers could ethically replicate, but conducting a case study on Genie allowed researchers the chance to study phenomena that are otherwise impossible to reproduce.
There are a few different types of case studies that psychologists and other researchers might utilize:
Collective case studies : These involve studying a group of individuals. Researchers might study a group of people in a certain setting or look at an entire community. For example, psychologists might explore how access to resources in a community has affected the collective mental well-being of those living there.
Descriptive case studies : These involve starting with a descriptive theory. The subjects are then observed, and the information gathered is compared to the pre-existing theory.
Explanatory case studies : These are often used to do causal investigations. In other words, researchers are interested in looking at factors that may have caused certain things to occur.
Exploratory case studies : These are sometimes used as a prelude to further, more in-depth research. This allows researchers to gather more information before developing their research questions and hypotheses .
Instrumental case studies : These occur when the individual or group allows researchers to understand more than what is initially obvious to observers.
Intrinsic case studies : This type of case study is when the researcher has a personal interest in the case. Jean Piaget's observations of his own children are good examples of how an intrinsic cast study can contribute to the development of a psychological theory.
The three main case study types often used are intrinsic, instrumental, and collective. Intrinsic case studies are useful for learning about unique cases. Instrumental case studies help look at an individual to learn more about a broader issue. A collective case study can be useful for looking at several cases simultaneously.
The type of case study that psychology researchers utilize depends on the unique characteristics of the situation as well as the case itself.
There are also different methods that can be used to conduct a case study, including prospective and retrospective case study methods.
Prospective case study methods are those in which an individual or group of people is observed in order to determine outcomes. For example, a group of individuals might be watched over an extended period of time to observe the progression of a particular disease.
Retrospective case study methods involve looking at historical information. For example, researchers might start with an outcome, such as a disease, and then work their way backward to look at information about the individual's life to determine risk factors that may have contributed to the onset of the illness.
Where to Find Data
There are a number of different sources and methods that researchers can use to gather information about an individual or group. Six major sources that have been identified by researchers are:
Archival records : Census records, survey records, and name lists are examples of archival records.
Direct observation : This strategy involves observing the subject, often in a natural setting . While an individual observer is sometimes used, it is more common to utilize a group of observers.
Documents : Letters, newspaper articles, administrative records, etc., are the types of documents often used as sources.
Interviews : Interviews are one of the most important methods for gathering information in case studies. An interview can involve structured survey questions or more open-ended questions.
Participant observation : When the researcher serves as a participant in events and observes the actions and outcomes, it is called participant observation.
Physical artifacts : Tools, objects, instruments, and other artifacts are often observed during a direct observation of the subject.
Section 1: A Case History
This section will have the following structure and content:
Background information : The first section of your paper will present your client's background. Include factors such as age, gender, work, health status, family mental health history, family and social relationships, drug and alcohol history, life difficulties, goals, and coping skills and weaknesses.
Description of the presenting problem : In the next section of your case study, you will describe the problem or symptoms that the client presented with.
Describe any physical, emotional, or sensory symptoms reported by the client. Thoughts, feelings, and perceptions related to the symptoms should also be noted. Any screening or diagnostic assessments that are used should also be described in detail and all scores reported.
Your diagnosis : Provide your diagnosis and give the appropriate Diagnostic and Statistical Manual code. Explain how you reached your diagnosis, how the client's symptoms fit the diagnostic criteria for the disorder(s), or any possible difficulties in reaching a diagnosis.
Section 2: Treatment Plan
This portion of the paper will address the chosen treatment for the condition. This might also include the theoretical basis for the chosen treatment or any other evidence that might exist to support why this approach was chosen.
Cognitive behavioral approach : Explain how a cognitive behavioral therapist would approach treatment. Offer background information on cognitive behavioral therapy and describe the treatment sessions, client response, and outcome of this type of treatment. Make note of any difficulties or successes encountered by your client during treatment.
Humanistic approach : Describe a humanistic approach that could be used to treat your client, such as client-centered therapy . Provide information on the type of treatment you chose, the client's reaction to the treatment, and the end result of this approach. Explain why the treatment was successful or unsuccessful.
Psychoanalytic approach : Describe how a psychoanalytic therapist would view the client's problem. Provide some background on the psychoanalytic approach and cite relevant references. Explain how psychoanalytic therapy would be used to treat the client, how the client would respond to therapy, and the effectiveness of this treatment approach.
Pharmacological approach : If treatment primarily involves the use of medications, explain which medications were used and why. Provide background on the effectiveness of these medications and how monotherapy may compare with an approach that combines medications with therapy or other treatments.
This section of a case study should also include information about the treatment goals, process, and outcomes.
When you are writing a case study, you should also include a section where you discuss the case study itself, including the strengths and limitiations of the study. You should note how the findings of your case study might support previous research. 
In your discussion section, you should also describe some of the implications of your case study. What ideas or findings might require further exploration? How might researchers go about exploring some of these questions in additional studies?
Here are a few additional pointers to keep in mind when formatting your case study:
Never refer to the subject of your case study as "the client." Instead, their name or a pseudonym.
Read examples of case studies to gain an idea about the style and format.
Remember to use APA format when citing references .
A Word From Verywell
Case studies can be a useful research tool, but they need to be used wisely. In many cases, they are best utilized in situations where conducting an experiment would be difficult or impossible. They are helpful for looking at unique situations and allow researchers to gather a great deal of information about a specific individual or group of people.
If you have been directed to write a case study for a psychology course, be sure to check with your instructor for any specific guidelines that you are required to follow. If you are writing your case study for professional publication, be sure to check with the publisher for their specific guidelines for submitting a case study.
Simply Psychology. Case Study Method .
Crowe S, Cresswell K, Robertson A, Huby G, Avery A, Sheikh A. The case study approach . BMC Med Res Methodol . 2011 Jun 27;11:100. doi:10.1186/1471-2288-11-100
Gagnon, Yves-Chantal.  The Case Study as Research Method: A Practical Handbook . Canada, Chicago Review Press Incorporated DBA Independent Pub Group, 2010.
Yin, Robert K. Case Study Research and Applications: Design and Methods . United States, SAGE Publications, 2017.
By Kendra Cherry, MSEd Kendra Cherry, MS, is a psychosocial rehabilitation specialist, psychology educator, and author of the "Everything Psychology Book."
By clicking "Accept All Cookies", you agree to the storing of cookies on your device to enhance site navigation, analyze site usage, and assist in our marketing efforts.
Business communications Learn more
Contact Center Learn more
Video Solutions Learn more
Conversation Intelligence Learn more
Open ecosystem
Try RingCentral for free
Sales: (877) 768-4369
Artificial intelligence (AI)
Business leadership
Communication & collaboration
CX / Customer experience
EX / Employee experience
Hybrid work
Productivity
Small business
Virtual events
Life @ RingCentral
RingCentral newsdesk
RingCentral products
Customer stories
Industry insights
Reports & research
Strategic partnerships
The ultimate guide to writing a good case study
Your prospect has done their research. They've made a list of requirements. They've compared several possible solutions (including yours). They've been to your website and had conversations with a salesperson. And they've narrowed their search down to your product and your competitor. On paper, both products look similar. But your prospect is still on the fence.
So what's it going to take for them to go with yours? 
Probably something that convinces them that your product gets results. 
Enter the case study—tiebreaker extraordinaire, and your best friend. 
In this post, we'll look at:
What a case study is and why you need one
3 elements of a good case study
How to prep for a case study
5 steps to writing your case study
Tips for making a good case study great
5 real-life case study examples
🔍  Are you looking for some case study examples? Check out this free eBook housing five case study examples.
📙 Get the eBook
What is a case study and why should you create one?
A case study is basically a document (it can be a video too) that outlines how a customer used your product to overcome a problem. It's real-world proof that your product works and gets results.
If your product or service has helped customers get great results, a case study will help you showcase those results to your future customers. They're an excellent way to attract more business, and can mean the difference between a lost opportunity and a really good end-of-quarter. 
What makes a good case study? 
First, it's helpful to highlight what makes case studies bad: most are painfully boring. What they have in research and detail, they lack in a cohesive, consumable story. They list numbers and contain data, but the reader isn't sure what it all means or why it's relevant to their problem. They end up existing as technical documents that do little to persuade or excite anyone—and that's unfortunate because they have the potential to be a powerful sales tool that can help you close big deals in the decision-making phase. 
So how do you write a good one, then? Here are three characteristics every good case study should have:
It's digestible
There's no hard rule on how long a case study should be. But it's always a good idea to ask " How short can we make it? " A good case study avoids the unnecessary minutiae, knows what it's trying to say, and communicates it quickly and without ambiguity. With a few exceptions, effective case studies are concise and, clear. 
It's thorough
On the other side of the length equation, being thorough is also important. While the case study is all about making impressive claims about how a product helped someone achieve a certain result, it also needs to explain how it happened. Good case studies include key details that show how the customer got from A to B using the product—something you don't get with customer reviews . Don't make your reader work too hard to visualize the story. If you can use images and videos, use them!
It's a story
Yes, case studies are sales tools. But the ones really worth reading tell a compelling story with a beginning, middle, and end. They beg to be read all the way through. Often, they present a problem that creates tension and demands a solution. And remember, in this story, the customer is the hero—not you. 
6 steps to find a good case study
Before you start actually writing, there's a bit of prep work you'll need to do to make sure your case study is amazing. (This is where good customer service teamwork will really come in handy since your customer support team will have the best intel.)
1. Choose your customer
You may have many customers who've seen great results using your product. But you can't just pick a name out of a hat and showcase their results; they may not be right for your audience or their results may not be typical. For example, don't feature an enterprise company when most of your customers are small businesses. Or claiming that your clients have a 90% customer retention rate when most of them see 70% on average (still impressive, though).  When considering which customer to use, start by creating a list of customers that meet these criteria:
They've seen good results with your product or service
The numbers are what really matter. So choose customers that have seen strong results using your product. But be careful about showcasing exceptionally good results if they're not likely to be repeated by most.
RingCentral: W2O
They have a respected and recognizable brand
Strong brands give your product instant social proof. They prove that you're established and trustworthy. That alone can make you a front-runner in the decision-making process. After all, if Big Brand X trusts you, so can a prospect.
They're a typical customer
Good results don't carry as much weight when they're achieved by companies in other industries or verticals. Identify current customers that are similar to your target audience. If you sell enterprise software, choose enterprise customers. If you're a consultant in the healthcare industry, choose a customer that works in healthcare. 
With your list in hand, you can start reaching out. Picking up the phone can be a lot more effective than sending an email. It's more personal, lets you build rapport, and is harder to ignore than an email. 
Try to get in touch with customers who use or are very familiar with your product or service—someone who can speak to results. Tell them you're interested in writing a case study and you'd love to hear more about the results they've achieved. Be clear about what the process involves on their part—whether it's a list of questions in an email, a phone call, or if it involves a camera and crew.  
If you've provided value, your customer is more likely to see you as a partner rather than a vendor and, hopefully, will be happy to participate. Remember, you're also shining a spotlight on their own success. So it's a win-win.  
That said, you may hear "no" a few times, too. Don't get discouraged. Some customers will decline for different reasons, regardless of the results they've achieved with your product. 
Don't just use a personal phone to call your customers and interview them. Use a communications app that has a phone calling feature instead. Not only would it show your business as the caller ID (instead of a shady phone number they're not familiar with), some apps let you record conversations too to make it easy to go back and analyze your conversations (just remember to ask first).
2. Begin your research
Start collecting information about your customer. This is easier if you work as a team. From sales to marketing to customer service, everyone who's been in touch with customer will have insight about their experience. They can help you understand what your customers do and sell, and what challenges they're facing. Identify the stakeholders you need to speak with—anyone in the company who uses your product—from the CEO to the marketing intern. Collect stats, even ones you don't think are relevant—they may be later. 
3. Ask the right questions
Smart questions get insightful answers. Here are some examples of great questions to start with: 
"What were some of the bigger challenges you faced before using our product?"
"How does our product help you reach your individual goals?"
"Which key metrics have improved most since using our product/service?"
"Which parts of your business have been impacted most, and how?"
"How long did it take to roll out our product?"
But don't stop there. Use these questions to segue into deeper, more targeted questions that underscore the real-world benefits of your product. Let the conversation flow naturally—this is the magic of interviews. You can't always plan for what interesting topics come up next.
4. Identify your target audience
Beyond your customer's industry, consider who the target audience of the case study is. Who will see it? Who does it need to influence? While it's often high-level executives who make large purchase decisions, employees at all levels can act as a champion for your product or brand. Your case study may have to persuade an IT worker that your product or service is going to make their job easier, while it needs to convince the CFO that they'll see a real return on investment. 
5. Identify the top three things you want to highlight
During the initial research phase, you've likely uncovered a lot of interesting information about your customer and their experiences with your product. While it might be tempting to use it all, your case study should quickly and clearly communicate the value of your product. Go through this information and identify the three most important business results you want to communicate in the case study. 
Stats and key performance indicators (KPIs) to consider using in your case study:
Ramp up time: How long did it take to get started with your product? Did it improve any other facet of their workflow? 
Sales results: How did the product impact your customer's bottom line?
Total return on investment (ROI): How long did it take to earn more than they spent on your product? 
Productivity increases: Which teams saw improvements in process and workflow? And now much? 
Here's how RollWorks shows off the amazing ROI that their customers, Payscale, got with them .
6. Choose your format
A case study doesn't have to exist only as a PDF attachment in a late-stage deal email (although there's nothing wrong with that). Consider the format. Think about who's going to read it (or watch it). Do you want to turn this into fancy interactive content ? Does your prospect have the time and interest to dig into the details? Or do they just want the facts? Choose the format that you think best engages the audience that you're selling to.
Report format
This long-form document has been the gold standard for B2B case studies for many years. This format is effective when the subject matter is complex and demands detail. Remember, a CTO who's evaluating large-scale business communications platforms for a multi-year deal is going to want more information than a marketing manager who's evaluating a new social media ad platform:
Here's how Zendesk presented their case study with IDC as a report .
Keeping things short and sweet is often the best way to get your message heard. By focusing on the key points, you can highlight the biggest wins at just a glance. Most report format case studies can be easily condensed into a one-page document. This is ideal for prospects (and salespeople) who are short on time and prefer something they can quickly scan—like this Adzerk case study with Reddit :
Few things can tell a story the way that video can, and case studies are no exception. They give you an unmatched level of creative freedom and storytelling using music, lighting, pacing, and voice that can evoke emotions and persuade someone using more than just numbers and facts. And at just a couple of minutes long, they can do a lot of heavy lifting in not a lot of time. 
Dropbox: Expedia
Infographic
People love infographics. They're an excellent way to convey important data in a simple, eye-pleasing way. If your case study requires you to use a lot of data to prove a point—or if visualizing data can make the results more clear—building an infographic case study can be a great investment. 
5 key steps for writing your case study
Congrats. You've done the research. You've made the calls. You've pored over all the details. Now, all you have to do is write. Here are five simple steps that'll help you create a powerful case study that champions your customer and clearly showcases the real-world value of your products or services. 
1. Introduce the customer
Set the stage for your case study with an introduction. Briefly explain who your customer is with a bit of background information that can include their industry, product, company size, and location. You don't have to dig into the nuts and bolts of their business, but you do want the reader to understand who they are and what they do. The more color you can provide here, the more impactful it'll be when you show the awesome results this customer saw because they chose you.
2. State the problem
Every product or service is a solution to a problem. Explain the problem (or problems) that you helped your customer overcome. Describe the larger impact of the issue. Maybe it was customers leaving. Perhaps it was bad leads—or good leads that were never followed up on. Use this as an opportunity to clearly show what was at stake, and make sure you leave the jargon out of it. Frame the problem in simple terms that any reader can understand. 
3. Introduce your product
This is where you begin solving the problem. Briefly introduce your product and what it does. Start on a general level, then apply it to the challenge the customer was experiencing. Talk about which teams or individuals used your product and how they used it. Be sure to make the connection between the customer's problem and your solution crystal clear. 
4. Show results
The big reveal. What kind of results was your customer able to achieve using your product or service? Speak to how they solved the problem descriptively, but also with cold, hard numbers. Not everything can be measured in numbers (sometimes, peace of mind is a powerful benefit all on its own), but whenever you can, back up your story with the stats. At the very least, this will make it easy for a CFO—or a prospect who wants to buy—to justify buying your product.
For example: 
The customer saw a 33% increase in web traffic, a large influx of social media activity, and a 10% boost in revenue over the duration of the campaign . 
5. Prove it
Don't forget to show your math. How you get the results is just as important as the results themselves.  What specific steps were taken to get those results? Not only will this help validate your claims, it makes it easier to envision how the reader may be able to achieve them, too. 
8 tips to write a great case study
1. avoid jargon .
As a subject matter expert in your line of work, it can be tempting to go into as much jargony detail as possible. This is normal as it's often the language we use at work every day. But remember that your customer probably doesn't speak that language. When in doubt, use an app like Hemingway to make sure you're writing at a level that most people can understand.  
2. Spend time on your title
It's tempting to use the case study's most interesting or impressive KPI as your title. But that also gives away the ending before the story begins, and skips details that are important for context in the process. Try writing a title that piques interest without being a spoiler. 
3. Edit. Then edit again. 
Once you've got your first draft completed (and the jargon removed), edit the case study. A few best practices here:
Look for and eliminate unnecessary adjectives. 
Speak in an active voice. 
Look for details that get in the way of the story. 
And then do it all over again until you can't edit it down anymore without losing the essence of the story. 
4. A picture is worth a thousand words
This is especially true when you're talking about a block of text that's trying to communicate a chunk of data. Well-designed charts, graphs, images, or infographics can do the heavy lifting of several pages of text in just seconds. They can also help break up large pieces of text, making the case study easier to read—and nicer to look at. After all, the end goal is to have these read all the way through.
Here's an example of a graphic from a longer CPA Canada infographic (that includes a short case study embedded inside it): 
5. Pull quotes
Hard data and results are good. But a customer quote is a great piece of social proof and adds a human element to your case study. And that makes your results more believable. Customer quotes can also be used outside of your testimonial too—try adding it on your website, landing pages, or email marketing campaigns or welcome emails to get more people to check out your products and buy online. Here's an example of what that looks like:
6. Make it scannable
Some people will take the time to read your case study front to back and absorb every detail. Some won't give it more than a single glance. And sometimes, that person is the decision-maker. Make the most important results easy to spot, read, and retain at a glance. Write headings that are descriptive—if someone just scanned them, would they be able to get the gist of the story? Consider putting a summary at the very beginning of the study, or call out impressive results in a larger font size. 
7. Record your interviews
Ditch the pen and paper. If you're conducting one-on-one interviews over the phone, you can save yourself a lot of time and energy by recording the conversation (with your customer's consent, of course). There are tools that can make this easier too—you might find one or two in your marketing stack . For example, you could use RingCentral's Zapier integration to transcribe your conversation into a text file. 
8. Don't forget the call to action (CTA)
Your prospect is excited because your case study has done an excellent job of showing how your product or service can help drive results for customers. Now, how do they get in touch with you to learn more? Whether it's a button that links to your website, an email address, or a phone number, make sure there's an easy way of getting in touch with you in the case study. 
5 examples of great case studies from real-life companies
Mailchimp: make a connection in real life with postcards.
What we like about it: The title doesn't give everything away all at once, and the case study tells a story with a beginning, middle, and end. The sections are clearly titled and organized, and the results are easy to find. As a bonus: the video adds a believable human element.
LinkedIn: How Adobe achieves alignment and ABM success with LinkedIn
What we like about it: It's detailed without being a novella. It understands and speaks to the enterprise customer. The key points are in bullet format and easy to read. The important wins are highlighted. And the video makes the content easy to engage with. 
Hootsuite: How Meliá became one of the most influential hotel chains on social media
What we like about it: The title makes you want to read the whole customer story. They've embdedded a well-produced video high on the page, so you can choose to watch it before you read on. The design and layout of the page makes the content and images easy to consume, and the results can't be missed. Also, they weren't shy about adding CTAs. 
Slack: So yeah, we tried Slack
What we like about it: This case study follows the tried and true format of customer, problem, solution, and results. It uses humor and relatable characters throughout to support the story and keep your attention. And it's only two minutes long so it gets the point across quickly. 
Assetworks: South Carolina School Board Insurance Trust
What we like about it: This case study tackles the otherwise complex and technical topic, and simplifies it as an infographic using images to make the results clear. It's concise and easy to follow because you can see the math without actually doing any math. 
The final word on building a great case study…
Sure, an ad or boosted social media post (more on social media best practices here) can make someone aware of your brand or that your product exists, and a landing page can tell them how your product can solve their problem. 
But there's nothing quite as powerful as someone else singing your praises. 
And that's exactly what a case study does. Spend the time to do it right and it has the potential to deliver huge ROI no matter how big or small your company is. And not just once—but over and over again.
Originally published Feb 05, 2020, updated Oct 19, 2022
53 marketing quotes to inspire & motivate you
You can find inspirational or motivational quotes for pretty much any area of life. There are some great quotes out there for things like fitness, healthy eating, and relationships. You'll often see some people put quotes on their desk to keep them focused at work. Others will even tattoo their favorite quotes so they always ...
Thank you for your interest in RingCentral.
Related content
11 business email etiquette best practices | RingCentral
10 powerful Zoom alternatives for video calling and conferencing
13 more effective alternatives to "just touching base" emails
Writing A Case Study
Case Study Format

Simple Case Study Format for Students to Follow
Published on: Jun 18, 2019
Last updated on: Oct 17, 2023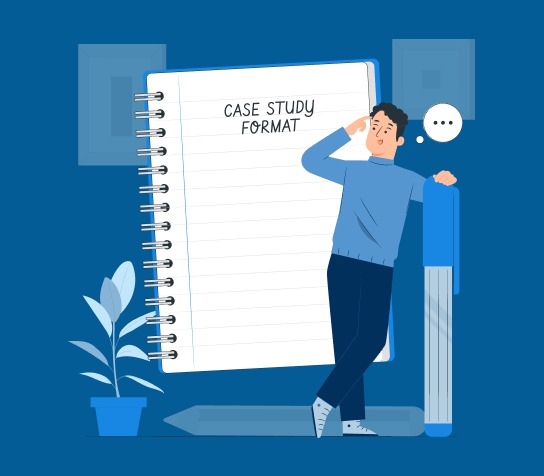 People also read
A Complete Case Study Writing Guide With Examples
Understand the Basic Types of Case Study Here
20+ Unique Case Study Examples in 2023
Share this article
Knowing how to write a great case study is one of the important skills you will need in college. You may feel overwhelmed when you get the assignment to write a case study because it requires good analytical and writing skills.
When you are asked to write a case study, you are expected to come up with a solution to a problem which is not an easy task.
It is also important to organize your work efficiently. In this blog, we have provided the important format guidelines and a case study format sample to help you get started.
On This Page On This Page
Importance of Case Study Format
Using the correct case study analysis format is as important as covering the key information in it. Therefore, it is essential to take into account all the formatting guidelines for a perfect case study.
Each college and university sets its own requirement for the case study formatting. So, it is important to check what format style requirements your institute has set. APA format and MLA format are the most commonly used styles for formatting a case study but some institutes use other kinds of referencing formats also.
In the case of the APA and MLA style case study, the reference pages will be outlined in the APA and MLA styles. Keep in mind that teachers pay careful attention to formatting. So, neglecting to properly format your case study can affect your grades.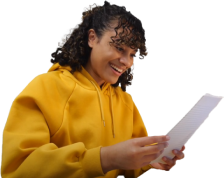 Paper Due? Why Suffer? That's our Job
How to Format Your Case Study?
Students usually feel overwhelmed when it comes to turning the gathered information into something interesting and readable.
What should you include? Where should you start? And what is the best way to structure and organize your case study? These are the common questions students mostly encounter when writing a case study.
To help you get the answers to all these queries, it is important to first understand that there is no one way that you can use to present your case analysis. Usually, the case studies are either written or visual. No matter what case study you are working on, there are some elements that you need to take care of for a perfect case study.
Here are the elements that you need to include for a perfect case study paper format.
"What are the parts of a case study?"
Create an interesting title for your work. Keep it simple and short.
Here you need to briefly elaborate on the accomplishment. What you have done and how you got there.
Write about the entire story in one paragraph followed by 2-3 bullet points to display the case study contents.
An introduction about what the case study is all about.
Describe the challenges of the customer prior to using your product or service. Explain the long-term goals or objectives that the customer set out to achieve.
In this 2-3 paragraph section describe how your specific strategies provided a solution to their problem.
In this 2-3 paragraph section describe how your product or service specifically benefited and helped achieve the goals. You can also use percentages to show your contributions.
In the bottom section of your case study, add 1-2 quotes and visuals to support the story you are telling. You can also use icons to summarize information and highlight areas of your research. You can also combine these with social media icons to show this is a well-researched and thorough case study.
Write about the future plans for your case study analysis and whether or not those plans involve you.
Call to action is optional but adding one can encourage your readers to take some action after learning your work at your website.
Case Study Format Template
Case studies can be used for different purposes. In social sciences, it can help you understand the problems of other people.
In businesses, it can help you earn the trust of potential customers. But do you even know what are the different types of case study and how to write one?
For some people, writing a good case study format is easy but for others, it can be a nightmare. To make all things easier for you, we have provided you with a free case study template.
Refer to this template before you start writing your own document. This student case study format sample contains all the information you might need when gathering information for your case study.
Case Study Format Examples
Case study examples are the best way to learn the basic techniques for writing a great case study on your own.
A great approach for writing a perfect case study is to plan ahead and refer to a sample case study format that can guide you in the writing process.
For your help, we have also compiled real-life case study examples along with a format that you can refer to while writing your own.
APA Case Study Format
If you are asked to write a case study in APA format, keep in mind there are some specific requirements that you need to adhere to.
Here is a case study APA format example for you to learn how to format a case study.
Business Case Study Format
Business case studies can help businesses sell products or services to prospects. Here is a perfect example for you to learn how to write an impressive business case study.
Nursing Case Study Format
Writing a great nursing case study can be tough. That's why we have provided a case study report format for nursing students to use as a guide in creating their work.
Refer to this family case study format example if you are writing a nursing case study for the first time.
Harvard Business School Case Study Format
Looking for HBS style business case study? Here is one for you to read and take hints and ideas to prepare this type of case study like a professional.
Tough Essay Due? Hire Tough Writers!
Medical Case Study Format
Writing medical case studies is helpful in medical practices as it gives a lot of information about different diseases. Look at this example and learn how to write a detailed medical case study.
Case studies may not be as attractive as blog posts and they are often overlooked as compared to other content formats. But why do you need to write a case study?
In your academic years, you cannot avoid writing a case study. To complete this assignment, you need to conduct thorough research to identify the key takeaways and record the results in detail using APA or any other style asked by your teacher.
If your case study is causing problems, consider getting professional help.
Our custom paper writing service aims to help you secure top grades by meeting the criteria set by professors.
Our skilled writers are here to assist with any type of assignment you may have. Explore our case study writing service to relieve your stress and excel academically.
Barbara P (Literature, Marketing)
Dr. Barbara is a highly experienced writer and author who holds a Ph.D. degree in public health from an Ivy League school. She has worked in the medical field for many years, conducting extensive research on various health topics. Her writing has been featured in several top-tier publications.
Paper Due? Why Suffer? That's our Job!
Keep reading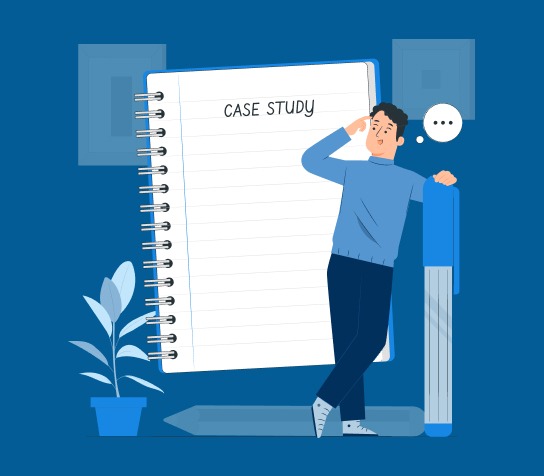 We value your privacy
We use cookies to improve your experience and give you personalized content. Do you agree to our cookie policy?
Website Data Collection
We use data collected by cookies and JavaScript libraries.
Are you sure you want to cancel?
Your preferences have not been saved.
Organizing Your Social Sciences Research Assignments
Annotated Bibliography
Analyzing a Scholarly Journal Article
Group Presentations
Dealing with Nervousness
Using Visual Aids
Grading Someone Else's Paper
Types of Structured Group Activities
Group Project Survival Skills
Leading a Class Discussion
Multiple Book Review Essay
Reviewing Collected Works
Writing a Case Analysis Paper
Writing a Case Study
About Informed Consent
Writing Field Notes
Writing a Policy Memo
Writing a Reflective Paper
Writing a Research Proposal
Generative AI and Writing
Acknowledgments
Definition and Introduction
Case analysis is a problem-based teaching and learning method that involves critically analyzing complex scenarios within an organizational setting for the purpose of placing the student in a "real world" situation and applying reflection and critical thinking skills to contemplate appropriate solutions, decisions, or recommended courses of action. It is considered a more effective teaching technique than in-class role playing or simulation activities. The analytical process is often guided by questions provided by the instructor that ask students to contemplate relationships between the facts and critical incidents described in the case.
Cases generally include both descriptive and statistical elements and rely on students applying abductive reasoning to develop and argue for preferred or best outcomes [i.e., case scenarios rarely have a single correct or perfect answer based on the evidence provided]. Rather than emphasizing theories or concepts, case analysis assignments emphasize building a bridge of relevancy between abstract thinking and practical application and, by so doing, teaches the value of both within a specific area of professional practice.
Given this, the purpose of a case analysis paper is to present a structured and logically organized format for analyzing the case situation. It can be assigned to students individually or as a small group assignment and it may include an in-class presentation component. Case analysis is predominately taught in economics and business-related courses, but it is also a method of teaching and learning found in other applied social sciences disciplines, such as, social work, public relations, education, journalism, and public administration.
Ellet, William. The Case Study Handbook: A Student's Guide . Revised Edition. Boston, MA: Harvard Business School Publishing, 2018; Christoph Rasche and Achim Seisreiner. Guidelines for Business Case Analysis . University of Potsdam; Writing a Case Analysis . Writing Center, Baruch College; Volpe, Guglielmo. "Case Teaching in Economics: History, Practice and Evidence." Cogent Economics and Finance 3 (December 2015). doi:https://doi.org/10.1080/23322039.2015.1120977.
How to Approach Writing a Case Analysis Paper
The organization and structure of a case analysis paper can vary depending on the organizational setting, the situation, and how your professor wants you to approach the assignment. Nevertheless, preparing to write a case analysis paper involves several important steps. As Hawes notes, a case analysis assignment "...is useful in developing the ability to get to the heart of a problem, analyze it thoroughly, and to indicate the appropriate solution as well as how it should be implemented" [p.48]. This statement encapsulates how you should approach preparing to write a case analysis paper.
Before you begin to write your paper, consider the following analytical procedures:
Review the case to get an overview of the situation . A case can be only a few pages in length, however, it is most often very lengthy and contains a significant amount of detailed background information and statistics, with multilayered descriptions of the scenario, the roles and behaviors of various stakeholder groups, and situational events. Therefore, a quick reading of the case will help you gain an overall sense of the situation and illuminate the types of issues and problems that you will need to address in your paper. If your professor has provided questions intended to help frame your analysis, use them to guide your initial reading of the case.
Read the case thoroughly . After gaining a general overview of the case, carefully read the content again with the purpose of understanding key circumstances, events, and behaviors among stakeholder groups. Look for information or data that appears contradictory, extraneous, or misleading. At this point, you should be taking notes as you read because this will help you develop a general outline of your paper. The aim is to obtain a complete understanding of the situation so that you can begin contemplating tentative answers to any questions your professor has provided or, if they have not provided, developing answers to your own questions about the case scenario and its connection to the course readings,lectures, and class discussions.
Determine key stakeholder groups, issues, and events and the relationships they all have to each other . As you analyze the content, pay particular attention to identifying individuals, groups, or organizations described in the case and identify evidence of any problems or issues of concern that impact the situation in a negative way. Other things to look for include identifying any assumptions being made by or about each stakeholder, potential biased explanations or actions, explicit demands or ultimatums , and the underlying concerns that motivate these behaviors among stakeholders. The goal at this stage is to develop a comprehensive understanding of the situational and behavioral dynamics of the case and the explicit and implicit consequences of each of these actions.
Identify the core problems . The next step in most case analysis assignments is to discern what the core [i.e., most damaging, detrimental, injurious] problems are within the organizational setting and to determine their implications. The purpose at this stage of preparing to write your analysis paper is to distinguish between the symptoms of core problems and the core problems themselves and to decide which of these must be addressed immediately and which problems do not appear critical but may escalate over time. Identify evidence from the case to support your decisions by determining what information or data is essential to addressing the core problems and what information is not relevant or is misleading.
Explore alternative solutions . As noted, case analysis scenarios rarely have only one correct answer. Therefore, it is important to keep in mind that the process of analyzing the case and diagnosing core problems, while based on evidence, is a subjective process open to various avenues of interpretation. This means that you must consider alternative solutions or courses of action by critically examining strengths and weaknesses, risk factors, and the differences between short and long-term solutions. For each possible solution or course of action, consider the consequences they may have related to their implementation and how these recommendations might lead to new problems. Also, consider thinking about your recommended solutions or courses of action in relation to issues of fairness, equity, and inclusion.
Decide on a final set of recommendations . The last stage in preparing to write a case analysis paper is to assert an opinion or viewpoint about the recommendations needed to help resolve the core problems as you see them and to make a persuasive argument for supporting this point of view. Prepare a clear rationale for your recommendations based on examining each element of your analysis. Anticipate possible obstacles that could derail their implementation. Consider any counter-arguments that could be made concerning the validity of your recommended actions. Finally, describe a set of criteria and measurable indicators that could be applied to evaluating the effectiveness of your implementation plan.
Use these steps as the framework for writing your paper. Remember that the more detailed you are in taking notes as you critically examine each element of the case, the more information you will have to draw from when you begin to write. This will save you time.
NOTE : If the process of preparing to write a case analysis paper is assigned as a student group project, consider having each member of the group analyze a specific element of the case, including drafting answers to the corresponding questions used by your professor to frame the analysis. This will help make the analytical process more efficient and ensure that the distribution of work is equitable. This can also facilitate who is responsible for drafting each part of the final case analysis paper and, if applicable, the in-class presentation.
Framework for Case Analysis . College of Management. University of Massachusetts; Hawes, Jon M. "Teaching is Not Telling: The Case Method as a Form of Interactive Learning." Journal for Advancement of Marketing Education 5 (Winter 2004): 47-54; Rasche, Christoph and Achim Seisreiner. Guidelines for Business Case Analysis . University of Potsdam; Writing a Case Study Analysis . University of Arizona Global Campus Writing Center; Van Ness, Raymond K. A Guide to Case Analysis . School of Business. State University of New York, Albany; Writing a Case Analysis . Business School, University of New South Wales.
Structure and Writing Style
A case analysis paper should be detailed, concise, persuasive, clearly written, and professional in tone and in the use of language . As with other forms of college-level academic writing, declarative statements that convey information, provide a fact, or offer an explanation or any recommended courses of action should be based on evidence. If allowed by your professor, any external sources used to support your analysis, such as course readings, should be properly cited under a list of references. The organization and structure of case analysis papers can vary depending on your professor's preferred format, but its structure generally follows the steps used for analyzing the case.
Introduction
The introduction should provide a succinct but thorough descriptive overview of the main facts, issues, and core problems of the case . The introduction should also include a brief summary of the most relevant details about the situation and organizational setting. This includes defining the theoretical framework or conceptual model on which any questions were used to frame your analysis.
Following the rules of most college-level research papers, the introduction should then inform the reader how the paper will be organized. This includes describing the major sections of the paper and the order in which they will be presented. Unless you are told to do so by your professor, you do not need to preview your final recommendations in the introduction. U nlike most college-level research papers , the introduction does not include a statement about the significance of your findings because a case analysis assignment does not involve contributing new knowledge about a research problem.
Background Analysis
Background analysis can vary depending on any guiding questions provided by your professor and the underlying concept or theory that the case is based upon. In general, however, this section of your paper should focus on:
Providing an overarching analysis of problems identified from the case scenario, including identifying events that stakeholders find challenging or troublesome,
Identifying assumptions made by each stakeholder and any apparent biases they may exhibit,
Describing any demands or claims made by or forced upon key stakeholders, and
Highlighting any issues of concern or complaints expressed by stakeholders in response to those demands or claims.
These aspects of the case are often in the form of behavioral responses expressed by individuals or groups within the organizational setting. However, note that problems in a case situation can also be reflected in data [or the lack thereof] and in the decision-making, operational, cultural, or institutional structure of the organization. Additionally, demands or claims can be either internal and external to the organization [e.g., a case analysis involving a president considering arms sales to Saudi Arabia could include managing internal demands from White House advisors as well as demands from members of Congress].
Throughout this section, present all relevant evidence from the case that supports your analysis. Do not simply claim there is a problem, an assumption, a demand, or a concern; tell the reader what part of the case informed how you identified these background elements.
Identification of Problems
In most case analysis assignments, there are problems, and then there are problems . Each problem can reflect a multitude of underlying symptoms that are detrimental to the interests of the organization. The purpose of identifying problems is to teach students how to differentiate between problems that vary in severity, impact, and relative importance. Given this, problems can be described in three general forms: those that must be addressed immediately, those that should be addressed but the impact is not severe, and those that do not require immediate attention and can be set aside for the time being.
All of the problems you identify from the case should be identified in this section of your paper, with a description based on evidence explaining the problem variances. If the assignment asks you to conduct research to further support your assessment of the problems, include this in your explanation. Remember to cite those sources in a list of references. Use specific evidence from the case and apply appropriate concepts, theories, and models discussed in class or in relevant course readings to highlight and explain the key problems [or problem] that you believe must be solved immediately and describe the underlying symptoms and why they are so critical.
Alternative Solutions
This section is where you provide specific, realistic, and evidence-based solutions to the problems you have identified and make recommendations about how to alleviate the underlying symptomatic conditions impacting the organizational setting. For each solution, you must explain why it was chosen and provide clear evidence to support your reasoning. This can include, for example, course readings and class discussions as well as research resources, such as, books, journal articles, research reports, or government documents. In some cases, your professor may encourage you to include personal, anecdotal experiences as evidence to support why you chose a particular solution or set of solutions. Using anecdotal evidence helps promote reflective thinking about the process of determining what qualifies as a core problem and relevant solution .
Throughout this part of the paper, keep in mind the entire array of problems that must be addressed and describe in detail the solutions that might be implemented to resolve these problems.
Recommended Courses of Action
In some case analysis assignments, your professor may ask you to combine the alternative solutions section with your recommended courses of action. However, it is important to know the difference between the two. A solution refers to the answer to a problem. A course of action refers to a procedure or deliberate sequence of activities adopted to proactively confront a situation, often in the context of accomplishing a goal. In this context, proposed courses of action are based on your analysis of alternative solutions. Your description and justification for pursuing each course of action should represent the overall plan for implementing your recommendations.
For each course of action, you need to explain the rationale for your recommendation in a way that confronts challenges, explains risks, and anticipates any counter-arguments from stakeholders. Do this by considering the strengths and weaknesses of each course of action framed in relation to how the action is expected to resolve the core problems presented, the possible ways the action may affect remaining problems, and how the recommended action will be perceived by each stakeholder.
In addition, you should describe the criteria needed to measure how well the implementation of these actions is working and explain which individuals or groups are responsible for ensuring your recommendations are successful. In addition, always consider the law of unintended consequences. Outline difficulties that may arise in implementing each course of action and describe how implementing the proposed courses of action [either individually or collectively] may lead to new problems [both large and small].
Throughout this section, you must consider the costs and benefits of recommending your courses of action in relation to uncertainties or missing information and the negative consequences of success.
The conclusion should be brief and introspective. Unlike a research paper, the conclusion in a case analysis paper does not include a summary of key findings and their significance, a statement about how the study contributed to existing knowledge, or indicate opportunities for future research.
Begin by synthesizing the core problems presented in the case and the relevance of your recommended solutions. This can include an explanation of what you have learned about the case in the context of your answers to the questions provided by your professor. The conclusion is also where you link what you learned from analyzing the case with the course readings or class discussions. This can further demonstrate your understanding of the relationships between the practical case situation and the theoretical and abstract content of assigned readings and other course content.
Problems to Avoid
The literature on case analysis assignments often includes examples of difficulties students have with applying methods of critical analysis and effectively reporting the results of their assessment of the situation. A common reason cited by scholars is that the application of this type of teaching and learning method is limited to applied fields of social and behavioral sciences and, as a result, writing a case analysis paper can be unfamiliar to most students entering college.
After you have drafted your paper, proofread the narrative flow and revise any of these common errors:
Unnecessary detail in the background section . The background section should highlight the essential elements of the case based on your analysis. Focus on summarizing the facts and highlighting the key factors that become relevant in the other sections of the paper by eliminating any unnecessary information.
Analysis relies too much on opinion . Your analysis is interpretive, but the narrative must be connected clearly to evidence from the case and any models and theories discussed in class or in course readings. Any positions or arguments you make should be supported by evidence.
Analysis does not focus on the most important elements of the case . Your paper should provide a thorough overview of the case. However, the analysis should focus on providing evidence about what you identify are the key events, stakeholders, issues, and problems. Emphasize what you identify as the most critical aspects of the case to be developed throughout your analysis. Be thorough but succinct.
Writing is too descriptive . A paper with too much descriptive information detracts from your analysis of the complexities of the case situation. Questions about what happened, where, when, and by whom should only be included as essential information leading to your examination of questions related to why, how, and for what purpose.
Inadequate definition of a core problem and associated symptoms . A common error found in case analysis papers is recommending a solution or course of action without adequately defining or demonstrating that you understand the problem. Make sure you have clearly described the problem and its impact and scope within the organizational setting. Ensure that you have adequately described the root causes w hen describing the symptoms of the problem.
Recommendations lack specificity . Identify any use of vague statements and indeterminate terminology, such as, "A particular experience" or "a large increase to the budget." These statements cannot be measured and, as a result, there is no way to evaluate their successful implementation. Provide specific data and use direct language in describing recommended actions.
Unrealistic, exaggerated, or unattainable recommendations . Review your recommendations to ensure that they are based on the situational facts of the case. Your recommended solutions and courses of action must be based on realistic assumptions and fit within the constraints of the situation. Also note that the case scenario has already happened, therefore, any speculation or arguments about what could have occurred if the circumstances were different should be revised or eliminated.
Bee, Lian Song et al. "Business Students' Perspectives on Case Method Coaching for Problem-Based Learning: Impacts on Student Engagement and Learning Performance in Higher Education." Education & Training 64 (2022): 416-432; The Case Analysis . Fred Meijer Center for Writing and Michigan Authors. Grand Valley State University; Georgallis, Panikos and Kayleigh Bruijn. "Sustainability Teaching using Case-Based Debates." Journal of International Education in Business 15 (2022): 147-163; Hawes, Jon M. "Teaching is Not Telling: The Case Method as a Form of Interactive Learning." Journal for Advancement of Marketing Education 5 (Winter 2004): 47-54; Georgallis, Panikos, and Kayleigh Bruijn. "Sustainability Teaching Using Case-based Debates." Journal of International Education in Business 15 (2022): 147-163; .Dean, Kathy Lund and Charles J. Fornaciari. "How to Create and Use Experiential Case-Based Exercises in a Management Classroom." Journal of Management Education 26 (October 2002): 586-603; Klebba, Joanne M. and Janet G. Hamilton. "Structured Case Analysis: Developing Critical Thinking Skills in a Marketing Case Course." Journal of Marketing Education 29 (August 2007): 132-137, 139; Klein, Norman. "The Case Discussion Method Revisited: Some Questions about Student Skills." Exchange: The Organizational Behavior Teaching Journal 6 (November 1981): 30-32; Mukherjee, Arup. "Effective Use of In-Class Mini Case Analysis for Discovery Learning in an Undergraduate MIS Course." The Journal of Computer Information Systems 40 (Spring 2000): 15-23; Pessoa, Silviaet al. "Scaffolding the Case Analysis in an Organizational Behavior Course: Making Analytical Language Explicit." Journal of Management Education 46 (2022): 226-251: Ramsey, V. J. and L. D. Dodge. "Case Analysis: A Structured Approach." Exchange: The Organizational Behavior Teaching Journal 6 (November 1981): 27-29; Schweitzer, Karen. "How to Write and Format a Business Case Study." ThoughtCo. https://www.thoughtco.com/how-to-write-and-format-a-business-case-study-466324 (accessed December 5, 2022); Reddy, C. D. "Teaching Research Methodology: Everything's a Case." Electronic Journal of Business Research Methods 18 (December 2020): 178-188; Volpe, Guglielmo. "Case Teaching in Economics: History, Practice and Evidence." Cogent Economics and Finance 3 (December 2015). doi:https://doi.org/10.1080/23322039.2015.1120977.
Writing Tip
Ca se Study and Case Analysis Are Not the Same!
Confusion often exists between what it means to write a paper that uses a case study research design and writing a paper that analyzes a case; they are two different types of approaches to learning in the social and behavioral sciences. Professors as well as educational researchers contribute to this confusion because they often use the term "case study" when describing the subject of analysis for a case analysis paper. But you are not studying a case for the purpose of generating a comprehensive, multi-faceted understanding of a research problem. R ather, you are critically analyzing a specific scenario to argue logically for recommended solutions and courses of action that lead to optimal outcomes applicable to professional practice.
To avoid any confusion, here are twelve characteristics that delineate the differences between writing a paper using the case study research method and writing a case analysis paper:
Case study is a method of in-depth research and rigorous inquiry ; case analysis is a reliable method of teaching and learning . A case study is a modality of research that investigates a phenomenon for the purpose of creating new knowledge, solving a problem, or testing a hypothesis using empirical evidence derived from the case being studied. Often, the results are used to generalize about a larger population or within a wider context. The writing adheres to the traditional standards of a scholarly research study. A case analysis is a pedagogical tool used to teach students how to reflect and think critically about a practical, real-life problem in an organizational setting.
The researcher is responsible for identifying the case to study; a case analysis is assigned by your professor . As the researcher, you choose the case study to investigate in support of obtaining new knowledge and understanding about the research problem. The case in a case analysis assignment is almost always provided, and sometimes written, by your professor and either given to every student in class to analyze individually or to a small group of students, or students select a case to analyze from a predetermined list.
A case study is indeterminate and boundless; a case analysis is predetermined and confined . A case study can be almost anything [see item 9 below] as long as it relates directly to examining the research problem. This relationship is the only limit to what a researcher can choose as the subject of their case study. The content of a case analysis is determined by your professor and its parameters are well-defined and limited to elucidating insights of practical value applied to practice.
Case study is fact-based and describes actual events or situations; case analysis can be entirely fictional or adapted from an actual situation . The entire content of a case study must be grounded in reality to be a valid subject of investigation in an empirical research study. A case analysis only needs to set the stage for critically examining a situation in practice and, therefore, can be entirely fictional or adapted, all or in-part, from an actual situation.
Research using a case study method must adhere to principles of intellectual honesty and academic integrity; a case analysis scenario can include misleading or false information . A case study paper must report research objectively and factually to ensure that any findings are understood to be logically correct and trustworthy. A case analysis scenario may include misleading or false information intended to deliberately distract from the central issues of the case. The purpose is to teach students how to sort through conflicting or useless information in order to come up with the preferred solution. Any use of misleading or false information in academic research is considered unethical.
Case study is linked to a research problem; case analysis is linked to a practical situation or scenario . In the social sciences, the subject of an investigation is most often framed as a problem that must be researched in order to generate new knowledge leading to a solution. Case analysis narratives are grounded in real life scenarios for the purpose of examining the realities of decision-making behavior and processes within organizational settings. A case analysis assignments include a problem or set of problems to be analyzed. However, the goal is centered around the act of identifying and evaluating courses of action leading to best possible outcomes.
The purpose of a case study is to create new knowledge through research; the purpose of a case analysis is to teach new understanding . Case studies are a choice of methodological design intended to create new knowledge about resolving a research problem. A case analysis is a mode of teaching and learning intended to create new understanding and an awareness of uncertainty applied to practice through acts of critical thinking and reflection.
A case study seeks to identify the best possible solution to a research problem; case analysis can have an indeterminate set of solutions or outcomes . Your role in studying a case is to discover the most logical, evidence-based ways to address a research problem. A case analysis assignment rarely has a single correct answer because one of the goals is to force students to confront the real life dynamics of uncertainly, ambiguity, and missing or conflicting information within professional practice. Under these conditions, a perfect outcome or solution almost never exists.
Case study is unbounded and relies on gathering external information; case analysis is a self-contained subject of analysis . The scope of a case study chosen as a method of research is bounded. However, the researcher is free to gather whatever information and data is necessary to investigate its relevance to understanding the research problem. For a case analysis assignment, your professor will often ask you to examine solutions or recommended courses of action based solely on facts and information from the case.
Case study can be a person, place, object, issue, event, condition, or phenomenon; a case analysis is a carefully constructed synopsis of events, situations, and behaviors . The research problem dictates the type of case being studied and, therefore, the design can encompass almost anything tangible as long as it fulfills the objective of generating new knowledge and understanding. A case analysis is in the form of a narrative containing descriptions of facts, situations, processes, rules, and behaviors within a particular setting and under a specific set of circumstances.
Case study can represent an open-ended subject of inquiry; a case analysis is a narrative about something that has happened in the past . A case study is not restricted by time and can encompass an event or issue with no temporal limit or end. For example, the current war in Ukraine can be used as a case study of how medical personnel help civilians during a large military conflict, even though circumstances around this event are still evolving. A case analysis can be used to elicit critical thinking about current or future situations in practice, but the case itself is a narrative about something finite and that has taken place in the past.
Multiple case studies can be used in a research study; case analysis involves examining a single scenario . Case study research can use two or more cases to examine a problem, often for the purpose of conducting a comparative investigation intended to discover hidden relationships, document emerging trends, or determine variations among different examples. A case analysis assignment typically describes a stand-alone, self-contained situation and any comparisons among cases are conducted during in-class discussions and/or student presentations.
The Case Analysis . Fred Meijer Center for Writing and Michigan Authors. Grand Valley State University; Mills, Albert J. , Gabrielle Durepos, and Eiden Wiebe, editors. Encyclopedia of Case Study Research . Thousand Oaks, CA: SAGE Publications, 2010; Ramsey, V. J. and L. D. Dodge. "Case Analysis: A Structured Approach." Exchange: The Organizational Behavior Teaching Journal 6 (November 1981): 27-29; Yin, Robert K. Case Study Research and Applications: Design and Methods . 6th edition. Thousand Oaks, CA: Sage, 2017; Crowe, Sarah et al. "The Case Study Approach." BMC Medical Research Methodology 11 (2011): doi: 10.1186/1471-2288-11-100; Yin, Robert K. Case Study Research: Design and Methods . 4th edition. Thousand Oaks, CA: Sage Publishing; 1994.
<< Previous: Reviewing Collected Works
Next: Writing a Case Study >>
Last Updated: Sep 15, 2023 9:37 AM
URL: https://libguides.usc.edu/writingguide/assignments
We use essential cookies to make Venngage work. By clicking "Accept All Cookies", you agree to the storing of cookies on your device to enhance site navigation, analyze site usage, and assist in our marketing efforts.
Manage Cookies
Cookies and similar technologies collect certain information about how you're using our website. Some of them are essential, and without them you wouldn't be able to use Venngage. But others are optional, and you get to choose whether we use them or not.
Strictly Necessary Cookies
These cookies are always on, as they're essential for making Venngage work, and making it safe. Without these cookies, services you've asked for can't be provided.
Show cookie providers
Functionality Cookies
These cookies help us provide enhanced functionality and personalisation, and remember your settings. They may be set by us or by third party providers.
Performance Cookies
These cookies help us analyze how many people are using Venngage, where they come from and how they're using it. If you opt out of these cookies, we can't get feedback to make Venngage better for you and all our users.
Targeting Cookies
These cookies are set by our advertising partners to track your activity and show you relevant Venngage ads on other sites as you browse the internet.
Venngage Case Study Creator
Captivate your clients by highlighting your company's solutions, and get valuable insights to improve your business strategy with Venngage's case study templates.

Create a case study report that looks compelling and converts leads without any design experience. Showcase real success stories and challenges that your products and services helped to solve. Join over 40,000 businesses in using Venngage as a marketing solution.
Design from one of our case study templates
Choose from hundreds of case study templates. see all case study templates, design professional case studies for meetings, and negotiations.

Create your own case studies to share compelling success stories. Showcase products, strategies, and tactics that had made your clients grow. You don't need any design experience! All of our case study template designs are created in-house by professional designers.
You don't need to be a designer to create a professional-looking case study infographic, or in-depth, multi-page reports. Pick from our library of easy-to-edit case study templates.
Get access to high-quality stock photos and choose from over 40,000+ icons and illustrations to use. Venngage also offers a wide variety of chart and data visualization widgets that you can customize.
Want to incorporate your brand's identity? We've got you. My Brand Kit feature lets you upload your company logos, fonts, and colors. Perfect to stand out in your presentation!
Get your team involved when creating case studies. Real-time collaboration allows you to provide feedback and apply changes creating a great design in minutes.
How to create a case study in 5 easy steps: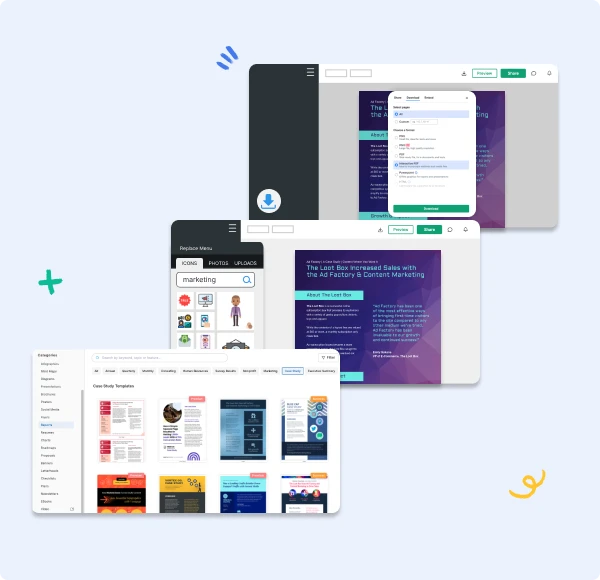 Showcase your challenges to elevate your brand with ease

Customizable Templates
No design experience? No problem! Our stunning template designs will make your data analysis look great without even trying.
User-Friendly Editor
Easily visualize and present complex case study examples with Venngage editor. Use our Smart features to quickly add or remove shapes, lines, and branches with a single click.
Access Stunning Photography
A case study report is more engaging and impressive when you use Venngage's library of 3 million stock photos. Professional and royalty-free.
Data Visualization
With Venngage's free case study creator, you can add data collected from a Google Sheet or CSV, and the chart automatically populates the data.
24/7 Customer Support
Experiencing issues? Have questions about using a feature or need advice? Our support team is available around the clock.
My Brand Kit
Build your brand through consistency. My Brand Kit lets you incorporate your branding into every asset you design in Venngage.
Customize Venngage's Case Study Templates
Choose your favorite design from the templates library. We have an extended gallery of layouts you can work on. Just organize your qualitative and quantitative data, add customizable graphs, icons and images, set your brand identity, and start creating a comprehensive case study report.
Use illustrations, icons and photos: Case studies ought to be visually engaging and inviting. That's why Venngage lets you access 40K+ icons and beautiful illustrations, impressive stock photos, and customizable charts and graphs.
Create branded content without any design help: Branded case studies help your brand really stand out. They're an excellent form of lead generation and branding building. Showcase your expertise and real-life success stories that will win over your readers.
Collaborate with team members and stakeholders in real-time
Replace online meetings, email threads, chats, or messages by simply clicking "Share" from the editor to send a private link to your peers.
Share your designs, so people can work together and make adjustments to achieve the perfect showcase for your strategies.
Work better together. Provide feedback, share expertise, and have insights for a perfect process mapping design.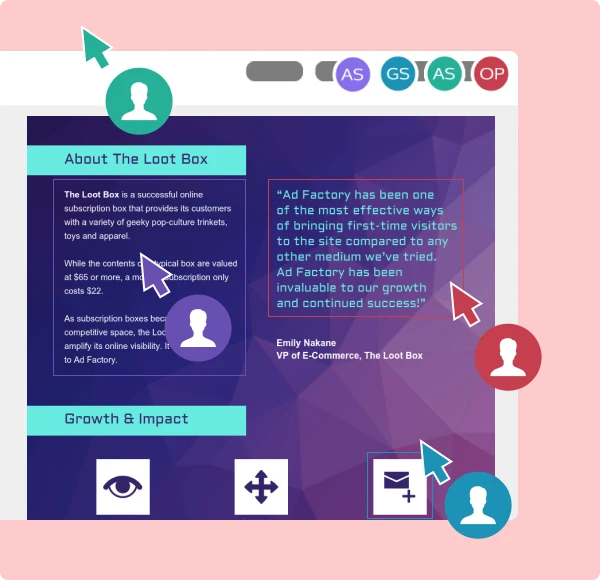 Download and share your case study design with a click
Download your document as a PDF or Interactive PDF (to use hyperlinking).
To print your document, apply print bleeds in the editor and then download it as a PDF.
Share your completed design using a share link - no need to download a single thing.
Great features that make your report stand out
My Brand Kit lets you instantly apply your branding to any template design, saving you hours of time and effort.
Access Pixabay, Pexels, and other libraries for impressive stock photos from around the world - for free.
Hundreds of font options and styles to suit your design preferences. You can also request fonts we don't have to maintain your brand look.
How do I sign up for Venngage's case study creator?
To start using Venngage's free case study creator, sign up for free using your email, Facebook or Gmail account. Once you create an account you can choose which template to get started with and start editing in the online editor.
How do I write a case study?
The easiest way to write a case study is to get started with a template. This provides you with a pre-set cover page and table of contents; a variety of page layouts to work with; and a picture of how to organize content, add designs and break up text. A case study is not a technical document that needs to be structured in a specific and formal way. You can get creative but focus on making your content clear and easy to understand.
What's an example of a case study?
Case studies, in business and marketing, are stories of success achieved through a product or service. The product can even be a strategy or framework that was pioneered by an industry thought leader. Many brands publish case studies on their website to share how their clients see tremendous value in using their products. The case study essentially chronicles the entire client journey from having a problem, to finding the solution, and the outcome of that solution.
Try Venngage's Case Study Creator today. Sign up for free!

Get started with our case study templates:
Business case study, content marketing case study, lead generation business case study, social media case study.
How to Write a Compelling Case Study? 5 Real Examples
Summary points:.
Case studies are bland and monotone. But we can't overlook the fact that case studies are one of the most effective content marketing strategies.
HubSpot's State of Marketing report has even stated that case studies are the fifth most used content style by marketers.
Now, a simple block of words case studies is not what can help you attract new customers and promote your brand online. No, you need to write attractive, visual-rich, and simple-to-understand case studies to drive maximum results.
No need to worry about anything. This guide will walk you through the complete guide to write attractive case studies that can help you generate organic traffic and business leads .
So, What's Exactly a Case Study?
A case study is a content type that businesses publish to demonstrate how they solve a particular customer problem. It is a success story of the brand based on actual facts, statistics, and diagrams.
Case studies are a powerful marketing weapon that helps marketers attract new customers by showing them previous customers' experiences.
Sales teams also use case studies to build trust among new customers. Using case studies, sales reps can better show potential customers how they have achieved high results in the past and how you can do the same for them.
In short, case studies are sales and marketing strategies to attract more clients and establish brand authority.
Why Add Case Studies to Your Marketing Kit?
Customer satisfaction is the end company goal. Every department and individual in a company works to provide a high customer experience. And when you get that, case studies are the best way to flaunt your satisfied customers.
Here using case studies, you can gain many benefits, such as:
Celebrate customer loyalty
Case studies not only help you flaunt your satisfied customers' experience but also give you an opportunity to interact with your potential customers. You can effortlessly build a loyal customer base via interesting case studies.
Inform new customers
Like blogs, case studies can help you provide basic information about your brand and approach to new customers. Case studies can help you show customers how you can use different methodologies to solve their problems.
Support sales team
Publishing case studies on your website can help the sales team to convert more leads. Sales representatives can share case studies with your potential customers and make efforts to turn them into your paying customers.
Multipurpose content
Case studies are a content asset for your business. You can use case studies content in different ways to promote your brand online. For instance, you can use snippets of customer testimonials to publish on your homepage, landing page, or social media. You can also re-purpose case studies to create videos, infographics, podcasts, etc.
Earn customers trust
According to 60% of marketers , case studies are the top content marketing strategy to earn customers' trust. This is because the case studies are based on facts and authentic customer experiences that will help to impress new customers and win their trust.
When to Use Case Studies in Your Marketing Approach
Case studies are beneficial for earning customers' trust, establishing brand authority, and generating high-value leads. But, it is only possible when you properly use case studies.
Here's how you can do that:
Publish on your website
You can create a dedicated section for case studies on your website. Here you can publish different case studies by bifurcating them into different categories for easy access.
This will allow people to check out all your case studies in one place. In addition, you can leverage keywords and interlinking to search engines optimization your case studies for better search engine ranking.
Motivate email subscribers
Case studies can help you increase your email subscriber list. You can create innovative and engaging customer stories that users can only download after subscribing to your email letter. This email marketing trick will connect you with the users who are ready or semi-ready to purchase from you.
Send sales emails
Once you sort your email subscriber list based on buyers' intent and journey, you can send them personalized case studies related to their online searches. You can take help from email sequence software to send personalized customer studies in real-time to your email subscribers based on their interests and quickly convert them.
Things to Consider Before Writing a Case Studies
It might look easy to write a customer story and publish it on your website to boost your sales. But, it is not as simple as you think to create case studies. You have to consider multiple factors before creating a case study, such as:
The objective of your case study
The primary purpose of case studies is to show how you have helped your previous customers and what they want to say about your services. Case studies are all about providing value to your customers.
But, you can target different customer experience aspects through your case studies like fast delivery, competitive pricing, etc.
So, you should first define what you want to achieve by sharing a certain customer success story. Defining your objective will also help you set key performance indicators.
You can target customer success objectives as per your business nature and marketing strategy. However, some commonly discussed case study topics are:
Lowering business cost
Fast customer service
Expanding business scale
Entering into a new market, etc.
Case study format
This is an important consideration factor while creating a case study. Here, you have to tell how you want to express your customer story?
For this, you have to evaluate your case study content, size, and targeted customer preference. To target the correct distribution format, you can use social media link scraping tools that will help you understand which content distribution platforms your targeted audience prefers the most.
Some of the popular case study formats are:
Written case studies format is one of the popular online formats. You can convert text-based case studies into downloadable e-books or gated blogs to get more email subscribers.
For example, Backlinko has turned a case study on How to Rank on Page of 1 Google Faster into gated content. The user has to provide their email address to unlock the study, which helps to generate an email subscriber.
In 2022, around 244.4 million people were watching digital video content. That shows video content distribution platforms are highly efficient and popular. And you can also turn boring case studies into engaging video interviews.
Videos are useful to capture users' attention and make them better understand your point. In fact, you can create a short documentary-style case study featuring your customers and products. This way, you can publish your visual case study on your social media platforms and landing pages.
Infographic
If you want to share your customers' stories with your social media users, infographics or attractive animated images are the perfect ways to do that.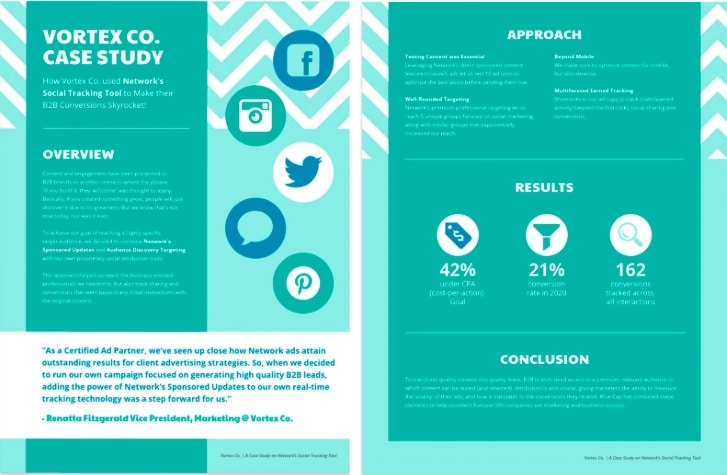 Podcasts are audio formats to share content with your audience. If you plan to conduct customer interviews or live Q&A sessions, the podcast is the correct format to create case studies for you.
Select your subject
Your customers are the subject of your case studies. But, which customer is the best candidate to tell a story?
It is important to select the right person as a subject because you need permission and quotes for your case studies from them. So, here are a few things that you can look at in the potential candidates:
Brand awareness. Select the candidate who has well-versed knowledge of your products, services, or brand value. This way, he or she can provide high-value content.
Remarkable results . Case studies are primarily a marketing tool. Thus, select the clients that have seen remarkable results after using your product or services.
Known names. Have you worked with recognizable names in your industry? Then, use them in your case study to show potential clients how rich clientele you have.
Switchers. Customers that used to work with your competitors are the best candidates for case studies.
Once you have shortlisted candidates for your case study, ask for permission. Especially if you have signed a non-disclosure agreement with your clients, it is a legal compulsion to take their permission.
Most clients will have no problem with you using them as a case study. But some might have. In that case, don't leave the ground before fighting till your last breath.
Jokes aside, we mean you should share the benefits of becoming case study candidates with your clients to convince them, like:
Case studies will expose their brand and increase brand awareness.
Allow candidates to talk about their products and services.
Generates organic web traffic and high-quality backlinks.
Select a case study template
If you plan to create a dedicated case study page on your site, select a case study template for your ease. It will reduce lots of your time if you have a pre-built case template with you.
This way, you simply have to add a client's information, and your case study is ready. In addition, you can be consistent with your approach which enables readers to understand your case studies.
Here you should select the template based on your chosen content distribution platforms. Most B2B brands use PDF format to create case studies as it is high-quality and easy to edit. But you can use any format and style of case study templates.
Cross-check your facts
Facts and statistics make a case study rich and compelling. But if your shared facts are not correct or lack proper evidence to support your claim, it can impact your brand's reputation.
Thus, before writing down your customer satisfaction stories, cross-check all the facts, information, and customer permissions before publishing them.
How to Draft an Immersive Case Study?
This is the magic part, where you will learn to turn boring case studies into engaging pieces of content. Now, it is not that hard to engross readers in your case studies using this simple drafting technique:
Catchy headline
On average, a user spends only 45 seconds on a website. That means you have less than a minute to grab a user's attention.
So, here your case study's catchy and unique headlines can do wonders in convincing visitors to explore your content. If you are already using account-based marketing , you know your customers' trigger points that can help you create result-driven websites.
Here look at this Adobe case study with a short yet powerful headline–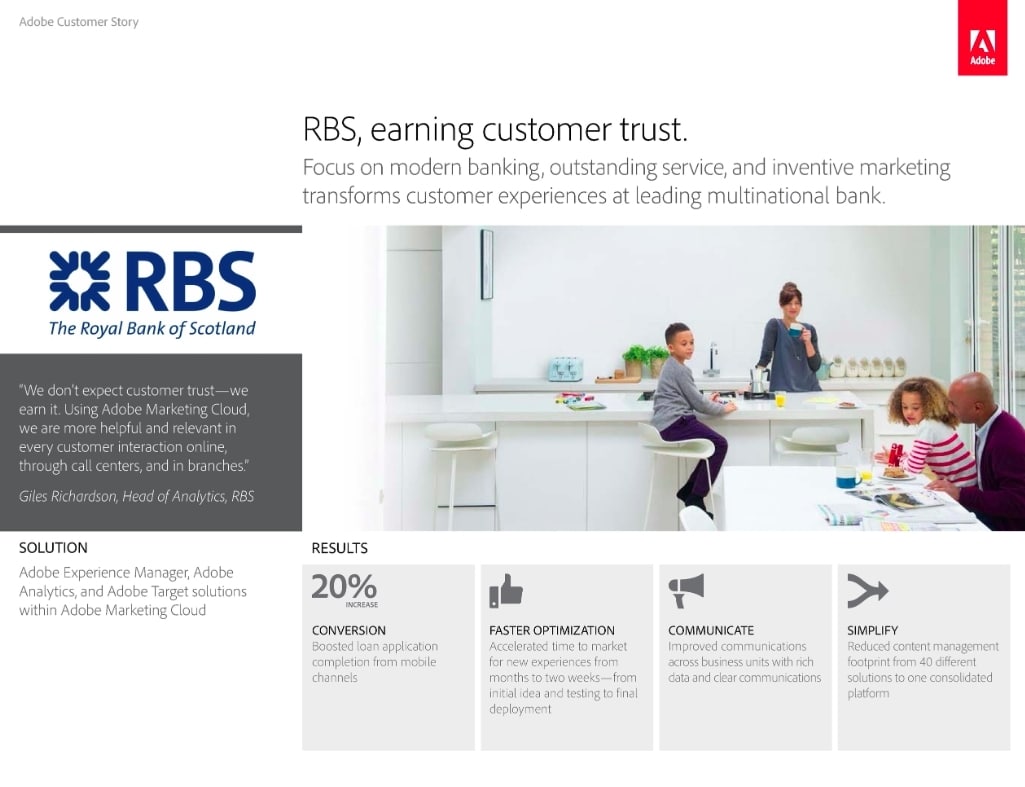 Add snapshots
All text can make your case studies look boring and uninviting. Thus, use screenshots to make your customer story eye-pleasing and attractive. At least try to add 3-4 screenshots in a study.
In addition, snapshots will help to testify your point and establish trust among your readers. You can use your customers' testimonials screenshot or some other document screenshot that can make your point look valid.
A small introduction of the client
Share a few lines about your customer depending upon the permission you have received. The basic client information that you can add is — name, location, industry, etc.
In this case study, you can see how Optimizely company information is explained using bullet points for better readability.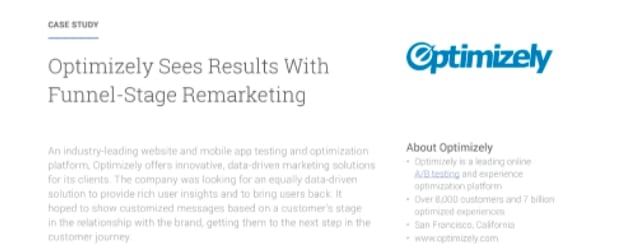 Explain the problem and consequences
Clearly explain your customer's problem or the hard time they had to achieve their goals. You can also mention negative outcomes along with customer quotes.
You should use bullet points to mention problems and consequences. This will help to improve the credibility of your case study and cut down all text. You can also use visuals to make this section enjoyable.
Describe you as the solution
Mention how the customer found your business and why they choose you. Include specific products or strategies that you have implemented to solve your clients' problems.
This is one of the main sections of your case study. So, if you have to use a couple of paragraphs and bullet points to explain your point in-depth, do it. The better you explain your approach to the problem, the more you can convince readers to contact you to solve their problems.
Share the results and benefits
This is a section that motivates new users to try your services. So, use bullet points, quotes, and clear evidence to share the results like statistics, screenshots, videos, etc.
Look at this example of how they have used visuals and bullet points to explain results. Also, make your results section bold and easily readable so that users can see your results section even without much effort.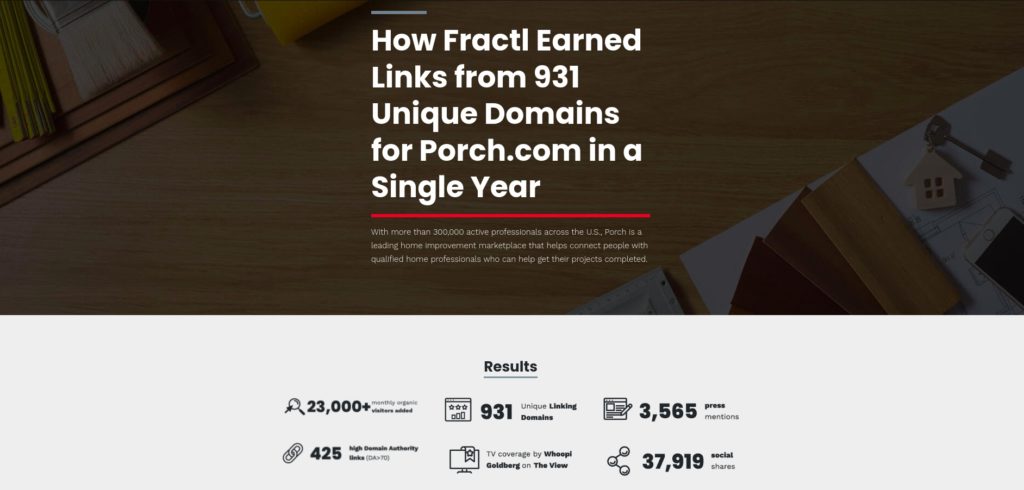 Finally, add a strong call to action lines or quotes to convince readers to use your products or services. Without a CTA, your readers have no idea what to do after reading your case study. This will waste all your efforts in creating a comprehensive case study.
Case Study Examples
Let's explore some real case study examples to attract new customers your way.
CloudTalk is a phone call center automation that has used its famous and authoritative clients to write a case study. This case study explained how Slovakia's Ministry of Health used its software to track COVID cases and provide them treatment.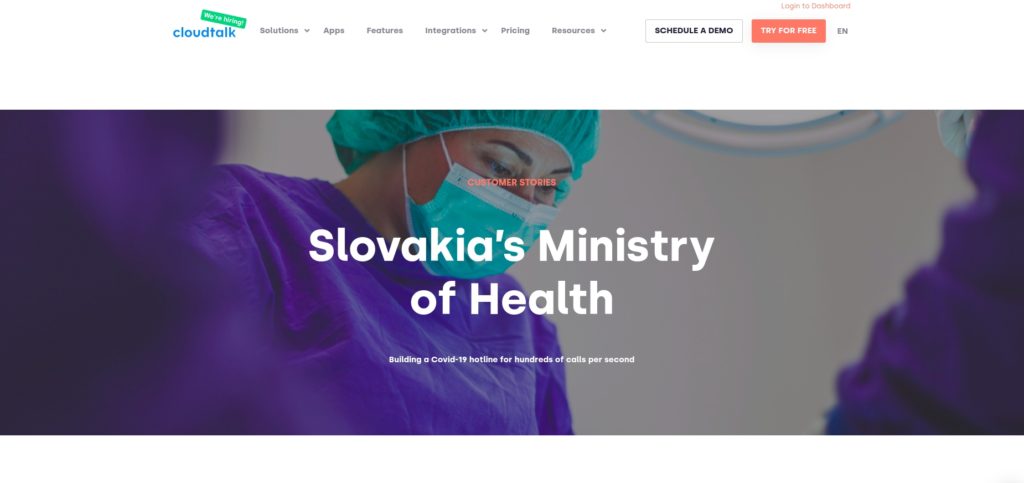 Amazon has a leveraged video to tell Suncorp Group's case study. The video has beautifully explained how AWS has helped Suncorp to launch a working virtual private cloud and virtual data Center in just three months.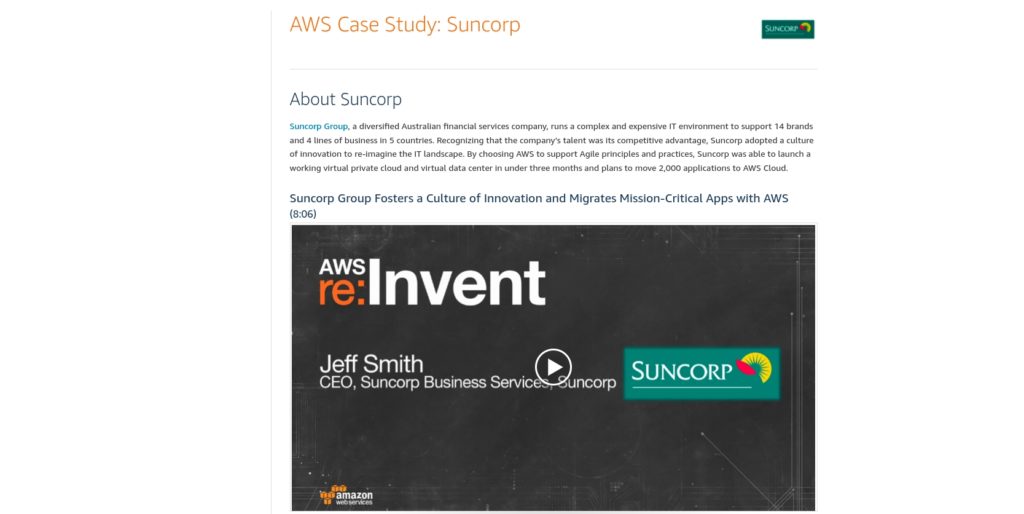 Microsoft only used plain text and quotes to write an engaging case study. This case study might not contain pictures, but it is a hub of information and value.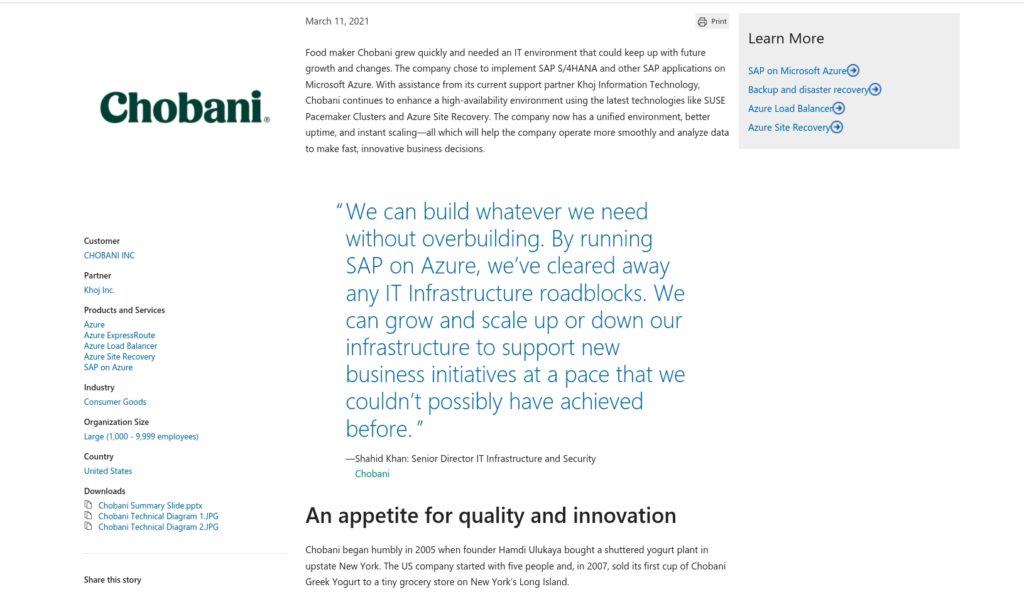 Stark opposite to Microsoft, Intercom has used real images, graphics, and prominent data results in the case study. They have even used a catchy headline to engage readers.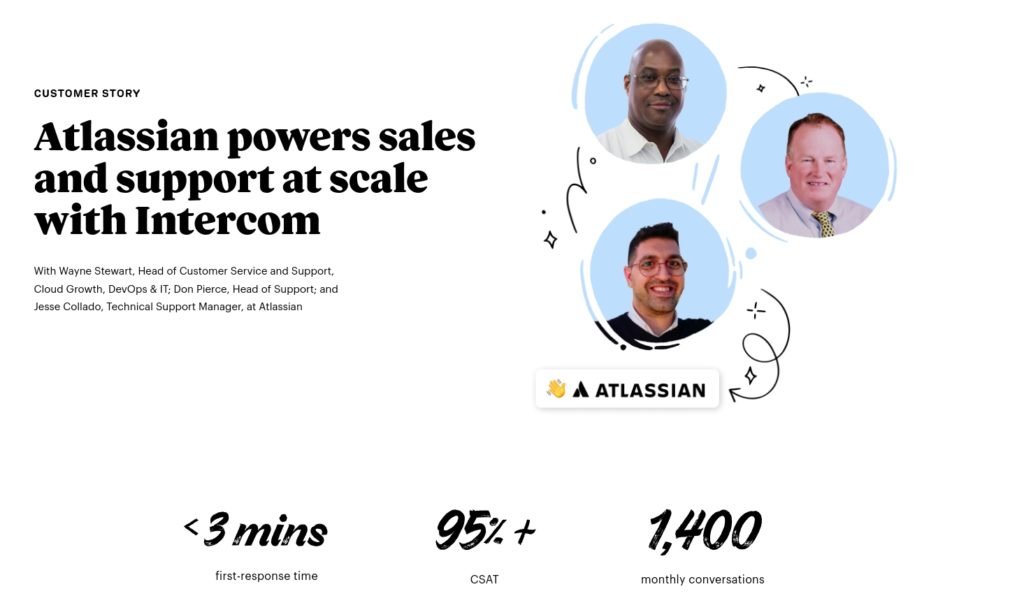 Wrike's case study is a perfect marriage of text and visuals. They have used plain text and graphics in a proper proportion to maintain reading flow. They have also emphasized the client's profile.
Let's Start Writing Case Studies Now!
Case studies are less explored and a powerful marketing strategy for B2B brands. Using case studies, you can promote your services or products without looking too pushy.
In fact, by leveraging different content distribution platforms, you can share case studies across multiple portals. That way, you can seamlessly establish your brand authority and awareness.
However, just make sure to create engaging and visually-appealing case studies. You should use loads of facts, screenshots, and graphics to compose a dramatic customer story.
That's pretty much it! You have learned the benefits of case studies, how to write them, and some impressive examples. So, you are now all set to write a case study and grow your brand. Best of luck!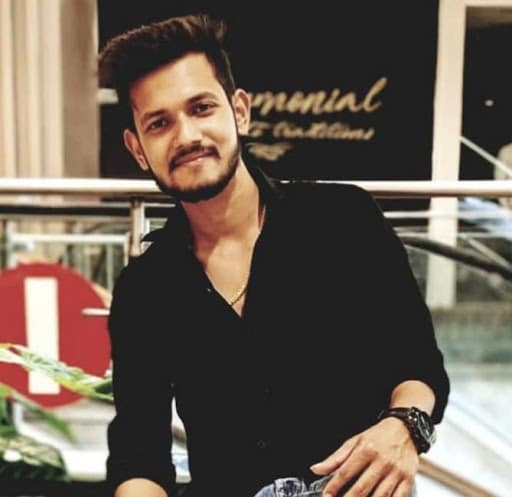 Written by Sumeet Anand
Sumeet Anand is a B2B Marketing Expert and Founder at Marveta . He helps brands and businesses generate leads with his top-notch content strategies. He has featured on various major media publications across the globe.
You might also enjoy:
Best Practices
Why Social Listening Matters for Customer Satisfaction
Being a mature company or a startup, you should treat your social media as something other than a …
What Happens When SaaS Companies Don't Meet Investors' Expectations?
Investors have various areas of focus on the expectations of the SaaS (software as a service) companies they're …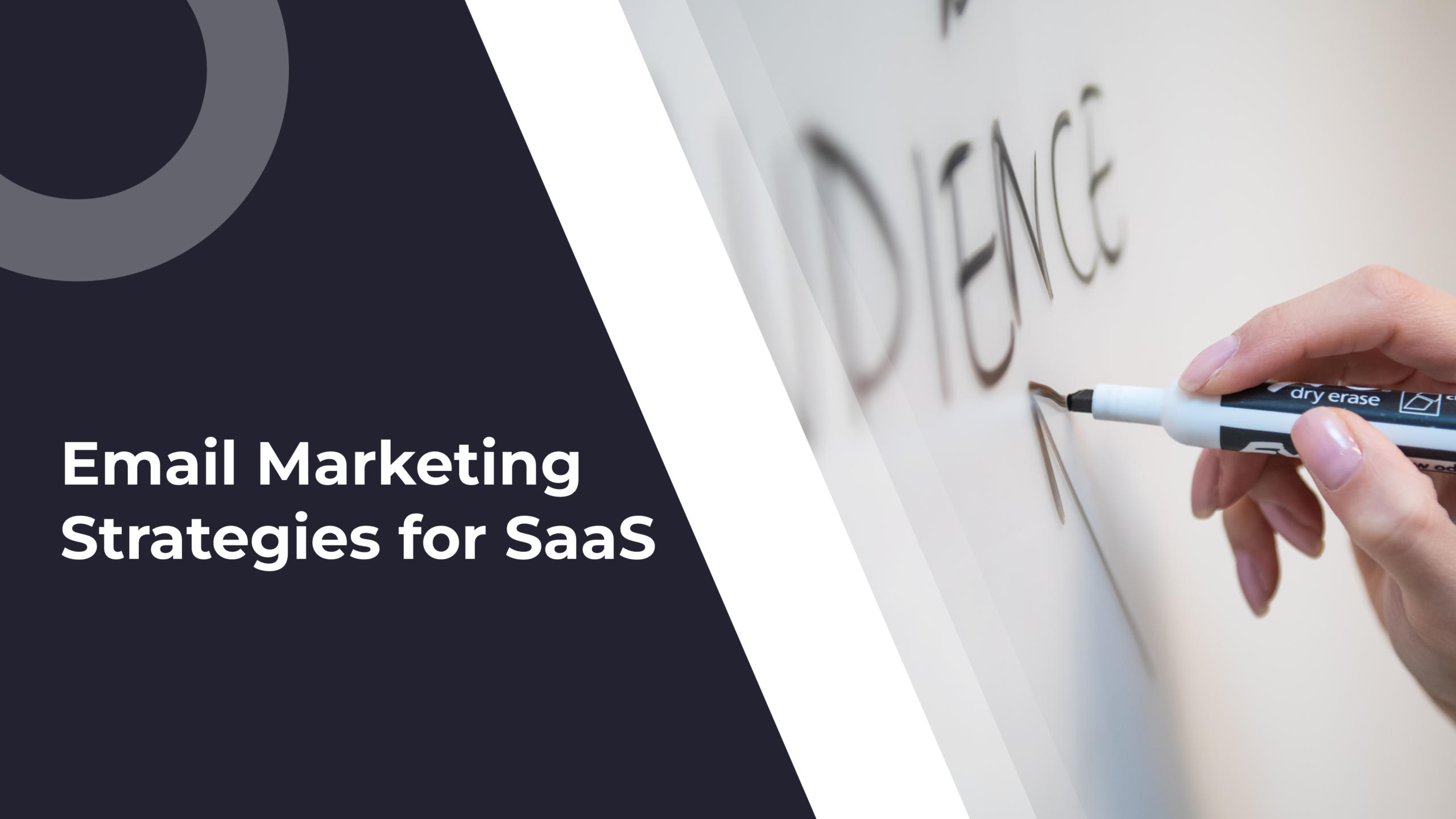 Best Email Marketing Strategies for SaaS in 2023
Are you overwhelmed with the marketing trends and techniques you need to adopt as a SaaS business marketer? …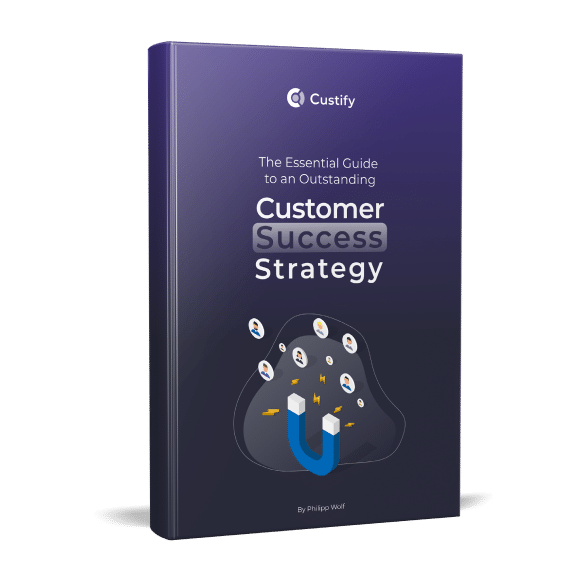 Customer Success Strategy Guide
Everything you need to know about creating your first customer success strategy.
Thanks! You're all set.
You can download the PDF eBook here: Download Now
See how Custify can help you fight churn.
Notice: This website or its third-party tools use cookies, which are necessary to its functioning and required to achieve the purposes illustrated in the privacy policy . If you want to know more or withdraw your consent to all or some of the cookies, please refer to the privacy policy . By closing this banner, scrolling this page, clicking a link or continuing to browse otherwise, you agree to the use of cookies.
Advertising
Applications
Assessments
Certificates
Announcement
Invitations
Newsletters
Questionnaires
Food & Beverages
Recruitment
Marketing Examples
Transportation
15+ Student Case Study Examples [ High School, Assignment, Classroom ]
Student Case Study
15+ student case study examples, 1. student case study format template, 2. sample student case study example, 3. education case study examples for students, 4. graduate student case study example, 5. student profile case study example, 6. short student case study example, 7. high school student case study example, 8. student research case study example, 9. classroom case study examples, 10. case study of a student, 11. sample student assignment case study example, 12. college student case study example, 13. basic student case study example, 14. free student impact case study example, 15. student case study in doc example, 16. case study of a student with anxiety, what is a student case study, how do you write a case study for students, what are some examples of case study, what are the objectives of a student case study, what are the elements of a case study, how long is a case study, how big should a case study be, what makes a good case study.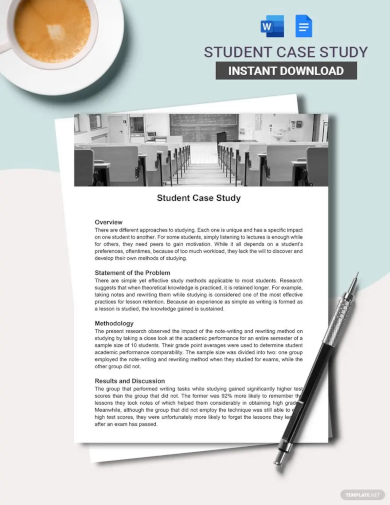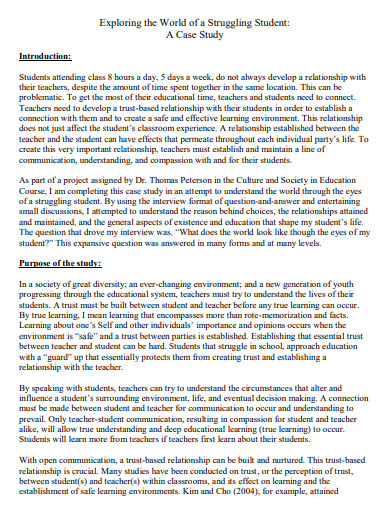 Case Study Definition
Benefits and limitations of case studies, example of case study.
Subject Focus : The case study can center on a single person, a small group of individuals, an organization, a particular event, or a broader societal issue. The choice of subject depends on the research question or the goals of the study.
In-Depth Exploration: Case studies involve detailed data collection and analysis. Researchers collect various types of information, such as interviews, surveys, documents, observations, and other relevant sources, to build a comprehensive picture of the subject.
Contextual Analysis: A significant aspect of a case study is the consideration of the context in which the subject operates. Understanding the background and environment is essential to interpret the findings accurately.
Qualitative Research : Case studies often use qualitative research methods to gather and analyze data. This includes open-ended interviews, content analysis, and thematic coding.
Rich Description: The case study report provides a rich and detailed description of the subject. It includes narratives, quotes, and empirical evidence to support the analysis.
Analysis and Interpretation: Researchers analyze the collected data to identify patterns, themes, or trends. They may use various theoretical frameworks to interpret the information and draw conclusions.
Real-World Application: Case studies are often used to address practical problems or real-world situations. They can be used to inform decision-making, offer solutions, or provide insights into specific issues.
Ethical Considerations: Researchers must consider ethical principles when conducting case studies, ensuring the protection of participants' rights and privacy.
Findings and Recommendations: A well-structured case study typically concludes with findings, implications, and recommendations based on the analysis.
1. Choose an Interesting and Relevant Topic:
2. conduct thorough research:, 3. identify the problem or research question:, 4. introduce the case:, 5. describe the methods used:, 6. present the findings:, 7. analytical interpretation:, 8. discuss limitations:, 9. propose solutions or recommendations:, 10. write a conclusion:, 11. cite your sources:, 12. edit and proofread:, 13. format your case study:.
Apple Inc.'s Marketing Strategy: An analysis of Apple's marketing approach, including product design, branding, and customer loyalty.
McDonald's Global Expansion: A study on how McDonald's adapted its business model for success in different international markets.
The Case of "Little Albert": A classic case study in psychology that examined the conditioning of fear in a young child.
Stanford Prison Experiment: An investigation into the psychological effects of role-playing in a simulated prison environment.
Inclusive Education in a Primary School: A case study exploring the challenges and benefits of implementing inclusive education for students with disabilities.
Online Learning and Student Engagement: An analysis of the impact of online learning on student engagement and academic performance.
The Tuskegee Syphilis Study: A well-known case study on the ethical issues surrounding a long-term study of untreated syphilis in African American men.
Patient X: A Rare Medical Condition: An examination of a patient with a rare medical condition to understand its diagnosis and treatment.
Deepwater Horizon Oil Spill: A case study of the environmental and economic impacts of the 2010 oil spill in the Gulf of Mexico.
Deforestation in the Amazon Rainforest: An analysis of the causes, consequences, and possible solutions to deforestation in the Amazon.
Child Welfare Services: A case study examining the challenges and interventions involved in a child welfare case.
Substance Abuse and Rehabilitation: An analysis of the recovery journey of an individual with a substance use disorder.
Sustainable Urban Development: A case study of a city's efforts to promote sustainable practices in urban planning, transportation, and architecture.
Historical Preservation of Landmarks: An exploration of the restoration and preservation of historic buildings or landmarks.
Landmark Supreme Court Cases: In-depth analyses of important legal cases that have had a significant impact on the legal system and society.
Intellectual Property Disputes: Case studies on legal battles involving intellectual property rights, such as patents and copyrights.
SpaceX's Reusable Rockets: A study of SpaceX's development and use of reusable rocket technology.
Failure Analysis of Bridge Structures: An investigation into the causes of structural failures in bridges and their implications.
Enron Scandal: An examination of the accounting fraud and corporate governance issues that led to the downfall of the Enron Corporation.
Microfinance and Poverty Alleviation: A case study on the impact of microfinance institutions on poverty reduction in developing countries.
To deepen students' understanding of a particular concept, theory, or topic within their field of study.
To provide real-world context and practical applications for theoretical knowledge.
To enhance students' critical thinking and problem-solving abilities by analyzing complex issues or scenarios.
To encourage students to apply their knowledge to real-life situations and develop solutions.
To develop research skills, including data collection, data analysis , and the ability to draw meaningful conclusions from information.
To improve analytical skills in interpreting data and making evidence-based decisions.
To improve written and oral communication skills by requiring students to present their findings in a clear, organized, and coherent manner.
To enhance the ability to communicate complex ideas effectively to both academic and non-academic audiences.
To prepare students for future careers by exposing them to real-world situations and challenges they may encounter in their chosen profession.
To develop professional skills, such as teamwork, time management, and project management.
To prompt students to reflect on their learning and evaluate their strengths and weaknesses in research and analysis.
To foster self-assessment and a commitment to ongoing improvement.
To inspire creativity and innovation in finding solutions to complex problems or challenges.
To encourage students to think outside the box and explore new approaches.
More Design
9+ student schedule examples, 8+ clinical case study templates, 8+ case summary examples, 7+ medical case and examples examples, 6+ goal setting examples, 5+ student essay examples, how to write a motivational students, student job flyer examples of ohio, 33+ questionnaire examples, 10+ nursing curriculum vitae, 10+ case study summary example, 10 student goals to achieve before.

Related Articles
id; ?>)" rel="noopener" role="button" tabindex="0" aria-label="postclick">15+ Hospital Case Study Examples
id; ?>)" rel="noopener" role="button" tabindex="0" aria-label="postclick">14+ Best Real Estate Case Study