Destiny Etiko: Full biography, husband, past relationships and Jerry Williams
This article explores the captivating biography of Destiny Etiko, as well as her past relationships, husband, and Jerry Williams.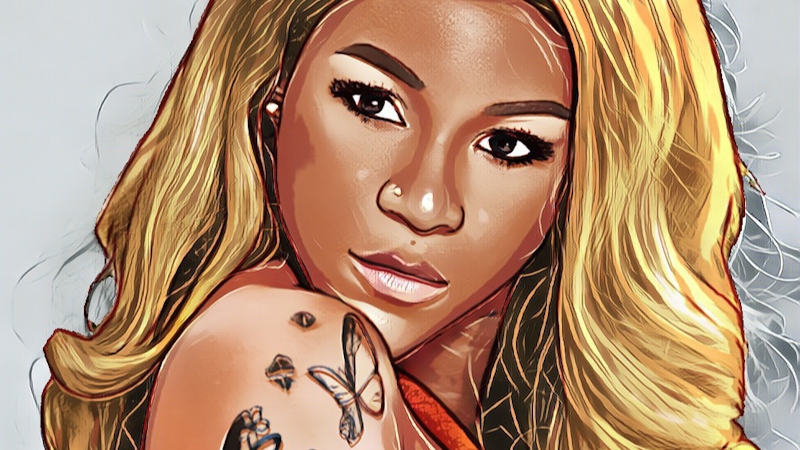 Destiny Etiko, the captivating and talented actress of Nollywood, has become a household name in the Nigerian film industry. From her early beginnings to her current success, Destiny has captured the hearts of audiences with her remarkable performances and striking on-screen presence. With her curvaceous figure and undeniable talent, she has risen to stardom, earning recognition and accolades along the way. 
In this article, we will delve into the various aspects of Destiny Etiko's life and career, exploring her biography, educational background, rise to fame, husband and personal relationships. Join us as we unravel the captivating journey of one of Nollywood's brightest stars.
Destiny Etiko biography
Born to Mr John Anonde Etiko and Mrs. Eucharia Etiko Etiko on August 12, 1989, in Udi local government, Enugu State, Southeast Nigeria, Destiny Etiko is a prominent actress in the Nigerian film industry who has gained fame for her remarkable acting skills, captivating on-screen presence, and delectable physical appearance.
She is widely recognized for her stunning curves and has been referred to as one of the " most curvaceous actresses in Nigeria".
Her preference for tight-fitting clothes that accentuate her figure has further solidified her status as a style icon and earning her informal title of "brand ambassador for 'Killer Curves.'"
Her natural beauty and alluring charm have undoubtedly contributed to her popularity both on and off the screen.
Throughout her journey, Destiny received unwavering support from her mother, who herself was an actress but chose to prioritise raising a family. Unfortunately, Destiny's father, John Anonde Etiko, was initially opposed to her acting career. 
Although Destiny's dedication and talent eventually won him over, her father tragically passed away in May 2020. During this difficult time, she found solace and support from legendary actor Pete Edochie, whom she considers a father figure. The veteran even broke COVID-19 restrictions to console the actress after her father's demise.
Destiny Etiko on the set of Idemili
Destiny Etiko began her educational journey at Zik Avenue Primary School in Enugu State for her primary education before later attending Queens School, Enugu, for her secondary education. However, the details of her tertiary education background have been subject to conflicting reports. 
In 2015, Destiny Etiko informed Vanguard Newspaper that she studied Theater Arts at Nnamdi Azikiwe University in Awka, Anambra State, where she graduated with a degree in 2012.
However, in a subsequent interview with Punch newspaper in 2019, she mentioned attending the Enugu State University of Science and Technology. Although her Wikipedia bio reflects the former, the latter should be accepted as the more accurate fact.
After completing her tertiary education, Destiny Etiko embarked on the mandatory National Youth Service Corps (NYSC) program in 2014 and successfully completed it the following year. 
Destiny Etiko's acting career can be traced back to her early years when she featured in the drama " Twin Brother " in 2003. However, it was during her adulthood that she formally entered the Nigerian movie industry by actively participating in movie auditions.
Her breakthrough came in 2012 when she portrayed the character Ekemma in the Nollywood blockbuster movie " Idemili ," an epic tragedy based on a true-life story. 
The film, directed by Ernest Obi, a key cog in her career development, featured renowned Nollywood stars such as Pete Edochie, Patience Ozokwor, Uche Odoputa, Cynthia Okereke, Ernest Obi, Yul Edochie, and Eve Esin.
Destiny's outstanding performance in " Idemili " propelled her to stardom and solidified her position as a rising star in the industry.
Destiny Etiko's talent and dedication to her craft have earned her recognition and accolades, culminating in a 2014 nomination for the Most Promising Act of the Year at the City People Entertainment Awards and a 2016 plaque for Most Promising Actress of the Year (English) in the same award show. 
She has gone to great lengths to perfect her craft, such as shaving her hair completely for a lead role in the Ernest Obi-produced movie "Private Part."
Destiny's versatility as an actress is widely acknowledged, and she continues to captivate audiences with her exceptional performances.
As a prominent figure in Nollywood, Destiny Etiko has been vocal about the challenges faced by actresses in the industry, particularly regarding sexual harassment. 
She has shared instances of losing roles due to her refusal to compromise her integrity and engage in inappropriate activities with producers. 
Destiny Etiko receives the majority of her movie offers from the eastern part of Nigeria where she is based, instead of the country's movie capital, Lagos which has factored in her lack of appearance in some of the country's big titles. 
However, Destiny's rising fame has also made her the subject of criticism. She has been accused of dressing extremely provocatively at public events, igniting debates about appropriate attire in the entertainment industry. 
These criticisms have also encroached into Destiny Etiko's net worth and raised doubts about her true source of income.
Destiny Etiko husband, boyfriend and relationships
Destiny Etiko is one of Nollywood's most eligible single actresses and has always been open about her desires when it comes to her ideal partner. According to the voluptuous thespian, her dream husband is someone tall, dark, and most importantly, someone who loves and understands her. 
She values attention and appreciates a partner who pays attention to her moods and emotions. As an ambitious and hardworking individual, Destiny Etiko seeks a man who supports her career and respects the effort she has put into building her success.
The primary reason Destiny Etiko has remained single is her determination not to repeat the " mistake " her mother made by giving up her career to focus on raising a family. 
Destiny's mother, Mrs Ecuharia Etiko, was once a budding actress herself but had to step away from the limelight to prioritise her family's needs. Destiny Etiko admires her mother's sacrifices but is determined to strike a balance between her career and personal life.
Despite his passing on, the concerns raised by Destiny's father about her acting career has had an influence on the television star's disposition to marriage as he expressed worries that she might struggle to manage both her career and family responsibilities simultaneously. 
Understanding her father's perspective, it is clear that Destiny wants to build a strong foundation for her career before settling down with the right person who will support her aspirations.
As a result of her views on marriage, Destiny Etiko is yet to have a child.
In recent times, Destiny Etiko has shared pictures and moments with a mystery man whom she refers to as the " love of my life ," " brother ," and " successful man ."
This individual has been a significant source of emotional support for Destiny during challenging moments, including her father's burial and her birthday celebrations in 2020.
While the nature of their relationship remains undisclosed, their bond has sparked speculation among fans and media outlets who have, without hesitation, tagged the stranger her "boyfriend".
Speculation surrounding a potential romantic involvement between Destiny Etiko and Nollywood actor Zubby Michael has also surfaced.
Although no official announcement has been made by either party regarding their relationship status, their frequent appearances together at clubs, events, and social gatherings have fueled rumours. 
Additionally, their public displays of affection, including passionate kisses, have further fueled the speculation. However, until confirmed by the individuals involved, the assumption remains unverified.
As she continues to make her mark as a talented actress, Destiny Etiko holds steadfast to her aspirations for a supportive and understanding life partner who will not only appreciate her talent but also respect her career choices and support her in achieving her goals.
Destiny Etiko and Jerry Williams
Destiny Etiko and Jerry Williams wedding from a movie scene
In line with her charismatic persona, Destiny Etiko and Jerry Williams, a fellow actor, have shared a close bond that has been subject to speculation and controversy. In 2020, rumours first ignited when Destiny posted a photo of herself in a wedding gown, hinting at a possible marriage to Jerry Williams. 
However, it was later revealed that the photo was taken on the set of the movie " The Return of the Coming ," and their relationship was strictly professional.
Their friendship took centre stage once again in 2022 when Destiny shared a video capturing the moment Jerry Williams arrived on her movie set.
Destiny Etiko hugs Jerry Williams at her father's burial
In the video, the actress can be seen warmly welcoming him with hugs, kisses, and affectionate gestures, which raised eyebrows and sparked discussions among fans and the media.
While their closeness was evident, it is important to note that they are believed to be extremely tight friends and colleagues.
However, their relationship took a sudden turn when Jerry Williams faced disciplinary action from the Actors Guild of Nigeria (AGN) for drug misuse.
Destiny Etiko, a longtime member of the AGN, subsequently unfollowed Jerry Williams on social media shortly after his suspension was announced. 
Destiny Etiko: A charismatic figure that divides opinion
Destiny Etiko's career in the Nigerian film industry, Nollywood, has been marked by her notable performances and rising popularity. From her early years in the industry to her current status as a household name with a substantial net worth, Destiny has made a name for herself through her talent and dedication.
Throughout her journey, Destiny Etiko has faced both achievements and challenges. She rose to stardom with notable roles in movies such as " Idemili " and has garnered recognition for her versatility as an actress.
She has also been vocal about issues such as sexual harassment in the industry, shedding light on the need for a safer and more respectful working environment.
Destiny's personal life has also attracted attention, with speculations and rumours surrounding her relationships and friendships. However, it is important to approach these with caution, as they remain unconfirmed.
As Destiny Etiko continues to navigate her career in Nollywood, her journey serves as an example of perseverance and dedication. While opinions and perceptions may vary, her influence and impact on the industry cannot be denied.
BBNaija Reunion 2022: Time, date, how to watch and what to expect
5 female nigerian artists that abandoned their music, ruger: biography of fast rising nigerian artist, genevieve nnaji: net worth, daughter, husband, biography, bbnaija: biggie merges level housemates, updates and what to expect, who is mummy g.o the controversial preacher of rapture and hell, previous posts, seyi vibez net worth 2023: unravelling his true source of wealth, india tennis betting: uncovering the role of luck in winning, top 10 best high-quality cheap polarized sunglasses under $5, ensuring safety when gambling online in nigeria: a comprehensive guide, what is the wagner group and why did they turn against putin, top 10 best banks in nigeria 2023 [by customer experience], kylian mbappé net worth full breakdown: salary, sponsors, cars and houses, odion ighalo net worth: salary, cars and house, victor osimhen net worth: salary, cars, and houses, asake net worth 2023: cars, houses and source of wealth, don jazzy net worth, cars, houses: nigeria's richest musician, grok: all you need to know about elon musk's rival to chatgpt, prison fc players: 80+ footballers who have served time in jail, top 20 richest pastors in the world 2023 (more money than god), best loan apps in nigeria 2023 (and their interest rates), top 10 richest comedians in nigeria right now, 14 hottest, most beautiful female footballers in the world 2023, top 10+ best universities in nigeria (and their achievements), top 17 richest actors in the world 2023 [and their net worth], cee-c: cynthia nwadiora biography, net worth, husband & tobi, obinna iyiegbu: obi cubana biography and life, anita brown & davido: incest, abortions & a trail of allegations, destiny etiko net worth 2023: cars, houses, source of wealth, bbnaija doyin biography and net worth.
Destiny Etiko Wiki, Biography, Age, Boyfriend, Wikipedia, Ethnicity, Net Worth, Height
Recently, on the marriage of actress Nkiru Sylvanus in January 2023, she wore an appealing attire, for which she received a lot of abuse from her social media admirers when she shared images on Instagram.
Table of Contents
Who is Destiny Etiko
Destiny Etiko is a voluptuous Nigerian actress, model, and television personality well-known in the Nigerian film industry. She became well-known after participating in the award-winning Nigerian film Idemili. Idemili is a Nollywood film released in 2014 about indigenous Igbo mystics and beliefs. Ernest Obi directed the picture, which was produced by Onye-Eze Productions, and the title was drawn from Idemili, a town in Anambra State. Destiny Etiko, born in 1989, is a Nigerian Nollywood actress and filmmaker living in south-east Nigeria. In 2016, she won the City People Movie Award for Most Promising Actress (English).
Destiny Etiko Age, Early Life, Biography
Destiny Etiko has reached the age of 34. She was born on August 12, 1989, in the community of Udi, Enugu State, Nigeria. Etiko completed her high school education while residing in Enugu State. She later attended Anambra State University to get her bachelor's degree. When she visited Anambra State, she applied to study theatre and arts. Nnamdi Azikiwe University awarded her a degree in Theatre Arts. She debuted in the Nollywood business in 2011 at the age of 22.
Destiny Etiko first entered the Nollywood profession in 2011, when she joined the Actors Guild of Nigeria and began performing in films. Her major break came in 2012 when she was cast in the role of Ekeneme in the film Idemili. The film, an Ernest Obi production, catapulted her to fame. She was nominated for the part by City People Entertainment. Etiko has since appeared in other Nollywood films. She won the City People Entertainment award for Most Promising Actress (English) in 2016. Destiny Etiko told Vanguard, a Nigerian publication, that she entered the Nigerian film business, widely known as Nollywood, in 2011 after joining the Actors Guild of Nigeria.
She characterized her experience as tough because she had to juggle her acting profession with her educational obligations at the time. She was still a student, after all.  Destiny Etiko's career took off after she participated in Ernest Obi's 2012 film Idemili, which did not open in theatres until 2014. Her performance in the film earned her a City People Entertainment Award nomination.  She had appeared in earlier films before her involvement in Idemili, however, none of them were significant. Her work in the film Idemili earned her a nomination for Best Promising Actress at the City People Entertainment Awards.
Khalid Kamau Wikipedia
Destiny Etiko Family- Parents, Father, Mother
Destiny was the second of four children born to her parents. She has two brothers and one sister. John Anonde Etiko and Eucharia Etiko are her parents. However, she experienced a difficult period in her life earlier in 2020 when she lost her father, John Anone Etiko. Her father died on May 15, 2020. Her mother is still living, and for her birthday in 2019, she purchased a luxurious house. She gave her mum a Toyota Spider automobile in 2020. Sopuru Etiko is her younger brother's name. Sopuru is a well-known musician with 30.9k Instagram followers. Jennifer Etiko is the name of her only sibling.
Cross Bbnaija Biography
Destiny Etiko Boyfriend
According to sources, Destiny Etiko is not married right now. She has always prioritized her profession above her personal life. She fantasizes about finding a partner who will support her in her professional struggles. Earlier, rumors circulated that she was about to marry after appearing in an interview with actor Yul Edochie. However, no major media outlet revealed her marriage toll today. Previously, netizens speculated on the internet that Destiny Etiko is dating actor Zubby Michael, but there was no evidence that they were in a relationship.
Destiny's net worth has now been estimated to be $5 million.
Social Media Links
Thank you for reading this article on our site. In this article, we covered Destiny Etiko Wiki.
Related Posts
Deacon Famous Biography, Wiki, Wife, Parents, Siblings, Age, Son
Sheynnis Palacios Height, Wiki, Age, Ethnicity, Father, Grandfather, Parents
Gerry Scotti Net Worth, Wiki, Age, Ethnicity, Biography, Family, Bio
Markitos Toys Wikipedia, Bio, Age, Net Worth, Real Name, Ethnicity
Celebrities
Advertise With Us
Celebrity Net Worth and Biography
Destiny Etiko Biography, Age, Husband, Movies, Photos, Latest News, Net Worth, House, and Cars
Destiny Etiko is a Nigerian-born Nollywood actress who rose to prominence after starring as "Ekemma" in the award-winning film Idemili.
Destiny Etiko has a stunning physical appearance, which has fueled speculation that her curvy figure is the reason for her success in the industry; however, she has refuted this claim. According to her, having a nice body shape hasn't brought her great success in the industry, as most people believe, but rather hard work and God's grace.
Destiny Etiko Biography
Who is Destiny Etiko?
Destiny Etiko was (born August 12, 1989), in Udi Village, Enugu State to Mr. and Mrs. Etiko. While growing up, she completed both her primary and secondary school education in Enugu.
After which she relocated to Anambra State in her bid to gain admission into the University. She is a graduate of Theater Arts from the Nnamdi Azikwe University located in Awka.
Nollywood Career
Ever since gaining admission into the University to study Theatre Arts, Etiko also went ahead and registered with the Actors Guild of Nigeria , where she ventured into the Nigerian Movie Industry known as Nollywood.
According to her, combining acting and her education at the university was an uphill task for her.
Etiko's Career received prominence after she featured in a movie titled Idemili which was produced in 2012 by Ernest Obi but was not released until 2014. Her role in the movie earned her a City People Entertainment Awards nomination .
Before her role in the movie titled Idemili, Etiko had appeared in other movies although did not receive prominent roles in them.
Destiny Etiko Foundation: Empowering Lives, Inspiring Change
The Foundation is a non-profit organization dedicated to making a positive impact in the lives of individuals and communities in need. Established by Nigerian actress Destiny Etiko, the foundation aims to uplift and empower the less privileged through various initiatives and programs.
Our Mission
At the Foundation, our mission is to create a world where everyone has access to opportunities, education, and essential resources. We believe that by empowering individuals and communities, we can inspire change and contribute to a brighter future.
Our Programs
Education for All: We strongly believe in the transformative power of education. Through our Education for All program, we provide scholarships, educational resources, and mentorship to underprivileged children and young adults, giving them the tools they need to succeed academically.
Skills Development: We understand the importance of acquiring practical skills for personal and professional growth. Our Skills Development program offers vocational training and workshops in areas such as tailoring, carpentry, computer literacy, and entrepreneurship, enabling individuals to gain self-sufficiency and improve their livelihoods.
Health and Well-being: We prioritize the health and well-being of individuals and communities. Through various health initiatives, we provide access to medical care, health screenings, awareness campaigns, and support for those facing health challenges. We also prioritize mental health awareness and promote overall well-being.
Community Development: We work closely with local communities, identifying their unique needs and implementing projects that address them. Our community development initiatives focus on infrastructure, clean water and sanitation, women empowerment, environmental conservation, and poverty alleviation.
How You Can Support
The Foundation is fueled by the support of individuals, organizations, and partners who share our vision of a better world. Here's how you can get involved:
Donate: Your financial contributions can make a significant impact on the lives of those we support. Visit our official website to learn more about how you can donate to our cause.
Volunteer: Join our team of passionate volunteers and contribute your skills and time to make a difference. Whether it's mentoring, teaching, or lending a helping hand in our various projects, your involvement can create meaningful change.
Spread the Word: Help us raise awareness about our foundation and the work
Personal Life and Relationship
The 33-year-old actress was born and brought up in Enugu State , Nigeria. Despite her fast rise to stardom as an actress, she has remained in the Enugu state where she shoots most of her movies compared to many superstar Nollywood actresses who are based in high-rise areas of Lekki and Victoria Island, Lagos.
Who is Destiny Etiko Boyfriend?
Destiny revealed she is in a relationship at the moment and that when it leads to marriage, she will reveal who her man is. She also said, "I cannot marry a man that does not appreciate me or support my career. He would have to look for someone else because it cannot work. Although, as a married woman , there may be some roles I would not be able to act on anymore.
Is Destiny Etiko Married?
The most sort after-Nollywood actress has never been married and any news of her being married is just based on rumors.
Is Zubby Michael and Destiny Etiko married?
There have been lots of rumors making rounds on various blogs about Zubby Michael dating the curvaceous Destiny Etiko , but they are just pure speculation. The only relationship between the two Nollywood celebrities is strictly acting-related.
Destiny Etiko's Father
Actress Destiny Etiko lost her Dad in May 2020 , according to her "My heart is broken into pieces, I'm so broken". The Nollywood actress cried out her eyes due to the passing of her father to the cold hands of death.
Destiny Etiko House and Cars
Having been featured in many Nollywood blockbuster movies, Destiny Etiko has built herself a lasting movie career and her current net worth is minding blowing.
When it comes to luxury , Etiko has invested some of her wealth into an expensive house worth millions of naira in the city of Enugu where she resides.
Her car collections are top-notch, with cars like a 4matic Benz worth over N25 million, Toyota Venza worth over N12 million, 2021 customized Land Cruiser Prado Jeep worth $80,000 (N37 million Naira), and a Lexus Jeep worth over N10 million naira fills up spaces in her house compound.
View this post on Instagram A post shared by Destiny Etiko (@destinyetikoofficial)
The popular Nollywood actress and filmmaker, Destiny Etiko turned 32 years old on August 12, 2021, and to mark her new age gifted herself a new multi-million naira mansion. The new house is rumored to be worth over N200 million naira and makes it her second House in the space of 10 years.
In case you wondering how she could afford it, Destiny charges over N500,000 naira per movie, and trust me she gets a lot of movie roles per year.
Endorsement Deal
In November 2019, she signed a massively big deal with Kesie Virgin Hair. The actress and model took to her Instagram page to share the great news with fans as she joined the hair brand as one of its ambassadors.
Destiny Etiko is one of the richest and most influential actresses in the Nigerian movie industry with an estimated net worth of $750,000 dollars. Destiny's major source of wealth comes from her numerous Nollywood movies , multimillionaire endorsement deals, real estate investments, and various businesses.
People Also Ask FAQs
How much did Destiny Etiko worth?
Destiny Etiko is one of the richest and most influential actresses in the Nigerian movie industry with an estimated net worth of $750,000 dollars.
how much is destiny etiko paid per movie?
Actress Destiny Etiko was investigated by producers and it was discovered that the actress earns N500,000 per movie role in a film.
What is Destiny Etiko's age?
Destiny Etiko was born on the 12th of August, 1989, she is 34 years old.
Does Destiny Etiko have a child?
I have adopted a new daughter, my gateman's child Destiny Etiko in a quick move to troll her ex-adopted daughter revealed that she has now taken custody of a little girl, who is the child of her gateman.
Stay Connected , follow us on: Facebook: @creebhillsdotcom , Twitter: @creebhillsblog , Instagram: @creebhills , Pinterest: @creebhills Telegram: creebhills
RELATED ARTICLES MORE FROM AUTHOR
Gospel singers chioma jesus, joe praize, others visit mercy chinwo's home to welcome her newborn baby (video), sean diddy accused of s3xually assaulting and drugging woman in year 1991, update: chef dammy is released on bail.
I feed great about and tenacious about Mrs. Destiny
Comments are closed.
Entertainment
Relationships
Quick Links
Editorial Policy
Privacy Policy
Stay connected