Account Options
Meine Mediathek
Erweiterte Buchsuche
Nach Druckexemplar suchen
Eisenbrauns
In einer Bücherei suchen
Alle Händler »
Ausgewählte Seiten
Andere Ausgaben - Alle anzeigen
Häufige begriffe und wortgruppen, beliebte passagen, verweise auf dieses buch, bibliografische informationen.
Скидки дня
Справка и помощь
Адрес доставки Идет загрузка... Ошибка: повторите попытку ОК
Продажи
Список отслеживания Развернуть список отслеживаемых товаров Идет загрузка... Войдите в систему , чтобы просмотреть свои сведения о пользователе
Краткий обзор
Недавно просмотренные
Ставки/предложения
Список отслеживания
История покупок
Купить опять
Объявления о товарах
Сохраненные запросы поиска
Сохраненные продавцы
Сообщения
Уведомление
Развернуть корзину Идет загрузка... Произошла ошибка. Чтобы узнать подробнее, посмотрите корзину.
Product Identifiers
Publisher Gallery Books
ISBN-10 1476748888
ISBN-13 9781476748887
eBay Product ID (ePID) 201587382
Product Key Features
Book Title Blessing and a Curse : a Novel
Author Victoria Christopher Murray, Reshonda Tate Billingsley
Format Trade Paperback
Language English
Topic Romance / African American, African American / General, African American / Christian
Publication Year 2017
Genre Fiction
Number of Pages 288 Pages
Item Length 8in.
Item Height 0.8in.
Item Width 5.2in.
Item Weight 8.1 Oz
Additional Product Features
Lc Classification Number Ps3602.I445b58 2016
Reviews Faith-based fiction doesn't get better than Billingsley's entertaining soaps, notable for their humor, wonderful characters, and challenging life situations that many readers, Christian or not, can identify with., Writing in an engaging and comfortable style, Murray creates believable women to whom readers will easily relate.
Copyright Date 2016
Target Audience Trade
Lccn 2015-036346
Dewey Decimal 813/.6
Dewey Edition 23
Matt Christopher Paperbacks Books Nonfiction
Trade paperbacks, fiction christopher golden paperbacks books, fiction paperback fiction & christopher moore books, trade paperbacks books, trade paperbacks books in english.
Please enable JavaScript in your web browser to get the best experience.
Idrimi, the 3,500-year-old refugee
The Statue of Idrimi. Tell Atchana, Turkey, 16th century BC. Photo by Tracey Howe for Making Light.
Share the page
Share on Facebook
Share on Twitter
By Jamie Fraser, Curator for the Ancient Levant and Anatolia
The statue of King Idrimi arrived at the British Museum in 1939. The inscription that stretches across the front of the statue is now recognised as one of the 20 most important cuneiform documents ever found. James Fraser, Project Curator, Middle East Department, discusses the importance of Idrimi's story, and how new scanning techniques are allowing us unravel the inscription in more detail.
The thing I love the most about guiding visitors through the British Museum is taking them to the astonishing statue of King Idrimi . No one has ever heard of Idrimi, but, after seeing his statue, no one ever forgets.
Idrimi was a refugee who fled Aleppo in Syria about 3,500 years ago – the same Aleppo so often in the news today. Later, as a much older man, Idrimi had this statue made of himself, with his life story written across the front, literally from head to foot. This extraordinary story is inscribed in the wedge-shaped cuneiform script of the ancient Middle East, and it is one of the earliest (and most interesting) political autobiographies ever found.
The story of Idrimi
Idrimi lived with his parents and six older brothers in the ancient kingdom of Aleppo. When he was a young man, a 'hostile incident' happened between his father and the king, so Idrimi fled with his family to his mother's hometown of Emar, on the Euphrates river. Although his older brothers were happy there, Idrimi thought that his family was not being treated well, and so he fled again to the Land of Canaan, probably in southern Lebanon.
In Canaan, Idrimi met another group of refugees from Aleppo, who claimed him as their leader. For the next six years, Idrimi made offerings to the storm god, Teshub, but to no avail. Finally, on the seventh year, the offerings were good. With Teshub's blessing, Idrimi built a fleet of ships, sailed up the coast, and attacked the ancient city of Alalakh, about 80km west of Aleppo, in southern Turkey. Idrimi would rule over Alalakh for the next 30 years, leading his armies against seven Hittite cities in Turkey. It is also easy to read, between the stick-like wedges of the cuneiform text, Idrimi's delight at placing his six older brothers under his protection, when they later turned to their youngest brother for help.
Idrimi carved his statue in white magnesite limestone around 1500 BC, and he placed it inside a temple upon a black basalt throne.
A curse…and a blessing
What I love most about the statue are two phrases that bracket the start and the end of the text. The last two lines curse anyone who might destroy the statue, or who is bold enough to change its text. However, the curse contrasts a blessing written in two lines down Idrimi's right cheek, almost like a cartoon speech bubble coming directly from his mouth. These lines state that Idrimi wrote his deeds upon himself for everyone to see, and those that read the text will learn from his life, and so bless Idrimi forever.
When was the statue found?
An invading force destroyed the city of Alalakh in about 1200 BC. The attackers found the statue, and, disregarding its curse, they removed its head and pushed the body from the throne.
In 1939, the famous archaeologist Leonard Woolley unearthed the basalt throne lying on the temple floor. A few days later, he discovered the statue, immediately recognising it as one of the most important Bronze Age artefacts ever discovered in the east Mediterranean world.
Intriguingly, the statue itself had been hidden inside a pit beneath the temple floor, the severed head placed carefully alongside the body. We do not know who buried the statue, following its desecration in the city's final hours. However, I like to imagine a mysterious worshipper, now lost to history, finding the statue among the temple's smouldering ruins, and burying it within holy ground.
Woolley sent the statue to the British Museum in June 1939. Ironically, Idrimi soon found himself hidden underground once more, this time by nervous curators protecting the collection at the outbreak of WWII.
Why does it matter?
The statue was one of the most important finds from Woolley's dig at Alalakh, and he published a photograph of the moment of its discovery in the Illustrated London News . The statue increased in fame a few years later when Idrimi's text was translated at the Museum. The inscription provides a fabulous window into the politics, geography and cultic practices of the eastern Mediterranean in the Bronze Age, seen through the eyes of King Idrimi.
The inscription also describes a loose alliance between Idrimi and a mysterious group of stateless wanderers called the ha-pi-ru , who lived in the Canaanite hills. This is one of the first times in history that the ha-pi-ru are named, and many archaeologists believe that they were the ancestors of the Hebrew tribes that later conquered Canaan, written in the Bible a thousand years later.
For these reasons, the Idrimi inscription is listed here as one of the 20 most important cuneiform documents ever found .
Scanning Idrimi
Today, Idrimi sits in Room 57 at the Museum. However, the statue must be kept within a glass case due to the fragile condition of the stone. Unfortunately, this means that researchers can't get close enough to study the inscription in detail. To solve this problem, we created a digital model last year that anyone can view on Sketchfab . This model is a fantastic tool for presenting the statue online. However, it is not at a high enough resolution for cuneiform experts to study the inscription in the detail they need.
This statue depicts Idrimi, King of Alalakh in the 15th century BC. Sir Leonard Woolley discovered the statue in a temple in 1939. The statue had been buried in a pit, following Alalakh's destruction around 1200 BC. The statue is inscribed with a vivid account of Idrimi's life and achievements, including the events that caused him to flee Syria, and the circumstances that led to his spectacular return. The inscription is recognised as one of the most important cuneiform texts ever found.
Scanning cont.
We needed to scan Idrimi with greater precision. And so, earlier this month, Idrimi found himself being removed from his case by our heavy lifting team, and carefully placed in a roped-off area on the gallery floor, ready to be scanned.
This new project was a collaboration between the Museum and the Factum Foundation, a nonprofit organisation that uses digital technology to record cultural heritage throughout the world. A team from Factum spent two days scanning and photographing the statue in high resolution – we even stayed in the Museum until after midnight. Factum recorded the statue using two different methods:
Structured light scanning: in this technique, the Factum team projected vertical beams of light onto the statue. They then measured how these beams were distorted, in order to map the statue in 3D.
Photogrammetry : in this technique, the Factum team took thousands of over-lapping high-resolution photographs from every possible angle. These were then uploaded into a computer program that matched the exact same pixels in different photos to develop the framework for a highly accurate 3D model.
A replica of Idrimi
The Factum Foundation have now created a digital model of Idrimi that is accurate to less than a millimetre. This model provides a unique baseline for our ongoing conservation of the statue. It also enables researchers from all over the world to study the important life-story of king Idrimi in detail.
But one of the most exciting outcomes will be Factum Foundation's plan to create a highly accurate, life-sized replica. As the statue itself is too delicate to lend, Factum Foundation's replica will enable Idrimi to travel and they plan to lend it to an upcoming exhibition celebrating Syria's long history of cultural achievements called Syria: Past and Present , organised by the UK charity Making Light.
Risking the curse, invoking the blessing
When our team temporarily removed the statue from the safety of its case, I couldn't help but think we were risking Idrimi's curse. However, by scanning the statue we have made Idrimi's story available for everyone. As Idrimi says himself, by reading these words we can learn from his life, and ultimately bless this 3,500 year-old refugee from Aleppo forever.
You may also be interested in
Women of the world
'Her Majesty's Picture': circulating a likeness of Elizabeth I
The power of patronage at the Great Shrine of Amaravati
Conserving Dürer's Triumphal Arch: Getting the big picture
Lisa Marie Presley in her own words: 'It's a blessing and a curse,' she said of her legendary father, Elvis, in our 2012 interview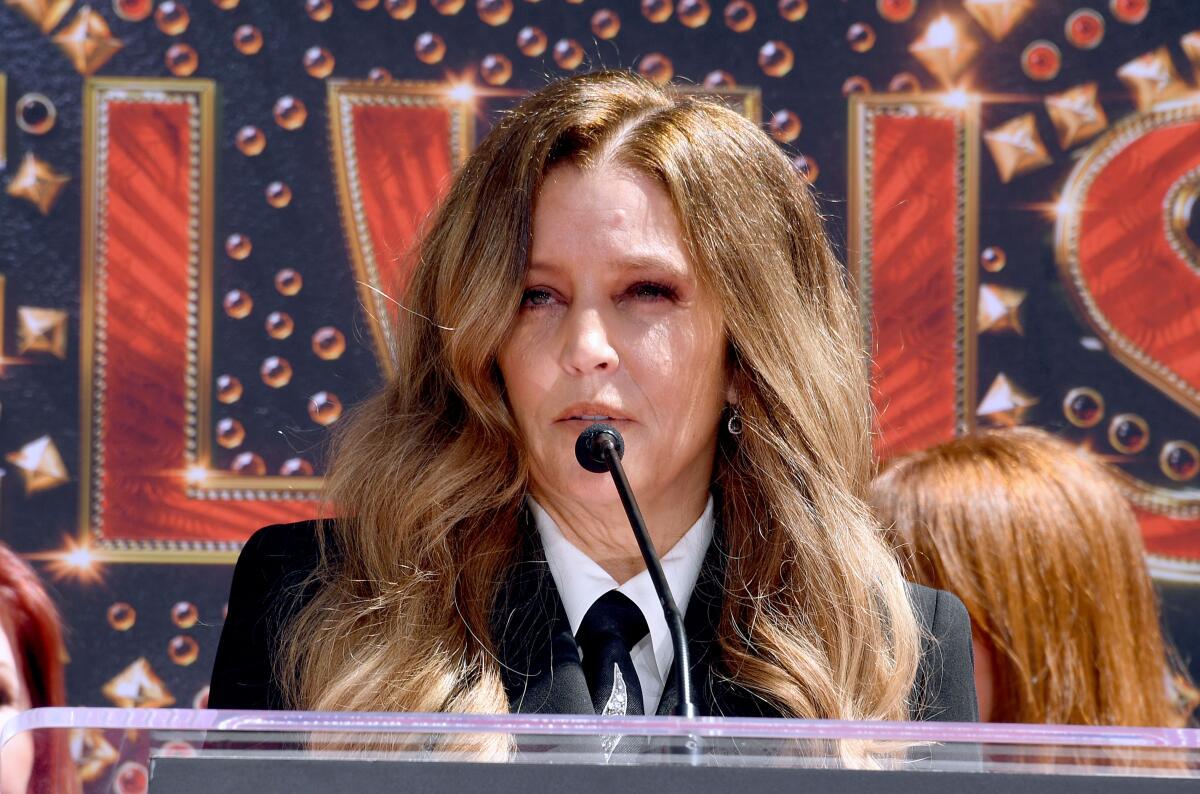 Dead at 54, the daughter of Elvis Presley and ex-wife of Michael Jackson was alternately candid and guarded in our interviews, 9 years apart, about her first and third solo albums
Show more sharing options
Copy Link URL Copied!
"I suck at math!"
Those are surely not the words Lisa Marie Presley will be most remembered for uttering. But they were the most disarming ones she said to me during our in-depth 2012 interview. She was more guarded during our first interview in 2003, which coincided with the release of her debut album.
Presley, who died Thursday at the age of 54, had inherited the fortune of Elvis Presley, her late father, when she turned 30 in 1998. To hear a multimillionaire admit she had no skill with numbers was endearing.
She was also candid about growing up in the shadow of her late father, who died in 1977 when she 9.
"It's a blessing and a curse," she said in her 2012 Union-Tribune interview. "Even at the expense of shooting myself in the foot, I need to rebel. With my first two albums, I needed to find myself and get fans by making music I wanted to make and not have anyone pushing me into contrived places. I needed to prove I could make it on my own, with my own songwriting. And, to some degree, it worked. On the other hand, I shot myself in the foot."
Here are Lisa Marie Presley's 2003 and 2012 Union-Tribune interviews.
Lisa Marie Presley avoiding her dad's shadow
The daughter of Elvis has worked hard to be her own woman
BY GEORGE VARGA
June 21, 2012 / San Diego Union-Tribune
With three solo albums to her credit, including this year's critically acclaimed Americana music gem, "Storm & Grace," you might think that Lisa Marie Presley has finally found a way out from the enormous shadow of her legendary father. Guess again.
"The other day there was a review of one of my concerts, and the headline read: 'Not bad, not her dad'," said Presley, who was only 9 when her father — the man known worldwide as Elvis — died in 1977.
"I got a good review, but then they want to rip into me because I'm not my father," she continued, speaking from an Iowa tour stop. "It's a really hard thing to overcome."
Never mind that her spare, understated new album was produced by T Bone Burnett, who also oversaw the "O Brother, Where Art Thou?" film soundtrack and the multiple-Grammy Award-winning album, "Raising Sand," by Robert Plant & Alison Krauss. (At least two of the instrumentalists on "Raising Sand" are also featured on Presley's new album.)
Never mind that her singing on the album sounds much more like that of tough-but-tender Americana music favorite Lucinda Williams than her iconic dad.
And never mind that, apart from a periodic shared husky quality, Presley's muted, no-frills vocals sound almost nothing like that of her late father, whose powerful singing always had a visceral, bigger-than-life quality. (Not so "Grace & Danger," which is infused with a palpable air of melancholy as she performs songs whose raw emotion is often delivered in a near-hush.)
It's a quandary for Lisa Marie Presley, who performs here Wednesday (June 27, 2012) at the Belly Up and sits on the board of Elvis Presley Enterprises, which oversees her dad's artistic legacy and ever-lucrative business interests.
She has a 15 percent stake in the company and is actively involved in it. Earlier this year, Graceland, her late father's Memphis mansion-turned-museum, opened the exhibit "Elvis: Through His Daughter's Eyes."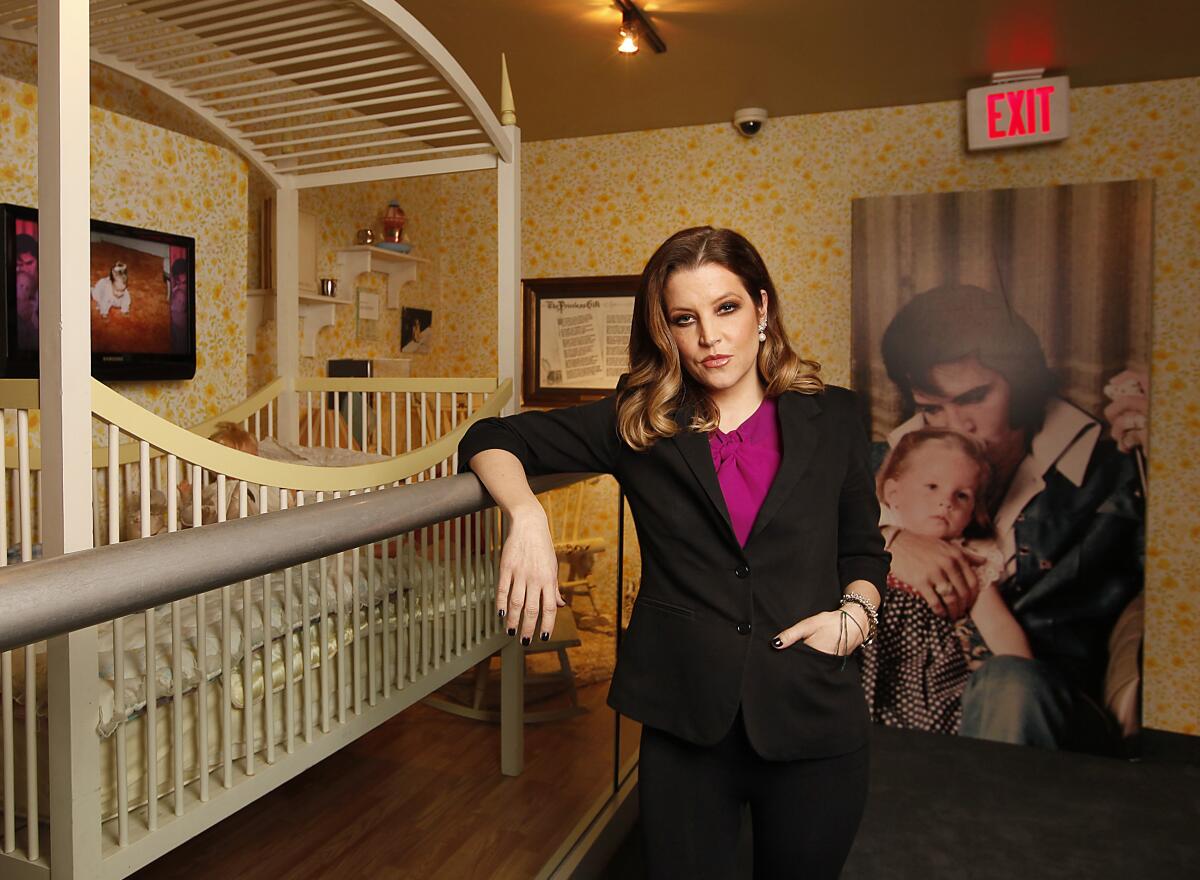 But being a keeper of the flame for her father is different than basing her musical career on emulating him, something Presley knows would never work and that has resolutely resisted. On "Sticks and Stones," a bonus track from her new album, she sings with a combination of defiance and frustration: Too bad she ain't just like her daddy / Oh, what a shame / She's got no talent of her own.
"I'm not an operatic singer like him, and I haven't seen anyone who is," she said of her late father.
"It's complicated. It (her musical bloodline) is not something I want to fight because I'm not proud of it; I want to fight it to prove I'm completely different than him ... I've always been very rebellious, ever since I was a child. I don't like going along with what people expect me to do, or with mediocrity, and I never have.
"It's a blessing and a curse. Even at the expense of shooting myself in the foot, I need to rebel. With my first two albums, I needed to find myself and get fans by making music I wanted to make and not have anyone pushing me into contrived places. I needed to prove I could make it on my own, with my own songwriting. And, to some degree, it worked. On the other hand, I shot myself in the foot."
"Over producing and fighting," she replied. "I was constantly fighting, but I wasn't quite sure what I was fighting. And I wasn't sure how much comparison there would be, between (my father and me)."
There was pressure to play up her father as much as possible, for marketing purposes, even before she made her debut album, 2003's "To Whom It May Concern."
"Constantly, from the get-go," she said. "Record company executives would say to me: 'Oh, yeah, we get you; you're an artist. But the first songs on your record should be off of (her dad's 1969 album) "From Elvis in Memphis".' That (pressure) is never not there. It's not a bad thing, because I'm very proud of my father, my legacy and where I'm from, without question.
"And I have no problem, even if I sound similar to him at times. But when it's a contrived, trying to sell myself thing, I won't go there ... I'm not him, I could never be like him, ever, and I don't want to try. I just want to be a singer-songwriter. I don't want to be disrespectful about it. But it is a battle and it constantly goes on."
Last month (May 2012), Presley was one of the guest artists to perform on the season finale of "American Idol," which saw Chula Vista's Jessica Sanchez fall short in her bid to draw more votes from Phillip Phillips, who won the next night.
Presley's subdued performance sounded so stark and, well, odd in the context of "American Idol's" emphasis on big productions and eye-popping razzle-dazzle that it almost seemed as if she had dropped in from another planet. (The unlikely link is that "Idol" and Elvis Presley Enterprises are both under the same corporate umbrella.)
"That's true," she said. "It's like everything now is about being in this genre of Attention Deficit Disorder music, and everyone wants instant gratification, and bigger and louder (music). What I'm so proud of with this new album is that it has nothing to do with that. It's very straightforward and authentic.
"Now that I look back at it, it was ballsy for me to sing on 'Idol.' because what i sang was pretty out there and not normal. I knew I'd take heat for that because I wasn't spinning around on stage and carrying on, and I was nervous about it and I caught some flack for not screaming and dancing.
"I feel like a lot of people are looking back now (to an earlier musical era), because you can only sing really loud and hard for so long before people get tired of it."
Don't be cruel: Lisa Marie Presley is ready to make a mark of her own
May 11, 2003 / San Diego Union-Tribune
Lisa Marie Presley may be the most famous unknown person to ever launch a belated career in rock 'n' roll. She's a household name who, until last month's (April 2003) release of her debut album, most people knew little about beyond tabloid headlines.
"There's an image of me that I don't even know how to describe," said the press-wary Presley.
Having grown up in a media glare she has long tried to shun, at least until now with her album, "To Whom It May Concern," this aspiring 35-year-old singer-songwriter knows all too well that her own identity as a divorced mother of two (Danielle, 13, and Ben, 10, both with first husband and musical mentor Danny Keough) takes a back seat to being the daughter of Elvis Presley and the ex-wife of both Michael Jackson and actor Nicolas Cage.
"I've realized now what 35 years of not ever saying anything has done," she said. "I was always skeptical (about the media), and there's all this stuff now I have to walk through first — this fog — of, like, clearing the air. And I realize how out of control (my image) got."
Her notoriety has been fueled and defined by the fact that, until the release of her album, Presley had done nothing notable on her own to merit being a celebrity.
But she is the only child of pop music's greatest icon, the man known as "The King," who died in 1977 when she was just 9. She was married (albeit for just 20 months) to the man who would be king, the self-proclaimed "Prince of Pop," in the mid-1990s. And she is one of the most well-known practitioners of Scientology, along with John Travolta (who has said he regards her as "a surrogate daughter") and Tom Cruise.
As such, Presley has been regarded for most of her adult life as a quintessential star of American pop-culture — a name and a persona — not as a real, fully dimensional person. Her album of mostly autobiographical songs, including at least two about her father, is an attempt to redirect the public's focus from the hype of her image to at least some of the realities of her life.
"I don't want to in any way disrespect where I come from; I'm very happy and honored about that," Presley said of her famous lineage. "However, it does have its drawbacks. I don't want to complain, but it's a task right now."
"It's a task breaking through a sensationalistic image, which was generated for 35 years by speculation, when I'm trying to put something credible out there of substance," she explained, speaking from her home in a gated community in the San Fernando Valley town of Calabasas. "It's a task battling this image versus the fact this (album) is real."
It comes as little surprise, then, that "To Whom It May Concern" (which was four years in the making) finds Presley seething with angst and anger at the world around her. Having been marginalized for so long by circumstances largely beyond her control, she's eager to make a mark on her own.
Music allows her to channel her emotions, which tend to sound dark and troubled on nearly every song of her album. Personal pain, as such songs as "S.O.B." and "Better Beware" vividly make clear, is a crucial source of her inspiration.
"For me, it's very important," Presley affirmed.
"I can't really pull from happiness. Even the song about my children ('So Lovely') has pain because overwhelming love is there (in that song), and I find it painful."
Has she ever considered stretching herself creatively by writing a happy-go-lucky song?
Presley laughed.
"I don't know," she said. "It's pretty unlikely. I could try it. You know, I derive (songs) from experiences in my life. I don't filter at all. I sort of channel whatever's coming to me and its usually very autobiographical."
Shadow of Graceland
On "Lights Out," the first single from her album, the husky-voiced Presley sings:
Someone turned out the lights out there in Memphis / That's where my family's buried and gone / Last time I was there I noticed a space left / Next to them there in Memphis / In the damn back lawn.
It's her way of addressing the shadow that hangs over her, as befits a woman who grew up in Graceland, her father's fabled Memphis mansion, and was there when he died a classic tabloid death in 1977. Her doting dad had allowed Presley do anything she wanted, while her mother, Priscilla, was left to assume the role of the rule-making disciplinarian.
Her father's legacy looms as strong as ever, which helps explain why she faltered when asked what words come to mind that best describe him.
"God. There are no words for that in my mind," she said slowly. "Beautiful."
Presley still looks up to him so much that she believes her three marriages failed, at least in part, because — in her eyes — no one can compare with her dad, even 26 years after his death.
"I'm not done with marriage," she said. "I'm slightly jaded. I can't do that (comparison); it's not fair to do to men."
Presley also looks to her dad as an example of the rewards and pitfalls of fame, and as a teacher of what to strive for — and avoid — in music and in life:
"I think that he went through and encountered and endured things for the first time — power, fame, celebrity — a certain existence, and I don't think many people deal well with that.
"So I learned instead to find something to keep myself grounded, something to keep me from going there (to the edge) because I know I could not (handle) what to do with it and destroying myself, which is what most people do. Janis (Joplin), Jim (Morrison), it's pretty much self-destruction.
"They were the veterans, the originals, and he (her father) is in the same category. He went through something and was exposed to something right off the bat, and that was 'unwalked-on' terrain. And I think (seeing) that gave me the grounding I needed. Not that I'll try to be him; it's just I knew that was rough (for him to go through)."
What she found to keep herself grounded was motherhood. Her daughter Danielle was born in 1989, and Presley documented the experience by writing her first song, "Give Me Strength." She was 22 at the time.
"It was about fear of death. I had just became a new mother," Presley recalled. Was it cathartic to write a song about the new responsibilities facing a young parent?
"Yeah," she replied. "I became incredibly fearful of having a mortality issue when I loved something — someone — so much. I found myself pained and struck by that."
With then-husband Keough's musical support, Presley recorded "Give Me Strength." But she vows now that no one else will ever hear it, or any of her many other early musical efforts.
"It was my first song. It was not bad, but it was my first song," she recalled. "I'm my own worst critic. It's not that horrible, but I don't want anyone to hear it. I have so many (songs). I've been writing for 15 years; I have boxes of them."
Pivotal figure
Fans of her father might logically assume he is her biggest musical influence. Guess again, said Presley, who cites ex-husband Keough as the major musical force in her life and her best friend.
"Of course, there are other influences in my life," she said. "But Danny is the only person I'd sing or write with for (the past) 12 years. "I was too shy to sing in front of anyone else. He's an amazingly talented person, and we just connected on that level. He likes staying in the background, which I admire ... I love him unconditionally."
Presley's album entered the national Billboard charts at No. 5 last month (April 2003). By comparison, her father's self-titled debut album, 1956's "Elvis Presley," entered the charts at No. 11.
But his album went on to spend 10 weeks at No. 1, while her album dropped to No. 14 and is now out of the Top 20. How "To Whom It May Concern" fares in the long run will be determined by how well the unseasoned Presley fares when she begins a summer concert tour. (She was to have played a warm-up date here at downtown's 4th & B, but that fell through before it was officially announced.)
Her album is not a stunning victory or an embarrassment. Rather, it's a tentative but promising effort that suggests she needs more recording and performing experience before she can blossom. Her voice is deep, if not very broad, while her singing and songwriting variously suggest Cher, Wynonna, Alanis Morissette and Sheryl Crow.
But Presley nearly overcomes the album's too-slick production, generic songs and mostly bland arrangements. And her intensely personal lyrics are strong enough that when she declares "I'm just a son of a bitch" on the album-opening "S.O.B.," she doesn't sound like she's kidding.
Presley's motivation to make an album was creative, not financial.
Elvis Presley Enterprises, which she is the sole owner of, earned $37 million last year, according to Forbes magazine. When she turned 30 in 1998 she inherited her father's fortune, which is estimated at up to $300 million.
So why should she even want to make an album? And why should people care that she did?
"Why did I make an album?" she mused.
"Well, I recorded it because music has had a huge, profound influence on me my whole life, and I wanted to take that and write (songs) and do that for other people. There's no other mission here."
Get U-T Arts & Culture on Thursdays
A San Diego insider's look at what talented artists are bringing to the stage, screen, galleries and more.
You may occasionally receive promotional content from the San Diego Union-Tribune.

More from this Author
Joe Walsh and fellow Rock & Roll Hall of Famers made San Diego VetsAid a benefit concert to remember
Nov. 13, 2023
Grammys 2024: Top nominees include SZA, Phoebe Bridgers, Victoria Monét and, close behind, Taylor Swift
Nov. 10, 2023
Deap Vally bidding farewell with final album, tour and move to forensic psychology for drummer Julie Edwards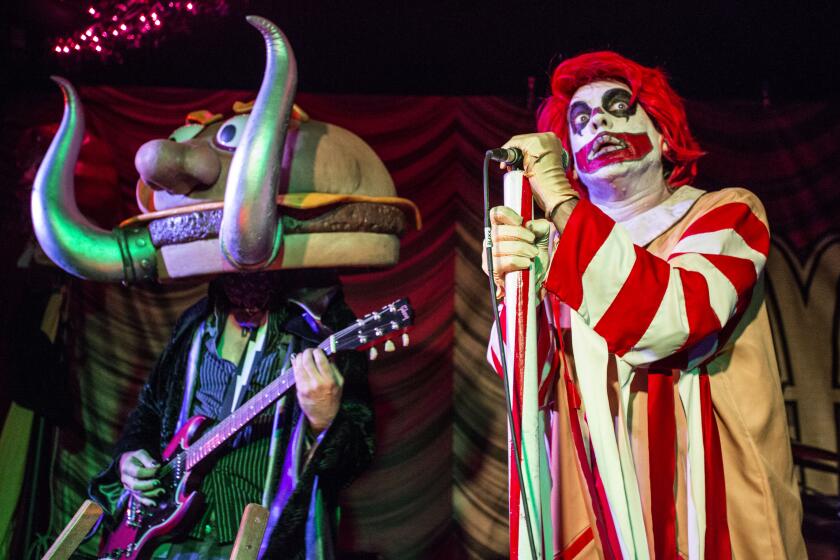 San Diego top concert picks: Nov. 10-17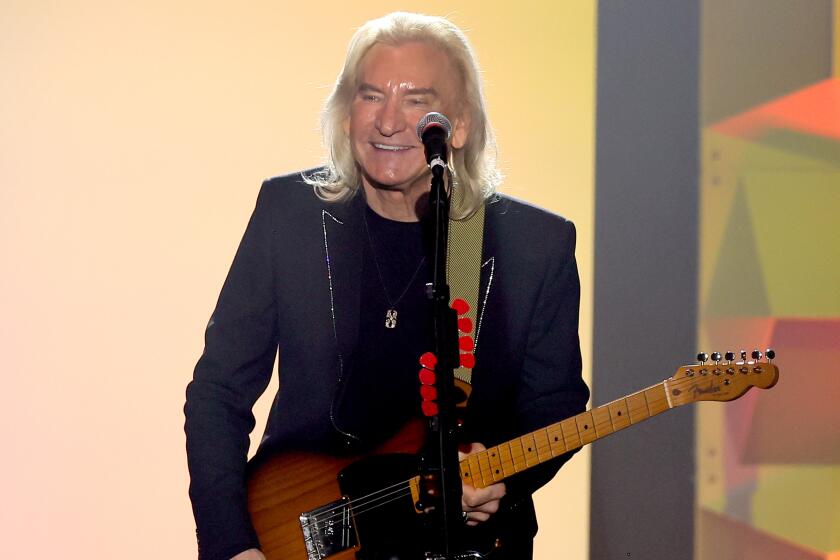 Joe Walsh, still soaring with the Eagles, coming to San Diego for VetsAid concert: 'I know what not to do!'
Nov. 7, 2023
Rhiannon Giddens soars past Pulitzer win. 'She is one of the greatest artists in the world,' says Pat Metheny
Nov. 5, 2023
More in this section
'No auditions, no elitism' at music nonprofit, with lessons in music and in life
Fiona Chatwin is the executive and artistic director of Villa Musica, a nonprofit community music center providing access to music education for lower-income families and seniors
Nov. 4, 2023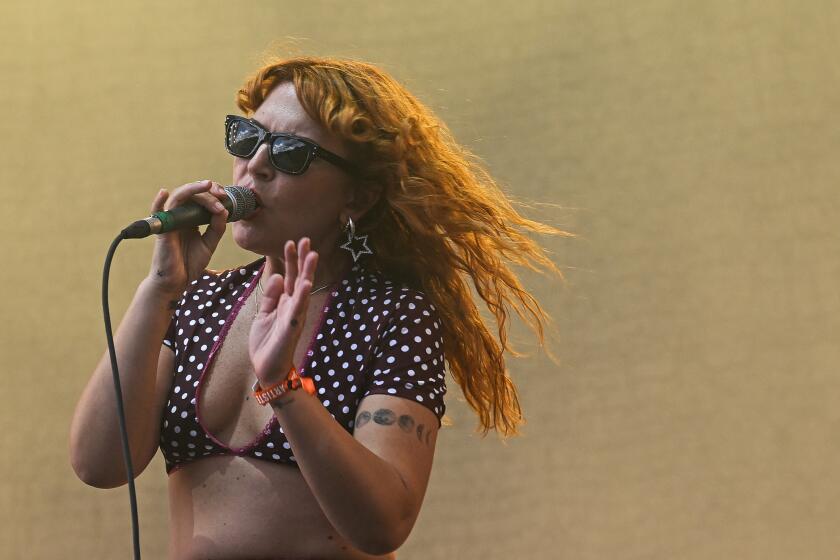 San Diego top concerts: Nov. 3-8
Our picks include groundbreaking psychedelic Turkish-Dutch band Altin Gün at the Music Box, guitar ace Delicate Steve at the Casbah, and a homecoming gig by trumpeter Curtis Taylor at Dizzy's
Nov. 3, 2023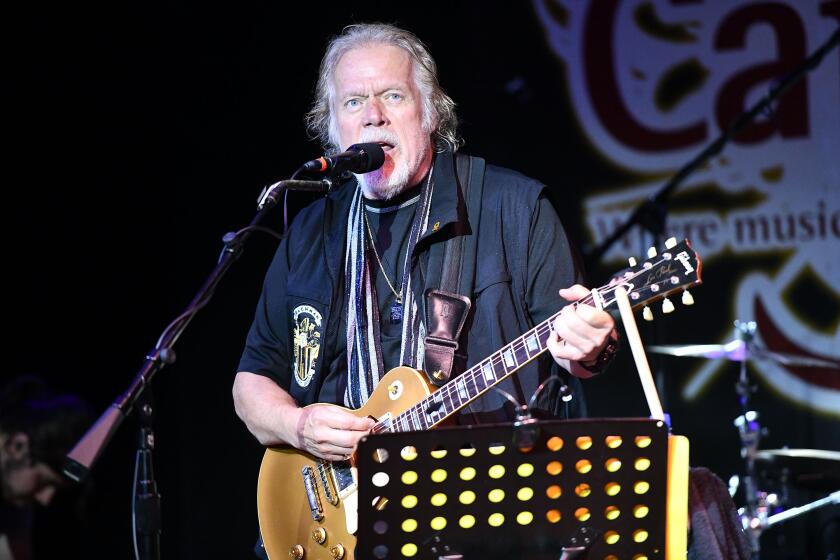 Bachman-Turner Overdrive's Randy Bachman describes music's time-traveling power
The performer and band will perform Sunday at The Magnolia in El Cajon
Entertainment
'The Rat Pack: One More Time' is coming to Poway on Saturday
Show features music made famous by Frank Sinatra, Sammy Davis Jr. and Dean Martin
Nov. 2, 2023
Green Day to conclude 2024 'Saviors' stadium tour at Petco Park. Here are all the dates
The lineup for the tour also includes Smashing Pumpkins, Rancid and The Linda Lindas
Commentary: 'Kick him out!' Inside Pat Metheny's mind-boggling battle with a heckler at his San Diego concert
The guitar great, a 20-time Grammy Award-winner was dumbfounded. 'This is a first,' he told the audience. The heckler was ejected much too late, even though multiple security guards were in close proximity to him.
Oct. 30, 2023