Writing in Year 4 (age 8–9)
In Year 4, your child will continue to develop across the different strands of writing: imagination and ideas, audience and purpose, handwriting or typing, spelling, grammar, and punctuation.
Read on to discover the National Curriculum expectations for writing in Year 4, and to find out how you can support your child at home.
How to help at home
There are lots of ways you can help your Year 4 child with writing. Here are our top ideas.
1. Read to your child
While children do learn new language and ideas from speaking and listening, the type of language we use in writing is often very different from that in speech. Reading regularly to your child, especially longer chapter books that they might not be able to yet read independently, is a great way to support their writing.
While your child will have some favourite books and types of book that they'll want to listen to again and again, try to make sure they get to hear a range of different types of books, including fiction and non-fiction. This is useful for their writing because it models lots of language styles.
For books to read with your child, take a look at our free eBook library .
2. Have your child to read to you
Making time to hear your child read isn't just good for their reading. Seeing words in print helps them to understand the words, to spell them, and to see how grammar and punctuation are used to make meaning.
When you read, occasionally talk about why the author has decided to include something and how they written it. For example:
'I wonder why the author has chosen to describe the castle as "gloomy"? I wonder what that tells us about what might happen there?'
3. Try some real-world writing
Writing for a real purpose can be a great way to fit in some practice. Writing cards, shopping lists, or letters/emails to relatives can be motivating real life reasons for writing, and can show children how useful it is to be able to write well.
Your child might enjoy keeping a diary or writing short stories based on books they have read or toys they enjoy playing with. Be sure to encourage your child to write about what most interests them, as this is the best way to keep them enthusiastic.
4. Tell stories aloud
Giving your child the opportunity to tell stories orally is a great way to get them used to structuring their ideas and using adventurous language. If they're not sure where to start, see if they can retell a story that they already know well, like The Magic Paintbrush  or Rumpelstiltskin .
If your child finds it useful to plan out their story first, try our free Story mountain to make a great plot with a beginning, middle, and end. Your child might also enjoy reciting poetry – see if your child can memorise and perform 'Who has seen the wind?' with our Perform a poem activity sheet .
Activity: Story mountain
Complete the story mountain to plan your story with a beginning, middle, and end.
Activity: Perform a poem
Read a poem, talk about what it means, and perform it to an audience.
5. Find story inspiration
You can find fun story ideas anywhere! Why not raid your kitchen cupboards or hunt through the attic to find lost treasures? Anything from an old hat to a telescope will do the trick. What could the object be used for? Who might be looking for it? What secrets could it hold? Suggest different genres such as mystery or science fiction and discuss how the item might be used in this kind of story.
Real-world facts can also be a great source of inspiration. For example, did you know a jumping flea can accelerate faster than a space rocket taking off into orbit? What crazy story can your child make out of this fact? Newspapers and news websites can be great for finding these sorts of ideas.
For more storytelling ideas, download our free Story idea generator  or our Character profile activity sheet .
Activity: Story idea generator
Activity: Character profile
6. Draw your ideas first
If your child isn't sure where to start with a story or even a piece of non-fiction, it can sometimes be helpful to sketch out their ideas first. For instance, can they draw a picture of a dastardly villain or a brave hero? How about a scary woodland or an enchanted castle?
Your child might also find it useful to draw maps or diagrams. What are all the different areas of their fantasy landscape called? How is the baddie's base organised?
Some children might enjoy taking this idea a step further and drawing their own comics. This is great practice – it stretches your child's creativity, gets them thinking about plot, character, and dialogue, and is a big confidence boost once they've finished and have an amazing story to look back on.
What your child will learn
In Year 4 (age 8–9), your child will be aiming to build upon the goals and expectations they were first set in Year 3. They will be expected to:
Discussing writing similar to that which they are planning to write in order to understand and learn from its structure, vocabulary and grammar
Discussing and recording their ideas.
Composing and rehearsing sentences orally (including dialogue), progressively building a varied and rich vocabulary and an increasing range of sentence structures
Organising paragraphs around a theme
In narratives, creating settings, characters and plot
In non-narrative material, using simple organisational devices (for example, headings and sub-headings).
Assessing the effectiveness of their own and others' writing and suggesting improvements
Proposing changes to grammar and vocabulary to improve consistency, including the accurate use of pronouns in sentences .
Proof-read for spelling and punctuation errors.
Handwriting, spelling, grammar, and punctuation are all important aspects of writing too. You can find out more about them on our dedicated pages:

Handwriting in Year 4 (age 8-9)
Find out more about handwriting in Year 4 at Primary School.
Find out more
Spelling in Year 4 (age 8-9)
Find out more about spelling in Year 4 at Primary School.

Grammar and punctuation in Year 4 (age 8-9)
Find out more about grammar and punctuation in Year 4 at Primary School.
Age 5–6 (Year 1)
Age 6–7 (Year 2)
Age 7–8 (Year 3)
Age 8–9 (Year 4)
Age 9–10 (Year 5)
Age 10–11 (Year 6)
Year 1 (age 5–6)
Year 2 (age 6–7)
Year 3 (age 7–8)
Year 4 (age 8–9)
Year 5 (age 9–10)
Year 6 (age 10–11)
Grammar glossary
Grammar books
International
Schools directory
Resources Jobs Schools directory News Search
Adventure story planning Year 4 (2 weeks)
Subject: English
Age range: 7-11
Resource type: Worksheet/Activity
Last updated
15 September 2017
Share through email
Share through twitter
Share through linkedin
Share through facebook
Share through pinterest
Creative Commons "Sharealike"
Your rating is required to reflect your happiness.
It's good to leave some feedback.
Something went wrong, please try again later.
leah_corbett
Great differentiation!
Empty reply does not make any sense for the end user
Report this resource to let us know if it violates our terms and conditions. Our customer service team will review your report and will be in touch.
Not quite what you were looking for? Search by keyword to find the right resource:
St. Francis de Sales Catholic Junior School
Non Excidet
Year 4: Project 14 - Story Writing - Dragon Adventures
Remote Learning Curriculum
Home Learning March - July 2020
Story Writing - Dragon Adventures!
This week you are going to become authors!
This is the opening line of your story -
As she walked along the street, the tiny dragon in her pocket stirred restlessly ..
Think back to your story on The Iron Man. What story hook could you use? How can you create suspense? Which sentence types will ensure your audience is engaged and entertained by your story?
The teachers can't wait to enjoy your stories. Publish them on Twitter: @sfds_liverpool or e-mail them to us at:
Home Learning Project
Story Writing Project - Dragon Adventures
Supporting Resources
Direct speech
An example POCE of story
Relative Clauses
Sentence Openers.
Vocabulary list for sentence openers
Similes and Metaphors
Home Learning Heroes
Unfortunately not the ones with chocolate chips.
Our cookies ensure you get the best experience on our website.
Please make your choice!
Some cookies are necessary in order to make this website function correctly. These are set by default and whilst you can block or delete them by changing your browser settings, some functionality such as being able to log in to the website will not work if you do this. The necessary cookies set on this website are as follows:
Website CMS
A 'sessionid' token is required for logging in to the website and a 'crfstoken' token is used to prevent cross site request forgery. An 'alertDismissed' token is used to prevent certain alerts from re-appearing if they have been dismissed. An 'awsUploads' object is used to facilitate file uploads.
We use Matomo cookies to improve the website performance by capturing information such as browser and device types. The data from this cookie is anonymised.
Cookies are used to help distinguish between humans and bots on contact forms on this website.
Cookie notice
A cookie is used to store your cookie preferences for this website.
Create new account
Reset your password
Register and get FREE resources and activities
Creative writing techniques for kids: a step-by-step guide to writing a story
The way literacy is taught in primary schools has changed radically in the last couple of decades; when I was at school in the 80s we copied from blackboards, had whole hours of handwriting practice and sweated over spellings without any formal teaching of phonics whatsoever. While I think the more structured approach to literacy teaching we see in classrooms today makes learning more fun and accessible, my one worry is that there's little time left for writing creatively.
When I was at school I adored writing stories – even stories with chapters and illustrations. I know my author brother did too – we found some of his old stories a few years back, and I felt so pleased he'd had the time to write these endless pages of action, adventure, characterisation and twisting plotlines.
As a primary teacher I ensured I would have a week each term when, during literacy sessions, we would focus solely on creating stories. I wasn't deviating from the curriculum – far from it. During this week children would be consolidating their learning of phonics and  be 'writing for purpose', considering carefully the aspects of story and who their audience might be.
It may very well be that your children write stories at home regardless of whether they're required to for school, because most children have a seemingly natural urge to want to do so from time to time. This is just a little guidance on how you can support them and encourage a more structured approach to their story writing.
Plot planning
Firstly, ask your child where the story is going to take place . It could be somewhere fictional or real, it could be a planet, a country, a town or a house – anywhere! 
Then, ask when the story is taking place – now? In the future? In the past? 
Finally ask what they think is going to happen . Remember that this doesn't have to be accurate and they don't have to stick to what they say; many of the best writers say that their plots develop organically as they write. If they do have a firm idea of where they want to go with the plot, though, they can create an outline by completing a story planner, which could look something like this:  
Download a FREE Creative Writing toolkit!
KS1 & KS2 workbooks
Bursting with fill-in prompt sheets and inspiring ideas
Story structure tips, style guides and editing suggestions
Characterisation
Ask your child who is going to be in the story. How do they want their readers to feel about each character? Again, they may want to jot some ideas down. You could make a table for them to help them organise their thoughts, with these headings:  
Name of character
Relationship to other characters
What he/she looks like
Story language
Ask your child to think of some fabulous words to use in their story writing . They might be long words or simple ones, or they might be great descriptive words or words that help create pace and tension. Encourage them to jot these down and refer to the list as they write their story.
Story starters
All writers know that you've got to capture the attention of your readers right from the start; you want to make them desperate to read on. Ask your child to think of some good story openers that'll entice people to find out more. Here are a few examples:
First sentences that are mysterious… Molly had no sense of the day that lay ahead.
Story starters that use language tricks like alliteration… It was damp, dark and dreadfully dusty when Molly entered the house.
Story openers that create tension… Molly could hear her heart beating faster than ever before. Could this really be happening?
Stories that go straight into dialogue… "But I don't want to go to school, Mummy," groaned Molly.
Encourage your child to look at some of the books they like to read and see how they begin in order to offer inspiration.
Get writing!
Once they've got all of these ideas in place, they can start writing. They could do a draft in the first instance and then a neat, polished version later. They may wish to write in short chapters, use illustrations, or make their own book to write in – let them use their imagination and creativity when it comes to presentation, and make sure you show how much you value the end product by keeping it to read again with the other books in your house.
If your child finds writing a story a little daunting, start with something small from our list of 9 fun writing projects to do with your children .
We also recommend the free art and creative writing challenges on the Night Zookeeper website ; your child will be contributing to a co-created animated television show.
You could also try a great story-making app and get your child writing fiction on their tablet!
Plus, find out how to support storytelling skills for children in EYFS , KS1 , KS2 and KS3 to get them thinking about story elements, plot and character development.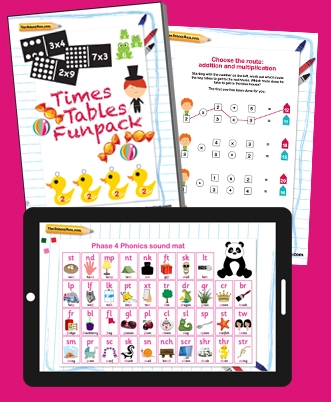 Give your child a headstart
FREE articles & expert information
FREE resources & activities
FREE homework help
More like this