Google Slides Presentation Design
Pitch Deck Design
Powerpoint Redesign
Other Design Services
Expert help with design presentation to achieve your goals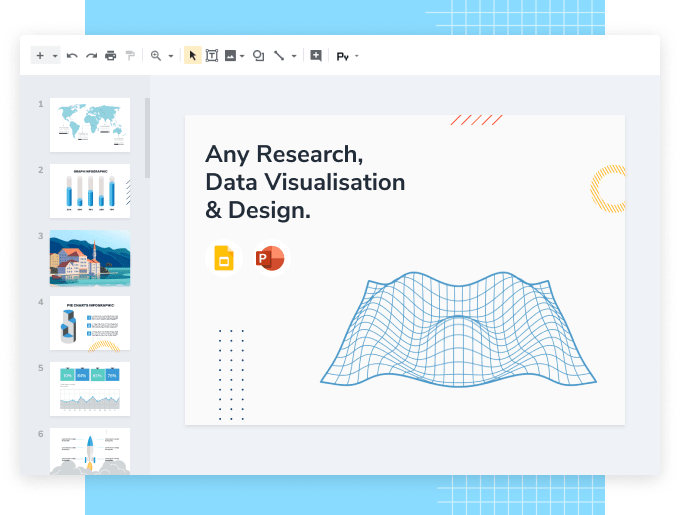 We help business owners, startups, marketers, and educators present their ideas in the most appealing way.

Our presentation design services
Have your presentation redesigned, improved or created from scratch by our powerpoint service.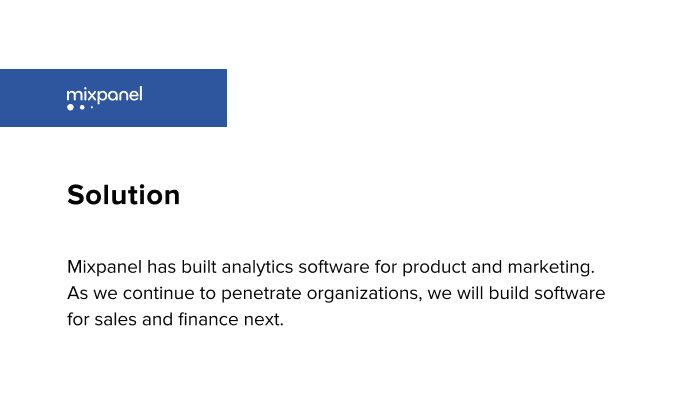 Explore our custom slide samples
Ballard Power Systems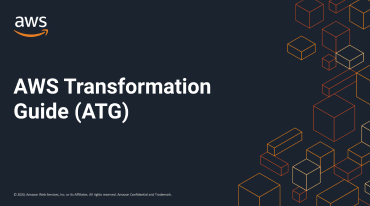 Amazone Web Services Deck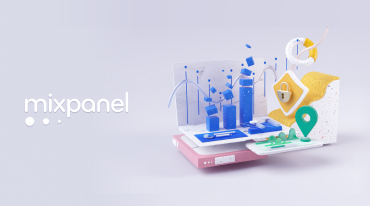 Mixpanel Pitchdeck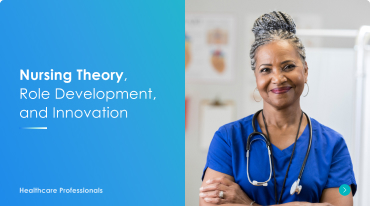 Nursing Theory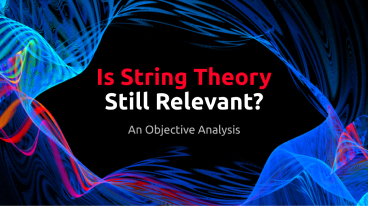 String Theory is Retared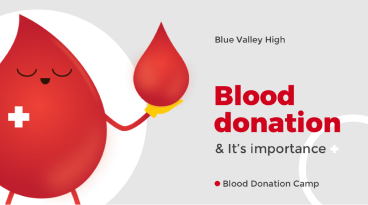 Blood Donation
Our services
At SlidePeak, we work with start-ups, managers, marketers, analysts, and other individuals to find their voice and tell their story through great designs in any software.
What is the power of a presentation design?
Your idea deserves a brilliant presentation design and pro help.
Whether it's an academic project or business proposal, we can create a presentation that perfectly serves its purposes.
Delivering well-made presentations for all fields
Powerful, effective, and customized to your needs.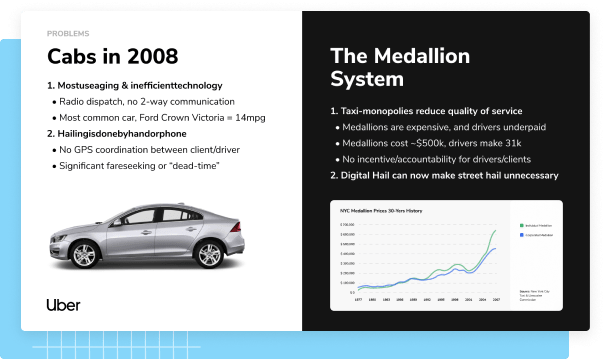 From designing one-page infographics to creating pitch decks — we cover all business-related topics and visualize data of all kinds.
We create custom-made presentations tailored specifically to your niche, precisely following your corporate style guide, tone of voice, and requirements. And a completely editable format allows you to update the delivered presentation by yourself.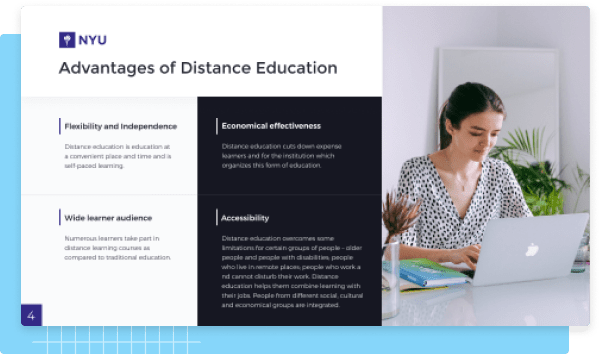 We help educators present their study material in a more engaging way, accompanying lectures with professional, good-structured presentations.
Attention to detail, proper data visualization, clear structure, embedded videos, topic-based illustrations, and easy to edit slides is what makes our presentations so unique.
Having accumulated expertise while working with teachers of different disciplines and teaching for different academic levels, we know how to deliver a presentation that will meet all your needs.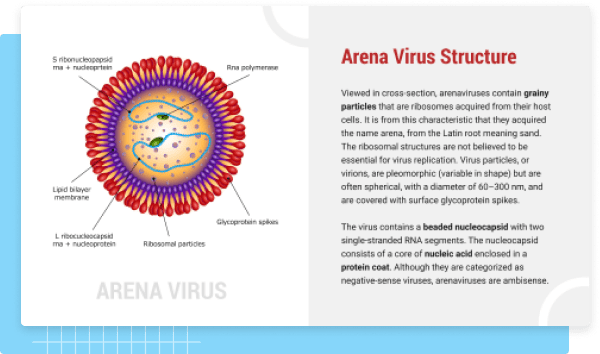 We create presentations for almost all disciplines and academic levels: from Business to Healthcare, from BA to Ph.D.
If you need to present your research in the best way, meeting all academic standards, we can help you succeed. Our designers can organize your thoughts and your research in a clear and concise way by structuring slides, creating contrast, adding charts, graphs, and other visuals.
We can also advise you on content, edit, proofread, or redesign your presentation, and help with speaker notes.
Our customers' testimonials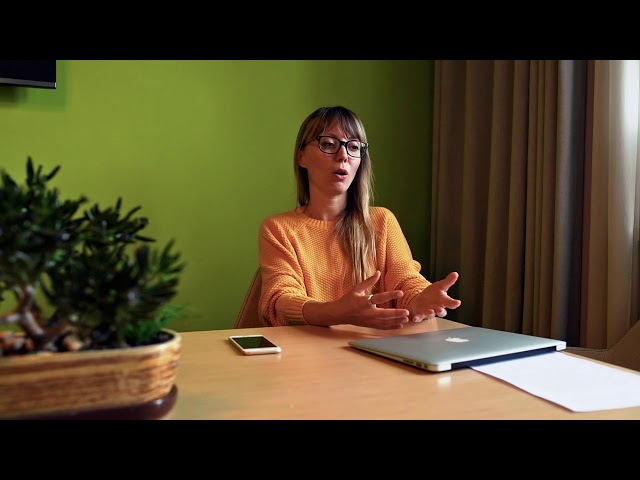 Frequently asked questions
How fast can you do a powerpoint presentation.
The minimum possible deadline is under 12 hours. It is best suited for small orders, such as redesigning 3-5 slides without complex graphs and visuals. Sometimes, we can fulfill a larger order but must check your instructions first. In case of such a request, please get in touch with our 24/7 support team, and they'll tell you whether it is realistic to accommodate it before your deadline.
A 24-hour deadline is perfect for urgent orders of approximately 10 slides. However, if you need 20-40 slides done within such a period, we'll typically divide the order among several designers who'll follow one style to ensure design consistency.
If you're not in a rush, the recommended deadline for standard presentations of 10-20 slides is 3-5 days . This time is enough to approve the draft with you, finalize the presentation and, if necessary, make additional changes. Remember, the longer the deadline, the lower the cost of work.
Can you redesign a presentation in a language other than English?
Yes, that's not a problem for our professional presentation company. We have extensive experience redesigning presentations in Spanish, French, Chinese, German, and other languages. However, as long as we don't offer translation services, the content has to be provided by you.
I'm not sure about the style. How can you help me in such a case?
You can review the completed works on our website or request our portfolio to check other work samples not available online. Also, if you have any examples of the style you like, you can provide us with a link to the website or materials or describe it in writing.
In case you have any preferences regarding the color scheme or the list of colors that should not be used, upload it with the instructions, and the designer will consider your wishes. However, if you don't know what exactly you would like to see, you can opt for a premium business presentation design service, and our experts will prepare several design options for you to choose the one that best fits your vision.
If you have a large presentation but are not sure that the final result will satisfy you, you can first order several slides, check the result, and then assign the rest to that designer.
Can I get a draft to approve the style?
Yes, of course. For non-urgent orders of 5 or more slides, we try to provide drafts for preliminary approval by default and take into account all comments before the order is completed. Therefore, if you want an initial draft of the PowerPoint presentation design, just indicate it when placing an order.
Please note that "draft" means 2-3 redesigned pages in PDF format.
What if I don't like the draft?
Such cases are extremely rare. However, should it happen, we clarify what exactly you don't like about the draft and offer to let another designer redo it following your comments. In most cases, this is enough to hit the target.
What if I need to change something in the completed presentation?
If these are minor changes relating to the initial instructions, we will revise the presentation to perfection at no cost. That is the main reason why we usually provide a draft for general stylistic approval. Besides, in case of large orders, we can ask you to approve the completed presentation in parts so that the final result meets your expectations.
If changes are more significant and do not pertain to the initial instructions or require extensive amendments following updated guidelines, including designing extra slides, there can be an additional payment for the designer's time and effort.
The significant advantage of our approach is that we always try to do our best so that you remain 100% satisfied with the final product.
What about the rights to images and illustrations? What sources do you usually use?
At our ppt presentation design company, we usually use images and illustrations that are provided by the client. Other sources generally include photo stocks (both paid and free) and open sources.
If the client has special requirements regarding copyright and use of images (e.g., commercial presentation design), we can either select images/illustrations that are allowed to be used for such purposes, buy the rights for such use, or provide the client with links to rights purchase.
I'm not a native speaker. Can you proofread the content for a presentation?
Yes, we can. We have experienced copywriters and editors on our team who can proofread the content, improve it, create content based on your materials, or, if necessary, do research, collect additional information, and write content from scratch.
For such a task, we recommend choosing the "Presentation from your material" option and describing your wishes regarding proofreading.
Do you help with content writing? What exactly can you do?
Yes, we have experienced copywriters who can help with writing, adaptation, and summarizing of content, both the one provided by the client or created from scratch by our team.
Please note that it is very important to choose the right type of work for such services. Here's a brief description of available options:
Presentation based on your material. This option is a good fit for cases when you have all the required information and just need to adapt it to the presentation, shorten it, identify the key ideas, summarize the data, or slightly refine the content.
Presentation from scratch. As the name suggests, this service covers writing content from the ground up. It's a perfect option for cases when the content needs to be radically revised or rewritten. As this type of work requires research, please ensure there's enough freely available material on the topic before placing an order for PowerPoint presentation design services. However, should the creation of a presentation need narrow expertise in a specific niche, we recommend that you submit a preliminary request so that we can confirm whether we can fulfill the order.
Is it possible to incorporate my branding into a presentation redesign?
Yes, of course. Simply mention it in the instructions and provide related materials. It can be a link to the website, brand book, previously made slides, or a logo with a note to create a presentation in similar complementary colors.
Can we sign my company's NDA, or do you have your own agreement?
Yes, we can sign your company's NDA or provide our agreement for signing. The advantage of our NDA is that it takes less time to approve it with the legal department, and both parties can sign it within 1-2 business days.
Please note that our legal department does not work on Saturdays and Sundays, so if you have an urgent presentation that needs to be designed over the weekend, our presentation design agency can take on the work and sign the agreement after the order is completed.
To sign our NDA, we require the following information from you:
Company name (e.g., Trust Limited)
Country of registration (e.g., USA)
Registration number (e.g., CS513192014)
Address (e.g., 205 East 42nd Street, New York)
Printed name (e.g., John Smith)
Title (e.g., Marketing Manager)
Email address (e.g., [email protected] )
Signing your company's NDA can take 2-4 business days, depending on the terms of the agreement and the comments of our lawyers.
Can I pay in installments?
Certainly! You can pay for just a part of the slides, wait for us to complete them, and then order the rest from the same designer.
Can I get an invoice?
Yes, you can download the invoice from the customer area, which will become available once you place an order. Here's where you can find it: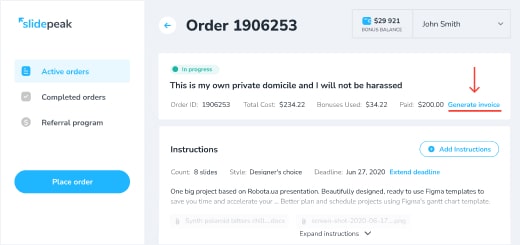 Alternatively, you can contact our support team , and they'll email it to you.
SlidePeak presentation services: creating a story for your business
As an owner of a business idea, project, or service, you put a lot of time and dedication into every detail. Planning, analyzing the market, bringing a team of experts together – that's always a tough challenge even for a seasoned pro.
So, by the time you have to pitch your huge project to investors or your target audience, you might already be quite exhausted and deeply buried in details. Recruit presentation design service to bring a fresh perspective and highlight the essentials in your custom slideshow.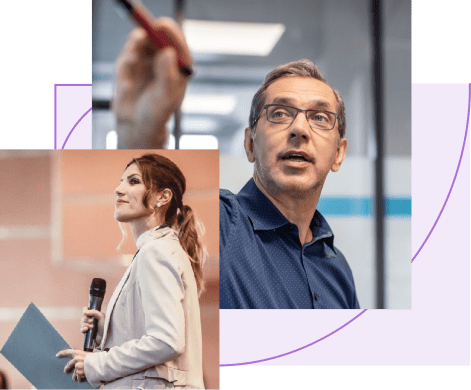 Who will do my presentation content and design?
SlidePeak design services is a professional team with extensive experience in the market. We work as your partners, striving to boost your performance and provide you with the best visual representation of any project.
Who will be my copywriter? Our copywriters are experienced in producing short, on-point texts for any industry, topic, or project. They are here to make your speech memorable, well-argued, and convincing. Provide us with anything you've got – an old presentation, pieces of material, or just an inspiring idea – and they will help with crafting a whole story behind your project.
Who will be my designer? Our designers are well-trained experts in their field, able to create the best visuals of any complexity, impress your audience and make your presentation 100% engaging. They can integrate your corporate branding and your organization's philosophy into the PPT slides, so it will be no different from in-house production. Also, if you are not sure what design style you are looking for, they can suggest options and help you choose the right style that meets your specific design needs.
Never lose your listeners' attention with the A-level slideshow created under your custom request. Work alongside the presentation professionals and take over your target audience.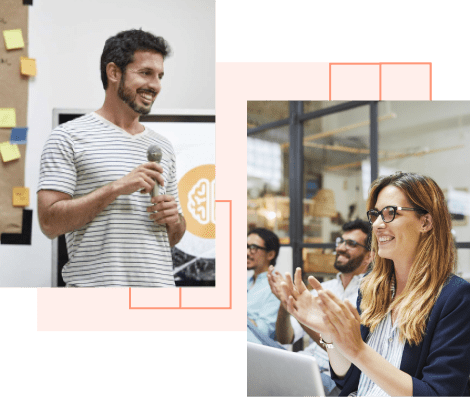 Light up the essentials with custom presentation design
Leading PowerPoint design services exist to create a solid ground for your presentation. What we do is take your brilliant idea and transform it into a well-crafted custom visual. The industry you work in, your target audience, the keynote, and your company – that's what creates our framework. SlidePeak experts develop on-point content and perfect visuals to highlight the most important parts of your speech. Get the perfect balance of text and visuals crafted for you in due time by professional presentation design services.
Expertly-designed presentations tailored to your specific needs
Elevate Your Story
We are stinson: the presentation agency.
Our team of in-house presentation designers help companies around the world achieve their goals through effective storytelling. We deliver persuasive, engaging, and on-brand presentations that instill confidence and inspire action.
Explore Our Services
Multifaceted presentation design services for any client in any industry for any occasion.
We are the trusted presentation design partner for respected global brands and leading-edge startups since 2009.
Presentation Development
Our presentation designers transform dated PowerPoint and Keynote slides into visual stories that bring your key messages and data to life, whether you're speaking at a national sales conference or in the boardroom.
Content Consulting
Our consultants distill dense information to reveal what resonates most with your audience. We'll help you refine your story from beginning to end through strategic communications and a business-minded approach.
Template Systems
We analyze your brand and content to create custom designed templates for your teams. As a presentation company, we create functional templates to help users build consistent, on-brand slides for every presentation.
Presentation Training
Move your organization forward with presentation training that empowers you to build better presentations in less time. Master the tools of PowerPoint through hands-on learning and actionable feedback.
Find Your Solution
Discover custom presentation solutions for your unique business challenges.
Select your role to see how we can help you achieve your goals.
Sales & Marketing
Scientific & technical, analytical & research, teaching & development, executives & thought leaders, founders & investors, the stinson approach.
We design with purpose.
We work through three main phases to ensure every project is a success.
We kick off with a deep dive into your business, brand, and objectives, analyzing source material and defining key opportunities your target audience will care about.
We refine your content to establish a compelling narrative and conceptualize a visual story that aligns with your brand identity.
We combine our creative expertise and industry experience to build custom, high-impact presentations that bring your content to life.
Why Partner with Stinson?
We integrate story and design to help our clients achieve more.
89% of first-time clients come back to us for our presentation design services.
Over $300 million in funding raised through our focused pitch decks.
We helped ZoomInfo develop an interactive sales presentation with custom graphics and polished, sophisticated animations that reflect their modern branding and keep their audience engaged.
From one corporate PowerPoint template design back in 2015, our partnership with CrowdStrike has evolved into creating branded templates and collateral, and keynote presentations for their executive team.
We helped this financial services group redesign their existing investor presentation to better resonate with their audience. The resulting pitch deck is sleek and tells their business story to captivate investors.
We simplified dense scientific findings into a compelling narrative for healthcare professionals. Using graphics, photography, and brand elements brought the data-heavy presentation together into an easy-to-understand story.
The LearnWell Projects seeks to help colleges and universities eliminate academic-related retention problems. We helped them visualize complex and abstract concepts using animations and custom-made illustrations.
Concordia's Faculty of Fine Arts needed help visualizing survey data in way that is easy to understand and engaging to its readers. We developed an infographic to help educate the faculty staff and inspire action.
A very creative and collaborative process that made me change my thinking and approach; a worthwhile and rewarding experience.
Stinson is an expert at understanding information to visualize complex data and design clear text-heavy slides. They've helped improve the consistency of our presentations using a keen sense of brand and attention to detail. I'd recommend Stinson to anyone!
Stinson has a real talent for creating and honing presentations into first-class communication tools. We've used them repeatedly and are very happy with their skills and abilities.
We knew we had situations where our internal designs were no longer going to cut it. Finding and working with Stinson has elevated our external communications. The process is pain-free and quick. We have used Stinson on multiple designs, and plan to keep using them for upcoming design needs.
Whether helping to build a presentation deck, brochure, or short video, the Stinson team has been great to work with. They are creative problem solvers who help us take the complex and make it easier to understand. We really appreciate their initiative and level of service.
The team at Stinson did an excellent job and were able to turn our materials around within our tight timeline. The team catered to our specific needs and were a great partner. The updated design is fantastic and bold.
The team at Stinson understood so quickly what I was trying to show in my story, and made it so easy to tell it through graphics. I would use them again in a heartbeat.
We're happy to answer your questions.
Let's Get Started!
Interested in a consultation or learning more about how we can work together?
Want insights from industry experts?
Sign up for our quarterly newsletter to receive presentation tips and communications.
Get Inspired
We'd love to hear about your project.
Complete the form below and one of our consultants will reach out within 24 hours.
How We Work
Whether it is one slide or a complete presentation, our team of expert designers can re-design it, or even create it from scratch. We craft high-impact custom designed PowerPoint slides to make sure your message gets the attention it deserves and is remembered by your audience.
Fill out the "Submit Your Request" form below or email us at [email protected] with your requirements. You can even submit a rough sketch of the diagram, tell us your color preferences or any other styling input if you wish. All information is kept 100% confidential.
We acknowledge your request and ask clarifying questions if there are any doubts. Our Custom Design team then gets started on your design. We'll send you the screenshots of the finished product once they are ready for your approval.
You make payment after you are fully satisfied with the custom diagrams. You can request revisions as many times as you want. All the designs we deliver to you will be fully editable in PowerPoint and you can use it for your current or future projects.
Our Services
Formatting and Designing of Slides
Give us your existing PowerPoint slides and get back polished and professional slides, completely formatted and redesigned… in short, a complete presentation package.
Sketch/ Notes to Presentations Slides
Share the concepts or ideas you have in your mind on a piece of paper and get them converted into customized PowerPoint presentations
Custom Designed Template / Theme
Get a customized template that enhances your brand identity and helps deliver presentations with an authoritative and impactful design
Professional Resume Designing
Share your ideas and vision with us to get a personalized resume that will make you the top pick and help you land your dream job.
Infographics
Give us your information and data or simply an idea and we'll turn it into a powerful graphic story through an infographic
Brochures, Flyers, and Marketing Collateral
Request marketing collateral, whether it's brochures, whitepapers, or newsletters. We ensure that all your promotional materials are top notch and establish your brand in the market
Logo and Brand Guidelines
We help businesses revamp their company logo or create a brand new logo that is highly relevant and incredibly memorable. Our graphic designers also craft a cohesive brand style guideline
Word Document Formatting
We polish and format documents into crisp, easy to read, professional materials. Our Word Formatting Services include designing templates, header and footer, fixing alignment, margins, bullets, and more
Some Customer Before and After Samples
"SlideTeam's ability to customize the templates and design new artwork helps me craft personalized content and I'm impressed with their turnaround and the quality of services.
Thanks to SlideTeam, I am able to build compelling career stories for the people I help that resonate with prospective employers and help them succeed."
"As a start-up company in last miles delivery and logistics services, we regularly need to prepare a presentation to potential customers and investors.
We usually provide necessary information for our briefing; The Slide Design Teams very often transformed our initial work with using related graphics, fonts, and colors into a professional piece of presentation deck."
"With SlideTeam as our presentation design partner, we can focus on our core operations: business partnering, meeting the needs of our patients and driving our mission. What they can accomplish in 8 hours, would take us 40 to 60 hours. We say, "make sure you SlideTeam that presentation" which means to perfect it."
Simple Pricing
Upfront Estimates
No Hidden Charges
Custom Designed Slides
Starting at, custom designed templates/ themes.
Customizations start at $14.99 per slide for SlideTeam subscribers. For non-subscribers, customizations start at $29.99 per slide.
Customers who have bought the "Annual + Design Services" subscription get 10 slide customizations included for free - this is a $299.99 dollar value included. Any additional slides is $14.99 per slide.
Adding animation to the slides is $4.99 extra per slide.
In some instances, a customer may require very detailed design work that requires more time and effort than designing a regular presentation text slide, or, requires us to use 3rd party software packages such as Adobe Photoshop, Illustrator or 3D Maya. In such cases, if your project cost increases and/or if additional hours of work is required, then we will inform you beforehand, so that you know what you will be paying.
We offer unlimited revisions with minor edits such as changing color, or icons, or text etc., to make sure you're fully satisfied. Major changes such as re-designing of the slide, or, completely changing the layout, due to any changes made in the original request sent by client, or, asking for multiple design options for the same slides, would be considered as working on the new slide and will be charged extra. These are not included in the revisions.
Need a Dedicated Designer on Contract/ Hourly Basis?
We work with hundreds of firms to design their Presentations, Brochures, Datasheets, Letterheads, etc.
We can be your dedicated design team, and can work on hourly/ monthly/yearly contracts. Hire us to be your design services arm.
Why Choose Us?
Confidentiality
If required by the customer, we can sign an NDA with them to protect their information.
We follow our privacy and confidentiality terms and conditions very seriously.
All content is handled by SlideTeam employees and no contractors or third party members are given access to any customer material.
Work with us once and you'll trust us to become your design support arm.
Submit a Quick Request
Send us a quick message and we will get back to you within 24 business hours
Bold Ideas for Better Presentations
At VerdanaBold, our presentation design services, presentation training, and other PowerPoint services can help everyone from first timers to experienced professionals give presentations that captivate audiences and help make your ideas more memorable.
Marketing Presentations
Convincing consumers to choose your business starts with convincing stakeholders that your ideas are market-ready. And with our expert PowerPoint creation services on your side, you're one step closer to success.
Pitch & Sales Decks
What do you call a great idea inside a bad presentation? A missed opportunity. Launch your next big thing with presentation design services that can help you pitch like a pro.
Executive Presentations
When you're presenting to a C-level audience, you can't leave anything to chance. Our PowerPoint design services are the best way to wow even the toughest crowd.
Business Plans & Corporate Overviews
Improving the state of your business starts with understanding it clearly. And with the right PowerPoint services for your big presentation, you get everyone on the same page and on the road to success.
Keynote Presentations
Big audiences can be intimidating. When it comes to taking the big stage, make sure you're ready to wow them with PowerPoint services that make your content clear and compelling.
Product Presentations
When it comes to new products or updates, there's nothing more important than clear information. Make sure developers, salespeople, and customers have all the facts with our PowerPoint design services.
Training Presentations
The heart of any great business is great employees. We offer PowerPoint creation services for employee training that ensure your most important information is clear, easy to understand, and actionable.
PowerPoint Templates
With smart, well-designed templates, you can ensure that every employee is getting your message out while keeping your brand consistent.
Branded Communications
We partner with brands for more than just presentation design services. From creative campaigns to brand strategy, our communications-focused approach to creative helps brands reach their consumers in smart, engaging, and authentic ways.
Storytelling
From slide-by-slide storytelling to complex narratives, our presentation creation services combine thoughtfully chosen words with artful imagery to build something that audiences will never forget.
Infographics
"A picture is worth a thousand words" is never truer than in presentations. From intricate graphics to light-hearted images, our PowerPoint design services can help make even the most complex concepts more visual and more impactful.
We partner with brands of all sizes in a wide range of industries. See the difference that our approach to presentations has made for our clients, and learn more about how we can help your business in our case studies.
POWERPOINT TIPS AND TRICKS
Professional powerpoint tips for great presentations.
These professional PowerPoint tips are intuitive enough for any beginner to tackle
SUBSCRIBE TO OUR NEWSLETTER
Our monthly roundup of the newest PowerPoint design tips and tricks, presentation design ideas, and other strategies for better communications.
DON'T JUST TAKE OUR WORD FOR IT...
"If you are looking for amazing visual design services to communicate your ideas more effectively, they are great."
Vice President Marketing, Wunderman Thompson Data
PowerPoint Design Services
We Elevate your PowerPoint Presentation
How We Help
Are you struggling with your PowerPoint Presentation Design? Are your slides filled with paragraphs of text, endless bullet points, and lack the visuals needed to support your message? Designing a PowerPoint Presentation that matches your vision can be a tricky thing to do unless you have a geek on your side. Our designers have helped hundreds of people design stunning presentations with visuals that tell amazing stories.
When you hire the Presentation Geeks, you gain access to a team of Presentation Designers that are trained experts in their field who have a passion for PowerPoint presentation design. As if that's not difficult enough to find, our designers each specialize in different skills from illustration, to motion graphics, to 3D video, and of course PowerPoint design.
Contact Us Today for a FREE ESTIMATE
Our highly trained team of graphic designers can work with you no matter how far along in the powerpoint development process you are. We will help you to build a storyboard for your ideas, and create dynamic PowerPoint slides designed to engage and elevate. Typically the entire process takes 2 to 4 weeks, and can include specific branding, graphics, or images. Whether you are looking for a world class PowerPoint design , or one that simply needs to get the job done, we can help.
See What We Can Do For You
Features & benefits of a professionally designed powerpoint.
Development of a custom design PowerPoint theme based on your presentation goals
Usage of PowerPoint animations to create engaging slides
Inclusion of corporate brand guidelines
Industry standard platform means your team can easily make changes to ther deck once we pass it off to you
Creative input to convert text heavy slides into stunning graphics
Inclusion of motion graphics to create even more wow factor
WHAT OUR CLIENTS SAY ABOUT OUR SERVICES
So, Let's Get Started!
Top industry presentations start with a call to the Geeks
SOME OF OUR CLIENTS
WE'RE YOUR PREMIUM POWERPOINT PRESENTATION DESIGN SERVICE FOR HIRE
We all have been there – staring at a PowerPoint deck without the slightest clue where to begin. Perhaps you toyed around with PowerPoint slides throughout your University career but this time it's different. You have to deliver a truly impressive PowerPoint presentation in front of very important people and you cannot afford looking like a failure. Perhaps you are presenting a new project or a sales pitch. Presentation Geeks have your back!
PROFESSIONAL POWERPOINT DESIGN SERVICES
You have a lot on your plate so spending valuable time trying to develop a powerful and visually pleasing PowerPoint deck was not part of your plan. This is where we come in. Our job is to create outstanding PowerPoint presentations to deliver you a professional, uniquely-designed presentation that will blow everyone away. Spend your time preparing for your PowerPoint presentation rather than learning how to design it. Well prepared presentations account for 50% of your success so let professionals take care of the technical part.
Whether you need more of a visual presentation to add some weight to your speech or a thoroughly researched one filled with facts and numbers, we will design your PowerPoint presentation that will look exactly like you intended it to. We will work closely with you so you will be able to control the entire process without any unpleasant surprises.
HOW TO MAKE THE BEST POWERPOINT PRESENTATION?
PowerPoint slides should contain focal points to convey the message to your audience. They must also contain visual representations of your message that best support your key points. It should not be just a separate set of images and sentences but instead should flow with your speech and form a symbiosis. Visual representation of your speech when done right will aid you in sending your message across that will deliver desirable results. When it comes to great speech – not only WHAT you say counts, but also HOW you say it. Presentation Geeks will help you say it right.
CORPORATE POWERPOINT DESIGN SERVICES
When it comes to business it is expected that you will use an appealing PowerPoint presentation to support your message. A lot of the times corporate PowerPoint presentations serve not only as visuals, but also as hand-outs that are given at the end of the meeting. What this means is that when preparing presentation for business you should make sure that it not only looks good but also forms a summary of the message you aim to convey.
There are many factors that influence the quality of your presentation. Firstly, the structure of your entire presentation and how it will complement your speech: it is crucial that PowerPoint supports what you are saying and is structured the right way. Another important factor is balancing out number of visuals and text: if you use too much text then your audience will spend time reading your slides as opposed to listening to what you are saying. However visuals alone are not always informative enough and cannot form focal points of your message. So the secret is to use a combination of visuals and text that will deliver your message and won't make your presentation boring. Last but not least, your choice of fonts and colors is an important contributing factor to a successful corporate PowerPoint presentation.
Presentation Geeks will be happy to lead you through the entire process of creating a professional and powerful PowerPoint presentation. You can contact us about your corporate PowerPoint presentation via email or phone call and we will work closely with you to deliver great results that you will be proud of.
We have made thousands of presentations to date and know all the ins and outs. Read our success stories and browse our portfolio – and find out just how much PowerPoint presentation experts can do for your business.
Build your brand with ease. Exclusive holiday offer: 15% off Microsoft 365 Business Standard. Terms and conditions apply. *
Microsoft PowerPoint
The 2023 Microsoft Work Trend Index Annual Report: Will AI Fix Work?
Copilot in PowerPoint
Turn your inspiration into stunning presentations.
Turn your inspiration into stunning presentations
Turn a spark of inspiration into personalized presentations with Copilot in PowerPoint. Copilot will turn existing Word documents into presentations, create new presentations from simple prompts or outlines, or find the best places for impactful imagery—and will help you leave audiences dazzled with skillful storytelling.
Designing slides has never been easier
Create well-designed, impactful slides with the help of Designer and Ideas in PowerPoint.
3D isn't just for the movies
Now you can easily insert 3D objects and embedded animations directly into PowerPoint decks from your own files or a library of content.
Interact naturally using voice, touch, and ink
Easily ink onto a slide, then convert handwritten notes into text and make hand-drawn shapes perfect in seconds.
Nail your next presentation
With Presenter Coach, practice your speech and get recommendations on pacing, word choice, and more through the power of AI.
Be on the same page
Always know where you are in the editing process. With the while you were away feature, track recent changes made by others in your decks.
Task management with PowerPoint and Microsoft 365
Tell your story with captivating presentations.
Originally starting from Free now starting from Free
Sharing and real-time collaboration
PowerPoint for the web
Basic templates, fonts, icons, and stickers
Dictation and voice commands
Works on web, iOS, and Android™
5 GB of cloud storage
Microsoft 365 Personal
Originally starting from $6.99 now starting from $6.99
$6.99 $6.99
(Annual subscription–auto renews) 1
PowerPoint for the web and PowerPoint desktop app for offline use
Premium templates, fonts, icons, and stickers with thousands of options to choose from
Dictation, voice commands, and transcription
Advanced spelling and grammar, in-app learning tips, use in 20+ languages, and more
1 TB (1000 GB) of cloud storage
Premium desktop, web, and mobile apps
Advanced security
Ad-free experience
Works on Windows, macOS, iOS, and Android™
Microsoft 365 Family
Originally starting from $9.99 now starting from $9.99
$9.99 $9.99
One to six people
Up to 6 TB of cloud storage, 1 TB (1000 GB) per person 
Premium desktop, web, and mobile apps 
Advanced security 
Microsoft Powerpoint
One person 
Microsoft 365 Apps for business
Originally starting from $8.25 now starting from $8.25
$8.25 $8.25
Desktop versions of Word, Excel, PowerPoint and Outlook
1 TB of cloud storage per user
Tools to create personalized documents and professional layouts
Standard security
Anytime phone and web support
Microsoft 365 Business Standard
Originally starting from $12.50 now starting from $10.62
$12.50 $10.62
Everything in Microsoft 365 Apps for business, plus:
Web, and mobile versions of Word, Excel, PowerPoint, and Outlook
Chat, call, meet, up to 300 attendees
Business-class email
Manage customer appointments
Easily host webinars
Ready to create great presentations with Microsoft 365?
See more from microsoft powerpoint.
Collaborate on shared projects
Get commonly used Office features and real-time co-authoring capabilities through your browser.
Jumpstart your design
Show your style and professionalism with templates, plus save time. Browse PowerPoint templates in over 40 categories.
Connect with experts
See what's new and get classic tips and editors' tricks to help you create, edit, and polish presentations like a pro.
Read about slide presentations
6 slide presentation software tips to impress, host large-scale virtual presentations, how to make a slide show, what's new in powerpoint.
[1] Once your paid subscription begins, cancelation policies vary based on your status as a new customer, product, and domain selections on Microsoft.  Learn more. Cancel your Microsoft 365 subscription any time by going to the Microsoft 365 admin center. When a subscription is canceled, all associated data will be deleted.  Learn more about data retention, deletion, and destruction in Microsoft 365 .
[*] This promotional offer is available to new Microsoft 365 commercial customers between November 20, 2023, and December 29, 2023, in the United States, Canada, and the United Kingdom. Customers can purchase Microsoft 365 Business Standard with a 15% discount. An annual commitment is required, and promotional pricing applies to the first year only. Promotional pricing will be reflected at checkout. This subscription automatically renews and is subject to recurring monthly billing with a payment method required. This promotion is not available on trial subscriptions. Customers can cancel at any time to stop future charges. This offer may not be combined with any other offer. Microsoft reserves the right to cancel, change, or suspend this offer at any time without notice.
Microsoft PowerPoint with a Microsoft 365 subscription is the latest version of PowerPoint. Previous versions include PowerPoint 2016,  PowerPoint 2013 ,  PowerPoint 2010 ,  PowerPoint 2007 , and PowerPoint 2003.
iTunes, iPhone, and iPad are registered trademarks of Apple Inc., registered in the U.S. and other countries. Android is a trademark of Google Inc.
Follow Microsoft 365
Top searches
Trending searches
13 templates
christmas tree
20 templates
34 templates
29 templates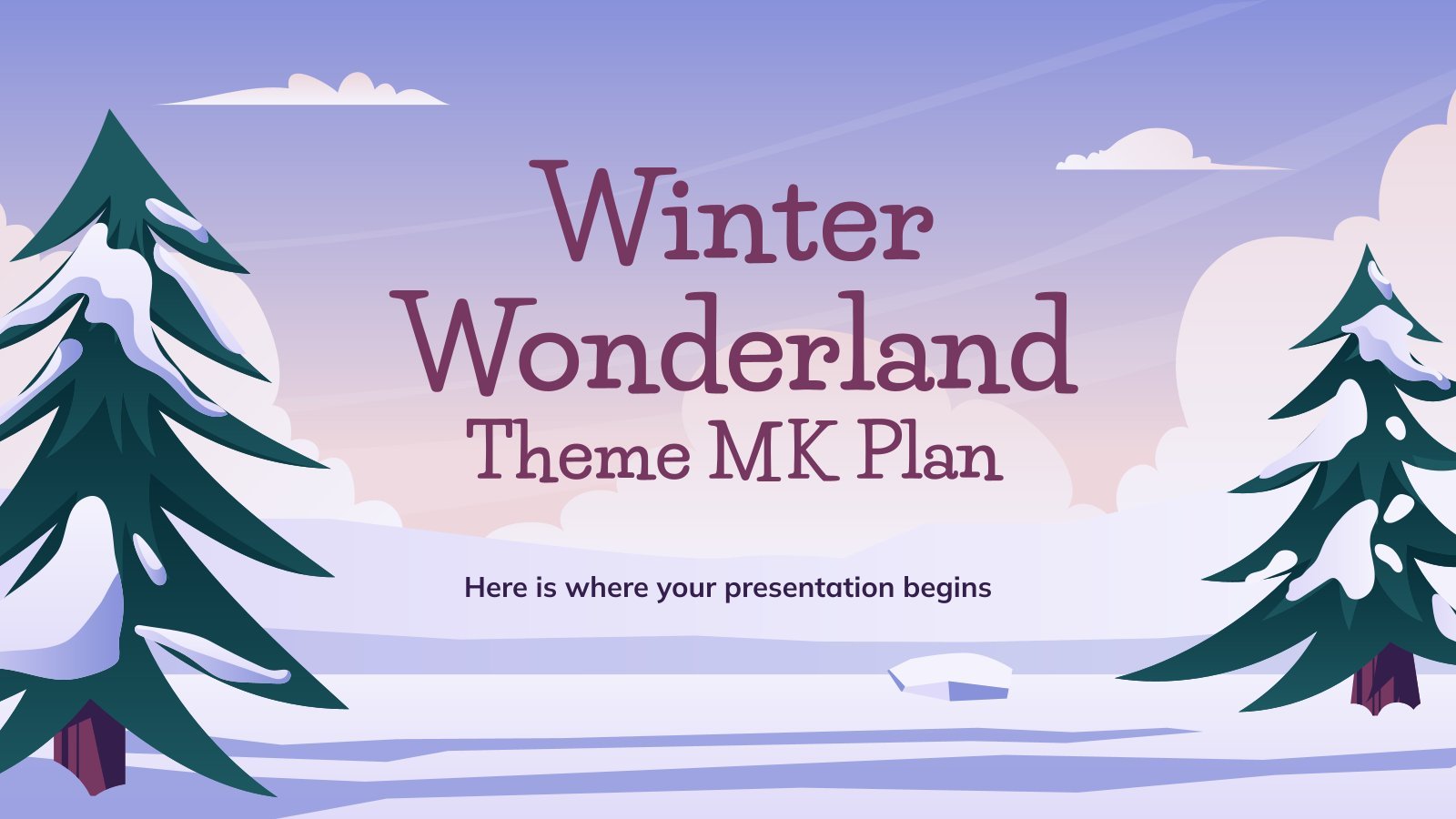 winter wonderland
24 templates
What are you going to use your presentation for?
Presenting data
I'm not sure
Free vectors, photos and PSD
Free customizable icons
Free online template editor
Free editable illustrations
Free videos and motion graphics
Create your presentation
Writing tone, number of slides.
Professional
AI Presentation Maker
When lack of inspiration or time constraints are something you're worried about, it's a good idea to seek help. Slidesgo comes to the rescue with its latest functionality—the AI Presentation Maker! With a few clicks, you'll have wonderful slideshows that suit your own needs . And it's totally free!
Generate presentations in minutes
We humans make the world move, but we need to sleep, rest and so on. What if there were someone available 24/7 for you? It's time to get out of your comfort zone and ask the AI Presentation Maker to give you a hand. The possibilities are endless : you choose the topic, the tone and the style, and the AI will do the rest. Now we're talking!
Customize your AI-generated presentation online
Alright, your robotic pal has generated a presentation for you. But, for the time being, AIs can't read minds, so it's likely that you'll want to modify the slides. Please do! We didn't forget about those time constraints you're facing, so thanks to the editing tools provided by one of our sister projects —shoutouts to Wepik — you can make changes on the fly without resorting to other programs or software. Add text, choose your own colors, rearrange elements, it's up to you! Oh, and since we are a big family, you'll be able to access many resources from big names, that is, Freepik and Flaticon . That means having a lot of images and icons at your disposal!
How does it work?
Think of your topic.
First things first, you'll be talking about something in particular, right? A business meeting, a new medical breakthrough, the weather, your favorite songs, a basketball game, a pink elephant you saw last Sunday—you name it. Just type it out and let the AI know what the topic is.
Choose your preferred style and tone
They say that variety is the spice of life. That's why we let you choose between different design styles, including doodle, simple, abstract, geometric, and elegant . What about the tone? Several of them: fun, creative, casual, professional, and formal. Each one will give you something unique, so which way of impressing your audience will it be this time? Mix and match!
Make any desired changes
You've got freshly generated slides. Oh, you wish they were in a different color? That text box would look better if it were placed on the right side? Run the online editor and use the tools to have the slides exactly your way.
Download the final result for free
Yes, just as envisioned those slides deserve to be on your storage device at once! You can export the presentation in .pdf format and download it for free . Can't wait to show it to your best friend because you think they will love it? Generate a shareable link!
What is an AI-generated presentation?
It's exactly "what it says on the cover". AIs, or artificial intelligences, are in constant evolution, and they are now able to generate presentations in a short time, based on inputs from the user. This technology allows you to get a satisfactory presentation much faster by doing a big chunk of the work.
Can I customize the presentation generated by the AI?
Of course! That's the point! Slidesgo is all for customization since day one, so you'll be able to make any changes to presentations generated by the AI. We humans are irreplaceable, after all! Thanks to the online editor, you can do whatever modifications you may need, without having to install any software. Colors, text, images, icons, placement, the final decision concerning all of the elements is up to you.
Can I add my own images?
Absolutely. That's a basic function, and we made sure to have it available. Would it make sense to have a portfolio template generated by an AI without a single picture of your own work? In any case, we also offer the possibility of asking the AI to generate images for you via prompts. Additionally, you can also check out the integrated gallery of images from Freepik and use them. If making an impression is your goal, you'll have an easy time!
Is this new functionality free? As in "free of charge"? Do you mean it?
Yes, it is, and we mean it. We even asked our buddies at Wepik, who are the ones hosting this AI Presentation Maker, and they told us "yup, it's on the house".
Are there more presentation designs available?
From time to time, we'll be adding more designs. The cool thing is that you'll have at your disposal a lot of content from Freepik and Flaticon when using the AI Presentation Maker. Oh, and just as a reminder, if you feel like you want to do things yourself and don't want to rely on an AI, you're on Slidesgo, the leading website when it comes to presentation templates. We have thousands of them, and counting!.
How can I download my presentation?
The easiest way is to click on "Download" to get your presentation in .pdf format. But there are other options! You can click on "Present" to enter the presenter view and start presenting right away! There's also the "Share" option, which gives you a shareable link. This way, any friend, relative, colleague—anyone, really—will be able to access your presentation in a moment.
Discover more content
This is just the beginning! Slidesgo has thousands of customizable templates for Google Slides and PowerPoint. Our designers have created them with much care and love, and the variety of topics, themes and styles is, how to put it, immense! We also have a blog, in which we post articles for those who want to find inspiration or need to learn a bit more about Google Slides or PowerPoint. Do you have kids? We've got a section dedicated to printable coloring pages! Have a look around and make the most of our site!

PowerPoint Presentation Services
Are you looking for effective PowerPoint presentation services to help you with the following?
promote and sell a product or service?
communicate and share information?
visualise and present data
influence, inspire and convince audiences on matters of interest?
Present information when conducting online meetings?
Are you also looking to incorporate creative animations and 3D effects into your PowerPoint presentation to capture the attention of your audience so as to deliver your key messages or information to them effectively, as well as persuasively?
Check out some of our PowerPoint design ideas in the video below: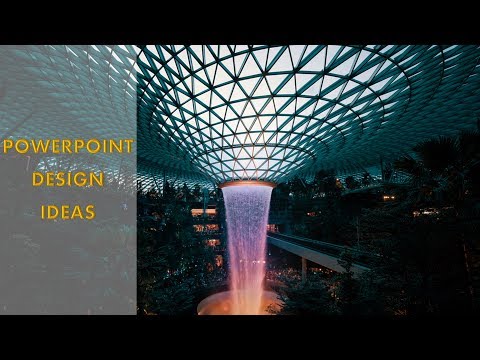 PowerPoint Presentation Services That Stand Out
Our PowerPoint Presentation Services combine the creative use of basic animations with Morph transition to produce unique presentation effects. As seen in the video above, some of these effects include:
Motion and Emphasis Animations
Entrance and Exit Animations
Words Animations
Anagram Effects
Zooming, Scrolling and Cropping of Images Effects
3D Rotation
Morphing Effects
To attract your audience's attention, a well-crafted and meticulously designed slide deck is crucial. If you are able to provide them with a unique visual experience, your presentation will be more interesting, which will help them remember important information. By employing these advanced PowerPoint design techniques, we will help to elevate the standard of your presentation. This will help to enhance your professional standing as well as the company you are representing. Please check out more of our creative PowerPoint designs in the videos below.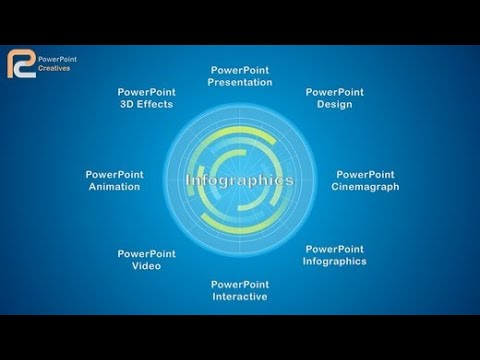 PowerPoint Presentation Services - 3 Main Options
Given that every presentation is different and our clients have different requirements and budgets, our PowerPoint presentaiton services offer three main options to meet their specific needs. They are:
PowerPoint Slide Enhancement and Slide Redesign
PowerPoint Consultative Design
PowerPoint Conceptualisation and Design
In addition, we also provide Custom Template Design and PowerPoint Services for G.C.E. 'A' Level Project Work .
PowerPoint Presentation Transformation
With our PowerPoint presentation and design services, we will visually transform your slide deck professionally and help deliver your key messages effectively to your audience. This includes incorporating beautiful 3D animation and effects using the  PowerPoint Morph feature.
And of course, we will adhere to your company's branding guidelines to enhance your professional and corporate image. When your presentation looks good, we look good too!
Below are some examples on how we can transform your PowerPoint presentation to vastly improve its visual impact.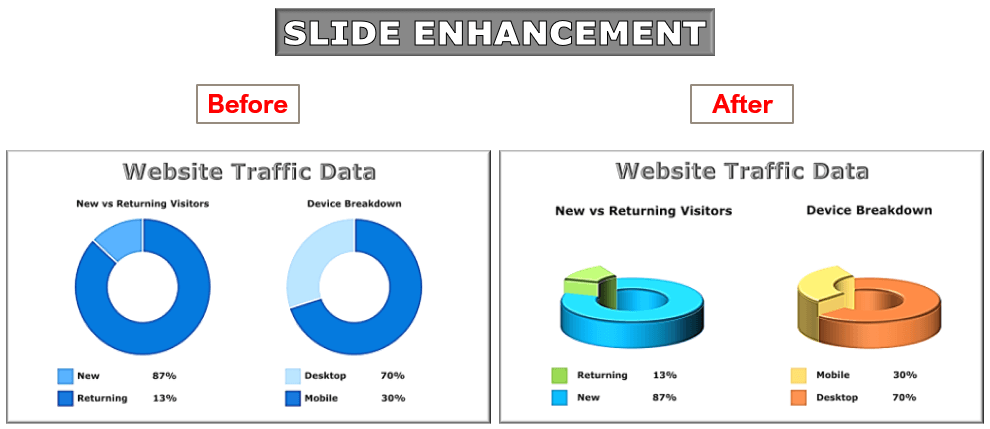 Click on image to enlarge
[  More Examples   ]
PowerPoint Presentation Services - Our Customers
Below are some of the customers in which we have the privilege of offering our PowerPoint presentation services.
What our customers said:
"Hi Lance. Thank you so much again for helping us yesterday and I am so sorry again for the last minute intensity. Hope you understand that you're helping the global head of Unilever Food Solutions (UFS) put together this presentation - which will be presented in Rotterdam in a matter of days. There is a lot of pressure on all of us as this presentation will be used as a template for UFS teams all over the world. This is why it's so important that we put our best foot forward. We appreciate your expertise." Nadia Daeng, Account Director Societal Pte Ltd
"I engaged PowerPoint Creatives to produce some slides for my lecture notes in June 2020. I was satisfied with their services. Lance could produce good results. He was also very patient and responsive. I would recommend Lance to anyone searching for PowerPoint services."
Our PowerPoint presentation design customers consist of the following:
Design and advertising firms that require advanced PowerPoint skills for their work.
Senior management in multinational corporations, including exchange-listed companies
Small and medium-sized enterprises (SMEs)
Small business owners
Working professionals from various fields of work
Companies or professionals that require Keynote presentations to be recreated and improved on using PowerPoint
The customer base for our PowerPoint presentation services is diverse. Although there are a significant number of people not skilled in PowerPoint design, there are some who are. However, many of these still feel it will be more productive to outsource their presentations to professional designers.
Professional PowerPoint Presentation Services
You should seriously consider using professional PowerPoint presentation services if you are in need of the following:
Showcase assignment, project or business professionally
Impress your audience to gain an edge over your peers or competitors
Communicate ideas clearly, effectively and persuasively while leaving a lasting impression on your audience
Design a convincing presentation within a tight deadline.
Set aside sufficient time for you PowerPoint presentation design without affecting other important study or work assignments
Create stunning 3D and advanced animation effects with the amazing PowerPoint Morph transition
Whether you are a student, a business owner or an employee representing your company, most of us work under time pressure in this modern and fast-paced world.
Also, it has been found that most people would spend an inordinate amount of time designing their PowerPoint presentations. This is largely due to their lack of expertise and knowledge. As a result, much productive time is wasted which could be spent on other important areas of work.
Fortunately, there are solutions – look for professional PowerPoint design services . By outsourcing your PowerPoint presentation and design job to experts, you will have more time to attend to your other important work commitments.
If your are working in one of the following professions, you should seriously consider using professional PowerPoint presentation services.
Business Owners / Startups - People who are pitching for projects or securing investments for business expansion.
Educators - Lecturers, Trainers, Facilitators and Coaches.
Training Managers - E-learning Specialist, Human Resource Specialists, Course Managers, Business Development Managers and Programme Consultants.
Working Professionals - Finance Specialists, Sales & Marketing Executives, Branding & Advertising Executives, and Professionals from various fields that need to present their work.
This is because a good presentation design can enhance the delivery of information and help retain learning more effectively. For companies, it could be crucial in clinching important business deals.
If you have any doubts about designing an effective presentation, or if you are facing a tight deadline,  PowerPoint Creatives Singapore  will be happy to assist you in this important task.
Utilising our PowerPoint mastery and creativity, we will transform your presentation professionally. Besides impressing your audience by delivering your messages effectively, we will also help to enhance your professional image and gain their trust.
You can expect efficient and personal services from us. And our customisable PowerPoint resources will ensure the prompt delivery of our task. If you have any queries, please feel free to WhatsApp or Email Us , or refer to our FAQs .
PowerPoint Presentation Services -  Structure of Payment
For the PowerPoint Slide Enhancement & Slide Redesign services, the structure of payment consists of two stages:
50% down payment on agreement to take up our PowerPoint presentation services after you are satisfied with the few sample slides we have redesigned for you for your evaluation of our design expertise.
Full payment on complete transformation of your presentation.
Please refer to PowerPoint Design Process for more information.
As for the PowerPoint Consultative Design and PowerPoint Conceptualisation & Design services, the structure of payment will be progressive. Each payment will be triggered on completion of each design milestone, agreed upon before the commencement of the project.
Payment Methods
There are three payment methods for our PowerPoint presentation services:
Direct Funds Transfer / Pay Now (preferred)
Credit or Debit Card
The instructions for the three payment methods can found here .
Meanwhile, the following are some useful resources to help you with our PowerPoint presentation design.
Effective Presentation Design
Eight Common PowerPoint Presentation Mistakes
Education PowerPoint Design  
What PowerPoint Slide Size to Use
How to Change PowerPoint Aspect Ratio
However, if you are looking for presentation and public speaking techniques, please check out the article on Presentation Techniques, Public Speaking & Communication Skills
PROFICIENT POWERPOINT PRESENTATION WRITING SERVICES
Present Your Ideas to Stakeholders Professionally and Make Instant Connections
Impactful Content
Animated and Interactive
Data-Driven Insights
Professional Tone
BUILD ENGAGING CORPORATE PRESENTATIONS THAT DELIVER RESULTS
Target-Centric PowerPoint Presentation Writing Services
Achieve your business goals and deliver the correct message to the target audience with new-age presentation writing services.
Build Customer Relationships and Improve Communication
Create an everlasting impression and build rapport with our crowd-pleasing PowerPoint presentation writing services.
Craft Finesse in Your Business Presentation
Combine compelling content with lucid designs, articulate text, and powerful graphics and build a well-organized corporate presentation.
Drive Viewers to Action!
Hire PowerPoint experts to write enticing business presentations that not only drive home your message but also produce results.
BRING YOUR BUSINESS PRESENTATION TO LIFE
A Well-Structured Presentation Has the Perspective and Approach to Edify and Motivate with a Clear Message for On-Target Communication
POWERING AND TRANSFORMING INDUSTRIES
Construction
Information
Outstanding results guaranteed.
9,640 Projects Completed
96% Customer Satisfaction
50+ Industries Served
75+ Certified Writers
9+ Years of Experience
Achieve on-target communications with expert presentation writing services.
Initial Research
Create stunning corporate presentations, complete with images, graphics, and layouts designed exclusively by our presentation writers.
Outline Creation
Hire our PowerPoint experts and ensure that your business presentations are crisp and hot right from the oven!
Initial Copy
Produce an impactful and persuasive PowerPoint presentation and achieve measurable results with potent storytelling, strategy, and CTA.
Revision & Finalization
The budget is a very crucial component that should never be neglected. We pledge to fit into your budget and help move your business ahead.
HOW ABOUT HEARING DIRECTLY FROM OUR WORTHY CLIENTS?
I'm very happy that One Content Pro's presentation team has worked alongside my in-house team in all our sales presentations, webinars, and virtual events. As the leading presentation writing services, they met all our expectations and took our business communications to the next level. I'll keep your information on file and call on you again for my future writing needs.
Team One Content Pro is incredibly competent and creative. Their knowledge and work ethics never cease to astound me. I run a successful business, and their presentation writers are my go-to experts anytime I require fresh content. I'm blown away by how professional their business presentation writing services are and how well they address every area, from design to text to graphics.
Customer service is excellent, and deliveries are made on schedule. They were courteous enough to conduct many edits before delivering a final presentation, and they did so without charging me anything other than the set payment. This gesture vividly reflects their cooperative nature towards their customers. Their crew can work under pressure and still deliver the best business presentations that captivate and leave a lasting impression.
UNLOCK YOUR POTENTIAL WITH IMPACTFUL PRESENTATIONS!
We understand the importance of communicating with clients, acolytes, and rivals. We provide the best presentation writing services that accelerate your business vision. Let's get started today!
Request More Information
When you outsource content to One Content Pro, you are assured delivery of high quality that'll help you achieve your content objectives.
OFFER EXTENDED!
Get bulk order discounts.
Signup Today to Claim Your Discount
GETTING IN TOUCH IS EASY
A step-by-step guide to captivating PowerPoint presentation design
november 20, 2023
by Corporate PowerPoint Girl
Do you often find yourself stuck with a lackluster PowerPoint presentation, desperately seeking ways to make it more engaging and visually appealing? If your boss has ever told you to "please fix" a presentation and you didn't know where to start, you're not alone. In this article, we'll walk you through a straightforward method to transform your PowerPoint slides into a visually captivating masterpiece. 
Let's dive right in! 
Clean up your slides 
The first step in this journey to presentation excellence is all about decluttering your slides and elevating their impact. Say goodbye to those uninspiring bullet points that often dominate presentations. Instead, focus on what truly matters – the key call-out numbers. By increasing the font size of these numbers, you ensure they take center stage, immediately drawing your audience's attention. 
To make those numbers pop, consider breaking the text after the numbers into the next line and adding a touch of color. The contrast created by pairing a dark color with a lighter shade, like dark teal and light teal or burnt orange with peach, can work wonders. This simple adjustment makes your data more engaging , enhancing the overall impact of your presentation. 
Add dimension with boxes 
Now, let's introduce an element of depth and organization to your slides. By adding boxes, you'll create a visually pleasing structure that guides your audience through the content. In the "Insert" menu, select "Table" and opt for a one-by-one table. Change the table color to a light gray shade, elongate it, and position it neatly to the left of your text. 
To improve readability and aesthetics, increase the spacing between text phrases. A small adjustment in the before spacing setting (setting it to 48) significantly enhances the visual appeal of your slides. 
Insert circles 
To further enhance the visual appeal and engagement of your slides, let's introduce circles. In the Insert menu, navigate to Shapes and choose the circle. Adjust the circle's height and width to 1.2, ensuring it complements your content seamlessly. Match the circle's shape fill color with the corresponding text color for a harmonious look. 
Avoid using colored outlines for the circles, as they may distract from the overall aesthetic. This simple addition of circles adds an element of visual interest to your presentation, making it more captivating. 
Choose icons 
Now, it's time for a touch of creativity. Selecting icons to complement your text can elevate the clarity and appeal of your slides. In the "Insert" menu, you can search for relevant keywords to find the perfect icon from PowerPoint's extensive library . 
For instance, if your text discusses investment portfolio yield, search for "growth" and choose an upward arrow growth icon. These icons add an extra layer of visual appeal and clarity to your content, making it more engaging and informative. 
Final touches 
To wrap up the transformation process, we come to the final touches that give your presentation a polished, professional finish. Align your icons with their corresponding circles and change the shape fill color to white. This simple adjustment creates a crisp, cohesive look that ties everything together seamlessly. 
In conclusion, by following these steps, you've embarked on a journey to enhance your PowerPoint presentation . These initial steps are just the beginning of your exploration into the world of design elements and styles that can cater to your specific presentation needs. The key to a stunning PowerPoint presentation lies in the details. By following these steps, you can turn a lackluster set of slides into a visually engaging and dynamic presentation that will captivate your audience. So, the next time your boss says, "Please fix," you'll know exactly where to start. Happy presenting! 
Related topics
Summarize your presentation with Copilot in PowerPoint
Receive a long slide deck and need to get to the gist of the main points quickly? Copilot in PowerPoint can read through the deck and give you a bulleted summary so you can understand the key points.
Type Summarize this presentation in the prompt field and send it.
Want to know which slides might need special attention? Ask Copilot to Show key slides, and Copilot will try to identify which slides in the deck might be worthy of a look.
Skip straight to the call to action by asking Copilot to Show action items . You'll get a list of tasks that Copilot was able to identify in the presentation.
Welcome to Copilot in PowerPoint
Microsoft Copilot help & learning
Where can I get Microsoft Copilot?
Unleash your productivity with AI
Frequently asked questions: AI, Microsoft 365 Copilot, and Microsoft Designer
Need more help?
Want more options.
Explore subscription benefits, browse training courses, learn how to secure your device, and more.
Microsoft 365 subscription benefits
Microsoft 365 training
Microsoft security
Accessibility center
Communities help you ask and answer questions, give feedback, and hear from experts with rich knowledge.
Ask the Microsoft Community
Microsoft Tech Community
Windows Insiders
Microsoft 365 Insiders
Was this information helpful?
Thank you for your feedback.
Holiday Gifting Central
Editor's Choice: Best Tech Gifts
How to Update PowerPoint on Windows and Mac
Download the latest version of PowerPoint
Wichita Technical Institute
In This Article
Jump to a Section
How to Update PowerPoint
How to Get the Latest Version
Do I Need to Update PowerPoint?
Frequently Asked Questions
What to Know
In Windows, go to File > Account > Update Options > Update Now or Check for Updates . On Mac, go to Help > Check for Updates .
To upgrade to the latest version, purchase PowerPoint 2021 from Microsoft or subscribe to Microsoft 365.
Use the Microsoft AutoUpdate tool for Mac or Windows Update to keep all your Microsoft apps up to date.
This article explains how to update PowerPoint and upgrade to the latest version. Instructions apply to PowerPoint 2021, 2019, 2016, 2013, and Microsoft Office/Microsoft 365 .
How Can I Update My PowerPoint for Free?
No matter which version of PowerPoint you have, Microsoft has probably released a few updates since you installed it. If you have Microsoft 365, PowerPoint should install updates automatically by default as long as you're online, but you can also manually check for updates:
Open a new slide and select the File tab.
On Mac, go to Help > Check for Updates . You can also go to the App Store and look under Updates to see if PowerPoint updates are available.
Select Account .
In older versions of PowerPoint, select Help .
Select Update Options > Update Now or Check for Updates (depending on your version).
After PowerPoint installs updates, you'll have the option to enable automatic updates (if it's not already enabled).
Mac users can download the Microsoft AutoUpdate tool to keep all their Office apps up to date. You can also refresh Microsoft apps by running Windows Update .
How Do I Download the Latest Version of PowerPoint?
If you want to upgrade to a newer version of PowerPoint, you must purchase PowerPoint from Microsoft or subscribe to Microsoft 365 . You can also buy Office 2021 from Microsoft if you want Word, Excel, Outlook, and PowerPoint all in one package.
A Microsoft 365 subscription gives you access to all Office apps (Word, Excel, Outlook, etc.) for an annual fee. You can use the latest version of PowerPoint and try new features as they get released. The downside is you have to renew your subscription every year.
With the standalone version of PowerPoint, you'll still get occasional updates, but you may miss out on the newest features. The upside is you own the software, so you never need to renew the license. Either way, Microsoft offers free trials and discounts for students.
To see which version of PowerPoint you have, go to File > Account > About PowerPoint .
Microsoft occasionally releases patches to address bugs and make PowerPoint more reliable. These updates are usually minor, but they are still essential to keep PowerPoint functioning properly. Wherever you're having problems with PowerPoint , updating the program could resolve the issue.
Microsoft no longer releases updates for older versions of PowerPoint, so if you're still using a discontinued version like PowerPoint 2010, you should consider upgrading. More recent editions of the program, like PowerPoint 2021, feature tools and effects you won't find in outdated versions.
If you have a slide made in an older version of PowerPoint, you can open it in a newer version and take advantage of the latest tools and features.
If you want to update  link data in PowerPoint , choose the link update option if you see it when opening a PowerPoint file or open the source document to update the links. If you need to update a link source to a new file, select  File  >  Info  >  Related Documents  >  Edit Links to Files  to open the  Links  dialog box. From there, choose  Change Source  > go to the new file >  Open  >  Update Now .
To automatically update  Excel charts added to PowerPoint , go to  File  >  Info  >  Related Documents  >  Edit Links to Files  > and highlight the file you want to update automatically. At the bottom of the  Links  dialog box, check the box beside  Automatic Update .
Get the Latest Tech News Delivered Every Day
How to Update a Lenovo Laptop
How to Use Microsoft's Free PowerPoint Viewers
How to Upgrade Your Computer From Windows 8 to Windows 11
How to Delete a Microsoft Account
How to Change Windows Update Settings
11 Best Free Software Updater Programs
The 8 Best Microsoft Office Alternatives
What Is Windows Update?
A Complete Guide to Microsoft 365 (Formerly Microsoft Office)
OneNote Not Syncing? How to Get It Back Online
How to Download and Install DirectX
How to Update Apps on Windows 11
What Is Microsoft PowerPoint?
How to Set up Microsoft 365 for iPad
How to Update a Mac
What Is Microsoft Office 2019?
By clicking "Accept All Cookies", you agree to the storing of cookies on your device to enhance site navigation, analyze site usage, and assist in our marketing efforts.
Popular Professionals
Design & Planning
Construction & Renovation
Finishes & Fixtures
Landscaping & Outdoor
Systems & Appliances
Interior Designers & Decorators
Architects & Building Designers
Design-Build Firms
Kitchen & Bathroom Designers
General Contractors
Kitchen & Bathroom Remodelers
Home Builders
Roofing & Gutters
Cabinets & Cabinetry
Tile & Stone
Hardwood Flooring Dealers
Landscape Contractors
Landscape Architects & Landscape Designers
Home Stagers
Swimming Pool Builders
Lighting Designers and Suppliers
3D Rendering
Sustainable Design
Basement Design
Architectural Design
Universal Design
Energy-Efficient Homes
Multigenerational Homes
House Plans
Home Remodeling
Home Additions
Green Building
Garage Building
New Home Construction
Basement Remodeling
Stair & Railing Contractors
Cabinetry & Cabinet Makers
Roofing & Gutter Contractors
Window Contractors
Exterior & Siding Contractors
Carpet Contractors
Carpet Installation
Flooring Contractors
Wood Floor Refinishing
Tile Installation
Custom Countertops
Quartz Countertops
Cabinet Refinishing
Custom Bathroom Vanities
Finish Carpentry
Cabinet Repair
Custom Windows
Window Treatment Services
Window Repair
Fireplace Contractors
Paint & Wall Covering Dealers
Door Contractors
Glass & Shower Door Contractors
Landscape Construction
Land Clearing
Garden & Landscape Supplies
Deck & Patio Builders
Deck Repair
Patio Design
Stone, Pavers, & Concrete
Paver Installation
Driveway & Paving Contractors
Driveway Repair
Asphalt Paving
Garage Door Repair
Fence Contractors
Fence Installation
Gate Repair
Pergola Construction
Spa & Pool Maintenance
Swimming Pool Contractors
Hot Tub Installation
HVAC Contractors
Electricians
Appliance Services
Solar Energy Contractors
Outdoor Lighting Installation
Landscape Lighting Installation
Outdoor Lighting & Audio/Visual Specialists
Home Theater & Home Automation Services
Handyman Services
Closet Designers
Professional Organizers
Furniture & Accessories Retailers
Furniture Repair & Upholstery Services
Specialty Contractors
Color Consulting
Wine Cellar Designers & Builders
Home Inspection
Custom Artists
Columbus, OH Painters
New York City, NY Landscapers
San Diego, CA Bathroom Remodelers
Minneapolis, MN Architects
Portland, OR Tile Installers
Kansas City, MO Flooring Contractors
Denver, CO Countertop Installers
San Francisco, CA New Home Builders
Rugs & Decor
Home Improvement
Kitchen & Tabletop
Bathroom Vanities
Bathroom Vanity Lighting
Bathroom Mirrors
Bathroom Fixtures
Nightstands & Bedside Tables
Kitchen & Dining
Bar Stools & Counter Stools
Dining Chairs
Dining Tables
Buffets and Sideboards
Kitchen Fixtures
Desks & Hutches
Office Chairs
Living Room
Armchairs & Accent Chairs
Coffee & Accent Tables
Sofas & Sectionals
Media Storage
Patio & Outdoor Furniture
Outdoor Lighting
Ceiling Lighting
Chandeliers
Pendant Lighting
Wall Sconces
Wall Mirrors
View All Products
Side & End Tables
Console Tables
Living Room Sets
Chaise Lounges
Ottomans & Poufs
Bedroom Furniture
Nightstands
Bedroom Sets
Dining Room Sets
Sideboards & Buffets
File Cabinets
Room Dividers
Furniture Sale
Trending in Furniture
View All Furniture
Bath Vanities
Single Vanities
Double Vanities
Small Vanities
Transitional Vanities
Modern Vanities
Houzz Curated Vanities
Best Selling Vanities
Bathroom Vanity Mirrors
Medicine Cabinets
Bathroom Faucets
Bathroom Sinks
Shower Doors
Showerheads & Body Sprays
Bathroom Accessories
Bathroom Storage
Trending in Bath
View All Bath
How to Choose a Bathroom Vanity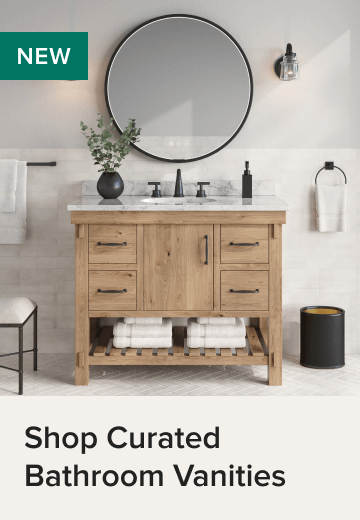 Patio Furniture
Outdoor Dining Furniture
Outdoor Lounge Furniture
Outdoor Chairs
Adirondack Chairs
Outdoor Bar Furniture
Outdoor Benches
Wall Lights & Sconces
Outdoor Flush-Mounts
Landscape Lighting
Outdoor Flood & Spot Lights
Outdoor Decor
Outdoor Rugs
Outdoor Cushions & Pillows
Patio Umbrellas
Lawn & Garden
Garden Statues & Yard Art
Planters & Pots
Outdoor Sale
Trending in Outdoor
View All Outdoor
8 x 10 Rugs
9 x 12 Rugs
Hall & Stair Runners
Home Decor & Accents
Pillows & Throws
Decorative Storage
Faux Florals
Wall Panels
Window Treatments
Curtain Rods
Blackout Curtains
Blinds & Shades
Rugs & Decor Sale
Trending in Rugs & Decor
View All Rugs & Decor
Pendant Lights
Flush-Mounts
Ceiling Fans
Track Lighting
Wall Lighting
Swing Arm Wall Lights
Display Lighting
Table Lamps
Floor Lamps
Lamp Shades
Lighting Sale
Trending in Lighting
View All Lighting
Bathroom Remodel
Kitchen Remodel
Kitchen Faucets
Kitchen Sinks
Major Kitchen Appliances
Cabinet Hardware
Backsplash Tile
Mosaic Tile
Wall & Floor Tile
Accent, Trim & Border Tile
Whole House Remodel
Heating & Cooling
Building Materials
Front Doors
Interior Doors
Home Improvement Sale
Trending in Home Improvement
View All Home Improvement
Cups & Glassware
Kitchen & Table Linens
Kitchen Storage and Org
Kitchen Islands & Carts
Food Containers & Canisters
Pantry & Cabinet Organizers
Kitchen Appliances
Gas & Electric Ranges
Range Hoods & Vents
Beer & Wine Refrigerators
Small Kitchen Appliances
Cookware & Bakeware
Tools & Gadgets
Kitchen & Tabletop Sale
Trending in Kitchen & Tabletop
View All Kitchen & Tabletop
Holiday Decor
Christmas Trees
Christmas Tree Toppers
Christmas Decorations
Outdoor Christmas Decor
Christmas Ornaments
Christmas Stockings
Christmas Tree Skirts
Christmas Doormats
Holiday Lighting
Christmas Lights
Outdoor Christmas Lights
LED Christmas Lights
Solar Christmas Lights
Battery Operated Christmas Lights
Cyber Monday Sale
Cyber Monday Furniture Sale
Cyber Monday Outdoor Furniture Sale
Cyber Monday Rugs Sale
Cyber Monday Kitchen Deals
Cyber Monday Beds&Bedroom Sale
Trending in Holiday
Cozy Holiday Moments
Storage & Organization
Baby & Kids
Cleaning & Laundry
Pet Supplies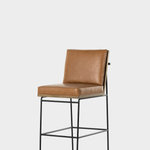 View all photos
Dining Room
Breakfast Nook
Family Room
Bed & Bath
Powder Room
Storage & Closet
Outdoor Kitchen
Bar & Wine
Wine Cellar
Home Office
Popular Design Ideas
Kitchen Backsplash
Deck Railing
Privacy Fence
Small Closet
Stories and Guides
Popular Stories
Renovation Cost Guides
Fence Installation Cost Guide
Window Installation Cost Guide
Discussions
Design Dilemmas
Before & After
Houzz Research
View all pros
View all services
View all products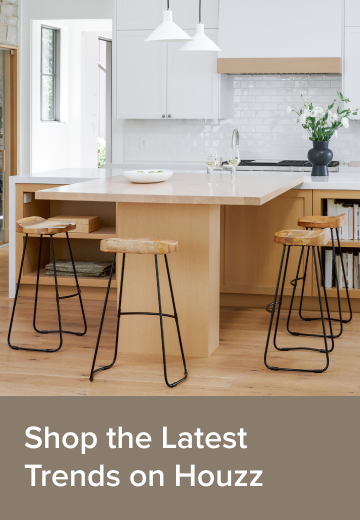 View all sales
Living Room Chairs
Dining Room Furniture
Coffee Tables
Home Office Furniture
Join as a Pro
Interior Design Software
Project Management
Custom Website
Lead Generation
Invoicing & Billing
Landscape Contractor Software
General Contractor Software
Remodeler Software
Builder Software
Roofer Software
Architect Software
Takeoff Software
Lumber & Framing Takeoffs
Steel Takeoffs
Concrete Takeoffs
Drywall Takeoffs
Insulation Takeoffs
Stories & Guides
LATEST FROM HOUZZ
HOUZZ DISCUSSIONS
SHOP KITCHEN & DINING
Kitchen & Dining Furniture
Sinks & Faucets
Kitchen Cabinets & Storage
Knobs & Pulls
Kitchen Knives
KITCHEN PHOTOS
FIND KITCHEN PROS
Bath Accessories
Bath Linens
BATH PHOTOS
FIND BATH PROS
SHOP BEDROOM
Beds & Headboards
Bedroom Decor
Closet Storage
Bedroom Vanities
BEDROOM PHOTOS
Kids' Room
FIND DESIGN PROS
SHOP LIVING
Fireplaces & Accessories
LIVING PHOTOS
SHOP OUTDOOR
Pool & Spa
Backyard Play
OUTDOOR PHOTOS
FIND LANDSCAPING PROS
SHOP LIGHTING
Bathroom & Vanity
Flush Mounts
Kitchen & Cabinet
Outdoor Wall Lights
Outdoor Hanging Lights
Kids' Lighting
Decorative Accents
Artificial Flowers & Plants
Decorative Objects
Screens & Room Dividers
Wall Shelves
About Houzz
Houzz Credit Cards
Privacy & Notice
Cookie Policy
Your Privacy Choices
Mobile Apps
Copyright & Trademark
For Professionals
Remodeling Software
Floor Planner
Contractor Leads
Trade Program
Buttons & Badges
Your Orders
Shipping & Delivery
Return Policy
Houzz Canada
Review Professionals
Suggested Professionals
Accessibility
Houzz Support
COUNTRY COUNTRY
Home & House Stagers in Elektrostal'
Location (1).
Popular Locations
Albuquerque
Cedar Rapids
Grand Rapids
Indianapolis
Jacksonville
Kansas City
Little Rock
Los Angeles
Minneapolis
New Orleans
Oklahoma City
Orange County
Philadelphia
Portland Maine
Salt Lake City
San Francisco
San Luis Obispo
Santa Barbara
Washington D.C.
Elektrostal', Moscow Oblast, Russia
Featured Reviews for Home & House Stagers in Elektrostal'
What does an elektrostal' home stager do, what should i consider before hiring an interior staging company, questions to ask potential real estate staging companies in elektrostal', moscow oblast, russia:, find home stagers near me on houzz, how do i find a local home stager in elektrostal'.
Reach out to the pro(s) you want, then share your vision to get the ball rolling.
Request and compare quotes, then hire the Home Stager that perfectly fits your project and budget limits.
What is a home stager?
A home stager is a professional who prepares a house for sale, aiming to attract more buyers and potentially secure a higher selling price. They achieve this through the following techniques:
Rearranging furniture to optimize space and functionality.
Decluttering to create a clean and spacious look.
Making repairs to address visible issues.
Enhancing aesthetics with artwork, accessories, and lighting.
Introducing new furnishings to update the style.
Their goal is to present the house in the best light. Home stagers in Elektrostal' help buyers envision themselves living there, increasing the chances of a successful sale.
What services do Home Stager companies provide in Elektrostal'?
Home Staging
Decluttering
Furniture Selection
Space Planning
Art Selection
Accessory Selection
What are the benefits of Home Staging?
Benefits of the home staging in Elektrostal':
Attractive and inviting: Staging creates a welcoming atmosphere for potential buyers.
Faster sale: Homes sell more quickly, reducing time on the market.
Higher sale price: Staging can lead to higher offers and appeal to a wider range of buyers.
Showcasing best features: Strategic arrangement highlights positives and minimizes flaws.
Stand out online: Staged homes capture attention in online listings.
Emotional connection: Staging creates a positive impression that resonates with buyers.
Easy visualization: Buyers can easily picture themselves living in a staged home.
Competitive advantage: Staging sets your home apart from others on the market.
Affordable investment: Cost-effective way to maximize selling potential and ROI.
Professional expertise: Experienced stagers ensure optimal presentation for attracting buyers.
How many Home Stagers are in Elektrostal'?
Business services, connect with us.

Microsoft PowerPoint 2021 Free Download (Win10 32/64 bit & Win11)
Want to get Microsoft PowerPoint 2021 for free on your Windows or Mac computer? In this post, MiniTool Software will introduce Microsoft PowerPoint 2021 free download for Windows and Mac. Some related information is also mentioned here.
About Microsoft PowerPoint 2021
New in microsoft powerpoint 2021.
Microsoft PowerPoint 2021 is one application in Microsoft Office 2021 (included with Microsoft 365). It was released in 2021. At present, it is the latest version of the PPT. You can use PowerPoint 2021 on both Windows and Mac.
Now, let's see what's new in this version:
Co-authoring
Better collaboration with modern comments
Know who's in your presentation
Visual refresh
New and improved Record Slide Show
Replay your ink strokes
Save your changes as they happen
Arrange elements on your slides for screen readers
Support for OpenDocument format (ODF) 1.3
Updated Draw tab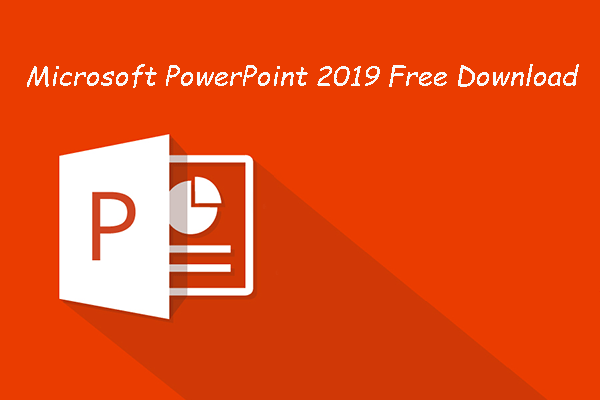 In this post, we will show you how to free download Microsoft PowerPoint 2019 on Windows, macOS, Android, or iOS devices.
Microsoft PowerPoint 2021 System Requirements
If you want to download and install MS PowerPoint 2021 on your Windows or Mac, your device should meet the following requirements:
>> System Requirements for Windows
Operating system: Windows 10, Windows Server 2019, or later
Processor: 1 GHz or faster, 2-core
Graphics card: Graphics hardware acceleration requires DirectX 9 or later, with WDDM 2.0 or higher for Windows 10 (or WDDM 1.3 or higher for Windows 10 Fall Creators Update).
Space: At least 4 GB of free hard disk space
Display: 1280 x 768 screen resolution (64-bit Office required for 4K and higher)
>> System Requirements for macOS
Chip: Intel or Apple Silicon (As supported by the three most recent versions of macOS.)
Operating system: You'd better update to the latest macOS
Graphics card: No graphics requirements
Space: 10 GB of free hard disk space
Display: 1280 x 768 screen resolution
How to get PowerPoint 2021 for free on Windows and Mac? We will talk about this topic in this post.
Microsoft Excel 2019 free download
Microsoft Excel 2021 free download
Microsoft Word 2021 free download
Microsoft PowerPoint 2021 free download for Windows 10 32/64 Bit & Windows 11
Ppt 2021 download from office.com.
Microsoft PowerPoint is included in Office 2021. If you install Office 2021, you will get PowerPoint 2021.
If you have purchased Microsoft Office 2021 or Microsoft 365, you will be able to download Microsoft PowerPoint 2021 for free on your device when you uninstall Office by mistake. You can just go to https://www.office.com/ , sign in with your account, and click the Install Office button to get Office 2021.

PPT 2021 Free Download from Third-Party Sites
Some special sites also supply Office 2021 or Microsoft PowerPoint 2021 free download sources. You can search for Office 2021 download or  Microsoft PowerPoint 2021 download on the internet and taake one of the top 10 site to free download  Office 2021 or  Microsoft PowerPoint 2021.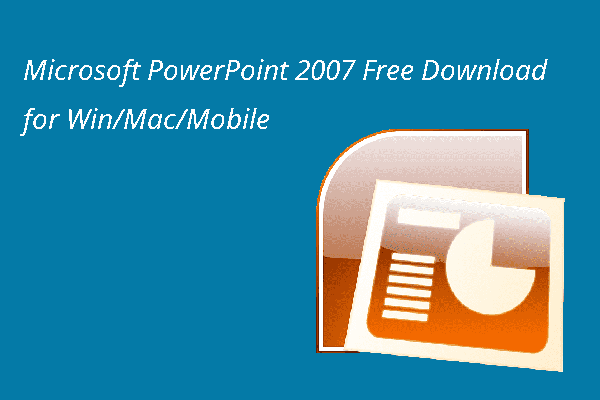 In this post, we will introduce Microsoft PowerPoint 2007 free download for Windows 10 32/64 bit, Windows 11, Mac, Android, iPhone, and iPad.
Microsoft PowerPoint 2021 free download for Mac
If you have purchased Office 2021 for your Mac computer, you can also go to the Office.com site ( https://www.office.com/ ) to sign in with your Microsoft account, and click the Install Office button to get Office 2021.
On the other hand, you can also get Microsoft PowerPoint 2021 for free from a third-party site.
How to Get Microsoft PowerPoint for Free on Android?
You can also use Microsoft PowerPoint on your Android phone or tablet. This app is available for download in the Google Play Store. You can open Google Play, search for Microsoft PowerPoint, then download and install it on your device.
How to Get Microsoft PowerPoint for Free on iPhone/iPad?
Is Microsoft PowerPoint available on iPhones or iPads? Of course, yes. You can open App Store to find it, then click the Get button to start downloading and installing this app.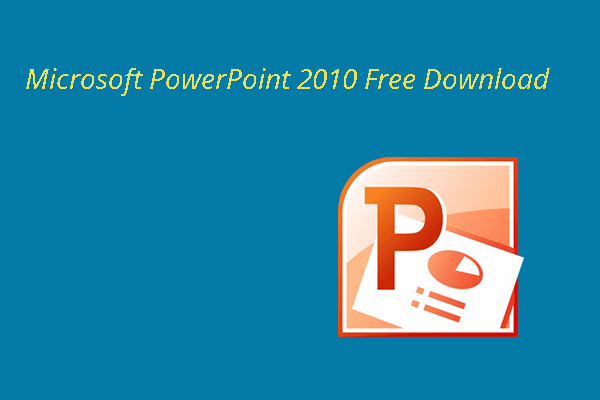 Are you looking for Microsoft PowerPoint 2010 free download sources? In this post, you can know how to free download Microsoft PowerPoint 2010 for Windows.
How to Get Your Lost and Deleted Files back?
If you delete some of your important files like PPT files by mistake and can't find them in Recycle Bin, do you know how to rescue them?
You can use MiniTool Power Data Recovery, professional data recovery software , to recover them as long as they are not overwritten by new data. This software can work on all versions of Windows, including Windows 11, Windows 10, Windows 8/8.1, and Windows 7.
MiniTool Power Data Recovery Trial Click to Download 100% Clean & Safe
If you want to recover files on your Mac computer, you can try Stellar Data Recovery for Mac. This is a special data recovery software for Mac .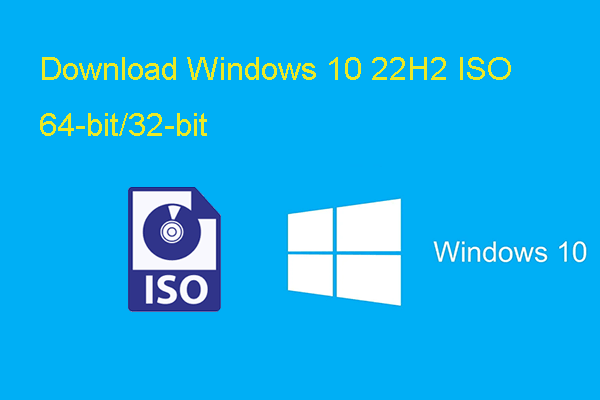 Do you know where and how to download Windows 10 22H2 ISO 64-bit/32-bit full version? Now, you can find two official ways in this post.
Bottom Line
This post talks about the Microsoft PowerPoint 2021 free download issue. We hope you can find a proper download method for your system. Should you have other related issues, you can let us know in the comments.
About The Author
Position: Columnist