Case Study Assessment to Assess the Business Acumen of Candidates
Case study assessment is a tool to assess problem solving skills of management graduates. It helps measure the business acumen of candidates and helps identify candidates who have better decision-making skills.
Availability
Ready to use
Experience Level
Management students (MBA / PGDM / BBA)
Difficulty Level
Test duration, total questions, scores reported.
About This Test
Skills & Subskills
Customize This Test
Assessment Features
Inside This Assessment
Mercer| Mettl's case study simulator is an innovative tool to assess a candidate's problem solving and analysis ability in an automated manner. The candidate's response on a given case situation is graded automatically for the approach and analysis and the final decision taken. The tool provides a simulation of the actual job interview where a participant is given few case problems to solve. These problems are based on issues that corporates face worldwide. This case study assessment is a simulation-based evaluation to assess business skills.
This case study assessment has one case study question on problem-solving and decision-making skills. The candidate needs to analyze and arrive at the best possible conclusion given the case situation. The case study assesses the ability of a candidate to solve various problems by breaking them down into simple components and the ability to select a course of action among several alternative possibilities. Designed by subject matter experts, the test consists of one question to be completed in thirty minutes.
The test report can be used as a ready reference in subsequent interview rounds for further discussion and analysis with a candidate. The grading is based on the case analysis and decision-making skills of candidates - thus providing granular insight into the candidate's business skills.
Key profile the test is useful for:
SKILL LIBRARY
This Assessment is a part of following Skills Libraries
General mental ability test, case study analysis competency framework.
Get a detailed look inside the test
Competency Under Scanner
Competencies:, abstract reasoning.
This online IT aptitude test measures the ability to apply learnings to solve novel problems by connecting different information points to grasp the bigger picture, detecting patterns and relationships, and solving complex problems by coming up with innovative solutions.
Attention to Details
Use this aptitude test for IT companies to assess thoroughness and accuracy in accomplishing a task and capturing every minute detail, anywhere, at any point of time, ensuring quality and timelines for completing work.
Numerical Ability
Use this aptitude test for IT companies to assess the candidate's ability to perceive and process numbers and related functions to perform basic arithmetic operations while maintaining accuracy and speed in doing calculations.
Verbal Ability
This IT aptitude test can help assess the candidate's command of the English language and the ability to understand, comprehend and convey written messages in a precise manner with clarity by formulating grammatically correct sentences.
Case Study (Decision Making)
This case study assessment(decision-making test) can help assess the candidate's ability tTracking Pixels and Account Setupo identify and choose alternatives or select a course of action among several alternative possibilities by contemplating between positive and negative outcomes of the decisions.
Flexible customization options to suit your needs
Set difficulty level of test
Choose easy, medium or hard questions from our skill libraries to assess candidates of different experience levels.
Combine multiple skills into one test
Add multiple skills in a single test to create an effective assessment. Assess multiple skills together.
Add your own questions to the test
Add, edit or bulk upload your own coding questions, MCQ, whiteboarding questions & more.
Request a tailor-made test
Get a tailored assessment created with the help of our subject matter experts to ensure effective screening.
The Mercer | Mettl Advantage
Our robust platform empowers you to assess, interview, analyze test-takers.
Cutting Edge proctoring capabilities
Coding Simulators Designed By Developers
24 x 7 Support
Robust Data security
20+ Languages in 80+ countries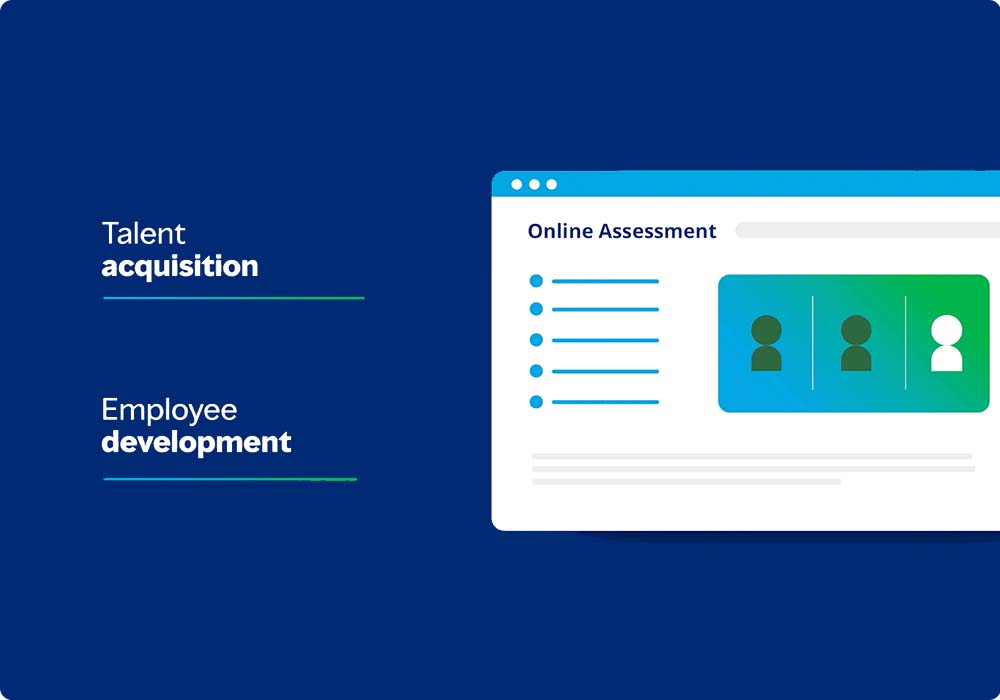 The Mercer | Mettl Edge
Industry Leading 24/7 Support
State of the art examination platform
Inbuilt Cutting Edge AI-Driven Proctoring
Simulators designed by developers
Tests Tailored to Your business needs
Support for 20+ Languages in 80+ Countries Globally
Simple Setup in 4 Steps
Step 1: add test.
Add this test your tests
Step 2: Share link
Share test link from your tests
Step 3: Test View
Candidate take the test
Step 4: Insightful Report
You get their tests report
Our Customers Vouch for Our Quality and Service
Related tests, psychometric test for bankers, corporate finance advisory - capital markets, aptitude test for cashiers, related products, mercer | mettl's end-to-end campus hiring strategy.
Select graduates from top-notch universities with a smart campus strategy
Psychometric Assessments For Hiring And L&D
The Best Psychometric Tests To Enable You To Find Your Ideal Candidate
Mercer | Mettl Aptitude Assessments
Scientific Aptitude Assessments That Help You Identify Top Talent
Frequently Asked Questions (FAQs)
1. can i get benchmark scores for the candidates who take this assessment for hiring decisions.
Yes, we can do so selectively. Please write to us for such a request, and we would be glad to assist. 
2. Can I get customized reports for the candidates who take this assessment, for example, to highlight the most important competency?
Yes, we can do so selectively. Please write to us with such a request, and we would be glad to work out a solution for you.
Undergraduate study
Find a course
Open days and visits
New undergraduates
Postgraduate study
Find a programme
Visits and open days
New postgraduates
International students
Accommodation
Schools & faculties
Business & partnerships
Current students
Current staff
Digital Education Office
Teaching Online
Assessment Online
Training and support
Tools and software
Accessibility and Inclusion
Case studies
Student support
University home > Digital Education Office > Case studies > Pre-2018 > Case study: Online assessment for practice and exams
Case study: Online assessment for practice and exams
School of Clinical Sciences, Faculty of Health Sciences, University of Bristol
Questionmark Perception
Kate Whittington, [email protected]
Further information
MSc in Reproduction and Development
The set of formative tests aim to guide the student through the syllabus on specific topics. They are given feedback for incorrect answers
School of Clinical Sciences, provides an innovative MSc programme making extensive use of the Internet to provide a comprehensive theoretical foundation in the areas of Human Reproduction and Development. Online assessment is one of the practices used to assess students at a distance.
What was done
The Unit runs 43 formative tests throughout the year and students have to submit by set dates. They also sit online exams, in Bristol, at the end of the course.
The formative tests aim to guide the student through the syllabus on specific topics. They are given feedback for incorrect answers. We take the mark of the first full submission for a coursework contribution but students are able to redo the test up to the time of the exam to aid their revision. The 8 exams are for summative assessments only and no feedback is given.
These tests are very popular with students. They like the instant feedback of the coursework tests and the instant marking of the exams. Running the exams online also reduces the amount of marking needed.
University of Bristol Beacon House Queens Road Bristol, BS8 1QU, UK Tel: +44 (0)117 928 9000 Contact us
Information for
Connect with us
Study at bristol.
Students' Union
Sport, exercise and health
Find a researcher
Faculty research
Impact of our research
Research quality and assessment
Engaging with the public
About the University
Maps and travel
Tours and visits
The University on film
Explore the city of Bristol
Board of Trustees
Support the University
Alumni and friends
Working at Bristol
Job listings
A–Z of the University
Terms and conditions
Accessibility statements
Privacy and cookie policy
Modern Slavery statement
© 2023 University of Bristol
Online Case Study
Online Case Study is an assessment in which the candidate is asked to analyze a problematic issue with the given data and advise on possible solutions.
Competency-based assessment
Assessing Presentation Skills
Detailed assessment guide for each
60- to 75-minute completion time
Online administration
What Is Case Study?
Case study, a virtual assessment center tool, is used to narrow a large area of research into an easily searchable and quickly understandable area. In the case study exercise, which is widely used in human resources processes, an organizational problem that may be encountered in business life is given, and in the light of the available data, the opinions of the candidates on the subject, solution recommendations and/or analysis are requested. In this exercise, which can be applied in written or oral form, opinions and suggestions are requested from the candidate, again in the form of a report, mostly with an oral presentation.
A case study can be used in a situation where a candidate is asked to play a specific role in a case. The recruiter sees how the candidate reacts in any given case and completes different tasks.
What Are the Advantages of Online Case Study?
With the case study exercise, companies can learn about many skills and competencies of candidates and employees, such as their theoretical knowledge, their ability to put them into practice, their inadequacies, and weaknesses, problem-solving, presentation, time management, analytical thinking, and data analysis.
Conducting this process online helps recruiters both to easily adapt to the digitalizing world and to save time.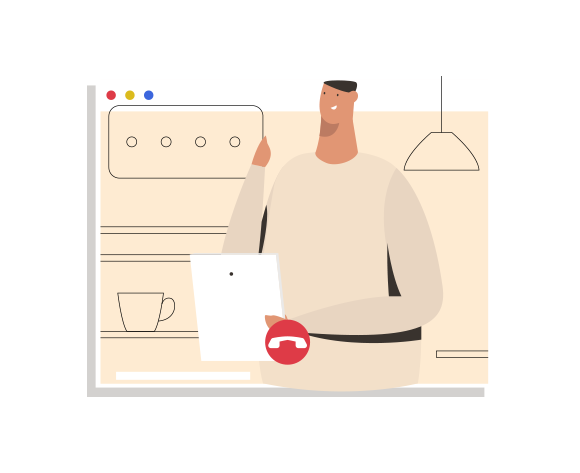 Why Use Case Study in Assessment Processes?
Case study, unlike scientific studies, does not contain strict rules and this makes the studies more practical and fluent; irrelevant issues are left out, people are enabled to focus on the result. The case study allows candidates to discover ways to develop solutions to the problems they face, enabling the recruiters to gain an impression of the candidates' quality of work and learn more about the product of their work, their interactions, and their thinking processes.
By assessing your candidates with a highly capable and virtual assessment tool, you can measure how they will follow a strategy in a crisis.
What Is Talentate Online Case Study?
Talentate Online Case Study is a virtual assessment center tool that is assigned to candidates via the system, allowing them to perform the exercise at the desired place and time, as well as the recruiter to assess the exercise at the desired time and place.
With Talentate Online Case Study, candidates are prepared to a sample case scenario, analyze the case, put into report form, and present it. The whole process proceeds through Talentate's web-based online system. In this way, processes become more practical and fluent. It is ensured that the recruiters focus directly on the candidates and their results.
With case study, it is aimed to make an accurate analysis of the competencies required by the positions applied by the candidates. It is possible to measure competencies related to analytical thinking, problem solving, planning, strategic thinking, agility, and presentation skills .
Case Studies in the system measure different competencies and behavior indicators. However, in all case studies, candidates are expected to reach conclusions by making analyses and presenting them. By this way, the presentation skills of the candidates are evaluated with the dimensions of language-expression, content, visual, and body language-voice .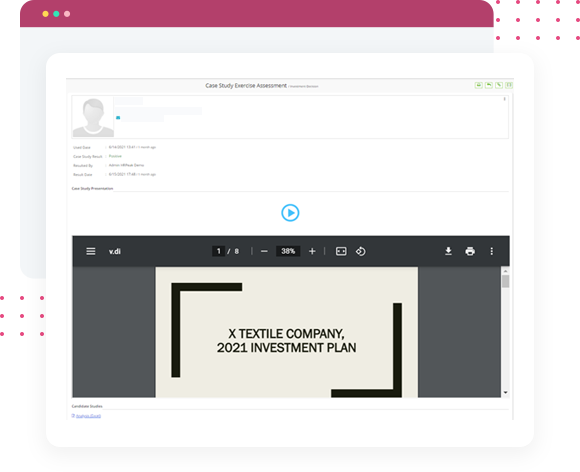 Talentate Online Case Study is designed to measure the competencies prioritized by the business world. Each case study exercise measures different competencies such as analytical thinking, detail-orientation, agility, planning, decision-making, strategic perspective, and presentation skills .
It is possible for companies to apply their own case study exercises by adding them to the system.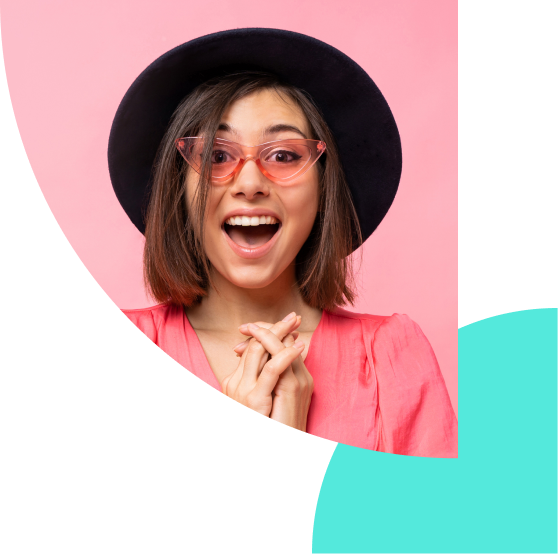 The presentation skills of the candidates can be evaluated with the language-expression, content, visual, body language-voice dimensions which clearly defined in the assessment guide.
Each competency and its levels are defined in detail in the assessment guides. In this way, it is possible to carry out an objective assessment by minimizing the subjectivity.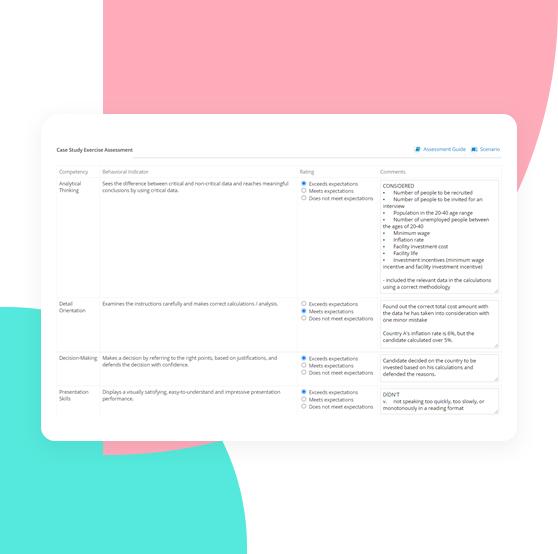 Why is Case Study used, what are the advantages?
Which levels and/or positions can the talentate online case study be applied to, are photos taken of candidates who solve the talentate online case study, how the competencies are evaluated, is there a booklet that assessors can use during the assessment stage, can companies use their own case study exercises by adding them to the system.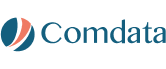 Why Do Employers Use Case Studies at Assessment Centers?
What to expect from a case study exercise, how to prepare for the case study exercise in 2023, how to approach a group exercise, how to approach a presentation, case study exercises at assessment centers (2023 guide).
Updated November 21, 2023

Should you be invited to be tested at an assessment center as part of an employer's recruitment process, one of the exercises you may face is a case study .
A case study exercise presents you with a scenario similar to what you would experience in the job you have applied for.
It will generally be accompanied by documents, emails or other forms of information.
You are asked to make business decisions based on the data you have been provided with, either alone or as part of a group of candidates.
A case study enables employers to assess your skill-base and likely performance in the job, providing them with a more rounded view of the type of employee you would be and the value you would bring to the company.
Commonly used in the finance, banking, legal and business management industries, the main advantage to employers of using case study exercises is to see candidates in action, demonstrating the skills they would be expected to use at work.
The skills assessed when participating in a case study exercise will vary depending on the employer, the industry and the job applied for, but may include:
Analytical skills
Strategic thinking
Decision making
Problem-solving
Communication
Stress tolerance
The ability to assimilate information quickly and effectively
Organisational skills
Situational judgment
Commercial awareness
Time management
Team working
Knowledge pertinent to the industry or job, for example, marketing skills
Despite the skills that the employer is actively assessing, such as those mentioned above, success in a case study exercise relies on your ability to:
Interpret and analyze the information provided
Reach a decision
Use commercial awareness
Manage your time
Communicate well
Practice Case Study Exercises with JobTestPrep
There are generally two types of case study exercise that you may face as part of a selection process:
Subject-related case studies pertinent to the job you are applying for and the related industry
General case studies that assess your overall aptitude and skills
The actual scenario of the case study exercise you face will vary, but examples of typical case studies include:
Expanding a team or department
Deciding whether an acquisition or merger is advisable
Investigating whether to begin a new product line
Re-organisation of management structure
The creation of an advertising campaign
Responding to negative publicity
Choosing from three business proposals
Developing a social media presence
Prepare for Case Study Exercises with JobTestPrep
For example: You are presented with the scenario of an IT company that went through an expensive re-brand one year ago. At that time, the company moved to bigger premises in a better area, and two new teams of developers were recruited to work with two new clients. The IT company has recently lost one of those clients and is facing increasing costs as the rent is raised for their premises. The company's directors have concluded that they must make one of the following changes: Make staff redundancies and offer the chance to several employees to change to part-time hours Move to less expensive premises in a less desirable area Combine a move to a flexible working business model where employees work part of the week from home and desk-share in the office along with a physical move to smaller premises in the same area where the IT company is currently based
You are asked to advise the directors on which change would provide the greatest benefit.
Here is another example:
A multi-national environmental testing organization buys out an oil-testing laboratory. A gap test is carried out on whether: The oil-testing lab should be brought in line with the rest of the organization concerning its processes, customer interface, and testing procedures The oil-testing lab should be closed down and its clients absorbed into the rest of the organization The oil-testing lab should be allowed to continue as it is, but new processes put in place between it and the larger organization
You are asked to consider the findings of the gap test and suggest the best course of action.
Just as you would prepare before a job interview, it is always in your best interests to prepare before facing a case study exercise at an assessment center.
Step 1 . Do the Research
There is a whole range of research you can look into to prepare yourself for the case study exercise:
The job description and any other literature or documents forwarded to you
The employer's website and social media
Industry related news stories and developments
Any of the above should provide you with a better understanding of the job you have applied for, the industry you will work within, and the culture and values of the employer.
Step 2 . Use Practice Case Studies
Practicing case study exercises in the run-up to the assessment day is one of the best ways you can prepare for the real thing.
Unless the employer provides sample case studies on their website or as part of their recruitment pack, you will not know the exact format that the exercise will take; however, you can build familiarity with the overall process of a case study through practice.
You can find plenty of practice case study exercises online. Most of these come at a cost, but you may also be able to find free sample case studies too.
For case study resources at a cost, have a look at JobTestPrep .
For two free sample case study exercises, you might like to visit Bain & Company's website .
Scroll down to the Associate Consultant Case Library. Europa also offers an extensive and detailed sample case study .
Step 3 . Timed Practice
Once you have sourced one or more practice case studies, take the opportunity to practice to a time limit.
The case study may come with a time limit, or the employer may have already told you how long you will have to complete the real case study exercise on the day.
Alternatively, set your reasonable time limit.
Timed practice will improve your response time and explain exactly how much time you should allocate to each stage of the case study process.
Step 4 . Improve Your Reading Comprehension
One skill that is key to handle a case study exercise successfully is your reading comprehension, that is, your ability to understand written information, interpret it and describe it in your own words.
In the context of a case study, this skill will help you to assimilate the information provided to you quickly, analyze it and ultimately reach a decision.
In the run-up to your assessment day, put aside time to improve your reading comprehension by reading a wide variety of material and picking out the key points of each passage.
You might find it especially helpful to read professional journals and news articles related to the job you have applied for and the related industry.
Try to improve the speed at which you can read but still retain information too. This will prove helpful during the real case study exercise.
Step 5 . Practice Mental Math
The case study exercise may include prices, area measurements, staff numbers, salaries and other numeric values.
It is important that you can complete basic mental math calculations, such as multiplication and percentages.
Practice your mental math using puzzle books, online math resources and math problems that you create yourself.
You can find plenty of online business math resources, for example:
The University of Alabama at Birmingham Math and Business Guide
Money Instructor
Open Textbook Library
If you need to prepare for a number of different employment tests and want to outsmart the competition, choose a Premium Membership from JobTestPrep . You will get access to three PrepPacks of your choice, from a database that covers all the major test providers and employers and tailored profession packs.
Get a Premium Package Now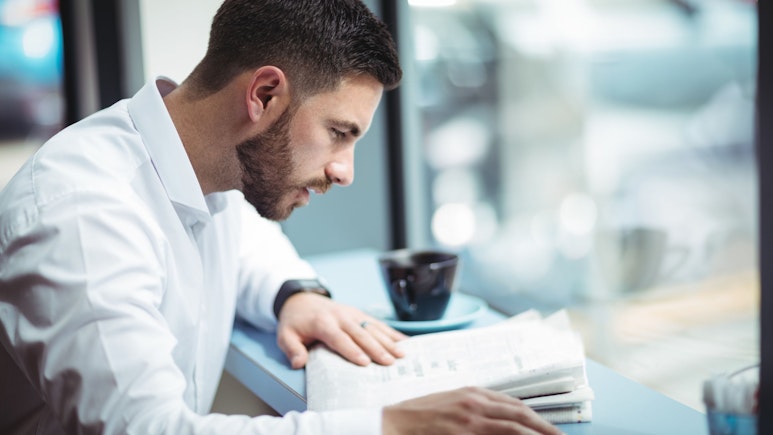 Top Tips for Approaching Case Study Exercises
Now that you have prepared yourself, you can further improve your chances of a successful outcome by following our top tips on approaching case study exercises on the day.
Read the Information Carefully
Read all of the information provided as part of your case study exercise to understand what is being asked of you fully.
Quickly identify the key points in the task and the overall decision you have been asked to make, for example:
Has the exercise provided you with a choice of outcomes you must decide between, or must you create the outcome yourself?
What information do you need to make your decision?
Are there calculations involved in the task?
What character are you playing in the task (for example, HR manager or business consultant) and what are that character's motivations?
Who is your character presenting their response to? Company directors, client or HR department?
Prioritize the Information
Prioritize the information by importance.
Which pieces of information are most pertinent to the task, and what key data do they provide?
Can any of the information be dismissed? Does any of the information contradict or sit in conflict with others?
Divide Up the Tasks and Allocate Time
You will generally be asked to come to a conclusion or advise a course of action regarding your case study exercise; however, you may have to carry out several tasks to arrive at this result.
Once you have read through the information, plan out what tasks the exercise will entail and allocate time for each one.
Do Not Be Distracted by Finding the Only 'Right' Answer
Where you are provided with several outcomes, and you must decide on one, do not assume that anyone's outcome is the only right answer to give.
It may be that any of the outcomes could be correct if you can sufficiently support your decision from the information provided.
Keep the Objective in Focus
What does the task ask you to do?
Must you choose between three business acquisitions?
Are you providing advice on whether or not to invest?
Are you putting together a plan for a staff redundancy situation?
Keep the objective of the case study exercise in mind at all times.
Support Your Decision With Evidence
The conclusion you come to may seem obvious to you, but you must be able to support your decision with evidence.
Why would it be better for the company to invest in property overstock? What is the benefit to the company of entering a new market?
It is not sufficient to know which outcome would be the best. As in the real-life business world, you must be able to support your claims.
If you are assessed as part of a group, you must arrive at a conclusion as a team and bear in mind your strengths.
For example, do you have a good eye for detail and would therefore be suited to the analytical part of the task?
Arrive at a list of tasks together and then assign the tasks to different members of the group.
Please make sure you contribute to the group discussions but do not dominate them.
Group assessments are generally used by employers who place value on leadership, teamwork and communication skills.
If you are asked to present your findings or conclusion as part of a case study exercise, bear in mind to whom the task has asked you to make that presentation.
For example, a business client or a marketing manager.
Make sure that you can fully support the reasons that you came to your conclusion.
If you are presenting as a group, make sure that each group member has their role to play in the presentation and that everyone knows why the group came to that conclusion.
Act professionally to suit the job you have applied for. Be polite, confident and well-spoken.
Case study exercises are just one of the many methods that employers use to assess job applicants, and as with any other aspect of the selection process, they require a degree of consideration and preparation.
The best way to improve your chances of a successful outcome and reduce exam tension is to research the job and the industry, practice case study exercises and improve your skills.
You might also be interested in these other Psychometric Success articles: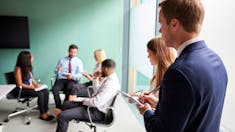 Or explore the Aptitude Tests / Test Types sections.
Online Case Study
Home » Online Case Study
Process time : 70 minutes
Number of items : 4 x 10 = 40
Response options : 40 x 4 = 160
Criteria for evaluation : Mastering Complexity, Analytical Skills, Customer Orientation, Driving Business, Leadership
Evaluation : Overall performance on a scale that consists of five levels, individual results
Languages : English, German
We provide and manage the links for the Online Case Study (ENG, DE)
CUSTOMIZING – Individual configuration / modification of the contents (e.g. integration of challenges, conflicts and tasks regarding the target position)
Shortening the Live-AC – outsourcing of individual elements of Assessment or Development Centers
Pre-assessment for Assessment or Development Centers
Provision of a detailed feedback report
The Online Case Study in detail
Demanding business stimulation.
The innovative Online Case Study combines the advantages of the situational judgement test and the cognitive tests by appointing the candidate as the Head of Office of the imaginary consulting agency "Brooklynmaxx Consulting" with an introduction video. Within 70 minutes the candidate has to deal with 10 Emails and video messages which include four tasks each. The tasks are situations and problems which get brought to an executive's attention daily and across sectors: Customer requests and complaints, conflicts between colleagues, outcome of benchmarks and economic facts and figures. After a few minutes a new email or video message, which the candidate has to deal with, will appear.
Complex business charts for the editing of tasks​
Altogether, the candidate has to work on 40 items and has to choose the best and the worst answer out of the four multiple choice response options.
An example would be an email from the candidate's boss: "The office benchmarking showed that the agency lost a lot of projects to the competition. According to the numbers what are suitable and unsuitable measures to boost our business?". To answer this question many tables have to be analyzed appropriately. The Online Case Study makes a valid and reliable measurement of competences with five dimensions possible: Mastering Complexity, Analytical Skills, Customer Orientation, Driving Business and Leadership. Every competence is covered by 8 items in order to reduce coincidences.
In contrast to the Case Study and the In-Basket, which are written tasks on paper, the evaluation for the Online Case Study is objective and ensured by the standard norms (relevant for graduates/ young professionals and existing executives). An objective statement regarding the candidate's performance is ensured by the evaluation of the results in comparison with a broad norm sample.
Answers per multiple choice 123 Automatic creation of the feedback report
The computerized conduction reduces the administrative work to a minimum and enables the candidate to work on the Case Study independently of time and location. The Online Case Study is perceived as more interesting and motivating/ animating than classic intelligence tests because of its business orientation in combination with tasks which are close to reality.
The fields of utilization are diverse: Preselection of trainees, young professionals and soon to be executives for recruiting procedures; Reduction of live-process-time and acceleration into a Pre-Assessment for the AC/ DC of internal high potential employees and job candidates.
Regarding the validity the Online Case Study is on the same level as the standard AC-tasks. The studies of validity identified a high correlation of up to 0.736 concerning the prediction of results in a three-day Development Center or potential analysis.
© 2019 All rights reserved​
Numerical Reasoning
Verbal Reasoning
Inductive Reasoning
Diagrammatic Reasoning
Logical Reasoning
Mechanical Reasoning
Situational Judgement
Deductive reasoning
Critical thinking
Spatial reasoning
Error checking
Verbal comprehension
Reading comprehension
Psychometric tests
Personality test
In-Tray exercise
E-Tray exercise
Group exercise
Roleplay exercise
Presentation exercise
Analysis exercise
Case study exercise
Game based assessments
Competency based assessment
Strengths based assessment
Strengths based interview
Video interview
Saville Assessment
Talent Q / Korn Ferry
Watson Glaser
Test Partnership
Clevry (Criterion)
Criteria Corp
Aon / Cut-e
Sova Assessment
For Practice
For Business
Case Study Exercise
Case Study Exercises are commonly used in assessment centres, and often are unique to each company.
Premium Tests
What is a Case Study exercise
Page contents:
How do case study exercises work.
Updated: 08 September 2022
Assessment Centre Exercises:
Analysis Exercise
Role Play Exercise
Group Exercise
Presentation Exercise
During an assessment day, it is common that you need to undertake a case study exercise . These exercises place candidates in real-life situations where they are tasked with solving problems faced by professionals in the real world. A case study typically involves being given various documents containing different information, either detailing a problem or situation that needs dealing with and requiring the candidate to resolve the issue at hand by formulating a plan. The problems or situation in the case study will be similar if not identical to problems encountered in the role itself. Candidates are also provided with background information to the elements of the case study, whether these be details of fictitious companies or sales figures, or other. The resolutions or solutions provided by the candidate regarding the problems are part of the assessment centre performance rating.
Why are case study exercises used?
Case study exercises are proficient predictors of role performance as they will resemble the work being done on the job. Therefore, case study exercises typically tilt highly on an assessment centre rating for candidates. Likewise, if a presentation exercise is required after the case study, based on details brought up during the case study, then your case study rating will likely impact your presentation exercise rating. Equally, this may manifest into the role play exercise which will do a similar thing to the presentation exercise – carrying on the case study situation. It is also entirely possible for the case study to be continued in a group exercise – which evaluate a candidate's ability to work in a team. Given all this, you will need to perform well in the case study exercise to ensure a high rating.
What will the case study exercise be like?
As mentioned, the case study exercise you will be asked to perform will be similar to the type of work you will have to do in the role you are applying for.
The case study exercise may be purchased off the self from a test provider who specialize in the test style. This will mean that it won't be fully specific to the company you are applying to, but will be related to the role. Likewise, it can be designed bespoke if the organization requires specific role assessment. It's likely the larger and harder to get into the company is, the more tailored their exercises will be.
How can I prepare for the case study exercise?
Analysing technical documents and company reports may be helpful practice in preparation for a case study exercise. This will give a chance to familiarize yourself with the types of information typically found in these documents, and thus the case study exercise. Practicing case study exercises will also act as great preparation and they will provide a great insight into how they work and how they are to be handled. This will also prevent any unnecessary unknowns you could have before taking a case study exercise, as you will have already experienced how they work in practice.
You can unlock assessment centre exercises with our premium access .
The BCG Online Case & Chatbot Interview - How to Prepare
Last Updated December, 2023
What Is the BCG Online Case?
What Skills Does It Assess?
What Does the Online Case Look Like?
6 Steps to Prepare for the Online Case
The BCG Chatbot Interview
Links to Preparation Resources
If you've applied to the Boston Consulting Group, you might get an invitation to interview that mentions not only live case interviews but an online case interview or chatbot interview as well.
Are you wondering what BCG's online case interview looks like and how you should prepare?
Don't worry! We've got all the details here to make sure you pass.
If you're applying to BCG New York, New Jersey, Washington DC, London, or an office in Southeast Asia , be sure to see our section about differences in those versions of the test. In fact, we suggest everyone take a look at this section because BCG is preparing to roll out the chatbot interview more broadly .
Let's get started!
What is the BCG Online Case?
The BCG online case is a business problem you're asked to solve on a computer rather than in a one-on-one discussion with an interviewer.
Via the computer, BCG candidates are given an overview of a client, their business problem, and data relevant to the client's business and the overall market (revenues, costs, business lines, market size, etc.)
They're asked questions with multiple-choice answers. Many of the questions in the online test are quantitative.
There are several different formats of the online case being used in different offices. We have specifics on several offices below.
What Skills Does the BCG Online Assessment Test?
BCG is using the online test to give candidates an in-depth example of the types of problems they help their clients to solve.
This means you should consider whether you'd enjoy solving problems like this.
They're also using the online case questions to assess the following skills:
Business judgment;
Logical reasoning; and
Quantitative aptitude.
What Does the BCG Online Case Look Like?
Above is a screenshot of a practice BCG online test question. While this format represents only one of several versions BCG uses, it is helpful for understanding the types of questions you'll face.
If you have taken or prepared for the GMAT test, you might notice the similarities in appearance and also skills tested.
The screen is split into 2 windows. The left window has a question as well as multiple-choice answers.
In the right window, there is data you can use to answer the question.
During the actual test, you'll have more than 20 questions to answer and 45 minutes to complete the test.
During this time, you'll be able to move forward and backward through the case to review data. You may also change your answers.
The online case is conducted as part of a round of interviews.
In the round, you'll interview one-on-one with 2 BCG interviewers as well.
What Types of Questions Are Being Asked in the BCG Online Test?
Many of the questions on the BCG online case are quantitative. The sample cases we've seen include:
A gasoline pricing strategy for a fuel retailer in a country that has recently deregulated gas prices and
A revenue growth study for a ferry line serving islands with a tourism-based economy.
Quantitative questions included:
Gross margin calculation,
Determining the price that would maximize sales (using a supply and demand graph),
Determining the price that would maximize profit (using a supply and demand graph and other data), and
GDP growth rate calculation.
In addition to the quantitative questions, there are also logical reasoning questions.
In these questions, you'll be asked things like explain trends in the data based on the information provided.
During the test, you're not allowed to use a spreadsheet program on the computer to calculate answers.
You will be allowed to use a simple calculator.
You can also use a pen and paper to take notes.
BCG's Online Case Tests Similar Concepts to the GMAT
Our team of former McKinsey, Bain, and BCG consultants includes consultants who were also former GMAT tutors.
We had our team evaluate the BCG online case and here is what we found…
Common types of questions include:
Mathematical reasoning questions:
Percentages,
Ratios, and
Weighted averages.
Verbal reasoning questions:
Drawing inferences and
Strengthening and weakening arguments.
Supply and demand,
Maximizing revenue, and
Maximizing profit.
Nail the case & fit interview with strategies from former MBB Interviewers that have helped 89.6% of our clients pass the case interview.
Differences in the BCG Online Assessment Used in Various Offices
The BCG online case study simulation assessment and interviewing process are different for candidates in several US offices, London, and Southeast Asia. As we find out more about the formats other offices are using, we'll provide that information here.
Here are the differences:
BCG Online Case Study (AKA the BCG chatbot interview)
Offices using the chatbot interview: New York, New Jersey, Washington, D.C., and Mexico. We are hearing about the chatbot interview getting rolled out in more offices.
The recruiting process is: In the first round of interviews, candidates have 1 interview with an interviewer and 1 chatbot interview.
The chatbot case is conducted by "Casey" the chatbot. Where live BCG cases are interviewee-led, the chatbot case is interviewer-led.
Candidates are given 25 minutes to answer 12 questions . There is a short introductory video in which Casey the chatbot introduces a business problem. The chatbot interview asks multiple-choice and short answer/fill-in questions. The last question is on structuring the problem, then there is a 1-minute video recording at the end in which you provide your recommendation for the client.
People report that the chatbot interview is harder than a normal case. The questions heavily use exhibits and there is a good bit of math, though it's pretty straighforward. All answers are final. You can not change previous answers later in the test. The time limit for your answers is tight. BCG's instructions say each question is independent so that if you get one wrong, you still have a good shot on subsequent questions, but candidates who've taken the test report that's not true.
You will have 1 minute to prepare and 1 minute to record your video at the end, your recommendation to the client. You will not be able to re-record your recommendation. (Be sure to complete the case on a laptop with a webcam.)
K eep note of relevant case details as you would during a live interview because you will not be able to go back to review exhibits.
Sample Case Questions:
Our client is a furniture manufacturer who could offer a promotion for a sports game. Should they do this?
Our client is the 2nd largest player in its industry. The 3rd & 4th largest players plan to merge. How should our client respond?
Our client wants to acquire a downstream player in their market and integrate vertically. What factors should they consider?
Our client has 2 manufacturing plants, Plant A and Plant B. They face rising costs due to labor issues in plant A. How will you help our client?
Our client is an insurance company. They want to assess whether they should offer a fitness watch to clients to help them to live healthier lives and reduce insurance premiums.
Examples of Quantitative Questions:
Calculate post-merger profitability for 2 merging companies factoring in economies of scale gained from the merger. This calculation involves weighing the current margins of each company by its share of post-merger revenue and adding additional margins gained from economies of scale.
Should our client vertically integrate? Determine whether this makes financial sense by calculating current profitability and comparing that to the future profitability if the client acquires raw material at cost.
Examples of Qualitative Questions:
For a business problem, choose the factors the client should consider from a list of options. There may be a free-response follow-up question asking why the candidate chose those factors.
BCG Online Behavioral Questions
After the chatbot interview, there is a separate 25-minute video interview with fit questions.
This includes 5 fit questions.
You don't need to take the entire time to answer each question. Short, structured answers will serve you better than long, rambling answers.
See our article on Consulting Behavioral Interviews for tips on acing these questions.
BCG London Online Case Study Simulation Assessment
The recruiting process is: 1) first round: the online case study simulation + one 45-minute video conference case interview, 2) second round: video conference interviews, 3) final round: video conference interviews.
1-hour interview preparation webinars are provided in advance of interviews,
The online case study simulation will be sent to you. You'll have 24 hours to complete it .
BCG Southeast Asia Online Case
The recruiting process is: 1) the online case, 2) 2R (or 2nd round) – 2 in-person interviews assessing case and behavioral skills, and 3) DR (or decision round) – 2 in-person interviews with partners assessing case and behavioral skills.
The online case comes before any in-person interviews as a separate interview round,
The test takes under 1 hour to complete,
It includes 2 sections, one with questions and then one with a video recording ,
In the recording, candidates will explain their analytic process and provide recommendations to the "client."
This online case is used for both experienced hire applicants and those graduating from degree programs.
Differences in the Online Case Format Between Offices
We wanted to highlight these differences in the recruiting process and online cases between different BCG offices because if you are planning on just answering questions on a computer and then are given a simulation or asked to record your answers on video, this would be a big surprise.
But don't worry. Really, your task is not that different.
As we get more information on offices using the online case, we'll update that information here.
6 Steps to Prepare for the BCG Online Assessment
Based on the similarity between the online case questions and the GMAT questions, here is how our team recommends preparing before your interview:
1. Study the sample online case questions and answers provided by BCG and/or attend their interview prep webinar (for offices that offer it).
These cases are your best guide to what the online test will look like. Recent candidates have noted, however, that the practice case was easier than the actual online case.
The BCG interactive case library is also a good resource.
2. Study using practice questions for the GMAT test.
The online case does not cover exactly the same material as the GMAT so this isn't a perfect study guide, but it's quite good.
Pay particular attention to questions in the quantitative and integrated reasoning sections (especially ratios, percentages, linear and simultaneous equation word problems.) See our resource section below for recommended test-prep guides.
3. Review your GMAT test practice questions for trends in the types of questions you missed.
If your mistakes were careless errors , ask yourself what habits you can develop to limit those types of mistakes in the future.
If your mistakes were based on a gap in your understanding of a concept , spend more time studying that concept.
Most people simply do practice questions without reviewing their results for how they can study smarter. Don't do this.
Focus on the types of problems you struggle with until you can consistently get them right.
4. Reviewing Economics 101 principles could help your score if you're weak in this area.
The online case expects you to have more in-depth knowledge of economics principles such as supply and demand and profit maximization than the GMAT does.
5. If you're short on time before your test, focus effort on the types of questions most likely to come up on the BCG online case .
Integrated reasoning, multi-source reasoning, table analysis, and graphic interpretation are the types of questions that come up most frequently. Focusing on these areas will improve your score the most.
6. Know the optimal strategy for maximizing your score on this test.
BCG's practice test is graded by giving 3 points for a question answered correctly, 0 points for a skipped question, and taking 1 point away for an incorrect answer.
From this, we can infer that guessing is not a good idea unless you can narrow a question down to 2 potential choices. If you can't eliminate at least 2 answers, then skip.
7. Manage your time during the test.
Candidates who've taken the test report being pressed for time. Make sure you don't get bogged down on one difficult question, taking no more than about 1.5 minutes/question.
Skipping a difficult question can ensure you have time to complete simpler questions you haven't yet gotten to. If you have extra time at the end of the test, you can return to difficult questions.
Example of BCG's Online Case
The screenshot above is an example of a practice question that requires the candidate to interpret text and graphical data.
Links to Resources for Prepping for the BCG Online Assessment
The best resources to practice with are the 2 BCG practice online cases. If you need more practice materials to feel confident with your preparation, we recommend the following:
A GMAT test-prep book . The book we recommend using to practice for the online case is this book. Do keep in mind that the BCG test is similar, but not the same .
A GMAT test-prep book focused on quantitative questions. This is the best resource to use if you're having problems with the quantitative questions. We recommend this book .
In particular, look at chapters 4, 7, 13, 17, and 18. You'll want to work on the word problems and problem-solving, but filter out for ONLY the questions related to business problems and not, for example, the geometry and symbolic algebra.
If you haven't taken an Economics 101 course, you'll need to learn some basic principles. Khan Academy has a great series on microeconomics here .
If you're running short on time, focus on integrated resource questions. Specifically, this will help with multi-source reasoning, table analysis, and graphics interpretation questions.
Want to study even more??
If you're having trouble with integrated reasoning questions, use this .
If you're struggling with the math questions, we recommend this book .
For another integrated reasoning test-prep book we like , click here .
Still have questions?
If you have more questions about BCG's online case, leave them in the comments below. One of My Consulting Offer's case coaches will answer them.
Other people preparing for the BCG online case found the following pages helpful:
The BCG Case Interview: Preparation Advice from a Former-BCG Consultant
BCG One Way Interview
BCG Pymetrics Test
Case Interview Prep
Schedule a Mock Practice Before Your BCG online case.
My Consulting Offer has helped over 500 people get jobs in consulting.
For example, here is how Conor went on to get a BCG offer.
© My CONSULTING Offer
LEARN TOP SECRETS TO PASS THE CONSULTING INTERVIEW.
Master the case and fit interview in just 1 week with our secrets from former Bain, BCG & McKinsey consultants in this FREE 3-part video training series.
No thanks, I don't want free resources.
We are excited to invite you to the online event., where should we send you the calendar invite and login information.
Numerical Reasoning
Verbal Reasoning
Inductive Reasoning
Diagrammatic Reasoning
Logical Reasoning
Mechanical Reasoning
Situational Judgement
Deductive reasoning
Critical thinking
Abstract reasoning
Spatial reasoning
Error checking
Verbal comprehension
Reading comprehension
Psychometric tests
Personality test
In-Tray exercise
E-Tray exercise
Group exercise
Presentation exercise
Analysis exercise
Game based assessments
Competency based assessment
Strengths based assessment
Strengths based interviews
Video interview
Saville Assessment
Talent Q / Korn Ferry
Watson Glaser
Criterion Partnership
Test Partnership
Cut-e / Aon
Team Focus PFS
Sova Assessment
For Practice
For Business
Chapter 6: Case Study Exercises

A resource guide to help you master case study exercises
Page contents:
What is a case study exercise, how to answer a case study exercise, what skills does a case-study exercise assess, what questions will be asked in a case study exercise, case study exercise tips to succeed, key takeaways.
Case-study exercises are a very popular part of an assessment centre. But don't worry, with a bit of preparation and understanding, you can ace this part of the assessment.
Case study exercises are a popular tool used by employers to evaluate candidates' problem-solving skills, analytical thinking, and decision-making abilities. These exercises can be in the form of a written report, a presentation, or a group discussion, and typically involve a hypothetical business problem that requires a solution.
The case study presents the candidate with a series of fictional documents such as company reports, a consultant's report, results from new product research etc. (i.e. similar to the in-tray exercise except these documents will be longer). You will then be asked to make business decisions based on the information. This can be done as an individual exercise, or more likely done in a group discussion so that assessors can also score your teamworking ability.
Before you start the exercise, it's important to carefully read and understand the instructions. Make sure you know what you're being asked to do, what resources you have available to you, and how your performance will be assessed. If you're unsure about anything, don't be afraid to ask for clarification.
Once you've read the case study, it's time to start analysing the problem. This involves breaking down the problem into its component parts, identifying the key issues, and considering different options for addressing them. It's important to approach the problem from different angles and to consider the implications of each possible solution.
During the exercise, you'll need to demonstrate your ability to work well under pressure, to think on your feet, and to communicate your ideas effectively. Make sure to use clear and concise language, and to back up your arguments with evidence and examples.
If you're working on a group case study exercise, it's important to listen to the ideas of others and to contribute your own ideas in a constructive and respectful way. Remember that the assessors are not only evaluating your individual performance but also how well you work as part of a team.
When it comes to presenting your solution, make sure to structure your presentation in a clear and logical way. Start with an introduction that sets out the problem and your approach, then move onto your analysis and recommendations, and finish with a conclusion that summarizes your key points. Make sure to keep to time and to engage your audience with your presentation.
A case study exercise is designed to assess several core competencies that are critical for success in the role you are applying for. There will be many common competencies that will be valuable across most roles in the professional world, these competencies typically include:
Problem-Solving Skills: The ability to identify and analyse problems, and to develop and implement effective solutions.
Analytical Thinking: The capacity to break down complex information into smaller parts, evaluate it systematically, and draw meaningful conclusions.
Decision-Making Abilities: The ability to make well-informed and timely decisions, considering all relevant information and potential outcomes.
Communication Skills: The capacity to convey ideas clearly and concisely, and to listen actively to others.
Teamwork Skills: The ability to collaborate effectively with others, and to work towards a shared goal.
Time Management: The capacity to prioritise tasks and to manage time effectively, while maintaining quality and meeting deadlines.
By assessing these competencies, employers can gain valuable insights into how candidates approach problems, how they think critically, and how they work with others to achieve goals. Ultimately, the aim is to identify candidates who can add value to the organisation, and who have the potential to become successful and productive members of the team.
Different companies will prioritise certain competencies; the original job description is a great place to look for finding out what competencies the employer desires and so will likely be scoring you against during the assessment centre activities.
The type of questions that may be asked can vary, but here are some examples of the most common types:
Analytical Questions: These questions require the candidate to analyse a set of data or information and draw conclusions based on their findings. For example: "You have been given a dataset on customer behaviour. What insights can you draw from the data to improve sales performance?"
Decision-Making Questions: These questions ask the candidate to make a decision based on a given scenario. For example: "You are the CEO of a company that is considering a merger. What factors would you consider when making the decision to proceed with the merger?"
Group Discussion Questions: In a group case study exercise, candidates may be asked to work together to analyse a problem and present their findings to the assessors. For example: "As a team, analyse the strengths and weaknesses of our company's current marketing strategy and recommend improvements."
The questions are designed to test the candidate's problem-solving, analytical thinking, decision-making, and communication skills. It's important to carefully read and understand the questions, and to provide well-reasoned and evidence-based responses.
It has been known for employers to use real live projects for the case study exercise with sensitive information swapped for fictional examples.
Information from the case study exercise lends itself to be used as scene-setting for other exercises at the assessment centre. It is common to have the same fictional setting running through the assessment centre, to save time on having to describe a new scenario for each task. You will be told in each exercise if you are expected to remember the information from a previous exercise, but this is rarely the case. Usually the only information common to multiple exercises is the fictional scenario; all data to be used in each exercise will be part of that exercise.
Don't leave your future career down to chance!
Get a completely free starter account
Over 20 tests
Track your progress
Here are some key tips to help you prepare for and successfully pass a case study exercise at an assessment centre:
Understand the Brief: Carefully read and analyse the case study brief, making sure you understand the problem or scenario being presented, and the information and data provided. Take notes and identify key issues and opportunities.
Plan Your Approach: Take some time to plan your approach to the case study exercise. Consider the key challenges and opportunities, and identify potential solutions and recommendations. This will help you structure your thoughts and prioritise your ideas.
Use Evidence: Use evidence from the case study, as well as your own research and knowledge, to support your ideas and recommendations. This will demonstrate your analytical thinking and problem-solving skills.
Stay Focused: During the exercise, stay focused on the task at hand and avoid getting sidetracked by irrelevant information or details. Keep the objective of the exercise in mind, and stay on track with your analysis and recommendations.
Collaborate Effectively: If the case study exercise involves group work, make sure to communicate clearly and effectively with your team members. Listen actively to their ideas, and contribute constructively to the discussion.
Be Confident: Have confidence in your ideas and recommendations, and be prepared to defend your positions if challenged. Speak clearly and confidently, and use evidence and data to support your arguments.
Here is the summary of what case-study exercises are and how to pass them:
A case study exercise is a type of assessment where candidates are presented with a hypothetical business scenario and asked to provide solutions or recommendations.
These exercises assess a range of competencies such as problem-solving, analytical thinking, decision-making, communication, teamwork, and time management.
To pass a case study exercise, it's important to carefully read and understand the brief, plan your approach, use evidence to support your ideas, stay focused, collaborate effectively, be confident, and manage your time effectively.
Fully understanding the format of the exercise, taking practice case-study exercises and following our tips outlined above will drastically improve the chances of you standing out as a star candidate at the assessment centre.
Study Material
Multiple-Choice Test
Hazard Perception
Practice Case Studies
Show me, Tell me
Free Practice Case Study
Trevor and John are multi-manning a vehicle from the UK to France. They work for TSD Haulage who have been contracted to deliver car exhausts to a manufacturing plant. They are driving a curtain-sided lorry with a gross vehicle weight of 18 tonnes and carrying a 10 tonne load.
This is John's first trip abroad and he will take the opportunity to learn the ropes from Trevor who has been driving on the continent for over 20 years. Trevor will prepare the vehicle and complete the CMR consignment note before collecting John from his home which is on the way to the ferry port.

Both drivers have just returned from a four-day rest and are keen to get the job done as quickly as possible.
Today is Monday and Trevor will drive the first part of the journey to the ferry port. They will stop for their daily rest at 21:00 in France.
0 of 8 Questions completed
Information
You have already completed this test. You cannot start it again.
Test is loading...
You must sign in or sign up to take this test.
You must first complete the following:
Test complete. Results are being recorded.
0 of 8 Questions answered correctly
Time has elapsed.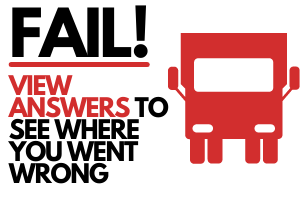 1 . Question
To qualify for multi-manning, John must be collected within:
One hour of the start of the shift
50 km of the vehicle operating centre
25 km of the vehicle operating centre
45 minutes of the start of the shift
2 . Question
Trevor has completed 4 hours and 30 minutes of driving and must now take a  minimum break of 45 minutes.
John will take over as the driver
(mark two answers)
The vehicle must stop for Trevor's 45 minute break to be considered legal
Trevor may take the 45-minute break whilst the vehicle is still moving
Trevor and John must take a 45-minute break at the same time
Trevor can use the time to do paperwork whilst John is driving
Trevor must place his tachograph card in slot 2
Trevor can give John directions and driving advice whilst on his break
3 . Question
The daily individual driving limit today for John and Trevor is
Ten hours for John and ten hours for Trevor
Nine hours for John and nine hours for Trevor
Thirteen hours for both drivers
Twenty one hours for both drivers
4 . Question
What is the total maximum duty time for John & Trevor?
5 . Question
When multi-manning, the maximum period within which all duty time and daily rest must be completed is:
6 . Question
To carry out this delivery, which type of operators licence should TSD Haulage hold?
Standard International licence
Restricted International licence
European operators licence
TIR operators licence
7 . Question
The wheelbase of the vehicle is 5 metres and the centre of the load is 2 metres from the rear axle.
What is the load on the front axle?
8 . Question
What colour copy of the CMR consignment note must travel with the vehicle?
White with a black border