Drafting A Cover Letter for Your Internship
A convincing cover letter would usually accompany a CV for a graduate application. It's not strictly required for all applications, but it's a good-to-have document, especially for fresh graduate positions. It's your opportunity to show recruiters your most relevant skills and demonstrate your motivation and enthusiasm for the internship role.
Be Concise and Specific
Be clear on the specific position you applied for and explain why you're interested in it, and convince recruiters that you're suited for the role
In your introduction, include relevant experiences that fit the role applied as well as your highest educational qualification
Avoid describing yourself as "passionate" or "ambitious" as these qualities are too subjective to explain in papers, and are better exuded in person during the interview stage
Describe excessively your personality, detailed academic background and skills as these are already on your CV. Remember, it's only a page long so keep it straight to the point.
Show Your Competence; Why you?  
Use the advertised job description to guide you in highlighting your strengths for the internship
Address the selection criteria and show how your current experience 'transfers' into the role you applied for
Don't worry if you lack work experience. Put forward your soft skills such as teamwork, problem-solving, organisation, and time management which are highly sought-after
Do Not…     
Copy sentences direct from your CV. Think about how you can rephrase the information and elaborate on particular skills and achievements you have that are right for the role.
Show Your Enthusiasm; Why them?
Do thorough research into the organisation and jot down specific aspects of their operations, missions and culture that appeal to you
With the information gathered, elaborate on what attracts you to working for them and be specific about it
This helps target your cover letter to the employer and it shows your passion to want to know more about them
Waste space by mentioning general statements that could be said about pretty much any employer, such as '… because you're a prestigious and global employer'.
Check, Check, and More Checking!
It's good to take a break from your cover letter and check it again later with a fresh pair of eyes and mind
Have a physical copy of it and pour over it with a red pen – you'll be surprised with how many mistakes you can catch
Acquire help from someone with a strong command of English to help with proofreading or use spellcheckers; you need your cover letter to be error-free!
Cover Letter Sample
23rd February 2022
Dear Mr Alfred,
I am writing to apply for the Marketing Internship with GTI Media. My conversations with current employees at your networking session in Jan this year have reinforced my interest in your company and cemented my belief that I have the expertise and skills that you are looking for.
I am applying for this internship because your company has adopted the most modern marketing campaign methods. Through my three years of study at the School of Business and Marketing at INTI University, I have developed an understanding of creating impactful social media content and product portfolios for campaigns and advertorials.
In my previous part-time role during university, I was involved in department communications related to marketing for all types of customers. I am a strong candidate for the marketing internship position because I have an analytical mind and a willingness to learn.
Thank you for your consideration of my application. My attached resume will describe my most significant accomplishments, community work, and involvement in marketing projects. I am looking forward to hearing from you. You can reach me at my email address, [email protected]
Yours sincerely,
More Related Advice

Cover Letter For An Internship : Internship Application Letter Sample
Internship Application Letter Sample
An internship cover letter is a formal letter that explains who you are and why you are interested in the role you are applying for an internship. It also states why the employer should consider you for the internship position you are applying for. An internship letter is attached together with a CV when applying for an internship.
The following is an internship application letter sample:
Cover Letter For An Internship
Your Address,
Recipient's Name/ Position,
Recipient's Address.
Dear Sir/Madam/Recipient's Name:
I am currently a student at (university/college name) studying (course). I would like to join your team as the (position) intern. I have attached my resume for your review and I believe I would be a strong candidate for your team.
I have worked at (organization name) as (position) in (state/town name). My job included (state the duties and responsibilities that you undertook). The experience gathered while doing this job coupled with my ability to (list a few positive skills and abilities) make me a strong candidate for the (position name) intern.
If you would like to get more information, I can be reached on (phone number). Thank you for your time. I am looking forward to hearing from you.
Your Signature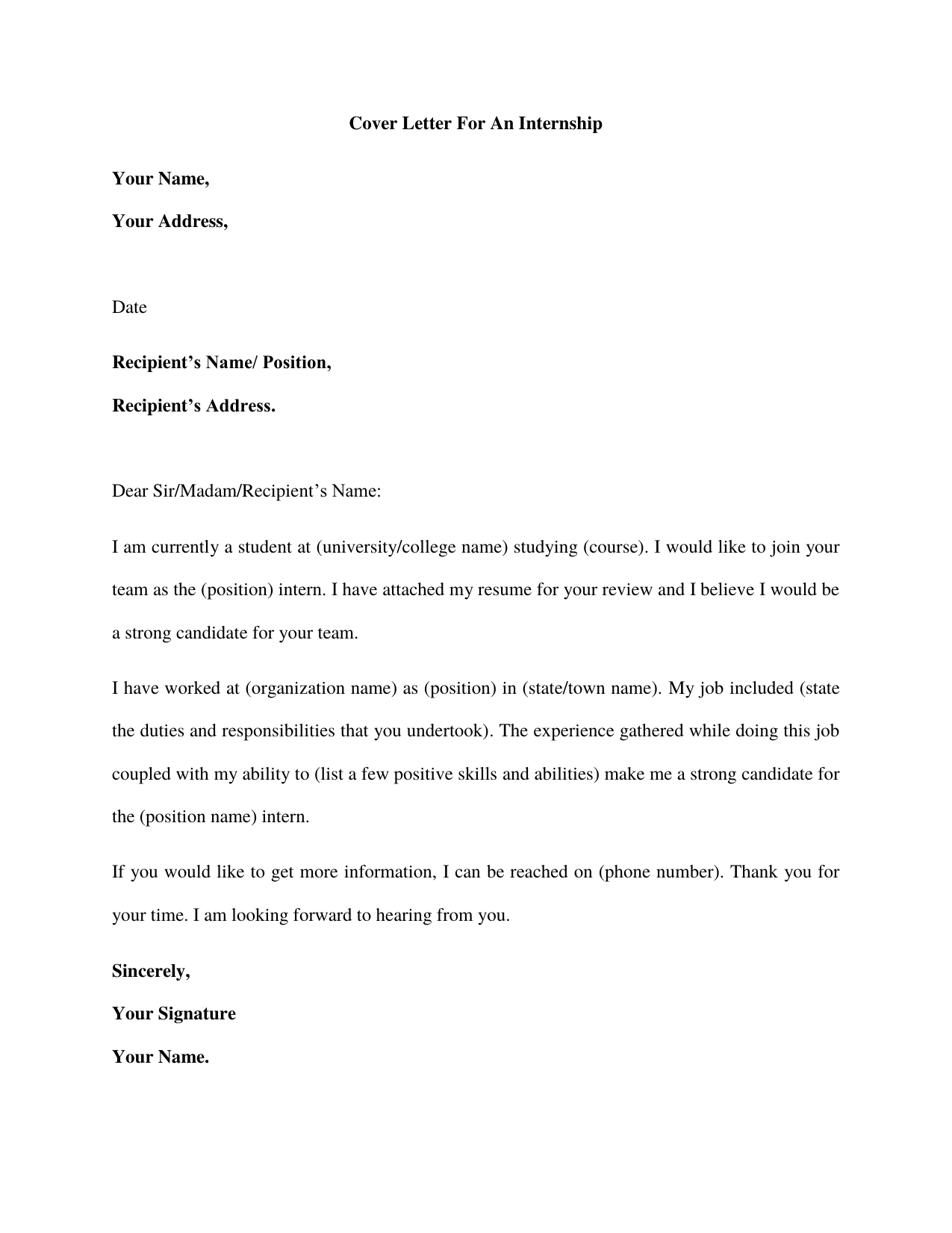 Recent Posts
A Sample Essay on Birds 21-08-2023 0 Comments
Is Homeschooling an Ideal Way... 21-08-2023 0 Comments
Essay Sample on Man 14-08-2023 0 Comments
Academic Writing(23)
Admission Essay(172)
Book Summaries(165)
College Tips(312)
Content Writing Services(1)
Essay Help(517)
Essay Writing Help(76)
Essays Blog(0)
Example(337)
Infographics(2)
Letter Writing(1)
Outlines(137)
Photo Essay Assignment(4)
Resume Writing Tips(62)
Samples Essays(315)
Writing Jobs(2)
Sample cover letter for Internship position at petronas
Human resource.
11A, Jalan Nuri,
Taman Sam Hoe,
86000 Kluang,
___________________________________________________________________________
Petroliam Nasional Berhad (PETRONAS) (20076-K)
Tower 1, PETRONAS Twin Towers
Kuala Lumpur City Centre
50088 Kuala Lumpur
Malaysia 3 July 2016.
Dear Mr/Ms Internship Coordinator,
APPLICATION TO UNDERGO PRACTICAL TRAINING, AUGUST 29 TO DECEMBER 29, 2016.
I plan to seek an internship with PETRONAS from any division that available from August 29 until December 29, 2016. I am currently enrolled at the Northen University of Malaysia or known as Universiti Utara Malaysia and I will graduate in the year of 2017 with a Degree in Bachelor of International Affairs Management with Honours. My degree focuses on international relations, international political economy and international business. My current CGPA is 3.63. I believe there is a perfect alignment between the goals of your place and my learning at university, skills and also long-term career goals.
2. I was an active student and participated in many activities that developed my soft skills. An internship with your company will provide me with the opportunity to hone my skills and to develop new ones.
3. I am detail oriented, have higher self-motivated and adaptable. I have an outgoing personality and thrive in a team-oriented environments with opinionated traits and excel in the usage of computer. I am enclosing my resume for your consideration. Please feel free to call me at 011-17670187 or email me at wilda_sit[email protected] . Thank you for your time and consideration.
Yours sincerely,
Wildawati Siswanto
Enclosure: Resume.